Aftershock – September 26th, 2015
White Oak Athletic Association – White Oak, PA
Complete results from Joe Dombrowski
Photos from Daniel Hooven
---
IWC Super Indy Champion Dylan Bostic def. Dennis Gregory
Darin Dinero & Roger Corpo def. VIP Joe Rosa & Justin Idol in an Extreme Rules Match (Special Guest Referee: Jimmy DeMarco)
Andrew Palace def. Alex Daniels to become #1 contender to the Super Indy Title
IWC Tag Team Champions Bearded For Your Pleasure (Jock Samson & Bryan Castle) def. The Sexy Talented Dudes (Chest Flexor & Corey Futuristic) and
The Founding Fathers (Bubba the Bulldog & Super Hentai)
Remy Lavey def. Dan Sandwich
Ray Lyn def. Britt Baker
Jimmy Nutts & John McChesney def. Team LaBar (Bill Collier & Wardlow)
---
IWC Aftershock, September 26, 2015 at the White Oak Athletic Association had rumors and speculation swirling about, as many were of the belief John McChesney was out of the main event of the evening, and perhaps out of IWC permanently. The story was spread via Justin LaBar, who claims he & Team LaBar members Bill Collier & Wardlow just happened to be in McChesney's hometown of Erie, PA making an appearance and claim to had "heard about it on the news". While it's easy to 
be skeptical of the details of the story and Team LaBar's level of involvement, the fact remained John McChesney was not in attendance all afternoon. Jimmy Nutts, courageous and defiant, emerged to clearly state he never wanted — or needed — McChesney as his partner, not surprising based on the rocky history between the two, and was more than happy to take on Team LaBar on his own, citing his prior singles wins over each Collier and Wardlow. Nutts' intestinal fortitude was courageous, but ultimately led to the numbers catching up on him, as despite several inspiring rallies, the combined 550-lb force of Collier & Wardlow overwhelmed him, with LaBar on the outside obnoxiously holding a collection jar to "raise money" for McChesney's retirement. As Team LaBar continued the onslaught, McChesney arrived through the front door, in street clothes, his eye swollen shut, cuts and bruises evident. McChesney immediately entered battle, tagging Nutts to officially join the fight. Action broke down, and McChesney and Nutts were working toward a common goal for the first time in years. As McChesney began to struggle with the numbers himself, a somewhat-recovered Nutts blind-tagged himself back in, but not before McChesney recovered to drop Wardlow with a superkick. Nutts, the legal man, immediately went for the pin, scoring the victory for his team. This didn't set well with McChesney, who seemed to think Nutts was trying to steal the glory, and a shouting match soon ensued between these volatile personalities that nearly became physical. IWC Owner Justin Plummer did what he could to cool the flames by making a huge announcement – BOTH McChesney & Nutts were deemed #1 Contender to the IWC Champion – Justin LaBar's "Man Beast" Rhino, to challenge in a three-way match on October 17 back at Court Time Sports Center. How will the McChesney/Nutts bad blood come into play with a 275 lb War Machine holding their ultimate goal, the IWC Title, added to the mix?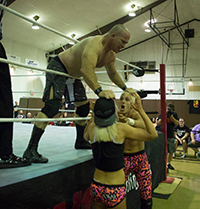 The Super Indy Title scene was made a bit clearer as well, as "Swaggy D" himself, "The Justin Bieber of Professional Wrestling" Dylan Bostic, with Ray Lyn at ringside (or as his opponent would refer to them, "Dylan & Steve") defended against a man seeing his first ever action in the Super Indy division, 5-time IWC Champion Dennis Gregory, as part of each Founding Father earning a title opportunity from their WarGames victory at Caged Fury a month ago. Bostic was successful in his defense but only after leaning half of his body across the ropes for illegal leverage. Bostic then turned his sights to the #1 Contender's Match. In spite of joining commentary and boasting proudly about having beaten both men in the past, he saw something he was less familiar with – Andrew Palace's "Hernia Driver" on Alex Daniels, which secured Palace a hard fought victory to earn a proper title shot, a month after losing an opportunity due to Bostic handcuffing Palace to the guardrails. Can Palace hit the Hernia Driver next month and, if so, is it enough to end Bostic's Super Indy Title reign?
The most shocking moment of the night came when the infamous, the controversial "DeeeLicious" Jimmy DeMarco made an unexpected return to IWC, as invited by Darin Dinero & Roger Corpo who had negotiated DeMarco to be special referee for their tag team encounter against Justin Idol & their former leader "VIP" Joe Rosa. DeMarco immediately seemed smitten with "Miss VIP" Ashley at Rosa's side, which did nothing to endear the Prime Minster of Perversion to the former Faces of Change leader. DeMarco then, in typical DeMarco fashion, made things as unpredictable as possible, and turned the match into an Extreme Rules bout. It was Dinero & Corpo's time to prove they don't – and perhaps never did – need Rosa's direction, and they were successful in that, as Dinero pinned Idol after Rosa had decided to had enough of the combatants and the referee, and walked out. Rosa, true to form, blamed ot
hers for his shortcomings, in this case blaming DeMarco for ruining Rosa's chance to teach Dinero & Corpo a lesson, though DeMarco continued to be infatuated with Miss VIP. DeMarco promised Rosa & the world that next month at Court Time Sports Center, DeMarco would get a kiss. Could DeMarco successfully court Miss VIP away from VIP himself?
Bearded for Your Pleasure (Jock Samson & Bryan Castle) were successful in their IWC Tag Title defense against The Founding Fathers (Bubba the Bulldog & Super Hentai) and The STDs (Chest Flexor & Corey Futuristic), and once the STDs decided to linger around and complain a bit too loudly about their recent treatment, IWC's newest enforcer Bulk Nasty came to the ring to handle business. Flexor was able to escape largely unscathed. Corey Futuristic, was not as lucky.
"The Miley Cyrus of Pro Wrestling" Ray Lyn evened her singles series against Britt Baker, 1-1, with a victory here, but an attempt at a post-match humiliation proved futile, as Britt outsmarted Lyn and escaped unscathed. Lyn explained that Ray Lyn is a "star" and has a lot of famous friends, and any one of them could beat Baker as well. Baker stated she has her own group of friends and wasn't afraid to bring one of her own, as it seems the Lyn/Baker rivalry is fixing to expand.
In addition, Remy Lavey scored a singles victory over the debuting Dan Sandwich. Remy, the one-time "Knight Rider", sometimes-dubbed "Mind Eraser" is an enigmatic and intriguing prospect as he continues to develop in IWC. With a very strong upside, could this victory be what sets Remy on the path to becoming a player once again in IWC rings?
For more Aftershock images from Daniel Hooven, visit the album on our Facebook!

Follow on Twitter:
@iwcwrestling
@Joe_Dombrowski
@DanelHooven