Night of the Superstars 5 – April 9th, 2016
Meadville Area High School – Meadville, PA
Complete results from Joe Dombrowski
Photos from Daniel Hooven
---
Shane InYaFace, Santana Diamonds, & Lumberjack Leroux def. the Sexy Talented Dudes (Chest Flexor, Corey Futuristic, & Lee Ryans) in a pre-show match
IWC Super Indy Champion Andrew Palace def. Robbie E
Keith Haught & Remy Lavey def. IWC Tag Team Champions The Fraternity (Channing Decker & Trent Gibson) to win the titles
Deonna Purrazzo def. Britt Baker and Marti Belle
Shelton Benjamin def. Darin Dinero
Abyss def. Jon Bolen in a Monster's Ball Match
RJ City, Dylan Bostic, & Wardlow def. Scotty 2 Hotty, Bulk Nasty, & Rocky Reynolds
Tatanka def. Chris LeRusso
John McChesney def. Jeff Jarrett
---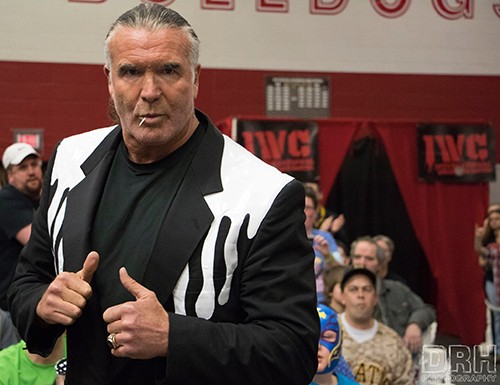 IWC's annual stop in Meadville, PA not only provided, as per usual, an entertaining and successful fundraiser for the area's school, but also perhaps the most diverse array of personalities ever assembled under an IWC event. It was not only about the legends and superstars that have carved their place in wrestling immortality, but about the youth of the organization stepping up and demanding a portion of the spotlight all their own through hard work and sacrifice. It was a sentiment echoed by WWE Hall of Famer Scott Hall who kicked off the show with a resounding endorsement of everyone involved, saying "These cats in IWC are the future!". For many, the future may have become the present…
The main event featured one of the most decorated World Champions of all time – 10-time NWA & WCW World Champion "The King of the Mountain" Jeff Jarrett – with beautiful wife Karen by his side – challenging unarguably the most decorated and cumulatively longest reigning IWC Champion ever "Big League" John McChesney. Jarrett was up to his usual psychological ploys & veteran antics – stalling at length and making McChesney impatient, blaming the people of Meadville for making him ill and even going as far as to challenge "any 5 men, 7 women, or 12 children" to fight him! While Jarrett spent much of the match renting space in the head of "Big League" McChesney's resolve and resiliency was on full display, as John made Jarrett regret underestimating one of IWC's franchise players, as McChesney left Jarrett discomobulated and backwashed, putting him away with a superkick for the 1-2-3.
The shocker of the night occurred when new tag team ch
ampions were crowned! Challengers Keith Haught & Remy LaVey started their night attempting to fulfill a dream for Keith – to challenge Hall of Famer Booker T to a spinaroonie contest! Before we could get underway, IWC Tag Team Champions The Fraternity – Channing Decker & Trent Gibson – interrupted the proceedings with some very unkind remarks to their challengers and Booker as well! Booker, who knows a thing or two about tag wrestling himself, had a hunch he ought to stay ringside and watch how things unfolded and it's a good thing he did. As The Frat attempted to use their wooden fraternity paddle as a weapon, Booker took it away, giving the challengers a fair chance, and it's all they needed. Remy LaVey's Mind Eraser and Keith Haught's Hot Mess led to an inspirational victory, showing what can come from hard work and perseverance despite all the adversity both had endured in their careers and their prior attempts at forming tag teams. While The Frat had tried to rob Keith Haught of one dream, he got to live out
 one much bigger all over again – an IWC Tag Team Champion – and Booker T was more than happy to give Meadville a Superstar-sized spinaroonie in celebration!
The eclectic entourage of "Swaggy D" Dylan Bostic, Ray Lyn, RJ City, Wardlow, and Justin LaBar entered prepared for six-man tag action as Bostic, City and Wardlow met the trio of Bulk Nasty, northwest Pennsylvania native and legend Rocky Reynolds and former World Tag Team Champion Scotty Too Hotty (competing on behalf of Jake "The Snake" Roberts who was forced to cancel due to family emergency). With an unofficial five-on-three advantage and RJ & Dylan's newfound friendship forged over their spineless attack on Jimmy Nutts a month ago, the conniving con-men were able to steal a victory when
 Bostic pinned Reynolds, putting both closer to their newfound goal of IWC Championship glory. However, they seemed to stick around a tad too long after the celebration, and Scotty & company got the last word not just with Scotty's Worm but also Ray Lyn receiving a Stinkface from… Bulk-kishi?! You never know what will happen in Meadville, but fun aside, one thing that rings true is that Bostic & City, with entourage, are gaining momentum quickly.
IWC Super Indy Champion Andrew Palace continued to step up in a big way, as he bested former TNA X-Division, Television and World Tag Team Champion Robbie E in a title defense with the Hernia Driver. Will Palace's momentum continue as we
head closer to Super Indy XV this June?
Jon Bolen has been very loudly and angrily looking to step up, stemming from his violent assault of Shane InYaFace and subsequent showdown with Jimmy Vega$ a month ago. Here Bolen refused to back down from the 6'8 350 lbs unpinned-in-IWC monster Abyss. In a no-rules match – Abyss' "Moster's Ball" specialty, the two battled throughout the building using a variety of weapons, and we even saw an appearance from Abyss' favorite implement of destruction, Janice! But after an onslaught that led to a broken table and a nearly broken Bolen, Abyss' win streak in IWC stays in tact.
One win streak that came to an end was that of "The Heir Apparent" Chris LeRusso. While he is performing at a level better than ever before, and has racked up a number of impressive victories in recent months, Chris and manager BC Steele had the audacity to compare Chris' win streak the near-two-year win streak Tatanka enjoyed in the WWF throughout 1992 & 1993. The Native American superstar made LeRusso pay in a hard fought contest and LeRusso's martial arts mastery fell to the spiritual guidance Tatanka received from his ancestors, leading him on to a victorious effort with "The End of the Trail" – which was just that for LeRusso's IWC win streak.
One man who was not victorious, but still can claim a major career win is Darin Dinero, who held his own in unarguably his toughest battle yet with "The Gold Standard" Shelton Benjamin. Both are amazing physical specimens, both are deceptively athletic and agile, and both are so natural in the ring they've been equated to money for much of their careers, but as Dinero looked for The Final Payment, it was the Gold Standard who hit PayDirt for the victory. Dinero couldn't earn a win, but he earned the respect of Shelton Benjamin and no doubt everyone watching as well.
It was highway robbery in our women's attrac
tion as Britt Baker persevered to, by the looks of things, win the latest chapter of her rivalry with The Dollhouse's Marti Belle, as part of a triple threat match also involving Deonna Purrazzo, in a rare TNA vs. NXT vs. IWC inter-promotional clash. But after Baker had re-introduced Marti to #Brittsburgh and was about to pin her foe, Deonna snuck in, threw Baker to the outside and stole the spoils at the expense of Britt's hard work. Baker called out Deonna on her deceptive thievery and issued a challenge to a one-on-one battle May 7 in Elizabeth at Reloaded 2.0!
Also, in a special pre-show bonus attraction Lumberjack Leroux, Santana Diamond & Shane InYaFace were victorious over STD (Sexy Talented Dudes) representatives Chest Flexor (w/Ginger), Corey Futuristic and Lee Ryans (with sideburns named "Gary" and "Larry").