Super Indy 15 – June 11th, 2016
Court Time Sports Center – Elizabeth, PA
Complete results from Nick Lendl with Joe Dombrowski
Photos from Rachel Beals
---
Marshall Gambino & The Sexy Talented Dudes (Chest Flexor, Corey Futuristic, Brian McDowell, & Lee Ryans) def. Remy Lavey, Bulk Nasty, Santana Diamonds, RC, & Noctus in a pre-show match
Darin Dinero def. Gory in the quarterfinal round of the Super Indy 15 Tournament
Josh Alexander def. Dezmond Xavier in the quarterfinal round of the Super Indy 15 Tournament
Jonathan Gresham def. Sugar Dunkerton in the quarterfinal round of the Super Indy 15 Tournament
Andrew Palace def. Chris LeRusso in the quarterfinal round of the Super Indy 15 Tournament
Josh Alexander def. Darin Dinero in the semifinal round of the Super Indy 15 Tournament
Jonathan Gresham def. Andrew Palace in the semifinal round of the Super Indy 15 Tournament
John McChesney & Asylum def. IWC Tag Team Champions The Fraternity (Channing Decker & Trent Gibson) via count-out
IWC World Heavyweight Champion DJZ def. Dylan Bostic
Josh Alexander def. Jonathan Gresham in the final round of the Super Indy 15 Tournament to win the IWC Super Indy Championship
---
Every year the anticipation grows for IWC's Super Indy tournament. Starting in 2002, the annual tradition sees the best Independent wrestlers from all over the globe gather to compete in a single elimination tournament where the eventual winner also becomes the IWC Super Indy Champion! Elizabeth's Court Time Sports Center played host to this year's eight man bracket and fans had been buzzing since the opening round matchups were announced!
 Since late last year Chris LeRusso has been targeting Andrew Palace and the Super Indy Championship. Month after month of humiliation and attacks from behind came to a head with LeRusso and manager BC Steele temporarily blinding Palace with an unknown chemical last mon
th at Reloaded. Fans couldn't wait for these two to meet one on one and were ecstatic when it was revealed that this long awaited matchup would happen in the first round of the Super Indy tournament!
 Wasting no time, Palace rushed the ring and immediately went after LeRusso. The bell sounded and the two began trading blows. This matchup was expected by many fans to be the tournament final and it surely felt like it throughout! After exchanging finishing maneuvers back and forth, Palace ultimately gained the victory and for the time being, silenced Chris LeRusso.
Jonathan Gresham, this year's CZW Best of the Best tournament winner use his knowledge of technical skill and arm submissions to defeat Sugar Dunkerton, returning for the second straight year after impressing in a tough draw last year, with Gresham's patented Octopus Stretch.
Josh Alexander utilized his unmatched intensity and overwhelming power to defeat Dezmond Xavier, who impressed on his road to Super Indy by being the only man to have to outlast three other men to qualify, winning a four-way qualifying match at Reloaded that 
garnered him instant attention from IWC fans. Alexander, who not too long ago seemed to be facing permanent retirement due to a serious neck injury, had been on a roll since returning, including a victory in AIW's JT Lightning Invitational Tournament. Could he make history again on this night?
Darin Dinero, the sentimental favorite of many, who dreamed of the chance to enter Super Indy for a decade prior, dating back to watching the late, great former Super Indy Champion "Sweet & Sour" Larry Sweeney defeated the returning Gory, subbing for an injured Zachary Wentz. Gory, competing in his 7th tournament, and ironically and poetically once a huge rival of Sweeney's, 
was setting the record for most Super Indy Tournaments entered in history, but it seemed as if tonight there was little that could stop "Double D".
In back to back shockers, current Super Indy Champion Andrew Palace was beaten by Jonathan Gresham and Darin Dinero was beaten by Josh Alexander in the semifinals! Two huge stories came out of these second round matchups: We were now guaranteed a new Super Indy Champion, and the childhood dream of winning the Super Indy tournament for Darin Dinero was over. Dinero had
previously told the story of when he was a child sitting in the crowd for multiple Super Indy tournaments over the years. Sadly, this year that dream won't come to fruition. Meanwhile, Palace's defeat was not just arguably the most physically grueling match of Palace's career, but the aftermath no doubt left an impact in Palace's mind as well, as Chris LeRusso's adviser Benjamin C. Steele came out to give a very insincere round of applause to Palace's efforts. With already coming into the tournament with a sensitive eye, coupled with the physical toll taken in the opening round, it seems that while Palace did defeat LeRusso, the "heir apparent" still got the last word on the night, playing a big part in what eventually led to Palace's elimination. Regardless, Dinero and Palace had perhaps the best efforts of their careers and embodied the Super Indy spirit, no doubt a sign of many future battles to come.
The finals saw Josh Alexander defeat Jonathan Gresham in a battle of 2016 JT Lightning Invitational Tournament winner vs. 2016 Best of the Best tournament winner to win the Super Indy Tournament and become the new IWC Super Indy Champion! Over the course of his three matches throughout the night, fans took notice to the man known as the "Walking Weapon" and showed respect to both men following the match with a standing ovation. It was one of the most competitive, memorable Super Indy tournaments to date and now we can only look forward to what Alexander will bring to IWC moving forward! Congratulations to Jonathan Gresham on an outstanding first impression in his IWC debut, and to Josh Alexander for joining names like Styles, Sabin, Cabana, Lynn, DJ Z, and of course the originator of it all, Super Hentai, on one of the most talented lists of title lineage anywhere in wrestling.
 Last month at Reloaded, we saw DJZ and Jimmy DeMarco go to war over the IWC World Heavyweight Title! If you can look past the thumbtacks and steel chairs they used to bloody each other in that match, there lies a great deal of respect between these two men. It's that very respect factor that led to DeMarco volunteering to be in DJZ's corner when he defended the Title at Super Indy 15 against Dylan Bostic. "The Justin Bieber of Professional Wrestling" has been on a roll as of late and promised that with his victory, it would officially begin the summer of the Platinum World Tour. Who can blame him for his confidence? Every time Bostic enters a ring he has the automatic advantage with Ray Lyn at ringside. She's proven time and time again to be nothing more than a distraction for his opponents and this time, her man could become World Heavyweight Champion! However, with the Deeeeelicious one in the current Champion's corner, The Platinum World Tour may have needed to rethink their strategy.
 As expected, Ray Lyn tried on more than one occasion to cost DJZ the match with her interference, but was inadvertently taken out of the equation thanks to a diving dropkick through the ropes from DeMarco, who was aiming for Bostic! DJZ was able to pick up the win and claim another successful Title defense.
 Bostic, upset with the loss to say the least, took to the microphone to express his frustrations. He demanded a rematch and if he wasn't given what he wanted, The Platinum World Tour was quitting IWC! While the idea of Bostic and Ray Lyn being gone seemed to go over well with the fans, Jimmy DeMarco had a better idea… The Deeeeelicious one proposed a match between he and Bostic at our next event, Wipeout, on July 23rd. If Bostic can beat DeMarco, he'll get his rematch for the World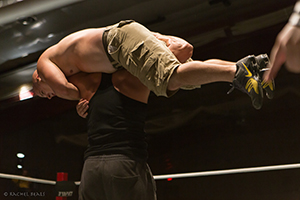 Heavyweight Championship. However, if DeMarco is able to pull out the victory, he gets a kiss from Ray Lyn! Justin Plummer agreed from ringside and the match was made official.
 The grin on DeMarco's face disappeared quickly as he was ambushed from behind by the monstrous Wardlow! It didn't make any sense. Why would Wardlow attack Jimmy DeMarco? Our questions were quickly answered as Justin LaBar took to the microphone and announced a new partnership between Team LaBar and the Platinum World Tour! It seemed as if Ray Lyn and Bostic had another plan all along. What can we expect going forward now that Team LaBar is associated with the Platinum World Tour?
 The Fraternity thought they were going to have an easy night when "Big League" John McChesney announced that his mystery partner for the IWC Tag Team Title match still hadn't arrived to the building. A handicap match dominated by The Frat turned tides quickly when McChesney's partner finally did arrive, Asylum! We were in the midst of seeing new Tag Team Champions crowned when The Fraternity decided to take their Title belts and leave! The count out cost the obnoxious Frat boys the match, but to the disappointme
nt of Asylum and McChesney, they remain Tag Team Champions. The Fraternity can only run for so long, as a six person tag team match was announced for Wipeout featuring Asylum, McChesney and the returning Britt Baker facing the Frat and a partner of their choosing!
Josh Alexander made a name for himself at Super Indy 15 and now that he's the Super Indy Champion, I'm sure we haven't seen the last of the "Walking Weapon!" After his heartbreaking tournament elimination, can Darin Dinero keep focused on the future? No longer Super Indy Champion, what's next for Andrew Palace? Is his war with Chris LeRusso over? Who will the Frat choose as their partner? And if everything goes his way, which will Jimmy DeMarco enjoy more: Defeating Dylan Bostic or planting a fat one on Ray Lyn? Get your tickets now for Wipeout on July 23rd and don't miss out on the hottest event of the summer!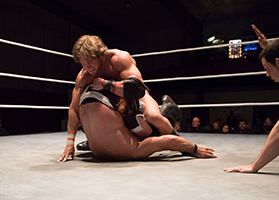 For more images from Super Indy 15, visit the photo album on Facebook!

@iwcwrestling
@NickLendl
@Joe_Dombrowski
@rachelbealsphotography