Wipeout – July 23rd, 2016
Court Time Sports Center – Elizabeth, PA
Complete results from Nick Lendl
Photos from Daniel Hooven
---
Dionette Vaton def. Eric Adams in a pre-show match
Bryan Bowers def. Darin Dinero
Ray Lyn def. Maria Manic
Andrew Palace vs. Chris LeRusso was ruled a no-contest
Wardlow def. Robbie E
Raymond Rowe def. Alex Daniels
IWC Tag Team Champions The Fraternity (Channing Decker & Trent Gibson) def. Jon Bolen, Jimmy Vega$, & Britt Baker
Super Hentai def. Shane InYaFace
Dylan Bostic def. Jimmy DeMarco to earn a shot at the IWC World Heavyweight Title
---
Squirt guns, beach balls, hot chicks, fist fights, STD's… everything you'd expect at an unforgettable summer bash was present for IWC's Wipeout event this past Saturday at the Court Time Sports Center. The night was centered on the newly 
formed "Platinum World Alliance" and what would happen in the main event's Title shot vs. Kiss matchup. It didn't take long for Justin LaBar and his crew to grace us with their presence and promise a clean sweep of victories throughout the evening. LaBar claimed that Ray Lynn was returning from her injury to take the top spot in the women's division, Wardlow was going to make an example out of TNA star Robbie E and Dylan Bostic would get one step closer to becoming IWC World Heavyweight Champion!
Bostic came up short in his first World Heavyweight Title opportunity last month at Super Indy 15. To get another shot at the gold, he would have to defeat former IWC World Heavyweight Champion, Deeeeelicious Jimmy DeMarco. However, if Bostic lost at Wipeout, DeMarco would get a kiss from Ray Lyn; something The Platinum World Tour couldn't let happen!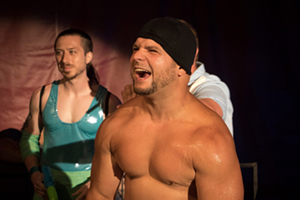 The deck was quickly stacked against DeMarco as Lyn and Bostic announced a merger between The Platinum World Tour and Team LaBar last month at Super Indy. With longtime friend DJZ not able to appear at Wipeout, the Delicious One needed backup of his own! This came, surprisingly, in the form of the Sexy Talented Dudes who agreed to be DeMarco's "personal lifeguards" for the evening. And lifeguards they were…
When The Platinum World Alliance stuck their noses into the match, the STD's, as promised, came to the aid of DeMarco. In typical STD fashion you knew it was going to be over the top, but nobody could have seen this coming: Matching red swimming trunks, goggles, snorkels, beach 
balls, all leading to an epic squirt gun battle to the tune of "Highway to the Danger Zone" blaring in the background. It was certainly a… fun main event. I mean if you don't like getting towel snapped and blasted with a Super Soaker, surely seeing STD member Bryan McDowell bowl a strike between the legs of Ray Lynn as she was plopped down in the corner should put a smile on your face!
Unfortunately, LaBar's new alliance got the last laugh as Bostic was able to pick up the victory over DeMarco and move on to Caged Fury to get his World Heavyweight Title rematch against DJZ. It won't turn out the way things did at Wipeout, however. Justin Plummer announced after the match that the rematch between Bostic and DJZ would
 take place inside the Steel Cage! Bostic has always had Ray Lynn, and now he has LaBar by his side. But it's clear if Bostic wants to become IWC World Heavyweight Champion, he's going to have to do it on his own!
In a scary moment for fans in attendance, a fight broke out from the locker room spilling into the crowd! A masked man who turned out to be Chris LeRusso had attacked Andrew Palace! The eight month saga between these two was expected to reach its finality at Wipeout, but the match never got started. The two brawled all throughout the Court Time Sports Center until security was able to break them up long enough to get them separated and back to the locker room.
IWC owner Justin Plummer attempted to get the match restarted later in the show, but to no avail. Palace jumped LeRusso in the entrance way and the two again brawled for some time until the 300 pound Bulk Nasty made his way to the ring! Palace breathed a sigh of relief as he knew Bulk was coming out to help him. In perhaps the shock of the night, Bulk Nasty instead attacked Andrew Palace and powerbombed him through a table while manager BC Steele smiled looking on! Had Bulk Nasty actually aligned himself with LeRusso and Steele? The trio left together and had some heated words for Justin Plummer and Andrew Palace afterwards in a backstage interview. It was later announced that Palace and LeRusso will face each other next month at Caged Fury inside the Steel Cage! This war needs to end and the Steel Cage might be the only way to finish it once and for all!
Last month at Super Indy, Darin Dinero was heartbroken over not winning the tournament, despite being one of the favorites. He needed to bounce back with a win and that opportunity would present itself via a challenge from Bryan Bowers. "The New Hope" had become increasingly annoyed with the company showcasing Darin Dinero more so than he, despite both bursting onto the scene around the same time. Bowers started a war of words that spread to social media and it was clear things were personal in this one.
When the bell rang many expected anything but a technically sound match as the two traded slaps with each other early on. However, the two worked to show they
both have what it takes to be the "top guy." This match featured two close victories for Bowers with a roll-through into a single leg Boston Crab and a Death Valley Driver over a knee, but the finish came in the form of all things, a small package in favor of "The New Hope." Dinero couldn't believe it! He had lost again! Bowers left the ring with his arm raised and quickly grabbed a microphone while Dinero stayed sitting in the ring looking extremely disappointed with himself.
On the mic, Bowers claimed IWC had been lowballing him on payoffs and pushing Dinero as the company's "Golden Boy" even though he's more talented and more marketable. Bowers questioned why he isn't on any of the posters and why he isn't showcased more. He promised that would all change now with the win over Dinero tonight. The crowd was silent while all Darin could do was sit in the ring and question what's next for Elizabeth's A1.
Originally, a six person tag team match was announced featuring The Fraternity and Tough Enough star Chelsea Green teaming up to face Asylum, "Big League" John McChesney and Britt Baker. Unfortunately, Chelsea Green, Asylum and McChesney were all forced to pull out of the match leading many to speculate what would happen, if anything at all. At the top of that list was The Fraternity, IWC's obnoxious Tag Team Champions, who expected to have the night off or better yet, a handicap match against Britt Baker!
That wasn't the case as Britt promised she had found replacements for both of her partners: Bolen and Jimmy Vegas! Two of IWC's big men who have been at each other's throats for years had seemingly put their differences aside to get on the same page for the sake of standing up for Britt. It didn't last long… Vegas and Bolen ended up fighting with each other all the way to the locker room while Baker was left alone in the ring with the classless Frat boys. Luckily for Britt, Remy Lavey and Keith Haught ran to the ring to make the save before the champions could get their hands on her.
The Fraternity retreated to the locker room, but the celebration for the heroes, Lavey and Haught, didn't last long as they were once again attacked from behind by Marshall Gambino and the returning Bronco McBride! This is where things got worse for Britt Baker… Gambino has been targeting Lavey and Haught for months now and in his frustration, laid a hard forearm into the side of Britt Baker's face following her standing in the way of Gambino doing further damage to her rescuers. This was an all-time low, even for Marshall Gambino standards.
You can imagine how bad Lavey and Haught want to get even with Gambino and now with Bronco added to the mix, perhaps an official tag team match can
be made. Then again, you have to wonder if it's even possible… IWC owner Justin Plummer will surely have some heavy consequences for Gambino laying his hands on a woman. A suspension? He might never let Marshall Gambino wrestle in IWC again!
Wipeout marked the IWC return of Raymond Rowe, the former World Heavyweight Champion who has gone on to be a part of one the hottest tag teams in the world today, War Machine! His opponent was Alex Daniels, who though may have been smaller in stature, proved to have as big a heart as anyone in the IWC locker room. In a must-replay sequence, Rowe caught Daniels as he 
was coming off the top rope for a 450 splash and powerbombed him to the mat for the win! Daniels took a beating, but held his own with the much bigger Rowe and earned the respect of the former Ring of Honor Tag Team Champion.
After the match Raymond Rowe took to the microphone and told the crowd to give it up for Alex Daniels. He thanked the crowd and IWC for giving him the platform to become the wrestling superstar he is today and even led them in an "IWC" chant! Rowe shook Daniels' hand and explained how the two of them share similar training roots and similar roads to where they are today. It was a great moment for the two of them and for the IWC crowd.
The night kept getting better for the Platinum World Alliance as their heavy hitter, Wardlow defeated TNA superstar Robbie E. "The Man with War in his Name" knocked off the Jersey shore Bro-Man with a huge Swanton Bomb from the top rope. To make matters worse for Robbie, before the match started he was manipulated by Justin LaBar to agree to kiss his feet should he lose the match to the near 300 pounder. Robbie kept his word, getting down on his knees and kissing the way-too white shoe of LaBar, who was smiling from ear to ear. It didn't end well for the LaBar camp ho
wever, as Robbie was able to give Justin LaBar a reality check of his own in the form of a low blow before he got back to his feet. As Robbie always says, "Here comes the BOOOOOM!"
In Ray Lynn's return from injury, she defeated the debuting Maria Manic. The Miley Cyrus of Professional Wrestling looked impressive in her first match since having surgery back in February. Manic, no slouch herself, certainly impressed IWC officials and will be back! The Platinum World Alliance, as promised earlier by LaBar, got the clean sweep of 3-0 at wipeout!
Other action featured a teacher vs. student matchup pitting IWC legend, Super Hentai one on one with the up and coming Shane InYaFace. The former undefeated MMA fighter, trained by Hentai, has been climbing the IWC ladder since making his debut back in February and knew a win over his mentor could skyrocket his career! A great showing for the rookie, however the experience factor came into play and Hentai was able to pick up the win.
IWC returns to the Court Time Sports Center in Elizabeth next month on August 20th for Caged Fury. Dylan Bostic gets his World Heavyweight Title rematch against DJZ, but this time they'll be locked inside the Steel Cage! The war between Chris LeRusso and Andrew Palace will finally reach its end as the two will also square off inside the fifteen foot high steel prison. No BC Steele, no Bulk Nasty. Caged Fury will also feature Wardlow going one on one with Deeeeelicious Jimmy DeMarco, as well as appearances from both finalists in this year's Super Indy tournament, Jonathan Gresham and new Super Indy Champion, Josh Alexander. The summer keeps getting hotter for IWC as 2016 rolls along. We'll see you in August!
For more images from Wipeout, visit the photo album on Facebook!

@iwcwrestling
@NickLendl
@DanielHooven