Caged Fury 2016 – August 20th, 2016
Court Time Sports Center – Elizabeth, PA
Complete results from Nick Lendl
Photos from Daniel Hooven
---
Bryan Bowers def. Noctus
Wardlow def. Jimmy DeMarco
Remy Lavey & Keith Haught def. Marshall The Bull & Bronco McBride via DQ
Ray Lyn def. Lufisto
IWC Tag Team Champions The Fraternity (Channing Decker & Trent Gibson) def. EYFBO (Mike Draztik & Angel Ortiz)
Jimmy Vega$ def. Jack Sheridan
IWC Super Indy Champion Josh Alexander def. Jonathan Gresham
Andrew Palace def. Chris LeRusso in a steel cage match
IWC World Heavyweight Champion DJZ def. Dylan Bostic
---
The fans inside The Court Time Sports Center in Elizabeth, PA couldn't wait for the biggest night of the summer in IWC. Caged Fury would prove to be the setting for one of the most memorable nights in IWC history! The event featured two Steel Cage matches: A World Heavyweight Title match where the loser would be forced to leave IWC and a one on one showdown nine months in the making!
In the main event, DJZ defended his IWC World Heavyweight Championship against number one contender, Dylan Bostic, who earned the opportunity to face DJZ last month at Wipeout. As the days drew closer to the matchup, Justin LaBar and Bostic posted a shocking video challenging DJZ to accept a stipulation that would see the loser of the Steel Cage Match forced to leave IWC forever! DJZ confidently accepted and this match had quickly been taken to the next level. As the bell rang, we saw a very different Dylan Bostic. We saw a determined, focused Dylan Bostic who knew tonight could very well be the culmination of his career and the summer of the Platinum World Tour!
This match had all the elements of a Steel Cage classic and fans seemed to be split at times between the two. Bostic looked to be on his way to becoming IWC World Heavyweight Champion for the first time when his head quickly collided with the cage, thanks to a hard Irish whip from DJZ. Seconds later, to the horror of Ray Lyn at ringside, Dylan Bostic's face quickly turned a crimson mask. Blood continued to pour from the head of Bostic as Ray Lyn pleaded for someone to get help! The match continue
d until it was clear Bostic was in no shape to continue. The blood continued to spew until DJZ was able to pin Bostic for the win, retaining the IWC World Heavyweight Championship.
The match was over, but things got serious fast as doctors rushed the ring to attend to Bostic and the fans sat in silence watching. Several minutes later, Bostic, barely able to stand, received a standing ovation from the IWC fans and even received a "You don't suck" chant as well! An emotional moment for Bostic, who had just wrestled his last match in IWC! DJZ and Bostic embraced, with DJZ telling Bostic he hopes to see him down the road and that he respects him. Dylan Bostic, even though it was on his way out, had earned the respect of our World Heavyweight Champion and maybe even more importantly, the IWC fans!
When Chris LeRusso attacked Andrew Palace last December at Winner Takes All, we had no idea nine months later the two would still be at each other's throats. This has surely become a rivalry that will go down in IWC history and it reached its epic conclusion at Caged Fury! After failed attempts to settle the score both at Super Indy 15 and at Wipeout, locking the two inside the fifteen foot high steel cage was the only way to end this personal rivalry once and for all!
Andrew Palace had been at a disadvantage from the beginning due to BC Steele's presence. LeRusso's loud mouth, evil minded, manager had provided a 2 on 1 situation on numerous occasions and was even the mastermind behind some of Le
Russo's appalling attacks on Palace such as blinding him with chloroform back in May at Reloaded! Things would get even worse for Palace as Steele and LeRusso then recruited the 300 pound "Human Crime Scene" Bulk Nasty to their camp, seemingly ensuring a permanent nail in the coffin of Palace's career! Neither Steele nor Bulk Nasty would be a factor in the outcome of this match, however. Palace and LeRusso would be locked in a cage with one another until there was a decisive winner!
The match got off to a quick start before the referee could even call for the bell, just like the previous two meetings between the two. Both
men used the steel to their advantage early on, reaming one another into each side of the cage. The match turned ugly as BC Steele was able to hand LeRusso weapons through the holes in the steel fencing! Palace was busted open as LeRusso connected with repeated kendo stick shots to the back and head! It looked to be the end for Andrew Palace when out of nowhere Palace was able to lock in a dangerous submission hold, ultimately choking out Chris LeRusso and gaining the victory nine months in the making! The bell rang repeatedly, but Palace kept the hold securely locked in place despite numerous attempts from the referee to break the hold. Several seconds later Palace did release the hold and proceeded to sit still in the ring for a few moments. Perhaps he couldn't believe it was finally over, or maybe he didn't want it to be over! Where do these two go from here?
Fans were raving over the classic put on by Josh Alexander and Jonathan Gresham in the Super Indy 15 tournament final back in June. On that night, "The Walking Weapon," Alexander was able to defeat Gresham, winning the tournament and capturing the Super Indy Championship in the process. Caged Fury would be the setting for the much anticipated rematch between the two, and it didn't disappoint. These two warriors gave it everything they had for over 30 minutes, trading submissions and near falls until Alexander was able to pick up his second straight victory over Gresham with a spinning Tombstone Piledriver, retaining the Super Indy Championship! The respect these two men have for each other was evident as they shook hands and even embraced after the final bell. It's that very respect that the Super Indy Championship was built on many years ago!
For months Remy Lavey and Keith Haught have been on the receiving end of blindsiding attacks from Marshall Gambino a
nd most recently, Bronco McBride. The two IWC mainstays took exception to the opportunities Lavey and Haught have been given and want them to earn their spots here in IWC. With McBride recently added to the mix, there was finally an opportunity for Lavey and Haught to get even in the form of a tag team match, signed for Caged Fury. Bronco and Gambino had other plans as early into the match they were disqualified after bringing chairs into the ring to gain another unfair advantage over Lavey and Haught, even going as far as busting Lavey's eye open!
The two youngsters wouldn't stay down, however! While Gambino and McBride left the ring pleased with their actions, Lavey staggered to his feet and made one final challenge: Next month at The Rumble in Rural Valley, they want this to end. Lavey challenged Gambino and McBride to a street fight where the fans bring the weapons! Surprised, but intrigued, Marshall smiled and accepted the terms t the match. Remy Lavey and Keith Haught might finally earn the respect of their adversaries September 17th, but if Gambino and McBride have their way, they'll force Lavey and Haught out of Pro Wrestling for good!
I
n perhaps their most impressive outing to date, IWC Tag Team Champions, The Fraternity, picked up a successful title defense over the debuting EYFBO, Angel Ortiz and Mike Jurassic. The fan favorites from The Pazuzu Projects in New York City came close on more than one occasion to dethroning the obnoxious Tag Team Champions, but Decker and Gibson were able to utilize their signature maneuvers, the Keg Stand and the Eifel Tower to score the pinfall victory.
The real story was what happened next… Before the Frat could leave the ring and enjoy their victory, "Big League" John McChesney's music blared throughout the Court Time Sports Center as the former IWC World Heavyweight Champion made his way through the curtain on crutches. McChesney assured the Tag Team Champions that even though he's injured, he hasn't forgotten his goal of becoming a Triple Crown Champion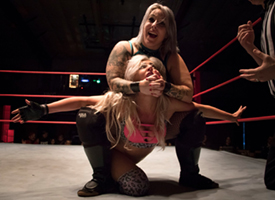 in IWC. He promised Decker and Gibson that he has a partner lined up, and when he's ready they'll take the belts from The Frat! The question is, when? And who? Something The Fraternity will be pondering for months to come…
In women's action, Ray Lyn continued to taste victory since returning from surgery last month as she defeated Lufisto with her own version of the RKO! Due to her unique style and look, the Court Time crowd really got behind Lufisto, who was making her first appearance in IWC. Some would consider this victory an upset due to the size difference between the two ladies, but Ray Lyn has proven again and again to be a dangerous threat to any women's division she's a part of. And now wi
th a titanium plate inserted in her forearm, she may in fact be the most dangerous! You have to wonder however, with Bostic now gone from IWC, have we seen the last of Ray Lyn as well?
Bryan Bowers continued his winning ways, knocking off Noctus in a fast paced matchup, forcing the masked superstar into submission! After defeating Darin Dinero last month at Wipeout, the Lance Storm trained Bowers vented his frustration with IWC management, claiming to be underutilized, underappreciated and underpaid! If "The New Hope" continues on this path, Justin Plummer will certainly have to consider rewarding Bowers with Championship opportunities down the road!
Jimmy DeMarco came so close to defeating Dylan Bostic last month at Wipeout, but as we all know, where Bostic goes so does Ray Lyn, and now the rest of The LaBar 
Platinum World Tour Alliance as well. The Deeeeelicious one knew he needed backup of his own and recruited his own personal lifeguards, The STD's. Even with leveling the playing field, DeMarco's group was outmatched thanks to the presence of Wardlow, Justin LaBar's one man wrecking crew.
As we've seen over the years, DeMarco definitely has more guts than brains. He proved this again as he requested a match with Wardlow for Cage Fury! The former IWC World Heavyweight Champion once again had his lifeguards by his side, ready to go to stand toe to toe with "The Man with War in his Name," but it wasn't enough. Even with the ejection of Justin LaBar from ringside while fans sang "Na Na Na Na Hey Hey Hey Goodbye," the size and strength of Wardlow was too much for The Deeeelicious One to overcome. Wardlow dominated most of the match, defeating DeMarco by pinfall. He even picked DeMarco up off the mat at one point which surely would have been a three count! Wardlow continues to impress, and is on his way to becoming one of the biggest names in all of IWC!
In other action, newcomer Jack Sheridan came up short, to say the least, after calling out the biggest, baddest guy in the locker room; a challenge that was quickly accepted by Jimmy Vegas! Whether it be a Football scholarship to Northwestern University or a full-ride to the Iron City Wrestling Academy payed for by his father, life has always come easy to Jack Sheridan. However, since debuting in IWC back in February, the 6'5, 260 pounder has had trouble finding success… something his rich father can't buy him. Did the loss to Vegas beat some respect into Sheridan, or will he be back to sip his champagne on the way to the ring and remind us all of his families wealth? If so, one can certainly imagine that Jimmy Vegas and the rest of the IWC locker room will be waiting!
IWC has a busy few months ahead. First, we invade Rural Valley on September 17th for The Rumble in Rural Valley where we know Remy Lavey and Keith Haught will face Marshall Gambino and Bronco McBride in a street fight where the fans will bring the weapons! Then, we return to the Court Time Sports Center on October 15th as we collaborate with former IWC World Heavyweight Champion, Tommy Dreamer, to present House of Hardcore featuring Hardcore Holly, Jessica Havok, Rhyno and Sami Callihan, as well as the war between Team LaBar and Team IWC! Keep checking back to IWCwrestling.com for the latest updates for The Rumble in Rural Valley and House of Hardcore events!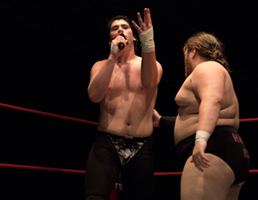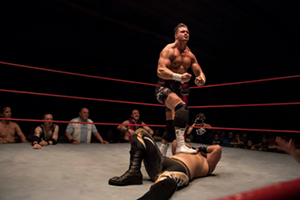 For more images from Wipeout, visit the photo album on Facebook!

@iwcwrestling
@NickLendl
@DanielHooven