IWC SUPER INDY 17
JUNE 9th, 2018
COURT TIME SPORTS CENTER – ELIZABETH, PA
Results by JTM – Photos by Damian Lynch
Jonathan Gresham def. Jaxon Argos in the opening round of Super Indy 17
Joey Janela def. Ethan Page in the opening round of Super Indy 17
Gory def. Anthony Henry in the opening round of Super Indy 17
David Starr def. Jeff Cobb in the opening round of Super Indy 17
Jonathan Gresham def Joey Janela in the semi-final round of Super Indy 17
David Starr def. Gory in the semi-final round of Super Indy 17
Jack Pollock def. Shane Taylor in a No DQ Match
Wardlow & Chris LeRusso vs. Andrew Palace & Dennis Jackson was ruled a no-contest
Jonathan Gresham def. David Starr to win the IWC Super Indy Title in the final round of Super Indy 17
---
The International Wrestling Cartel's annual tournament tradition returned for its seventeenth edition on June 9th, 2018!
In the opening round of the tournament, Jonathan Gresham finally got revenge against his rival for over a year and a half, Jaxon Argos by making him tap out for the first time ever. "All Ego" Ethan Page returned to IWC but fell to "Bad Boy" Joey Janela's superkick. Defending IWC Super Indy
Champion Gory defeated Anthony Henry to advance. "The Product" David Starr finally made his IWC debut against another debuting star, Jeff Cobb! After a back-and-forth contest, Starr surprised Cobb by catching him with a draped DDT and a roll-up for the win.
In the second round of Super Indy 17, Gresham tied up Janela to pin him and advance to the finals. Meanwhile, David Starr pulled off the upset of the tournament by pinning Super Indy Champion Gory with a handful of tights, guaranteeing a new champion at the end of the tournament.
This was Gresham's third straight year going to the finals, an IWC record, but he was never able to secure the tournament victory. After finally vanquishing his foe Argos in the first round and eliminating heavy favorite Janela in the second round, he lasted a grueling 37 minutes in the final round to make David Starr submit and win the IWC Super Indy Title and Super Indy 17 tournament!
In non-tournament action, Jack Pollock pinned Shane Taylor following help from RC Dupree and a low blow to Taylor. After the match, IWC owner Justin Plummer announced his plan to settle this once and for all… in a 
one-on-one match with Pollock! Plummer is not a trained wrestler, but needs to defend his company and his family, after Pollock and Team Storm heinously held his wife Jenny Plummer hostage in February.
In other non-tournament action, a huge tag team match with IWC World Heavweight Title implications was ruled… a no-contest. Andrew Palace teamed with "Titan" Dennis Jackson to take on IWC World Heavyweight Champion Wardlow and "The Heir Apparent" Chris LeRusso. Mid-way through what was turning into an exciting contest, Jackson attacked Palace and revealed his allegiance with Justin Labar and Team Labar. As a result, Labar awarded Titan & LeRusso the IWC Tag Team Championships, in leu of The Fraternity being unable to defend them indefinitely. What does this mean for Andrew Palace? How does Wardlow fit into the double-cross? Will this title change stand?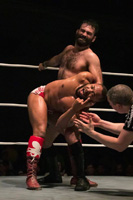 ---