COLD BLOODED
FEBRUARY 16th, 2019
COURT TIME SPORTS CENTER – ELIZABETH, PA
Results by JTM – Photos by Damian Lynch
---
Dan Hooven def. Calvin Couture in a pre-show match
IWC Tag Team Champions The Mane Event (Duke Davis & Ganon Jones, Jr.) def. The Culmination (Remy Lavey & Atticus Cogar) via DQ
Andrew Palace def. Anthony Greene
RC Dupree def. Jami Jameson, Jason Tyler, Philip Archer, Stevie Lebell, and IWC High Stakes Champion Chest Flexor to win the title
Glacier & Johnny Patch def. Chris LeRusso & Elijah Dean
IWC Super Indy Champion John McChesney def. Dylan Bostic
Jimmy Vega$ def. Professor Ryan Dye
Gory def. Jock Samson
Madison Rayne def. IWC Women's Champion Katie Arquette to win the title
IWC World Heavyweight Champion Wardlow def. Bulk Nasty
---
After an explosive Reloaded 5.0 event in January, IWC returned to Elizabeth, PA with Cold Blooded! As the roster prepares for the 18th anniversary event on March 16th, alliances are formed, challenges are made, and champions are crowned!
IWC World Heavyweight Champion Wardlow defended his title against the "Walking Crime Scene" Bulk Nasty. Bulk very nearly walked away with the
championship on several occasions, but Wardlow was able to put him away with a breathtaking swanton bomb. After the match was over, Wardlow shocked those in attendance when he called out… IWC Super Indy Champion "Big League" John McChesney!
McChesney had an eventful evening himself, having successfully defended his title against Dylan Bostic. Wardlow challenged McChesney to a match at EIGHTEEN on March 16th… title vs. title! One man will walk away with both the IWC World Heavyweight and IWC Super Indy Championships that night! WWE's Elias is the only other person in IWC history to accomplish that feat. Will 
the second be Big League or The Man With War In His Name?
The IWC Tag Team Title scene is in turmoil as champions The Mane Event took on Remy Lavey & Atticus Cogar of The Culmination. It looked like TME had things well in hand until Team Storm members Jaxon Argos & RC Dupree hit the ring and attacked The Mane Event. Argos teased hitting The Reset Button to get an IWC Tag Team Title shot on the spot, but Sadie Gang hit the ring to chase off Team Storm! The Culmination weren't finished and laid out TME before posing with the titles. With all this bad blood between the teams, the IWC tag division staple returns on M
arch 16th as The Mane Event defends the titles against Team Storm, The Culmination, and Sadie Gang in a four-way scramble!
IWC Women's Champion Katie Arquette was met with the challenge of Mae Young Classic participant and former Impact Wrestling Knockouts Champion Madison Rayne! The veteran Rayne was having issues with Arquette's entourage at ringside, Calvin Couture. After Couture stuck his nose in the match one too many times, backstage interviewer Dani Grey came to ringside to neutralize him. In all the confusion, Rayne was able to pin Katie to win the IWC Women's Title in her IWC debut!
The IWC Women's Title wasn't the only one to change hands at Cold Blooded. Chest Flexor's High Stakes Title reign has come to an end as RC Dupree defeated Flexor, Jami Jameson, Jason Tyler, Philip Archer, and Stevie Lebell in a six-way. RC's Team Storm partner Jaxon Argos made his presence felt yet again as he appeared at ringside with The Reset Button. After teasing hitting The Reset Button, Jami Jameson was distracted and RC rolled him up to win the title! Flexor certainly has a gripe against the new title holder as he wasn't pinned in the match, and he also wasn't able to name his own stipulation to the match, as per the rules of the High Stakes Title!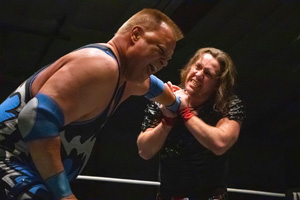 Chris LeRusso's night didn't quite go as he planned at Cold Blooded. "The Heir Apparent" teamed with his student from the Iron City Wrestling Academy, "The ManDime" Elijah Dean. The duo took on another ICWA grad "The American Daredevil" Johnny Patch and his partner, WCW legend Glacier! The high-flying Patch and the martial arts master Glacier were able to take out LeRusso and Dime, but LeRusso wasn't finished. He expressed his frustration at the direction his IWC career has been going in the last few months, and challenged anybody to a Super Indy Qualifying Match at EIGHTEEN. One of the newest signings to All Elite Wrestling and ICWA graduate Britt Baker appeared on the video screen and accepted his challenge, putting her IWC career on the line for a shot at the Super Indy 18 Tournament! If Baker wins, she will be 
the first female entrant in a Super Indy Tournament… but if she loses, she will leave her home of IWC forever!
Gory met Jock Samson for the first time in IWC at Reloaded 5.0 when the two men were in the final 4 of the 16bit Challenge. After Jock was eliminated, he wrapped his bullrope around Gory's neck and helped eliminate him, giving Jaxon Argos the win. Gory vowed revenge, and he was able to get it with the help of that same bullrope. Jock wrapped the rope around the turnbuckle, with the cowbell ready for Gory's skull. But in a moment of true irony, Gory was able to avoid the cowbell, sending Joc
k's face crashing into it. One QAS later and Gory was able to pin Jock, getting a measure of revenge.
"The Retrosexual" Anthony Greene made his IWC debut alongside his Platinum Hunnies as he took on Andrew Palace! Palace was looking to have some fun with Greene and even tried to take one of the Platinum Hunnies home with him. But Greene wasn't willing to share and took exception to Palace's advances. D
espite an impressive debut, Palace was able to hit the Hernia Driver to get the win. We're sure this isn't the last IWC has seen of "RetroAG"…
In other action, Professor Ryan Dye tried to explain quantum physics to the IWC crowd only to be interrupted by the #IWCicon Jimmy Vega$, who dragged a referee to the ring to quickly dispose of the Professor. And, in pre-show action, Dan Hooven pinned Calvin Couture.
IWC will return to Court Time Sports Center on March 16th, 2019 with EIGHTEEN, celebrating 18 years and 254 live events of IWC! Tickets are on sale now! Stay tuned for news on this huge event!