EIGHTEEN
MARCH 16th, 2019
COURT TIME SPORTS CENTER – ELIZABETH, PA
Results by JTM – Photos by Damian Lynch
---
Keith Haught def. Calvin Couture in a pre-show match
IWC Tag Team Champions The Mane Event (Duke Davis & Ganon Jones, Jr.) def. Team Storm (Jaxon Argos & RC Dupree), The Culmination (Remy Lavey & Atticus Cogar), and Sadie Gang (Darin Dinero & Colby Redd)
Johnny Patch def. Jami Jameson
Dylan Bostic def. Andrew Palace to qualify for Super Indy 18
Britt Baker def. Chris LeRusso to qualify for Super Indy 18
The Founding Fathers (Jimmy Vega$, Dennis Gregory, Super Hentai, & Bubba the Bulldog) def. Bulk Nasty, Elijah Dean, Chest Flexor, & Mambo Italiano
Katie Arquette def. IWC Women's Champion Madison Rayne to win the title
IWC World Heavyweigh Champion Wardlow def. IWC Super Indy Champion John McChesney to win the IWC Super Indy Title
DJZ & Jimmy DeMarco def. Flippin' Ain't Easy (Facade & Gory) in a lucha rules tag team match
---
IWC celebrated our biggest anniversary yet with a modern-era record-breaking crowd a
t EIGHTEEN at Court Time Sports Center in Elizabeth, PA! With literally every chair in the building sold out, we saw history made, legacies cemented, and said farewell to a friend…
Rumors have been swirling over the last few days after DJZ said farewell to IWC. In his last match with IWC, the former Shiima Xion teamed with his best friend "Deeeeeeelicious" Jimmy DeMarco to take on two more friends, former IWC Tag Team Champions Gory & Facade, Flippin' Ain't Easy. 
Gory and DJZ began their careers in IWC together, so it was only fitting they were in the ring together for DJZ's final moments in IWC.
The match was fast and furious as one would expect from these four men, with none other than former IWC owner and ring announcer Chuck Roberts serving as special guest ring announcer. DJZ hit the ZDT on his two opponents to score the winning pinfall. As IWC bid farewell to DJZ, as did he, including his trainers Shirley Doe & Super Hentai at ringside. We've seen DJZ grow from the "First Filipino Male Supermodel of Professional Wrestling" 
to the "Future of Fashion" to the "Filipino Flex Factory" to "That Yung Go-Hard" and all throughout, he has called IWC his home. Good luck to DJZ on his next adventure!
History was made at EIGHTEEN as IWC World Heavyweight Champion Wardlow battled IWC Super Indy Champion "Big League" John McChesney with both titles on the line. Only one man in IWC history has held both titles, and he has gone on to prove WWE stands for "Walk With Elias". 
On this night, the second ever IWC "#ChampChamp" would be crowned, and to make sure there was no dispute, the match was no disqualification!
McChesney and Wardlow fought tooth and nail, including throwing each other through a ladder, using trash can lids and singapore canes, and even intro
ducing a table. It was that on table which Wardlow hit an incredible Swanton Bomb through McChesney that led to the final pinfall. "The Man With War In His Name" now has two championships in IWC, but that also comes with two targets on his back!
With the IWC Super Indy Tournament looming in June, talent has already begun to throw their hats into the ring. Joey Ryan, Jonathan Gresham,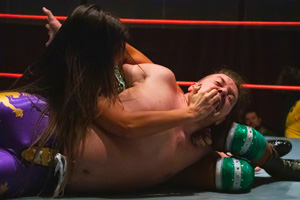 and "RetroAG" Anthony Green were announced at EIGHTEEN as having qualified for the tournament. Two former rivals fought for a spot in the tournament as Dylan Bostic defeated Andrew Palace thanks to a chair shot to earn his way to Super Indy 18.
Another individual qualified for Super Indy 18 and made history in doing so. Britt Baker will become the first woman to enter the Super Indy Tourn
ament in June, thanks to a win over Chris LeRusso. After the match, we saw an odd interaction as Jock Samson helped LeRusso to his feet and walked him to the locker room. Have we seen the beginning of a new alliance in IWC?
Jaxon Argos is still flaunting his Reset Button around, threatening to hit the button and take his title shot whenever it pleases him. At the beginning of the night, Argos interrupted IWC owner Justin Plummer and
former owner Chuck Roberts welcoming the crowd to the event. Chuck took exception to Argos' comments, and insisted that he be forced to compete in the four-way tag team match right then and there!
Argos & RC Dupree had to take on The Culmination, Sadie Gang, and iWC Tag Team Champions The Mane Event in an IWC staple, the four-way tag team scramble match. TME came out on top, pinning The Culmination's Remy Lavey, successfully defending their titles. But Argos wasn't finished, still threatening t
o hit the Reset Button until he thought better of it.
Later in the night, Argos tried to throw his figurative weight around before the Wardlow/McChesney bout, only for the Founding Fathers to run him off. Reuniting for one night only, Jimmy Vega$ brought his old friends former IWC Heavyweight Champion Dennis Gregory, Super Indys 1 & 8 winner Super Hentai, and IWC founder Bubba the Bulldog all back 
to IWC.
After Bulk Nasty complained about not being booked in a match at EIGHTEEN, "The ManDime" Elijah Dean interrupted and complained about the same thing. Chest Flexor interrupted and before he could make a point, Mambo Italiano interrupted everybody and isisted on having his 18th Anniversary Dance Celebration right then and there. Instead, the Founding Fathers decided it was time to remind them who ran the yard in IWC. Chaos ensued and the Founding Fathers ended up with the victory.
Katie Arquette regained the IWC Women's Championship from the "Queen Bee" Madison Rayne thanks to assistance from Calvin Couture. Couture began the match handcuffed to ICWA trainee and backstage interviewer Dani Grey at ringside. When the referee got knocked out in the corner, Couture used the opportunity to steal the key from the ref, uncuff himself, and cuff Dani to the ringpost. He distracted Rayne enough for Arquette to hit the Falcon Arrow and win back her title. I'm sure this isn't the last we'll see between Katie and Dani, but that may have to wait for a few months at least.
In a battle of Iron City Wrestling Academy grads "The American Daredevil" Johnny Patch pinned "The Country Hammer" Jami Jameson. The quicker Patch tried to out-maneuver Jameson, but it seemed like Jameson's power was too much for him to match. Patch was able to use Jameson's leverage against him, though, and roll him up for a small package and the win!
Next up, IWC returns to Meadville, PA with our huge Night of the Superstars 8 live event on April 13th featuring the man called Sting, Hardcore Holly, "Hacksaw" Jim Duggan, The Hurricane, and MVP! We return to White Oak Athletic Association on May 25th as part of a huge double header event with CHIKARA. Finally, we return to our home base of Court Time Sports Center in Elizabeth with Super Indy 18 on June 8th! Stay tuned to IWCwrestling.com for more details on these and more upcoming live events!