NIGHT OF THE SUPERSTARS 8
APRIL 13th, 2019
MEADVILLE AREA HIGH SCHOOL – MEADVILLE, PA
Results by JTM – Photos by Hannah Lightning
---
Dan Hooven & Keith Haught def. Lawless & Order (David Lawless & Officer Dan Murphy)
Elijah Dean won the Meadville Invitational Battle Royal to earn a shot at the IWC World Heavyweight Title, last eliminating Duke Davis & Ganon Jones, Jr. (also entered: Calvin Couture, Mambo Italiano, Lumberjack Leroux, Crosshairs Kelly, Patrick Hickey, Zach Thomas, Ryder Reid, TKD, Chest Flexor, Corey Futuristic, Billy Ruxpin, Jinx, Zander Gabriel, Joey Moses, Zach Nystrom, Paris Sahara, Korbin Borne, Vice Principal Edgar Johnson, Isiah Wolfe, Remy Lavey, Philip Archer, Stevie Lebell, and Jason Tyler)
IWC Super Indy Champion Wardlow def. John McChesney
Aaron Draven def. Atticus Cogar, Gory, Jami Jameson, Johnny Patch, and Remix Pro Wrestling RIOT Champion Kevin Bennett to win the title
The Hurricane def. Bulk Nasty
Andrew Palace & Hardcore Holly def. Jock Samson & Chris LeRusso
MVP & The Mane Event (Duke Davis & Ganon Jones, Jr.) def. Mambo Italiano & Hollywood Couture (Calvin Couture & Elijah Dean)
Jimmy Vega$ def. Jaxon Argos. As a result, Vega$ & Hacksaw Jim Duggan forced Team Storm to salute the flag while the Star Spangled Banner played.
---
IWC made its return to Meadville Area High School with our 8th-annual Night of the Superstars live event! It's always a fun time in Meadville, and it all goes to a good cause, benefitting Meadville Area Middle School students! WWE Hall of Famer Sting opened the live event explaining the different causes that the event benefits, and thanking the fans for attending and giving to such a good cause.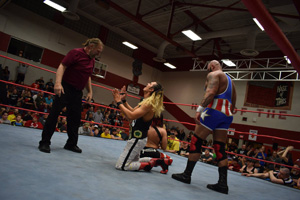 Despite going through open heart surgery around two weeks prior to the event, Hacksaw Jim Duggan still soldiered on to appear at Night of the Superstars 8! He was unable to compete in his originally scheduled match against Team Storm's Jaxon Argos. The Canadian sympathizers hit the ring to protest, only to be run off by Jimmy Vega$. Vega$ stood up for Hacksaw and America, offering to take on Argos himself with some high stakes: if Argos won, Night of the Superstars would move to Calgary, Alberta, Canada in 2020. But, if Vega$ won, Argos & RC Dupree would be forced to salute the American flag while the Star Spangled Banner played!
Vega$ paid tribute to his mentor Kurt Angle by donning an actual Kurt Angle singlet for the bout. During the match, interference from RC
Dupree forced Hacksaw's hand, and he hit RC with the legendary Three Point Stance. That allowed Vega$ to hit the Cha-Ching Slam leading to the victory. Team Storm tried to escape, but Vega$ & Duggan held them as the Meadville crowd helped lead a rousing Star Spangled Banner!
MVP & The Mane Event (dubbed "TMVP" by fans) took on Mambo Italiano, Calvin Couture, & "The ManDime" Elijah Dean of the Arquette Entourage. The presence of Justin Labar & Katie Arquette at ringside gave the Entourage the edge, with almost constant interference and distractions.
MVP was able to clean house on the trio, and TMVP hit the Ballin' elbow in one of the most memorable moments of the night en route to victory! After the match, MVP gave his seal of approval to the IWC Tag Champs!
Bulk Nasty tried to get some revenge on The Hurricane. At Reloaded 5.0 in January, Hurricane surprised everybody by appearing in the 16bit Challenge, and eliminated Bulk, who dominated the match until that point. Bulk tried to overpower the superhero, but Hurricane battled back and hit 
the chokeslam for the win! Is it possible the Hurricane is Bulk Nasty's kryptonite?
Jock Samson & Chris LeRusso seem to have formed a new alliance in IWC. They've pointed out supposed collusion between IWC management in an attempt to keep them down. Jock & LeRusso challenged anybody at Night of the Superstars, and were met with Andrew Palace and his partner, Hardcore Holly! Holly laid into LeRusso with vicious chops while Jock 
refused to enter the ring until Holly was prone on the mat. But after a Hernia Driver from Andrew Palace, the duo of Holly & Palace stood tall with the victory! Back to the drawing board for Jock & LeRusso…
IWC World Heavyweight Champion & IWC Super Indy Champion Wardlow remains the #ChampChamp after successfully defending his title against "Big League" John McChesney. It was a valiant effort by McChesney in front of his home crowd, but two All Day Drivers will keep anybody down for a three count!
Next up for the #ChampChamp is "The ManDime" Elijah Dean, who won a Meadville Invitational Battle Royal earlier in the night. With the Arquette
Entourage at ringside, Dime was able to eliminate both members of The Mane Event, Duke Davis & Ganon Jones, Jr., to win the match. In another pre-show match, Keith Haught & Dan Hooven defeated Lawless & Order in a big win for Haught & Hooven! Plus, the Remix Pro Wrestling RIOT title changed hands as Aaron Draven defeated Atticus C
ogar, Johnny Patch, Jami Jameson, Gory, and champion Kevin Bennett to win the title in a high-flying six-way scramble!
Next up on the IWC schedule, we return to White Oak Athletic Association for a huge double-header with CHIKARA on May 25th! Then, we return to our home base for a huge summer schedule! Three events in a row, June 15th is Super Indy 18, July 13th is Threat Level Midnight: The Sequel to the Sequel, and August 10th will be Caged Fury 2019! Stay tuned to IWCwrestling.com and social media for news on these live events and more!