IWC is back at Court Time Sports Center in Elizabeth, PA for our biggest event of the year, Winner Takes All! The action kicks off with our special Facebook Free-For-All pre-show on Facebook Live at 6:30 PM, and the live event begins at 7:00 PM! If you can't be there live, make sure you check us out on IPPV here! This year, the card is more STACKED than ever:
Rhino joined Team Storm for one night to help ensure he became #1 contender. And as soon as he achieved his goal, he attacked and set his plan in motion! Rhino said he came back to the IWC for one reason, and that was to capture the World Heavyw Championship! Will he be able to end the "Era of Argos" in an EXTREME RULES match?!
---
In what is considered the biggest tag team match in IWC Wrestling history, the IWC Tag Team Titles AND the Impact Wrestling Tag Team Titles will both be on the line!  The Mane Event has dominated the IWC Tag Team division for years, and has held the IWC Tag Team Titles for a historic three times!  The North are the current Impact Wrestling Tag Team Champions, and may be the most dominant team in their company's history.  But on November 2nd, it will truly be "Winner Takes All" when these two red hot teams collide for ALL of the gold!
---
It doesn't get much bigger than this! One of IWC's best faces off against one of Impact Wrestling's best as we see Andrew Palace vs Brian Cage! This match could easily steal the show on November 2nd, and a win for Palace could put him right back at the top of the IWC Championship standings!
---
JACK IS BACK, and he's out for revenge! After Jack cost RC his High Stakes Championship, and RC cost Jack a shot at the World Heavyweight Championship, there's only one logical next step. On November second, don't miss this grudge match 11 months in the making, as Jack Pollock finally returns to step into the ring in singles competition with his former ally turned traitor, RC Dupree!
---
Exactly one year after barely surviving the vicious attack of Atticus Cogar and The Culmination, Shawn Phoenix rose from the ashes in an attempt to save Gory from the same fate! And while we have not been able to track down Gory after his brutal fall at IWC Unbreakable, we can confirm that Phoenix will FINALLY return to the ring in a grudge match 13 months in the making! Will the fire bird get his long awaited revenge? Or will Atticus finish the job he started one year ago?!
---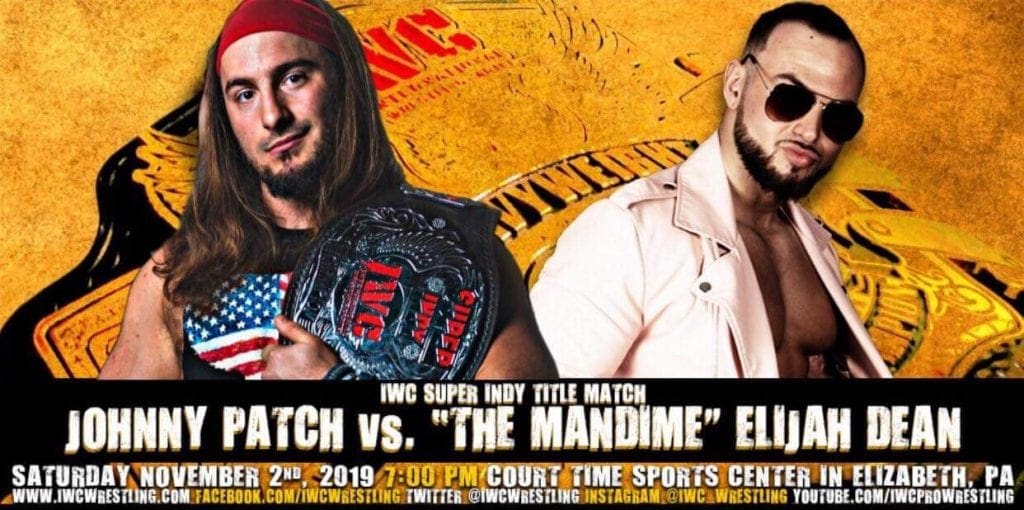 Johnny Patch and The Man Dime have been at odds since the day they debuted in pro wrestling, and both want to be known as the undisputed future of IWC. Now, at the biggest event of the year for the greatest prize, they will square off one more time for the right to be called IWC Super Indy Champion! The future is now, and the stakes have never been this high for this year-long rivalry!
---
Jimmy Nutts returned to the IWC for two reasons: 1. Get revenge on the man who ruined his farewell over 3 years ago, and 2. Recapture the IWC World Heavyweight Championship.  Nutts thought he had moved on to step #2, and was within inches of winning the #1 contender ladder match, when Bostic re-emerged and ruined Jimmy's chances. Now, Nutts looks to finish this rivalry with Bostic once and for all so that he can move on to regaining the IWC Championship, but Bostic has other plans! They settle this rivalry on November 2nd!
---
The undefeated tag team of Steak & Eggs / Bulk Nasty & Zander Gabriel / Bulk Nasty & Bulk Nasty will get their biggest opportunity yet on November 2nd at IWC Winner Takes All when they face former IWC Tag Team Champions, The Regulators! Will Steak & Eggs prove that their win streak is no fluke, or will The Regulators show everyone why they deserve the Tag Team Title rematch that that so adamantly claim they deserve?!
---
After being promised an IWC Women's Championship rematch by Justin LaBar last month following her victory over Calvin Couture, it looks like Katie Arquette will NOT be getting the title rematch that we thought! Instead, Ray Lyn has placed LaBar on temporary administrative leave, and challenge Katie to a new match! Ray Lyn will be bringing her friends, and she has dared Katie to bring hers!  If Team Arquette pulls off the victory, Katie will finally get her championship rematch next month at The Second Annual Pittsburgh Pro Wrestling Classic!  But if Team Ray Cray comes out on top, Ray Lyn will get the entire month of December off!  Will the Queen get a chance to win back her crown, or will this be the final scene in her featured film?!
---
The Lebanon Don is undefeated in IWC, but his wealth has been a major factor in both of his wins so far. On November 2nd, he will go one-on-one with IWC Legend, Jimmy Vegas! Vegas has made it clear that he wants one more reign as IWC World Heavyweight Champion, but will Lebanon Don prove that even the IWC legend has a price?
---
And don't forget to come early at 6:30 for The Facebook Free-For-All match! "Hardcore" Hooven has always stated that if he ever captured the IWC Highstakes Championship, one of his first defenses would be versus his close friend, Jami Jameson. Now, Hooven is making good on that promise! What will the match stipulation be when these two men set aside their friendship in pursuit of IWC gold?!
---
Many consider this event the Super Bowl of Pittsburgh Professional Wrestling, so don't miss out!
Preorder your tickets, or order the LIVE iPPV right here on IWCwrestling.com!