IWC is back at Court Time Sports Center in Elizabeth, PA for our 2019 Grand Finale – The Second Annual Pittsburgh Pro Wrestling Classic! The action kicks off with our special Facebook Free-For-All pre-show on Facebook Live at 6:30 PM, and the live event begins at 7:00 PM! If you can't be there live, make sure you check us out on IPPV here! This event will feature the BEST professional wrestlers in the Steel City, and the dramatic conclusion to many long-standing rivalries and feuds!
After a nasty breakup in January, Jack Pollock has fought his way back from surgery and will have the opportunity to get revenge on the man who stabbed him in the back and win back the IWC Championship all in one night! It's Pollock vs. Argos at the Second Annual Pittsburgh Pro Wrestling Classic!
---
It's official! After their backstage encounter earlier this month, The North and The Regulators will settle their issues in the ring on December 7th. And the IWC Tag Team Titles will be on the line!
---
Shawn Phoenix scored a storybook victory over Atticus Cogar in his long awaited return at Winner Takes All! But Atticus was quick to attack Phoenix following the match, and announce his intentions to end The Fire Bird's career once and for all. So on December 7th, it's official – Atticus Cogar vs. Shawn Phoenix in a STRETCHER MATCH!
---
After two controversial finishes, and a scary injury earlier this month causing the match to end in a no contest, Jimmy Nutts has been cleared to compete! On December 7th, he will have one final encounter with arch rival Dylan Bostic, and this time there must be a clear winner! Will Nutts finally get the vengeance that he returned for? Or will Bostic fulfill his promise to end Jimmy's career for good?
---
 Back in August, Ray Lyn and Justin LaBar exercised a years-long master plan to not only take the IWC Women's Championship from Katie Arquette, but also steal her best friend! Now, after months of seeking revenge, we will finally see Katie Arquette vs. Ray Lyn one-on-one for the IWC Women's Championship! Who will come out on top when two of the best women's competitors in the game go to war for the gold?!
---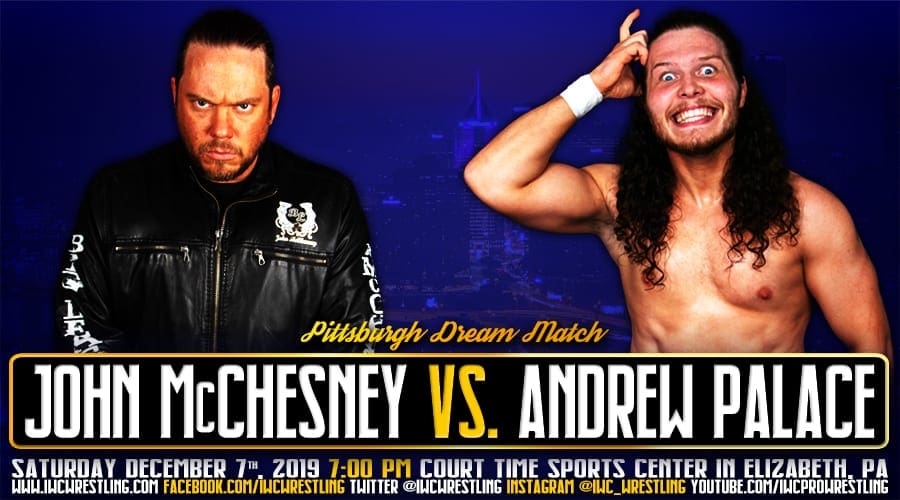 With 4 IWC World Heavyweight Championship reigns and 9 IWC Super Indy Championship reigns between them, this is a true Pittsburgh Dream Match! Two of the greatest in IWC history compete for the first time ever, and you can only see this match here! Tickets for John McChesney vs. Andrew Palace available now at IWCwrestling.com! Don't miss this historic dream match!
---
We have now learned the name of the mystery attacker who assaulted Johnny Patch at our last event. He has told us that we must refer to him as… Angelik. But we still don't know why he is here, and why he is after Johnny Patch!? Join us to find out what exactly is going on when the two go one-on-one for the IWC Super Indy Championship on December 7th!
---
The Pittsburgh Pro Wrestling Classic Battle Royal is back! Not only will the winner be rewarded with the 4-foot tall championship trophy, but they will also be destined for immediate opportunity within IWC! After winning the PPWC Battle Royal as a rookie last year, Johnny Patch became a household name and captured the IWC Super Indy Championship less than a year later! Will we see the next breakout star in Pittsburgh emerge on December 7th?
---
For the first time ever, new ICWA graduates will make their debut with the opportunity of a lifetime.  These four rookies will have the chance to capture the Pittsburgh Pro Wrestling Classic Battle Royal Championship Trophy in their very first match! Rookies include:
"The Cologne Connoisseur" Chase Gold is the best smelling man in pro wrestling. He's a former R&D scent consultant for the top perfume companies in the world, but he's now on a mission to freshen up the IWC with his signature musk.
"Thicc" Vic Braun is the thiccest man in pro wrestling. He's coming to IWC to prove that he is indeed the ultimate party boy badass! Hang on to your girls and your beer!
"Forever #1" Anthony Young is here to show off his superior athletic ability. Many are already calling Young the future of IWC and a true future #1, but can he prove it at the Classic!?
"The Conspiracy" Miles Monroe is the… "unique" one of the bunch.  He claims that after his fourth time being abducted by aliens, he learned that reptilians are secretly running wrestling from behind the scenes. Miles states that he  wrestles to expose them and tell everyone the truth…
---
Rookie upstarts, Spencer Slade and Zach Nystrom, look to continue their winning ways after getting on the right track at our last event! But they will have a tough challenge as they take on the lawless and order division of The Regulators!
---
As in 2018, IWC will be pairing with Toys for Pittsburgh Tikes to hold our annual Toy Donation Drive! Toys for Pittsburgh Tikes is an amazing organization that "supports the less fortunate children of the city of Pittsburgh and surrounding areas during the holiday season (or other times of need) by providing new toys, books, and quality playthings that foster happy childhoods and positive lives." In 2018, we filled more boxes than we had anticipated, and we hope our amazing fans help us out once more with the Toy Donation Drive! Be sure to bring new and unopened toys to the front door of Court Time Sports Center for your donation!
---
Don't forget to join us for our last OFFICIAL Dark Match Podcast IWC After-Party at the Carriage Inn immediately following the event!  The kitchen will be open extra late, we will have IWC themed drink specials, and the crew from Dark Match Podcast will be recording special interviews all night! Don't miss out!
Preorder your tickets, or order the LIVE iPPV right here on IWCwrestling.com!