IWC Wrestling presents IGNITION on February 22nd!  The lineup is stacked, so pre-order your tickets now right here!  If you can't be there in person, you can watch LIVE on iPPV or the IWC Network from any computer or mobile device!
On February 22, Jack Pollock will defend the IWC World Heavyweight Championship against Brian Pillman, Jr.! At the conclusion of our last event, it appears that Atticus Cogar was about to activate The Reset Button and steal the IWC Title from Jack Pollock! However, in a surprise twist, Brian Pillman made the save… but Pillman didn't leave without making a MAJOR announcement, and and even bigger challenge!  Now, The Promised Prince is set to challenge the IWC Hardcore Icon for the biggest prize in the game, but Pollock has stated that he will die before ever losing this title again!  Will Pillman continue his speedy rise to the top of pro wrestling by conquering The Steel City, or will Pollock get one of the biggest wins of his storied career?
After a surviving for a record setting time in the 16-Bit challenge, JaXon Argos will get another opportunity to prove he belongs back in the IWC World Heavyweight Title picture as he battles Jeff Cobb on February 22nd at IWC Ignition!  However, Jeff Cobb has been on a path of destructive dominance across the globe over the past several years, including several impressive performances right here in IWC!  Will Argos get back to the top of the IWC, or will he be the next victim of The Hawaiian Juggernaut?!
Hardcore Hooven has quickly become one of the most popular stars in IWC with his exciting and hardcore wrestling style.  Hooven became and even bigger fan favorite when he captured the IWC High Stakes Championship, which allows the champion to select the mat ch stipulation for every title defense!  However, one man hasn't been a huge fan of Hooven's during his title run.  Mambo Italiano believes that Hooven is a coward, and that he is avoiding Mambo at all costs.  On February 22nd, these two men will finally meet one-on-one, and Hooven didn't wait to make his chosen stipulation known.  Hardcore Hooven is making this one EXTREME, as ECW Icon "The Franchise" Shane Douglas has been named the special guest referee!
Andrew Palace has grown skeptical over the years after several of his allies have turned their back on him, most recently John McChesney on the night The New Team Big League was formed. So when the Reset Button chose Bill Collier to be one of his partners to go to battle with Team Big League at out last event, he was already weary. But when a miscommunication caused Collier to knock Palace out with a fist to the face, Palace immediately lost all trust. Now believing that Collier is the next Team Big League member waiting to strike, he has asked to settle things in the ring! On February 22nd we will see Andrew Palace vs. "Big Time" Bill Collier one-on-one! Are Palace's accusations true? Is Collier a sleeper cell within Team Big League? Or has Palace gone full blown paranoid?
Speaking of Team Big League, Spencer Slade took the brunt of the punishment at our last event when his teammates, Andrew Palace and Bill Collier, had a major miscommunication vs. Team Big League in a six-man tag.  But on February 22, Spencer will get a one-on-one shot at Team Big League leader and IWC legend, John McChesney! No teams, no distractions, just upstart rookie vs. established legend!  Will the legend of Big League continue to grow, or will Spencer Slade show that there's a new generation ready to takeover IWC?!
Just when we thought Steak and Eggs were broken up forever, the infamous Reset Button brought them back together! And in shocking fashion, this odd couple upset The Regulators to remain undefeated and win IWC Tag Team Gold! Now with time to prep, The Regulators will get their rematch! Will The Regulators ride high once again? Or will the unconventional undefeated streak continue for Bulk and Zander?!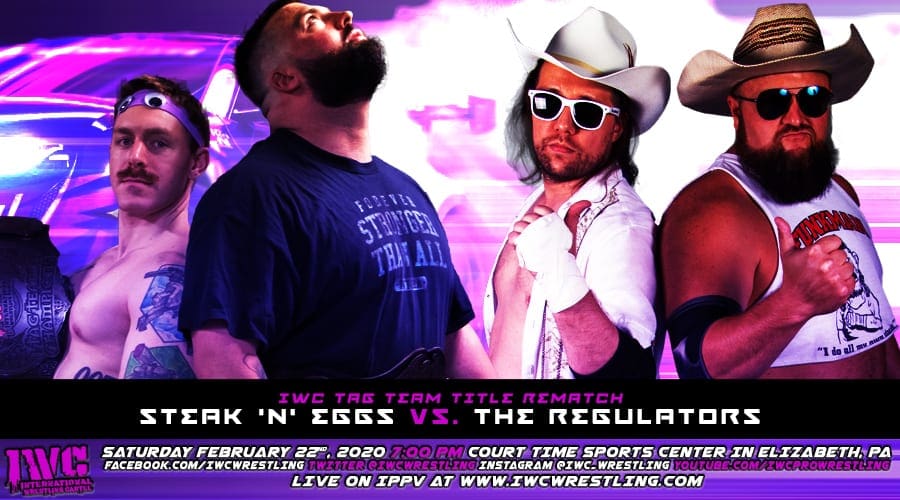 Katie Arquette went from Queen of the Silver Screen to Queen of IWC, but now some new royalty is after Katie's crown! On February 22, Queen Aminata will make her IWC debut, and she looks to claim the throne with a huge win in her first match!
Johnny Patch knows he was given a golden opportunity when he was selected by Wardlow to challenge Josh Alexander for the IWC Super Indy title, so he asked IWC management to give others that same opportunity to shine and jump to the front of the line.  We loved the idea, but couldn't decide which IWC Superstar deserved that special oppportunity…. so we picked three! Three of the hungriest and hardworking men on the roster will all get a chance to capture the historic Super Indy Championship on February 22nd!  Who will use this opportunity to stand out above the rest?
Angelik finally came out of the shadows earlier this week and made it clear that he wants Shawn Phoenix to "embrace the light". But on February 22nd at IWC Ignition, he will face a roadblock on his path to Phoenix in the form of IWC vet, Chest Flexor!  Flexor is a former IWC Tag Team and High Stakes Champion who is looking to get back in the hunt in IWC.  Will he be able to survive the mysterious Angelik?  Or will Flexor be the next IWC Star to be left laying beneath Angelik's golden feather?!
IWC Legend Jimmy Vegas has asked us to allow him to make a major announcement at IWC Ignition on February 22nd. Vegas has been with IWC since day one almost 19 years ago, and is a two time IWC Heavyweight Champion, so we are happy to give him the floor.  What will the future hold for Jimmy Vegas?
Come early on February 22nd for the Facebook Live Free-for-All and catch this special tag team encounter! At 6:30, the New Team Big League looks to continue their dominance as they square off with the Team of Philip Archer and "The Sexy Fireman" Jason Tyler!
Don't miss the best wrestling in the area!  Tickets for February 22nd are on sale now right here!  Remember, if you can't be there in person, you can watch LIVE on iPPV or the IWC Network from any computer or mobile device!