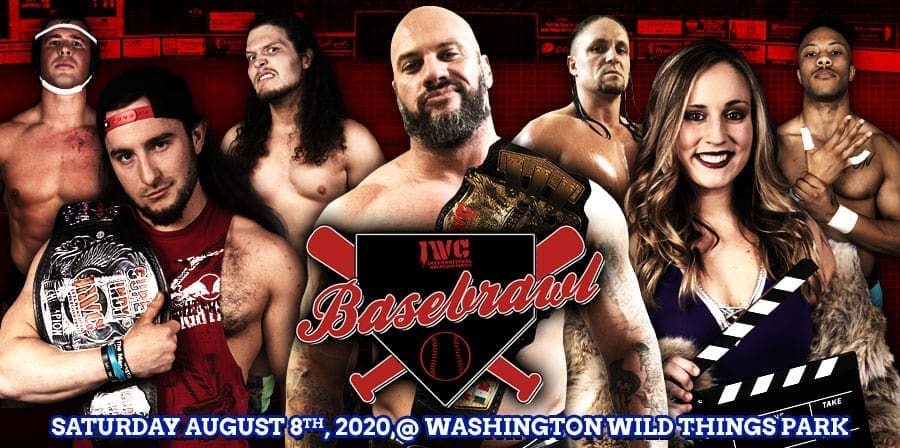 IWC returns on Saturday afternoon August 8th, 2020 at the Wild Things Park in Washington, PA with BASEBRAWL! The action kicks off at 12:00 pm NOON! Due to concerns surrounding COVID-19, we will continue to have several safeguards in place to continue with this live event. They are listed at the link below. Please read through them before attending our event, as there are several important points for fans, including wearing a mask throughout the event. We have a limited number of tickets available so make sure you get yours ASAP! Due to staging issues, this event will not be broadcast live on IPPV, but will be available on the IWC Network in the days following the event. Stay tuned to this website for news on that. In addition to spending the afternoon with IWC, ticketholders are invited to stay at Wild Things park for a huge baseball double-header at 3:00 pm and 7:00 pm as the Washington Wild Things, Baseball Brilliance Sox, Road Warriors, and Steel City Slammin' Sammies do battle on the field!
Tickets: https://www.wildthingstickets.com/web/event/128/iwc-basebrawl-08-08-2020/
Safety Guidines: https://www.iwcwrestling.com/covid19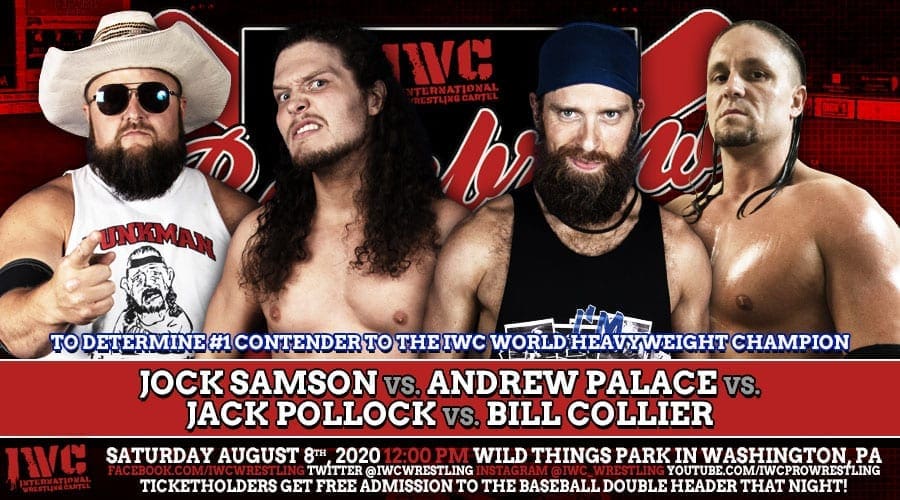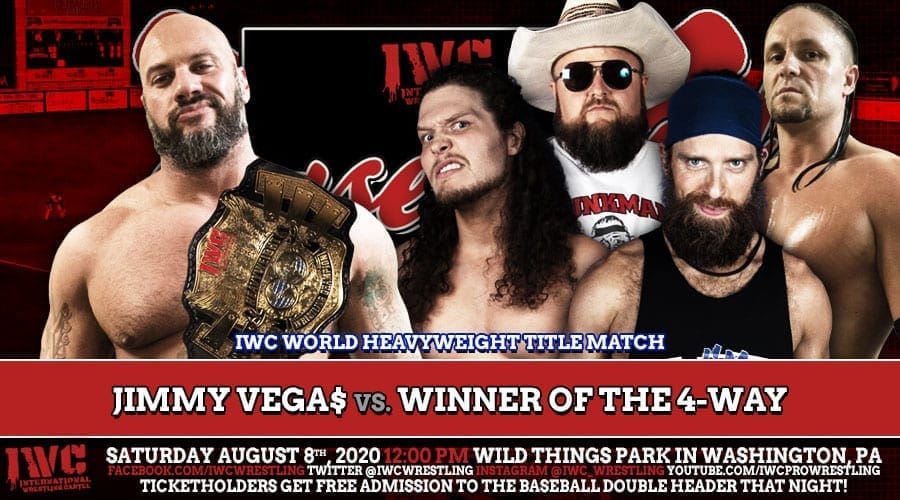 We thought we would be able to determine a new #1 contender based on the match results from our last event, but our fan poll showed that your opinions are still very split. In the interest of fairness and giving fans what they want, we are going to try this one again! It's simple! IWC's top four championship contenders will face off in a single match to determine the new #1 contender. The winner will advance to the main event to challenge Jimmy Vegas for the IWC World Heavyweight Championship! This means one of 5 different men could walk out of Washington Wild Things park as IWC Champion!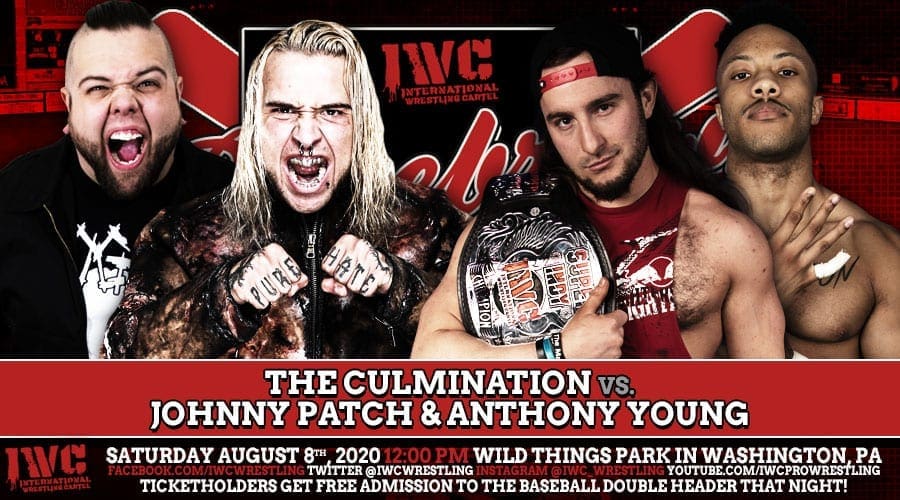 Otis Cogar tried to help his brother Atticus take the title in the TLC Match, but Patch was able to get the pin on A1 in the midst of all the chaos. Now Patch and A1 have put their differences aside to try and take out the threat of the Cogars once and for all. But, Atticus has the power of the Reset Button. Will that come into play as the Cogars take on Patch & A1 at Basebrawl??
At our last event, Ella Shae found herself on the winning team over Katie Arquette and Queen Aminata, but her path to victory was shrouded in controversy. On August 8th, she will be joined by the two men who helped her team steal a victory – "The Fashionista" Calvin Couture and "The Best Smelling Man in Wrestling" Chase Gold. But Katie will be out for revenge, and this time she has help. Joining The Queen of the Silver Screen will be two of the hottest competitors on the roster – IWC High Stakes Champion RC Dupree and the upstart Spencer Slade!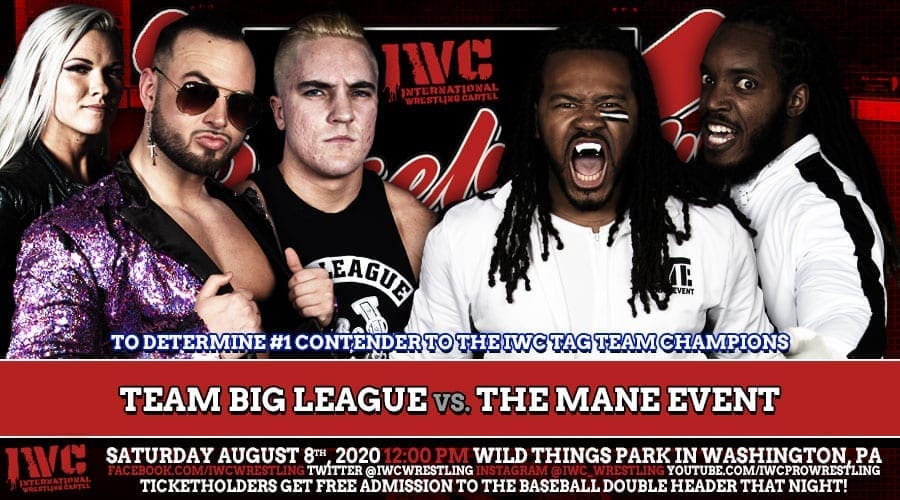 Our first match for IWC Basebrawl on August 8th is set! IWC owner Justin Plummer signed this bout himself at Wrestling Night at the Washington Wild Things Park. The Mane Event got a huge win over The North at NINETEEN back in March. But, Team Big League members "Sure Shot" Zach Nystrom & "The ManDime" Elijah Dean are undefeated as a tag team. So the two teams will square off at the ballpark to determine the #1 contender to the IWC Tag Team Championship!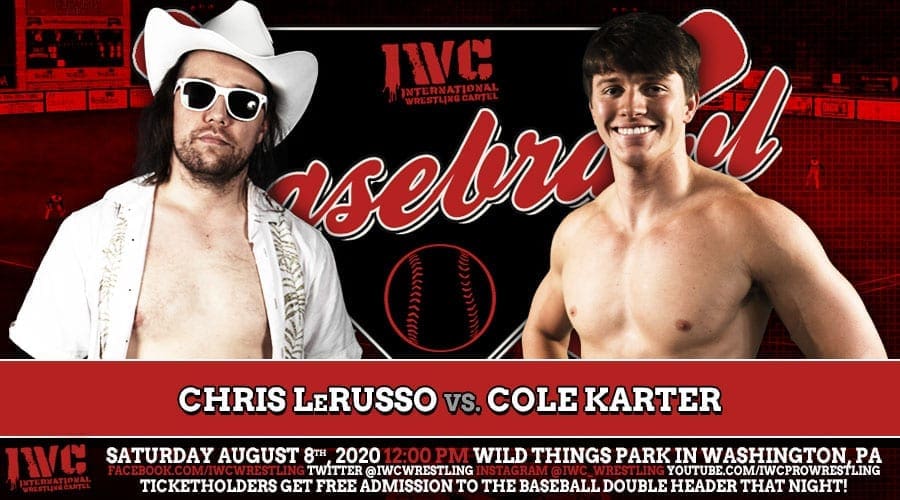 This rookie is healed up and ready to go! "The Natural" Cole Karter is one of the youngest and most athletic graduates of IWC's Iron City Wresting Academy in recent memory. His potential is unlimited, and on August 8th he will have the opportunity to shine as he faces a man with more experience and success than most others to ever compete in an IWC ring! Will Cole show that he could be IWC's next big star? Or will Chris LeRusso regulate The Natural back to ring crew? It's vet vs. rookie at Washington Wild Things Park!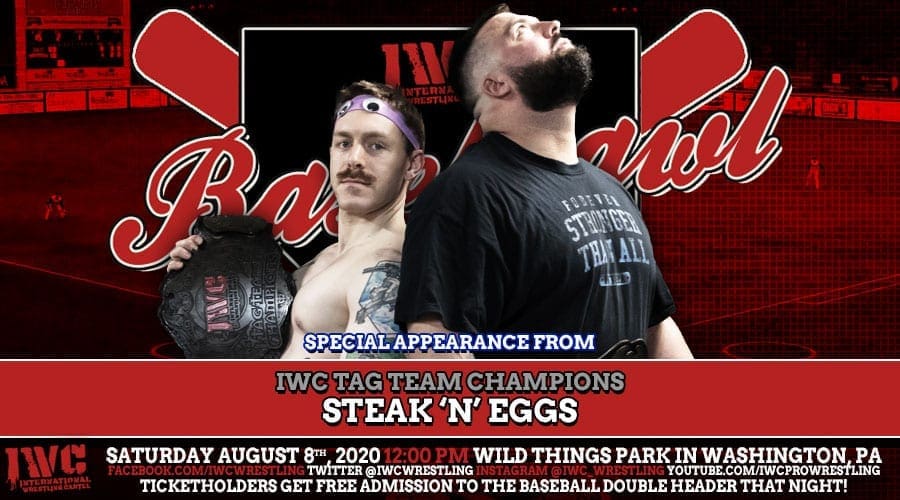 IWC Tag Team Champions, Steak & Eggs will be making a special appearance at IWC Basebrawl on August 8th! We know they will have their sights set on the #1 contender tag match, but what other craziness will this odd couple have in store?!