IWC returns to the Brownsville Drive-In in Grindstone, PA on Saturday August 29th, 2020 with FEATURE PRESENTATION! The action kicks off at 1:00 pm! Due to concerns surrounding COVID-19, we have to have several safeguards in place to continue with this live event. They are listed at the link below. Please read through them before attending our event, as there are several important points for fans, including wearing a mask throughout the event. All tickets are general admission, and we have less than limited tickets available, so make sure you get yours ASAP! Unfortunately due to connectivity issues, this event will not be broadcast live on IPPV, but will be available on the IWC Network in the days following the event. Fans can tune in on their car radios to 97.1 FM for theme music and live commentary!
Tickets: https://iwcwrestling.com/product/feature-presentation-general-admission-ticket/
Safety Guidines: https://www.iwcwrestling.com/covid19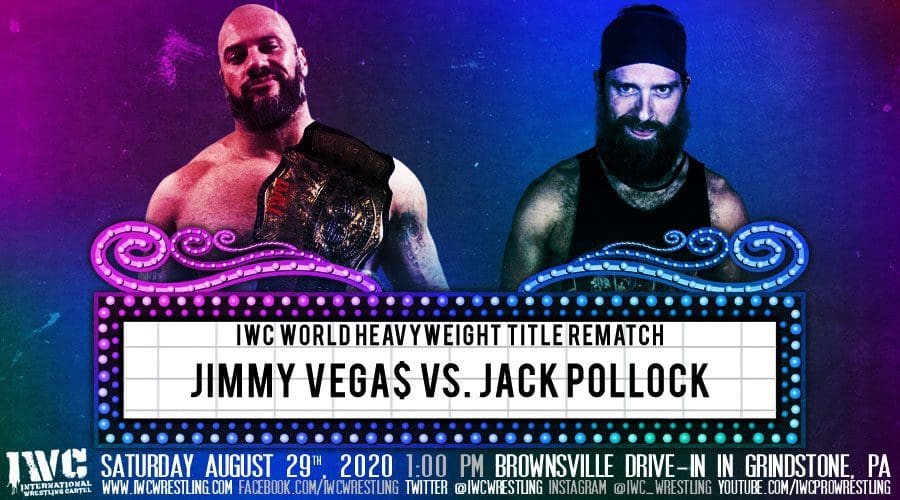 The main event for August 29th is set! The rematch that never happened is finally official as Jack Pollock faces his childhood hero Jimmy Vegas for the IWC World Heavyweight Championship!
These men first squared off in IWC's final match before the shutdown, and the finish was full of controversy. At the time, Pollock was on a roll as IWC Champion, but his momentum came crashing to a hault when he lost his title to Vegas due to referee stoppage! He never gave up and was never pinned, then entered a four month shutdown with the frustration atvthe forefront of his mind.
Since our return, Pollock has struggled to find his rhythm, but has begun to shown signs that the hardcore icon is ready to rule IWC for a historic 3rd time. However, Vegas knows that this is the last ride of his 20 year career, and he isn't ready to be done just yet.  Who will walk out with the gold when the IWC Icon challenges the IWC Legend?!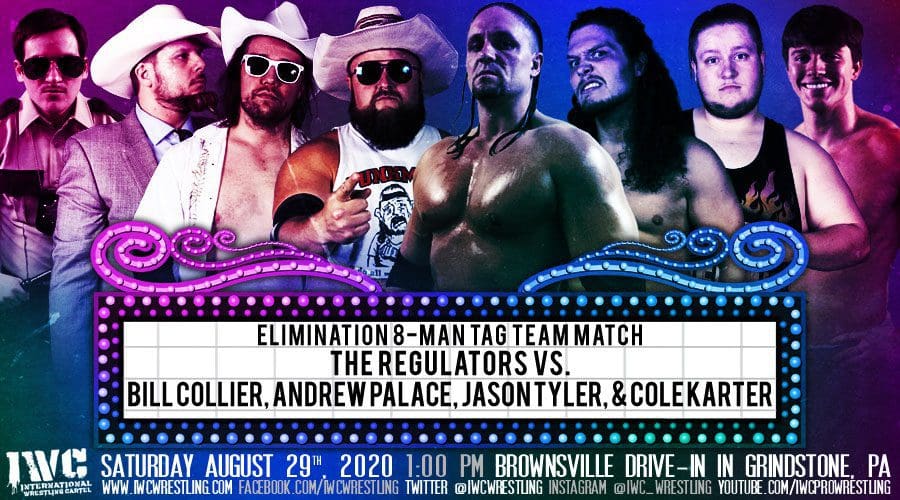 The Regulators have spent the last several months trying to shut down IWC, making life miserable for several of our top stars in the process. On August 29, the battle lines are drawn in an old fashioned elimination tag team match! The Regulators will "mount up" as they battle four men who they have wronged since our return to live action. Andrew Palace, Bill Collier, The Sexy Fireman, and rookie Cole Karter all have unfinished business. Will they get their revenge, or will The Regulators get one step closer to closing the doors of IWC?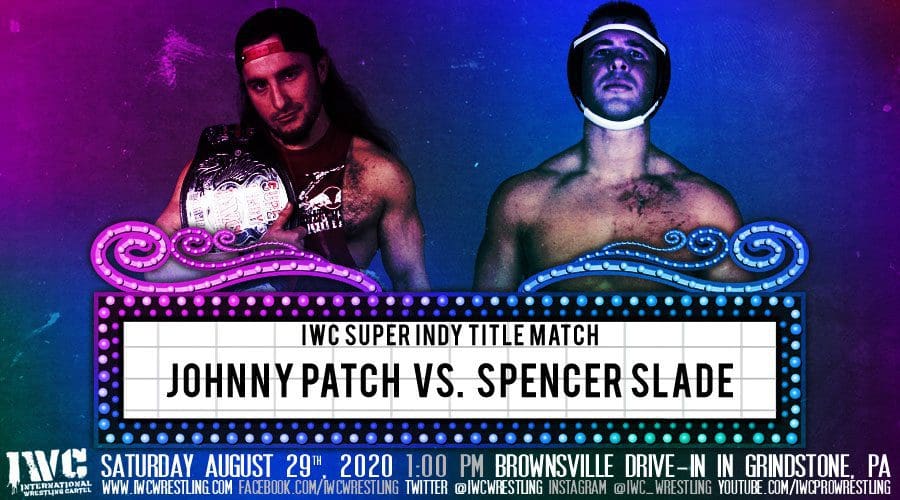 Two of IWC's top athletes, but with significantly clashing styles, will battle for the IWC Super Indy Championship on August 29th!
Spencer Slade has been on a hot streak since IWC has been back in business, putting away opponents with his strength and ground game. However, Johnny Patch is also unbeaten since our return, getting victories with his high flying arial attacks.
Who will walk out of IWC Feature Presention with the gold?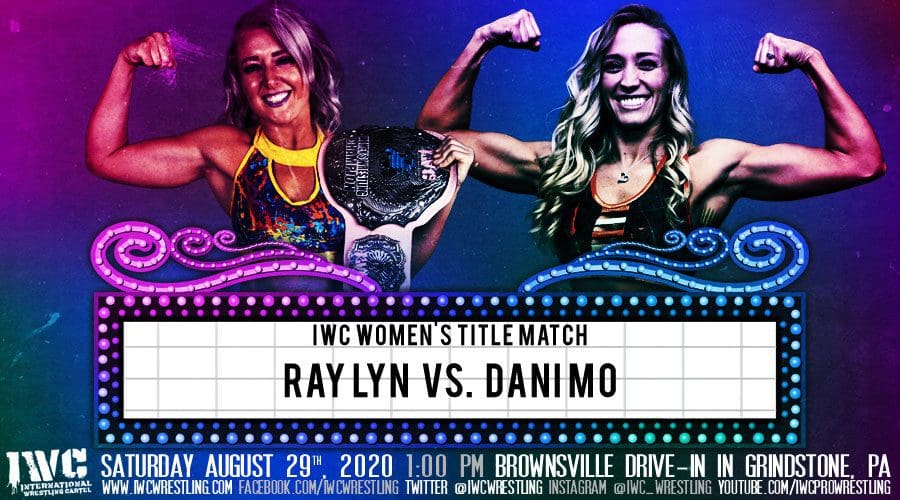 Ray Lyn has just surpassed one full year as IWC Women's Champion, but her title will be on the line when we return to The Brownsville Drive-in on August 29th!
Her challenger is a familiar face to IWC fans. Dani Mo has gotten the attention of fans as one half of the Neon Blondes, often accompanying Facade to the ring for his matches. However, she has a huge opportunity to make history in her IWC in-ring debut!
Will Dani Mo fly to the top of IWC, or will Ray Lyn continue her dominance of the women's division?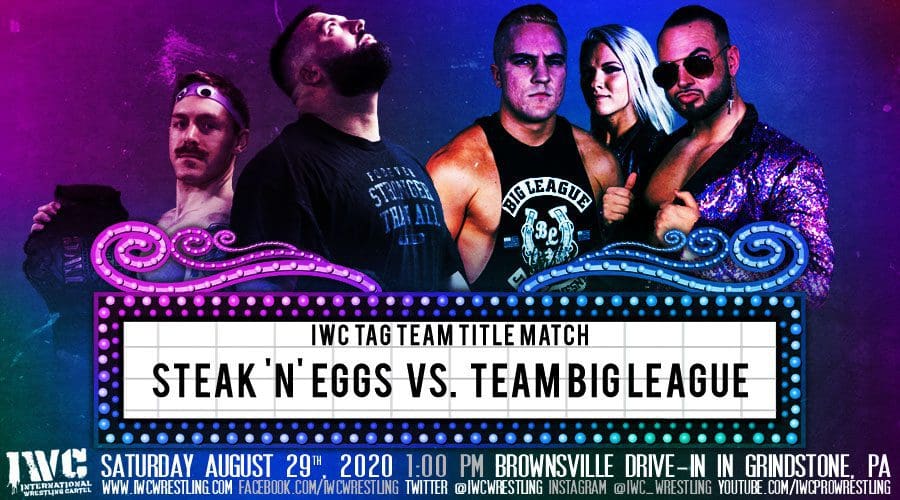 After a shocking and controversial upset of TME at our last event, an undefeated Team Big League has earned a shot at the IWC Tag Team Titles. However, their luck may be about to run out as they run into the only other undefeated tag team in IWC, Steak and Eggs. It doesn't get any bigger than this! The winner leaves with their undefeated record in tact AND with the prestigious IWC Tag Team Championships. Will the upstart Team Big League continue their streak? Or will the friendship of Steak and Eggs continue to grow on their journey as champs?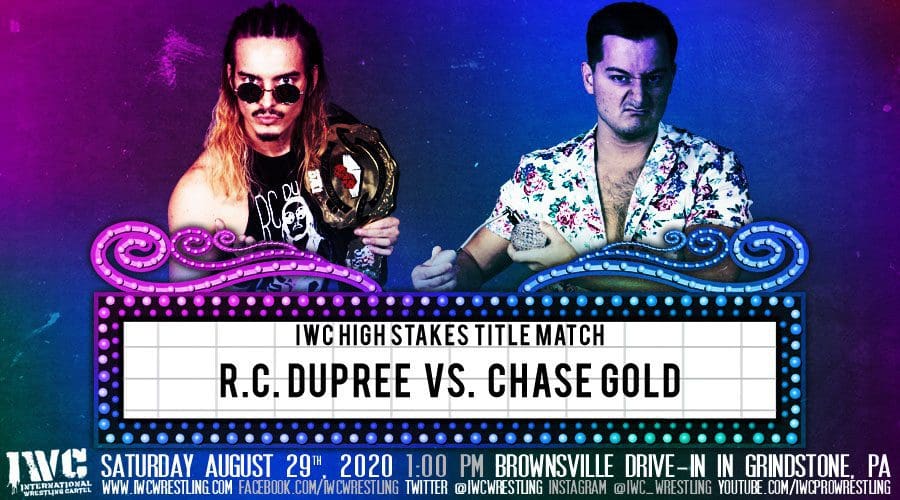 RC Dupree and Chase Gold have some unfinished business following their encounter during our last event at Washington Wildthings Park (available on the IWC Network at IWCwrestling.com).
This time, the self proclaimed "best smelling man in pro wrestling" will face The Eccentric Athlete one-on-one, and the IWC Highstakes Title will be on the line! Will "Highstakes" Dupree live up to his nickname, or will Chase walk out with the Gooooold?!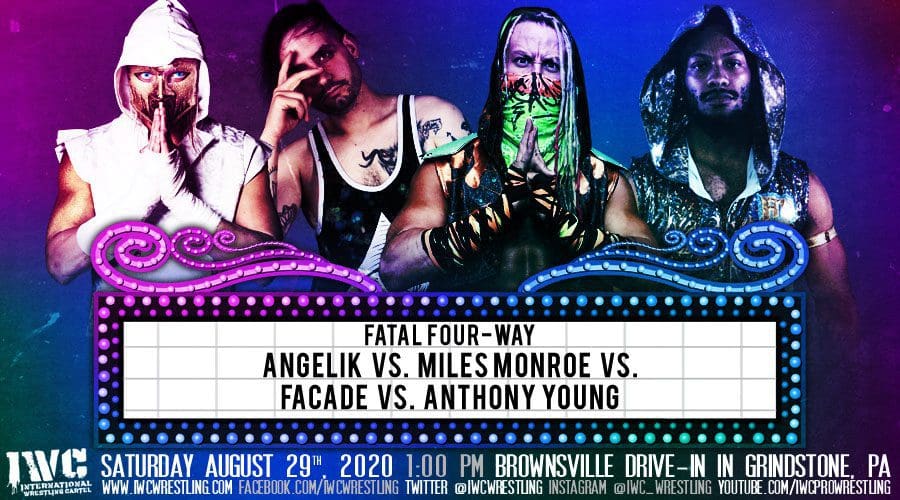 With rumors of Super Indy 19 being right around the corner, IWC stars of the past, present, and future will compete in a 4-way scramble to show that they deserve to be part of the prestigious bracket! Who will come out on top in this Super Indy Showdown on August 29 at the Brownsville Drive-in?!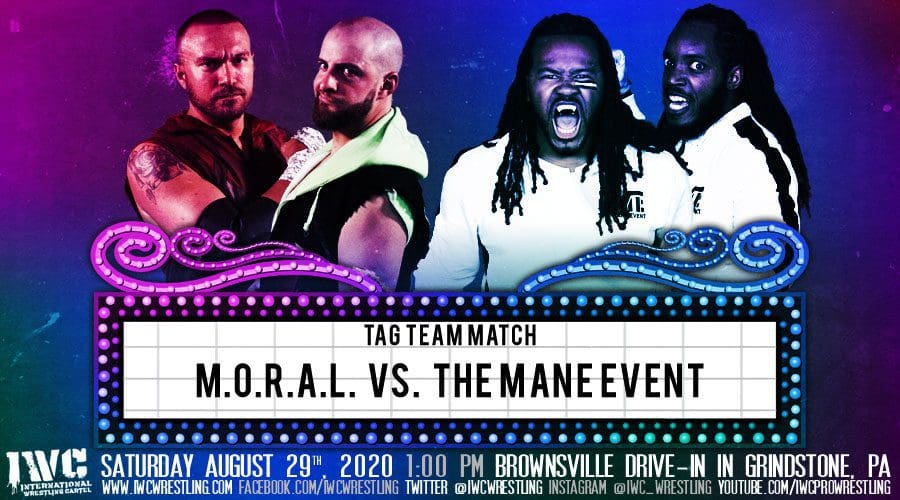 M.O.R.A.L. had an impressive IWC debut when we were last at the Brownsville Drive-in, but they came up short against Steak n Eggs. Things aren't going to get any easier on August 29 as they face former 3-time IWC Tag Team Champions, The Mane Event! Will the newcomers be able to pull off the upset against another top-tier IWC tag team, or will TME score with their patented *Flea Flicker*?!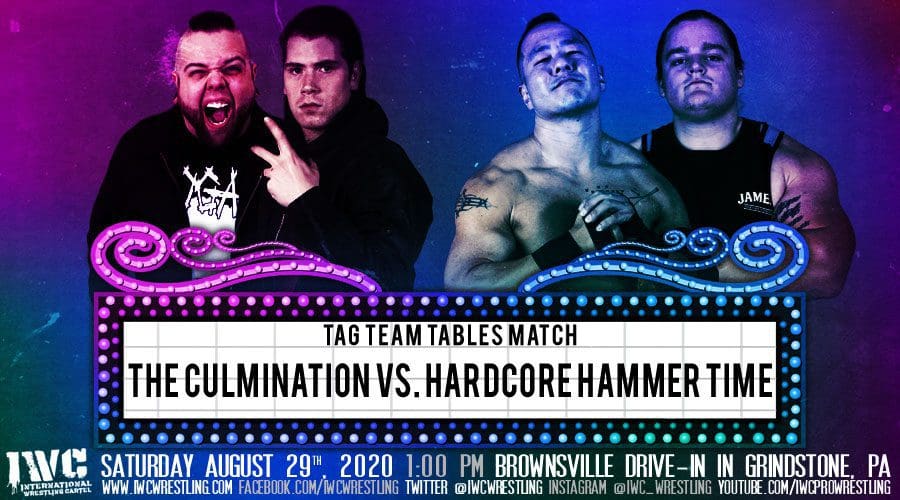 The last time that IWC was at the Brownsville Drive-in, The Culmination almost killed Johnny Patch by powerbombing him from the ring through a table to the ground! Although, Patch still found a way to come out on top, IWC's most hardcore tag team took notice.
On August 29, Hardcore Hammer Time has officially challenged The Culmination to a Tag Team Tables Match! The only way to win is to put your opponent through a table! Will IWC's resident brawlers give The Culmination a taste of their own medicine? Or will Otis and Remy finish what they started?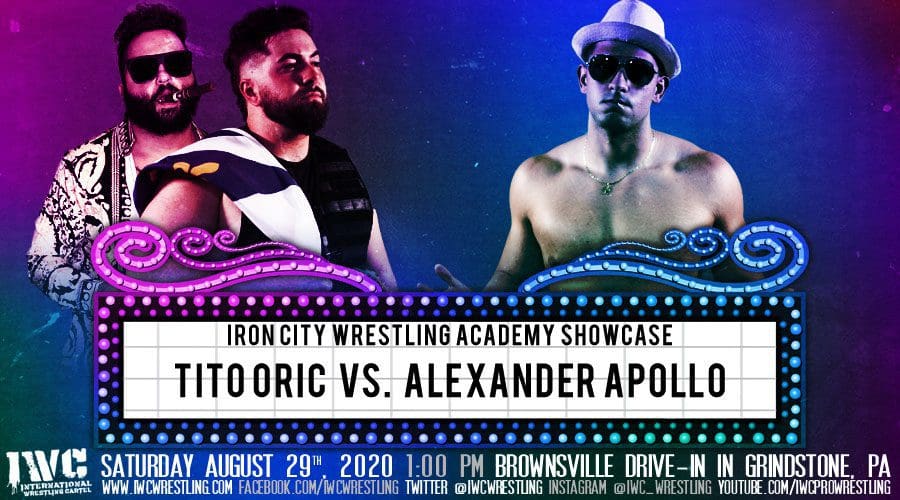 The last time that we were at The Brownsville Drive-in, The Lebanon Don introduced us to his hired gun, The Bosnian Bone Breaker, Tito Oric. This mysterious mercenary left a path of destruction on his way to victory, and The Don didn't hesitate to add insult to injury.
On August 29th, another IWC newcomer will try to put an end to this new alliance. "The Greek God" Alexander Apollo had an impressive debut last month, and looks to continue his momentum at IWC Feature Presentation. Will lightning strike twice for Apollo? Or will The Lebanon Don procure another victory courtesy of Tito Oric?!