IWC returns to the Brownsville Drive-In in Grindstone, PA on Saturday September 19th, 2020 with FEATURE PRESENTATION! The action kicks off at 1:00 pm!  With Jock Samson taking the IWC Championship Title to Harrisburg in an attempt to shut IWC down, this may be our LAST EVENT EVER!  You won't want to miss out.
Due to concerns surrounding COVID-19, we have to have several safeguards in place to continue with this live event. They are listed at the link below. Please read through them before attending our event, as there are several important points for fans, including wearing a mask throughout the event. All tickets are general admission, and we have less than limited tickets available, so make sure you get yours ASAP! Unfortunately due to connectivity issues, this event will not be broadcast live on IPPV, but will be available on the IWC Network in the days following the event. Fans can tune in on their car radios to 97.1 FM for theme music and live commentary!
Tickets: https://iwcwrestling.com/product/feature-presentation-general-admission-ticket/
Safety Guidines: https://www.iwcwrestling.com/covid19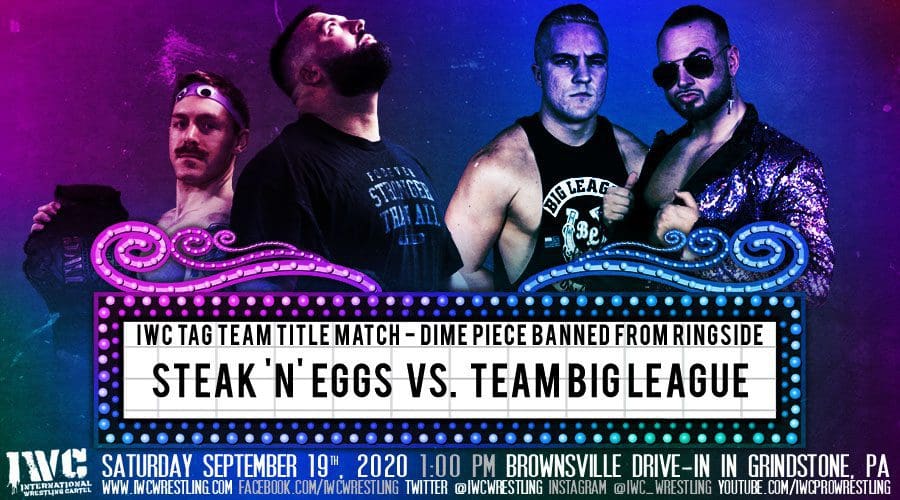 After a shocking and controversial upset of TME last month, an undefeated Team Big League has earned a shot at the IWC Tag Team Titles. However, their luck may be about to run out as they run into the only other undefeated tag team in IWC, Steak and Eggs. It doesn't get any bigger than this! The winner leaves with their undefeated record in tact AND with the prestigious IWC Tag Team Championships. Will the upstart Team Big League continue their streak? Or will the friendship of Steak and Eggs continue to grow on their journey as champs?
BREAKING UPDATE: Due to her past interference, The Dime Piece will be BANNED from ringside!  We will have a fair match!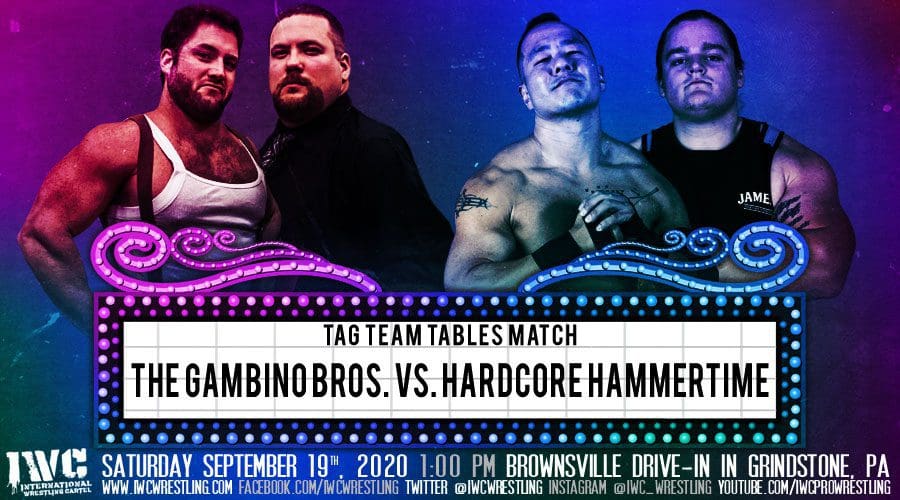 Tag Team Dream Match Alert! One of the most violent and decorated tag teams in IWC history, The Gambino Brothers, return for one day only as they take on two of the most hardcore athletes on the roster. Don't miss when the Gambinos take on Hardcore Hammer Time in a tables match! The only way to win is to put your opponent through a table.  There are NO OTHER RULES!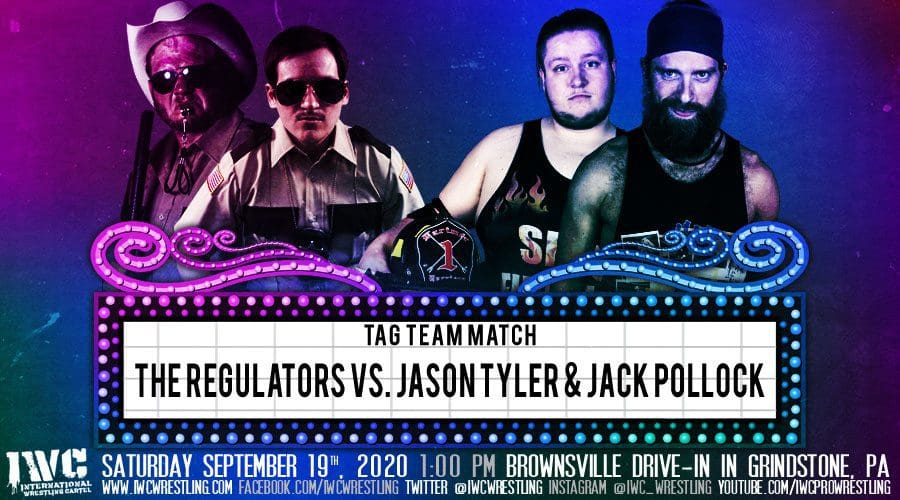 After being screwed out of the IWC World Heavyweight Title by The Regulators, Jack Pollock with get his chance at sweet revenge!  At Feature Presentation, he will team with another man who has had his own troubles with The Regulators in an attempt to get the payback that they deserve.  Their opponents will be The Enforcement branch of The Regulator – Officer Dan Murphy and his Nephew Deputy Don Murhpy!  Will The Regulators find a way to continue to torment Pollock and Tyler, or will justice be served?!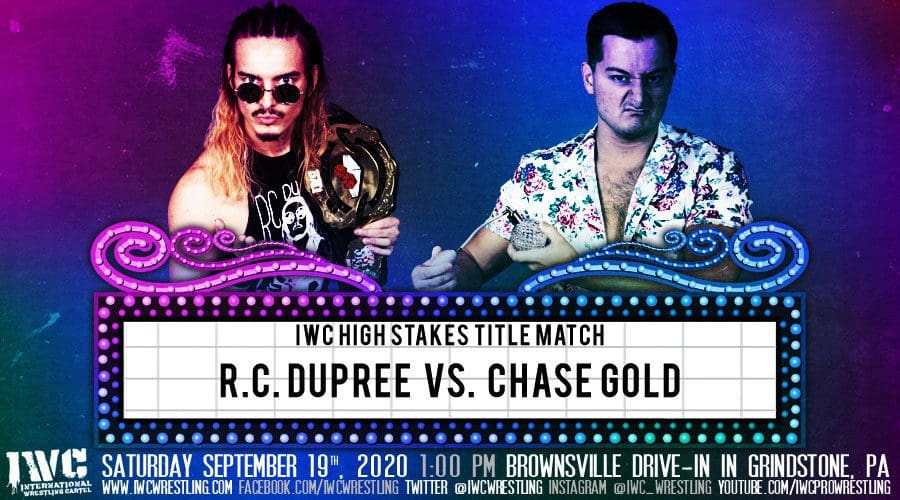 RC Dupree and Chase Gold have some unfinished business following their encounter during our last event at Washington Wildthings Park (available on the IWC Network at IWCwrestling.com).  This time, the self proclaimed "best smelling man in pro wrestling" will face The Eccentric Athlete one-on-one, and the IWC Highstakes Title will be on the line! Will "Highstakes" Dupree live up to his nickname, or will Chase walk out with the Gooooold?!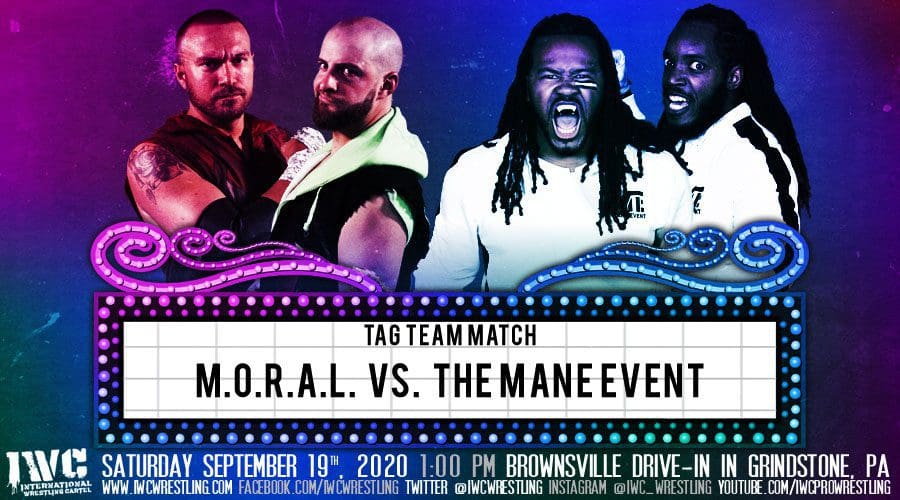 M.O.R.A.L. had an impressive IWC debut when we were last at the Brownsville Drive-in, but they came up short against Steak n Eggs. Things aren't going to get any easier on August 29 as they face former 3-time IWC Tag Team Champions, The Mane Event! Will the newcomers be able to pull off the upset against another top-tier IWC tag team, or will TME score with their patented *Flea Flicker*?!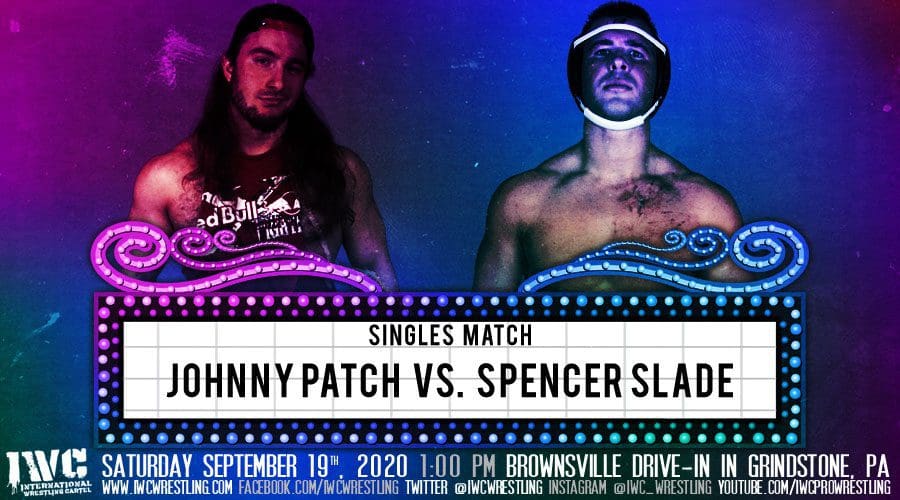 Fresh off of an incredible performance in the historic Super Indy Tournament, Johnny Patch looks to bounce back with a win after losing the title that he had so much pride in.  This Saturday, he will battle another on of IWC top young athletes, who has a very different wrestling style.  Spencer Slade has been on a hot streak since IWC has been back in business, putting away opponents with his strength and ground game. However, Johnny Patchers also been making waves with his high flying arial attacks.  Over the past few weeks, this friendly completion has started to turn into a personal rivalry.  Which of these young stars will shine at IWC Feature Presentation?!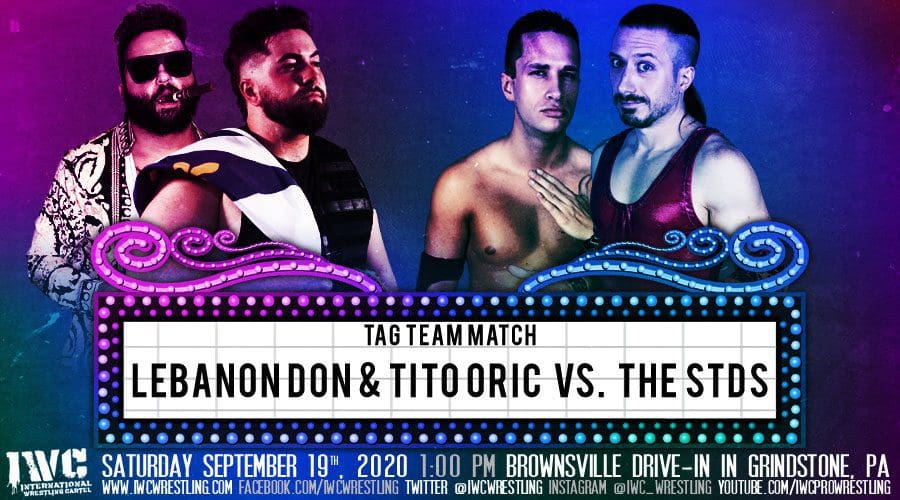 The last time that we were at The Brownsville Drive-in, The Lebanon Don introduced us to his hired gun, The Bosnian Bone Breaker, Tito Oric. This mysterious mercenary left a path of destruction on his way to victory, and The Don didn't hesitate to add insult to injury.  When we return on Saturday, The Lebanon Don will team with his new mercenary to take on former IWC Tag Team Champions, the STDs!  We haven't seen Chest Flexor or Corey Futuristic in several months, so it will be interesting to see if their chemistry is still in tact.  Will the STDs once again infect the IWC, or will The Don and Tito break more bones in an IWC ring?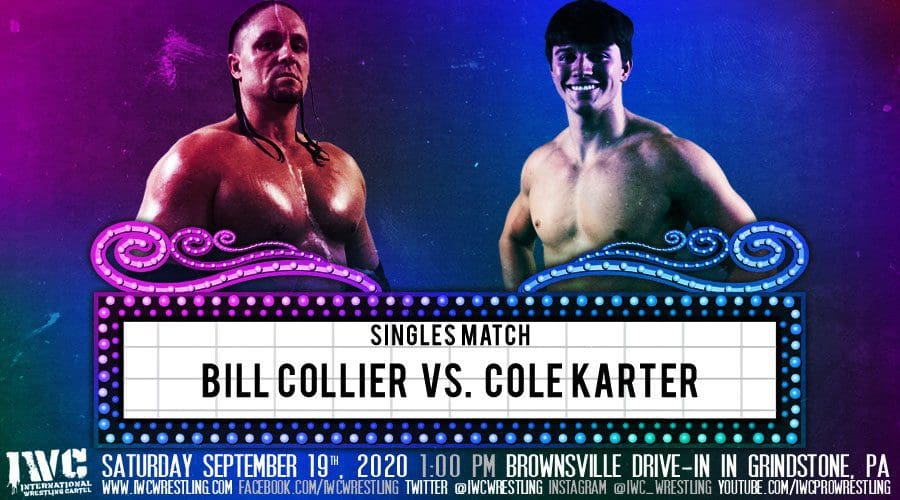 Here's a match to keep an eye on!  Cole Karter made a stellar debut at IWC Basebrawl and scored a huge upset win over IWC veteran Chris LeRusso.  Now with his first match under his belt, can this top prospect score another unlikely victory when he step into the ring with the the athletic freak, Bill Collier?  Collier has been in IWC World Heavyweight Title contention since his return to the company this year.  With a unique combination of size, speed, strength, and experience, "Big Time" Bill may be one of the best wrestlers in the country today.  The rookie will certainly have his hands full in this friendly contest, but he's a got a unique tool set as well.  Don't miss this potential show-stealing contest!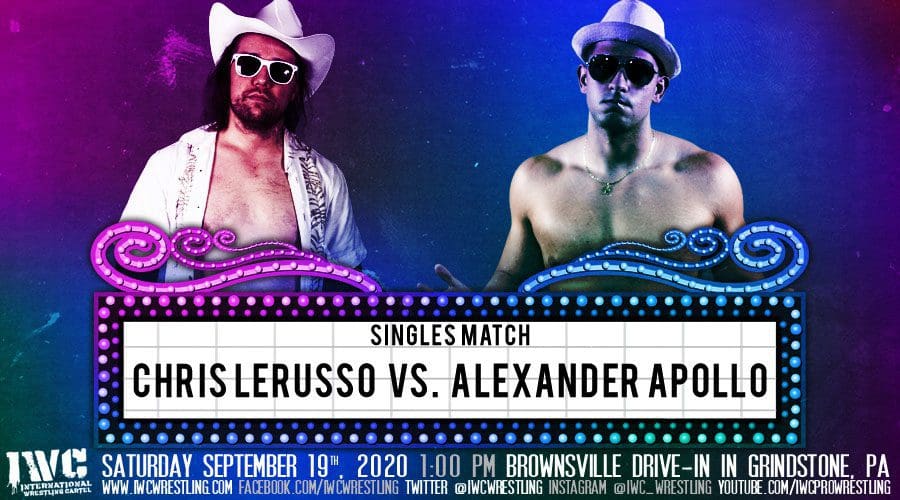 "The Greek God" Alexander Apollo had an impressive debut last month, and looks to continue his momentum at IWC Feature Presentation.  Apollo teamed with the world traveled Sam Adonis to score a victory in his debut match.  On the other hand, Chris LeRusso was victim of a shocking upset the last time that IWC was at this venue.   Will lightning strike twice for Apollo?  Or will LeRusso make sure that this rookie is knocked back down to earth?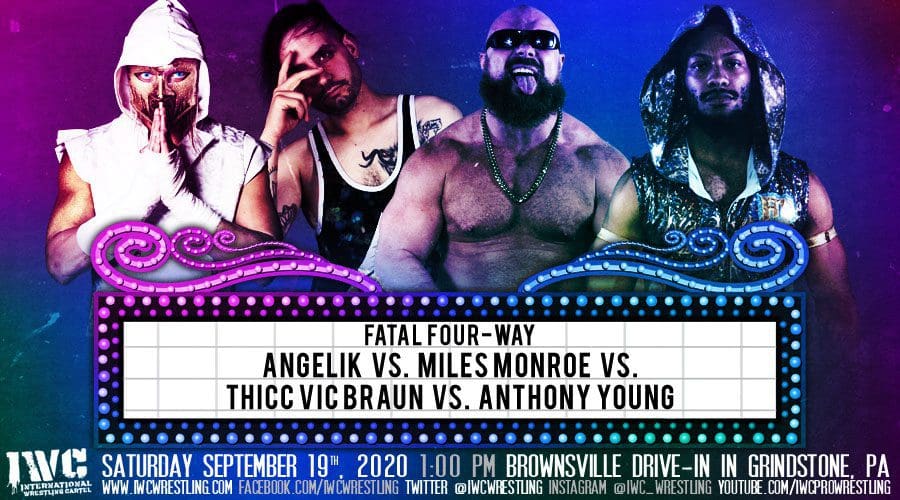 Buckle up!  This Four way scramble match has a unique mix of styles and experience!  Angelik has been one of the most successful competitors in IWC History, under any name.  Meanwhile, "A1" Anthony Young is quickly climbing the ranks within the company, similar to the way Angelik did when he was new to the game.  In addition, the powerful and brash "Thick" Vic Braun looks to take advantage of this opportunity to prove that he belongs as a mainstay on the card at every IWC event.  Finally, little is known about the conspiracy theorist Miles Monore, but we heard that he's got something CRAZY planned for this one.  Don't miss this exciting multi-man extravaganza on September 19th!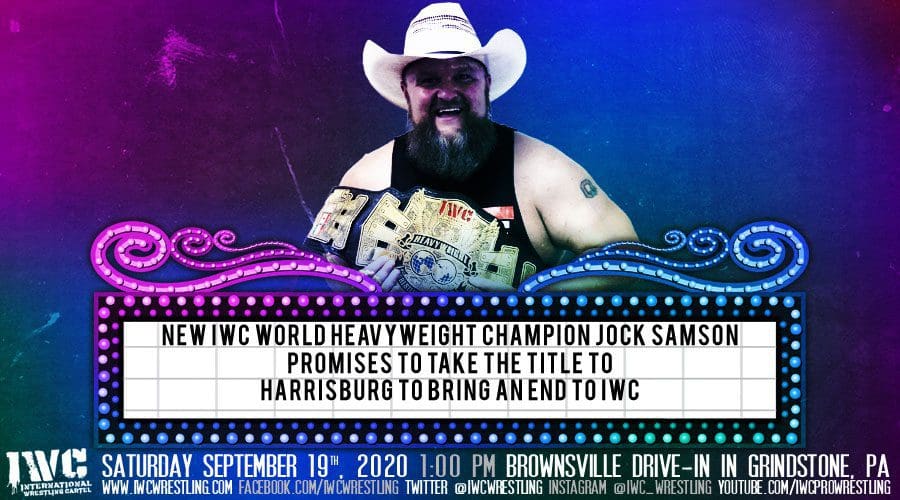 If you missed the shenanigans involving the IWC World Heavyweight Title Match at Super Indy 19, make sure to go back and check it out on the IWC Network. Long story short, Jock Samson is your new IWC World Heavyweight Champion. Since lockdown, Jock has been promising to win the title and take it to Harrisburg, lay it on Governor Tom Wolf's desk, and get IWC shut down for good. Now that Jock has won the title, he's looking to make good on his promise. What will happen when Jock gets to Harrisburg???
Remember to get your tickets ahead of time at https://iwcwrestling.com/product/feature-presentation-general-admission-ticket/ to enjoy a safe and family friendly afternoon of wrestling entertainment at The Brownsville Drive-In!