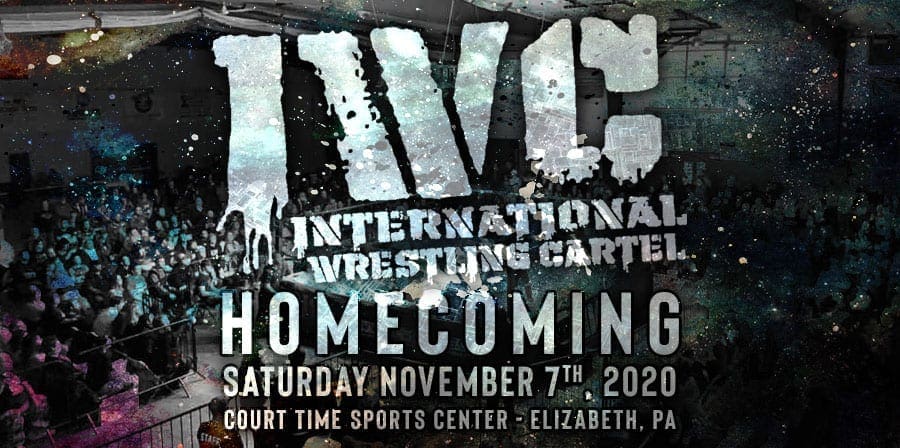 IWC HOMECOMING
NOVEMBER 7th, 2020
COURT TIME SPORTS CENTER – ELIZABETH, PA
Angelik def. "A1" Anthony Young
The Mane Event (Duke Davis & Ganon Jones, Jr.) def. IWC Tag Team Champions Money Shot (Zach Nystrom & "The Mandime" Elijah Dean) via count-out
Deputy Don Murphy def. "Big Time" Bill Collier via DQ
Sam Adonis def. Cole Karter
Alexander Apollo & Hardcore Hammer Time (Hardcore Hooven & Jami Jameson) def. The Culmination (Remy Lavey, Otis Cogar, & Korbin Borne)
Bulk Nasty def. Super Hentai
Katie Arquette def. IWC Women's Champion Ray Lyn to win the title
IWC Super Indy Champion Brian Pillman, Jr. def. Spencer Slade
IWC High Stakes Champion RC Dupree def. Chase Gold, Jayce Karr, Philip Archer, Shawn Phoenix, and Johnny Patch in a scramble match
Jack Pollock def. Andrew Palace to become #1 contender to the IWC World Heavyweight Title
---
Last night, we returned to Court Time Sports Center with IWC Homecoming. Results are as follows:
1. Angelik defeated "A1" Anthony Young.
2. TME defeated Money Shot by count out. Money Shot got themselves intentionally counted out because the titles can only change hands via pinfall or submission. After the match, TME issued a MAJOR challenge. A match where Money Shot can't take the titles and run… because the titles will be hung 15 feet above the ring! On December 5th it will be TME vs. Money Shot in a ladder match!
*Jock Samson addressed the crowd via satellite to confirm that he would not be in attendance tonight in protest of events that transpired last month. He taunted Pollock and Palace and promised to beat whoever challenged him next month.
3. "Big Time" Don Murphy defeated "Big Time" Bill Collier via DQ, effectively going 2-0 against Collier. But major announcement is coming regarding this very soon!
4. Sam Adonis defeated Cole Karter.
5. Hardcore Hammer Time & Alexander Apollo defeated The Culmination.
6. Bulk Nasty defeated Super Hentai.
7. Katie Arquette defeated Ray Lyn to become the new IWC Women's Champion after botched interference from Ella Shae.
8. Brian Pillman, Jr. defeated Spencer Slade to retain the IWC Super Indy Championship in a match the could have gone either way. After the match, Slade refused a handshake from Pillman.
9. RC Dupree won a six-man scramble to retain the IWC High Stakes Championship and officially become the longest reigned IWC High Stakes Champion in IWC History. Also included in the match was Chase Gold, Jayce Karr, Phil Archer, Shawn Phoenix, and Johnny Patch. After the match, The Lebanon Don Joey Moses and Tito Oric approached the ring. The Don tried to buy the title from RC, but when RC declined, he had the Bosnian Bone Breaker take him out!
10. Jack Pollock defeated Andrew Palace to become new #1 contender to Jock Samson's IWC World Heavyweight Championship.
Thank you to everyone who joined us for IWC Homecoming! We will finish the year back at Court Time Sports-Center on December 5th!