The Governor's office has determined that events can be safely held at 10% venue capacity. This will be half of the capacity of our last event in November. As such, tickets for our event will be VERY limited for our final event of the year on DECEMBER 5th. VIP pass holders will once again have their own section. All other tickets will be General Admission with all seats spread out across the entire facility to allow for social distancing (even more so than last event). Tickets here available HERE and iPPV can be order HERE to watch from home!
IWC looks forward to continuing to provide safe and family friendly entertainment as we have for this past year. Following the conclusion of this live event, we will be taking a short break to develop a plan for all future live events and assess the ever changing landscape of operating a small business. We appreciate everyone's support!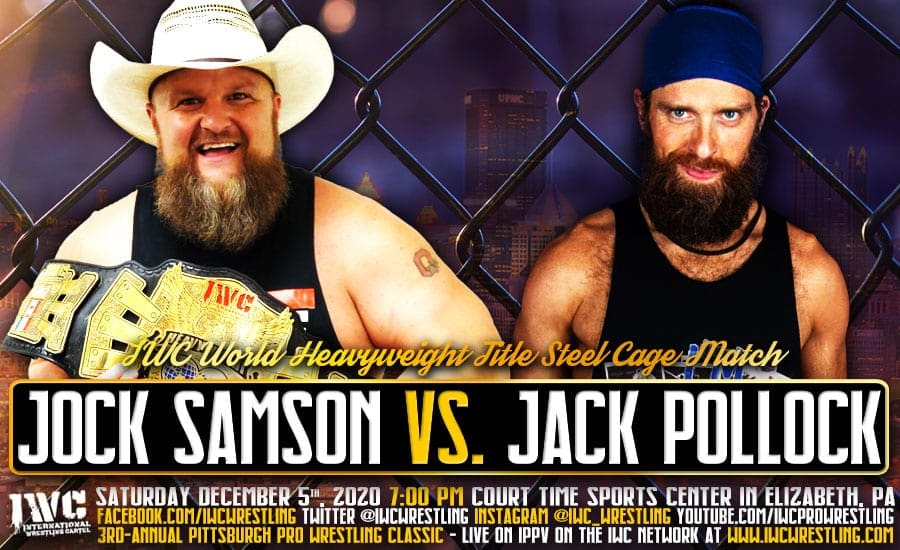 Due to budgetary impacts of the very low attendance cap, and in an effort to reduce required staff and limit the number of people in the building this Saturday, IWC has made the tough decision to remove the steel cage match from the card. Instead, Jock Samson will have the opportunity to choose the stipulation!  Jack Pollock defeated Andrew Palace to become #1 Contender to Jock Samson's IWC World Heavyweight Championship, but was quickly attacked by The Regulators following the match. Pollock finally had enough of the constant foul play and demanded that his title match be contested inside of a fifteen foot high steel cage! Will Pollock finally end his near year long quest for revenge, or will Jock continue to be the G.OA.T. of IWC? We will finally have a clear winner as these men will be locked inside the cage alone, with no interference and a winner guaranteed!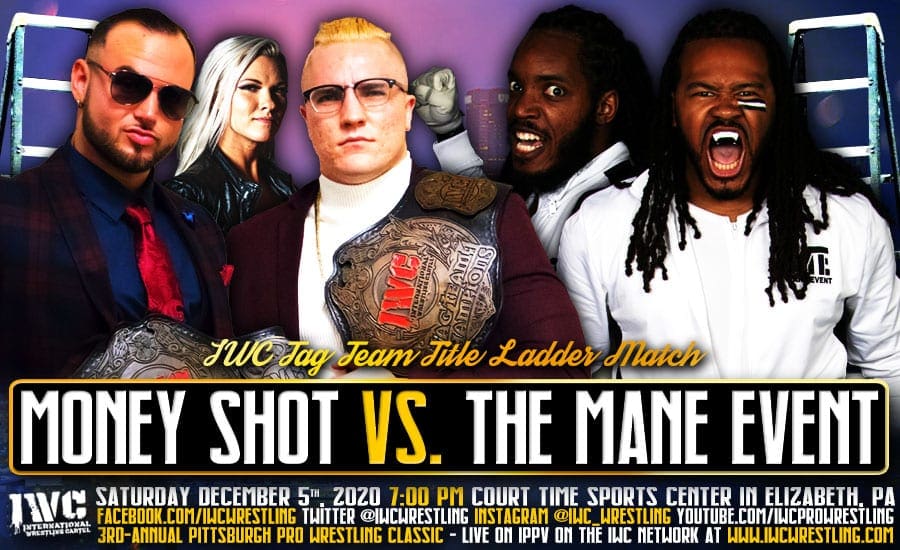 Elsewhere, TME looked like they were finally about to make IWC history by capturing the Tag Team Titles once again, but Money Shot took their titles and ran… for an intentional count out! TME got the win, but the titles didn't change hands. On December 5th, Money Shot won't be able to take their titles and go home, because they will be hanging from the roof of the Court Time Arena! The only way to win will be to climb a ladder and retrieve the titles! No count outs, no DQs, there must be a winner! But with Team Big League promising a new member, will that impact the match?  Will TME also find someone to watch their backs?  Be there to find out!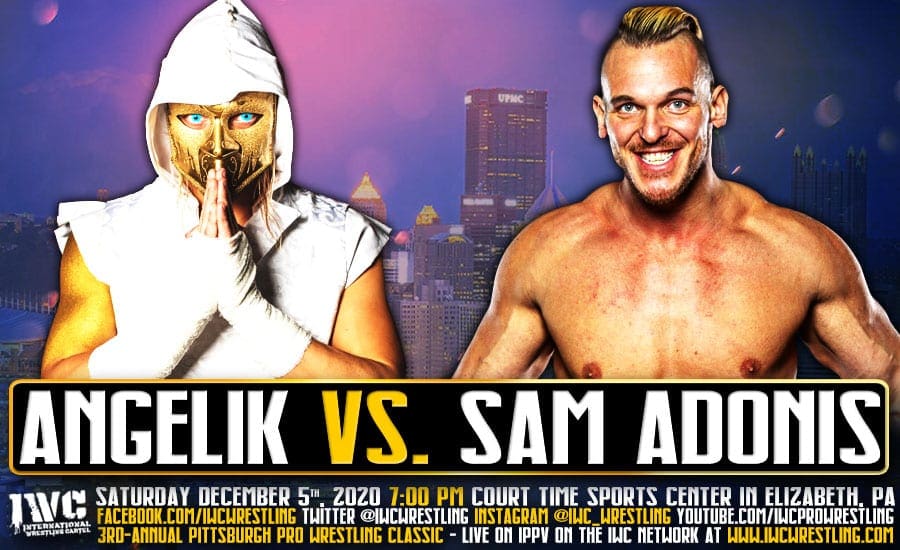 For the FIRST TIME EVER, two of the best in the game finally go head-to-head!  The world traveled Sam Adonis has made IWC his home for the second half of 2020, and has been undefeated this year.  However, on December 5th, he will face his toughest challenge yet when he faces the mysterious Angelik.  You can only see this one-of-a-kind matchup in one place, and that's Court Time Sports Center on December 5th!

Bill Collier and Andrew Palace have been defending IWC against The Regulators all summer long.  On December 5th, they look to finish them off.  And if they win, Collier gets two minutes alone with the thorn in his side, Deputy Don Murphy!

After RC Dupree retained his title and set a record for longest reigning High Stakes Champion in IWC history, The Lebanon Don tried to purchase the title from him.  RC declared that it wasn't for sale, but maybe he had second thoughts after what happened next…  Now these men are set to face off for the title at The Classic!  As High Stakes Champion, RC gets to pick the stipulation, and he has decided to make The Don put his money where his mouth is with the first ever IWC CASKWT MATCH! Will RC continue his record reign, or will The Don finally earn what money can't buy?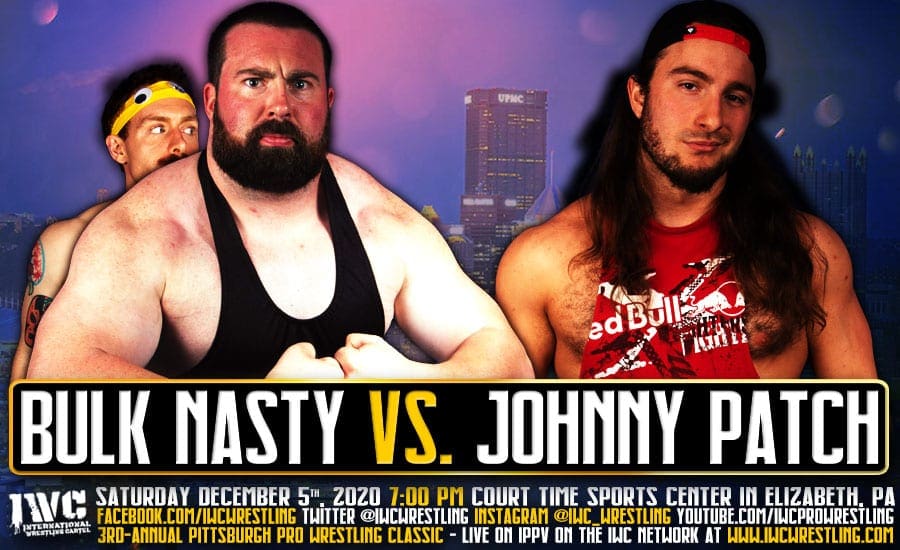 Fans have been asking for it, so we are finally listening! On December 5th, the former Super Indy Champion meets the current Super Heavyweight! What will happen when the sheer brute force of Bulk Nasty meets the high-flying innovation of Johnny Patch for the first time ever?!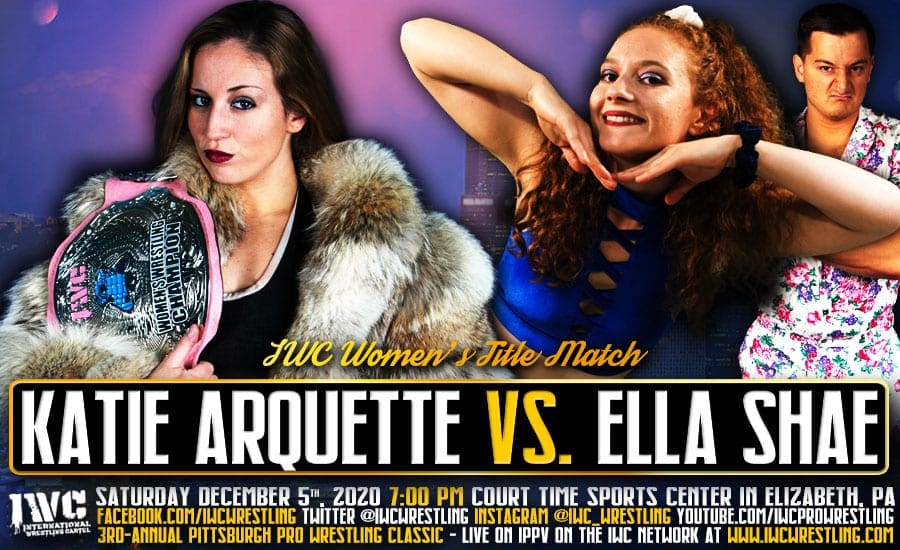 At our last event, Ella Shae inadvertently helped Katie Arquette defeat Ray Lyn to capture her record setting THIRD IWC Women's Championship! But everyone knew that Ella's intentions were bad, and if this "tea sipping bitch" had her way, Katie would have been laid to waste. So on December 5th, These two are going to meet again. This time, GOLD is on the line!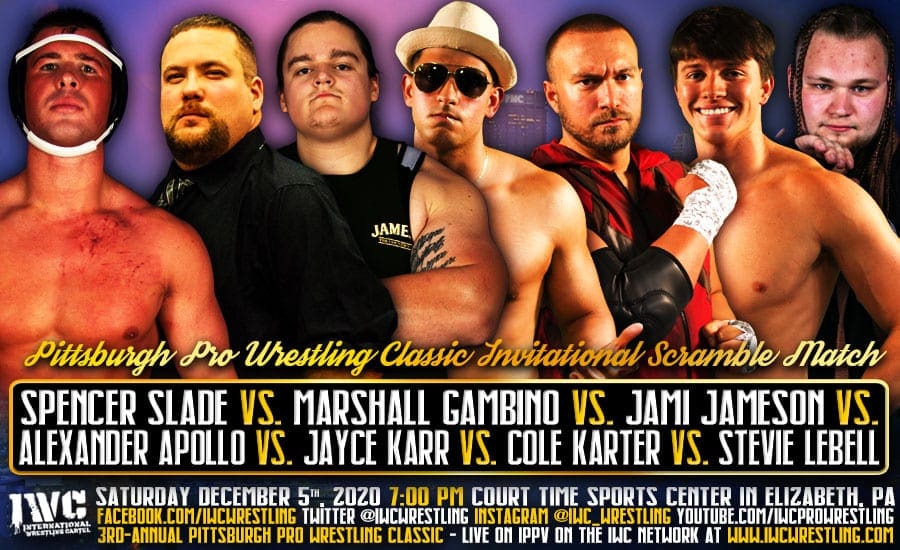 PLUS – The Pittsburgh Pro Wrestling Classic Invitiational returns with another 4-foot trophy on the line.  But this year to won't new contested in a battle royal.  This year will feature a scramble match including some of IWC top stars across several generations.  Stay tuned for more info here and on social media!
This is an epic grand finale to an unpredictable year. Get tickets while they last!