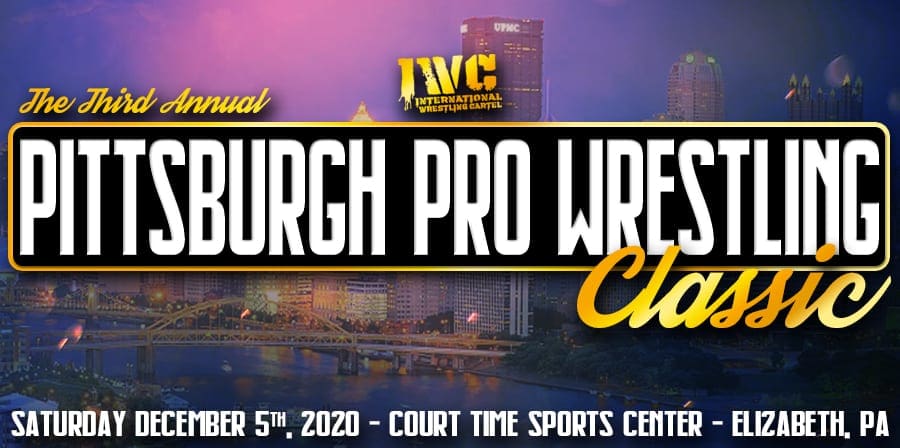 IWC THE 3RD-ANNUAL PITTSBURGH PRO WRESTLING CLASSIC
DECEMBER 5th, 2020
COURT TIME SPORTS CENTER – ELIZABETH, PA
IWC World Heavyweight Champion Jock Samson def. Jack Pollock via count-out
Andrew Palace & Bill Collier def. The Regulators (David Lawless, Esq., Officer Dan Murphy, & Deputy Dan Murphy)
Bulk Nasty def. Johnny Patch
Sam Adonis def. Angelik
IWC Tag Team Champions Money Shot (Zach Nystrom & "The Mandime" Elijah Dean) def. The Mane Event (Duke Davis & Ganon Jones, Jr.) in a ladder match
Spencer Slade def. Cole Karter, Marshall Gambino, Jami Jameson, Hardcore Hooven, Stevie Lebell, Jayce Karr, and Alexander Apollo in the Pittsburgh Pro Wrestling Classic Invitational Scramble
Tito Oric def. IWC High Stakes Champion RC Dupree to win the title. Tito handed the title over to "The Lebanon Don" Joey Moses.
IWC Women's Champion Katie Arquette def. Ella Shae
Andrew Palace def. IWC World Heavyweight Champion Jock Samson and Bill Collier to win the title
---
1. Jock Samson defeated Jack Pollock via count out to retain the IWC World Heavyweight Championship. It was announced that Pollock was absent from the venue, and noone had heard from him all day. IWC officials are still unaware of Pollock's whereabouts and hope that he is ok.
2. Andrew Palace and Bill Collier defeated The Regulators in a handicap match when Collier pinned Deputy Don. If The Regulators won, Jock would get the rest of the night off. But since Palace & Collier won, there would now be a proper main event – a 3 way dance for the IWC World Heavyweight Championship!
3. Bulk Nasty pinned Johnny Patch in a battle of the first two PPWC Invitational winners to continue his impressive win streak.
4. Sam Adonis pinned Angelik in an epic first time encounter between these two popular ring veterans.
5. Money Shot of Team Big League retained the IWC Tag Team Championships by defeating TME in a ladder match. TME looked to have the match won with Duke Davis halfway up the ladder when the lights went out and the arena became pitch black. When the lights came back on, a masked man in a suit knocked Duke out with a chair and helped Team Big League climb the ladder and capture the tag titles. The masked man was then revealed to be the newest member of Team Big League, "A1" Anthony Young!
6. Spencer Slade won the Third Annual Pittsburgh Pro Wrestling Classic Invitational and the 4-foot golden trophy. Match participants also included Cole Karter, Marshall Gambino, Jami Jameson, Hardcore Hooven, Stevie Lebell, Jayce Karr, and Alexander Apollo.
7. Tito Oric defeated RC Dupree in a Casket Match to become the new IWC High Stakes Champion. After the match, The Lebanon Don used the money that RC turned down last month to purchase the title from Oric to then become the new High Stakes Champion!
8. Katie Arquette defeated Ella Shae to retain the IWC Women's Championship and carry her record third title reign into 2021.
9. Andrew Palace became a two-time IWC World Heavyweight Champion when he pinned Jock Samson in a 3-way dance that also included Bill Collier. After the match Collier congratulated Palace, but appeared to have his sights on his new title heading into 2021!
The year ended with the remaining two members of Team IWC standing tall over The Regulators! Thank you all for joining us and supporting IWC throughout this crazy year. You can catch this event, and ALL of our previous events right now on the IWC Network at IWCwrestling.com!