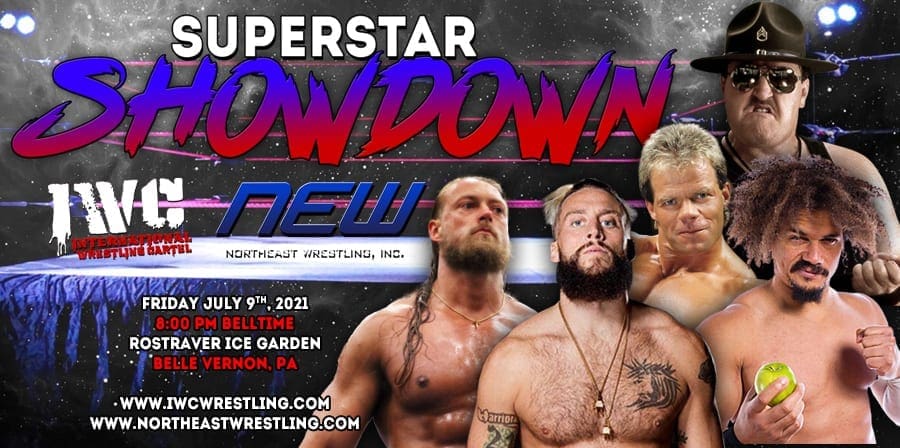 IWC Wrestling and Northeast Wresting join forces on July 9th for Superstar Showdown at The Rostraver Ice Gardens.  Tickets are already going fast, so click here to grab yours today!
All ticket holders will gain acces to the special pre-show meet and greet from 6:00 – 8:00 PLUS the action packed LIVE event at 8:00!
Wrestling Legends Sgt. Slaughter and Lex Luger will be on hand for the meet and greet and will be making a special appearance on the live event!  Former WWE Stars Carlito, Enzo, and Big Caz XL will also take part in the meet and greet AND be wrestling in matches during the 8:00 live event! PLUS all of your favorite IWC and NEW stars will be in the house!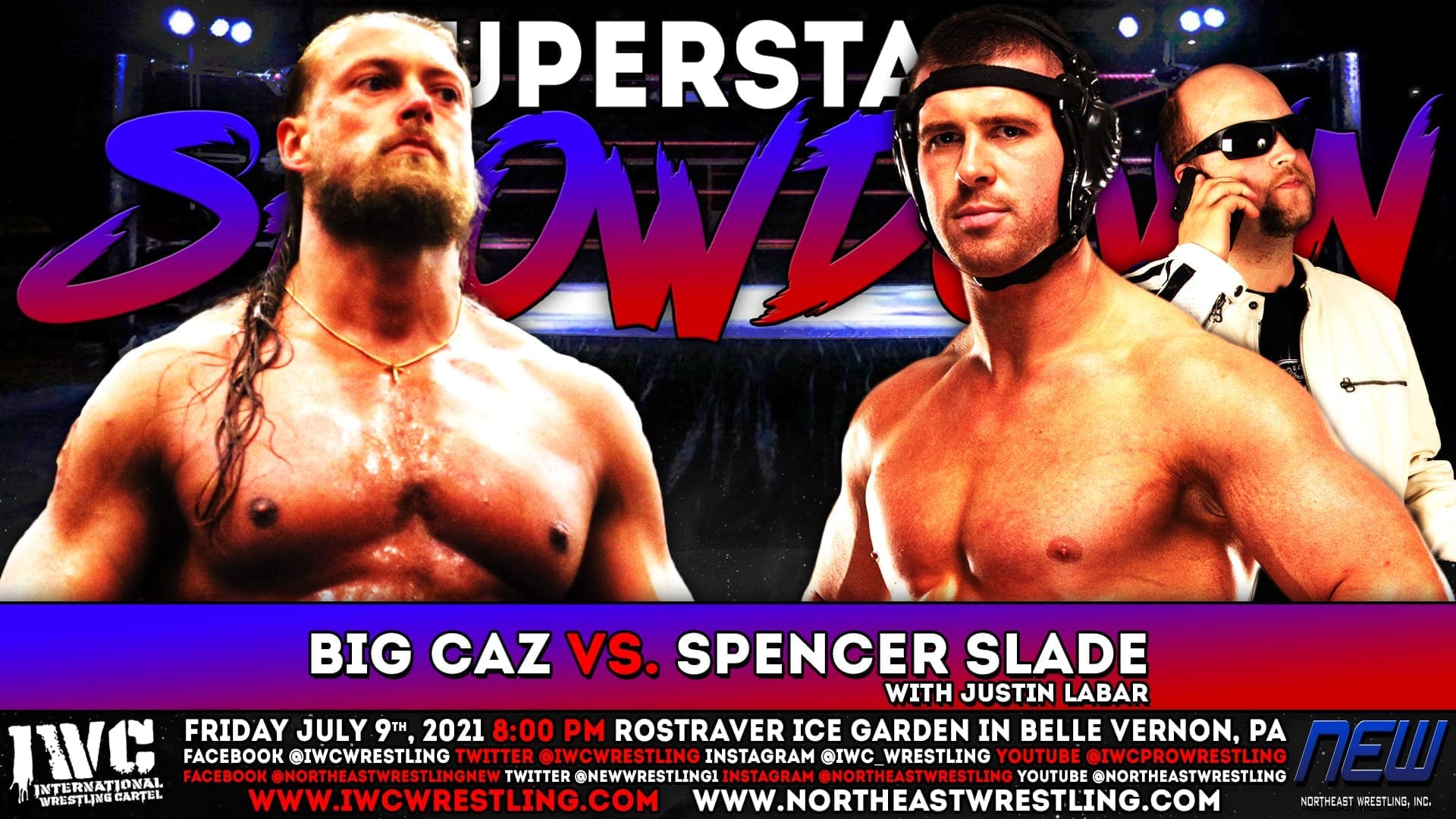 Spencer Slade has been taking the pro wrestling world by storm lately with several appearances for AEW and a highly contested challenge versus the Impact Wrestling X-Division Champion Josh Alexander.  But on July 9th, he will have his BIGGEST challenge yet as he squares off with the 7-foot monster, and former WWE Star, Big Caz XL!  Caz's combination of size, agility, and charisma made him one of the most popular stars in all of wrestling.  To even the odds, Spencer Slade has contracted the services of Busted Open Radio's Justin LaBar.  Once upon a time, LaBar was an IWC regular, managing the likes of RJ City, Wardlow, and others to major success within the company.  Will LaBar give Slade the edge he needs for the biggest win of his career?  Or will Big Caz show Slade that he's still the man?!\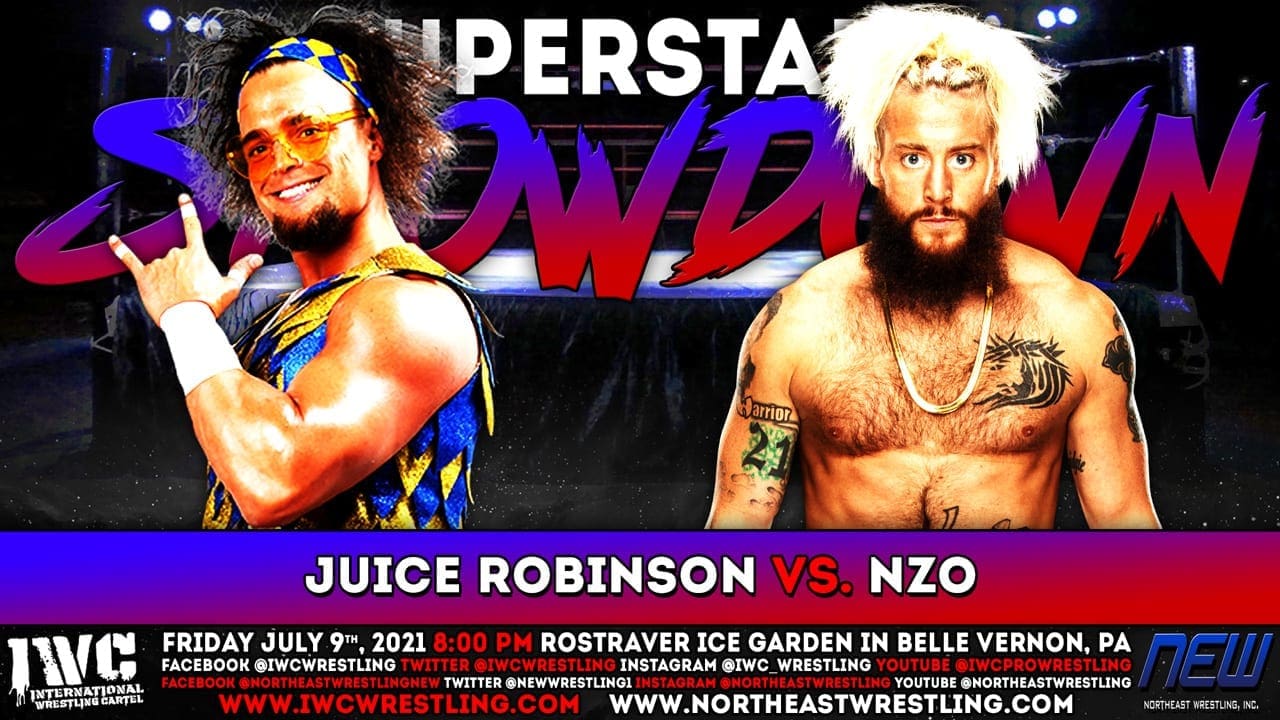 NJPW star Juice Robinson makes a rare US appearance at Superstar Showdown on Friday July 9th! He will take on a man he knows very well, former WWE star nZo! nZo and Juice came up through the ranks together, so personal pride is at stake! nZo is out to prove he's still Jersey's finest but the 2-time IWGP United States Champion wants to add more to his flamboyant legacy by pinning a former WWE Cruiserweight Champion. Will nZo fall to the Pulp Friction? Or will it be "bada boom" for the bonafide G and the certified stud??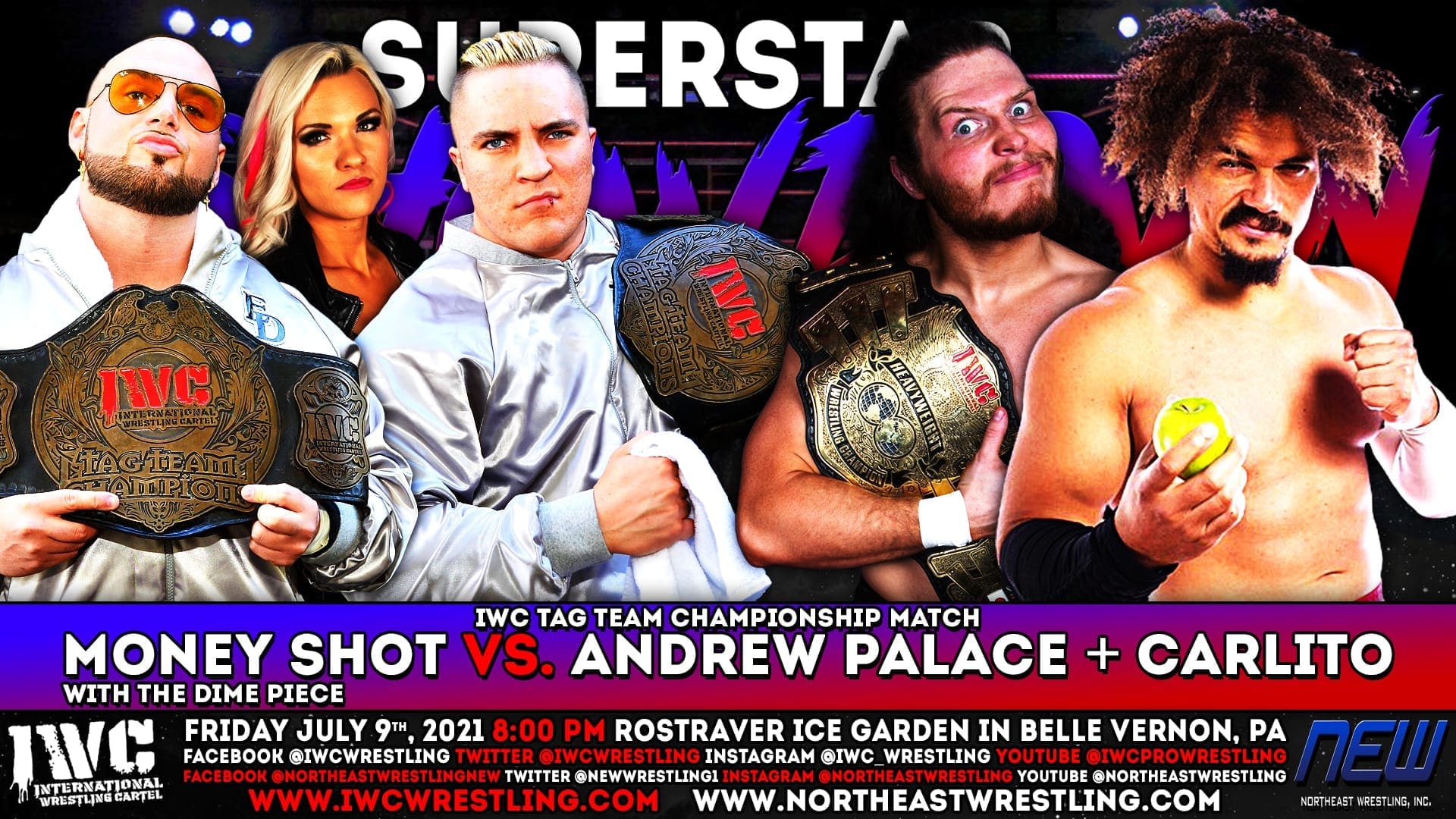 IWC World Heavyweight Champion Andrew Palace teams with former WWE Star Carlito for a chance to become only the second IWC triple crown winner in company history!  To help him, he will be teaming with the only man who may have crazier hair than him, Carlito! Now that's fun AND cool!  Their opponents are one of the best tag teams in recent IWC History, Money Shot.  The team of Elijah Dean and Zach Nystrom have been dominant for the better part of a full year now, and have had a stranglehold on the tag team championships since 2020.  Throw in their wildcard, The Dime Piece, Money Shot has been nearly unstoppable.  Will they retain their titles and continue their quest to be the longest reigning champs in IWC history? Or will Palace make history of his own by winning the IWC triple crown with his new pal Carlito?!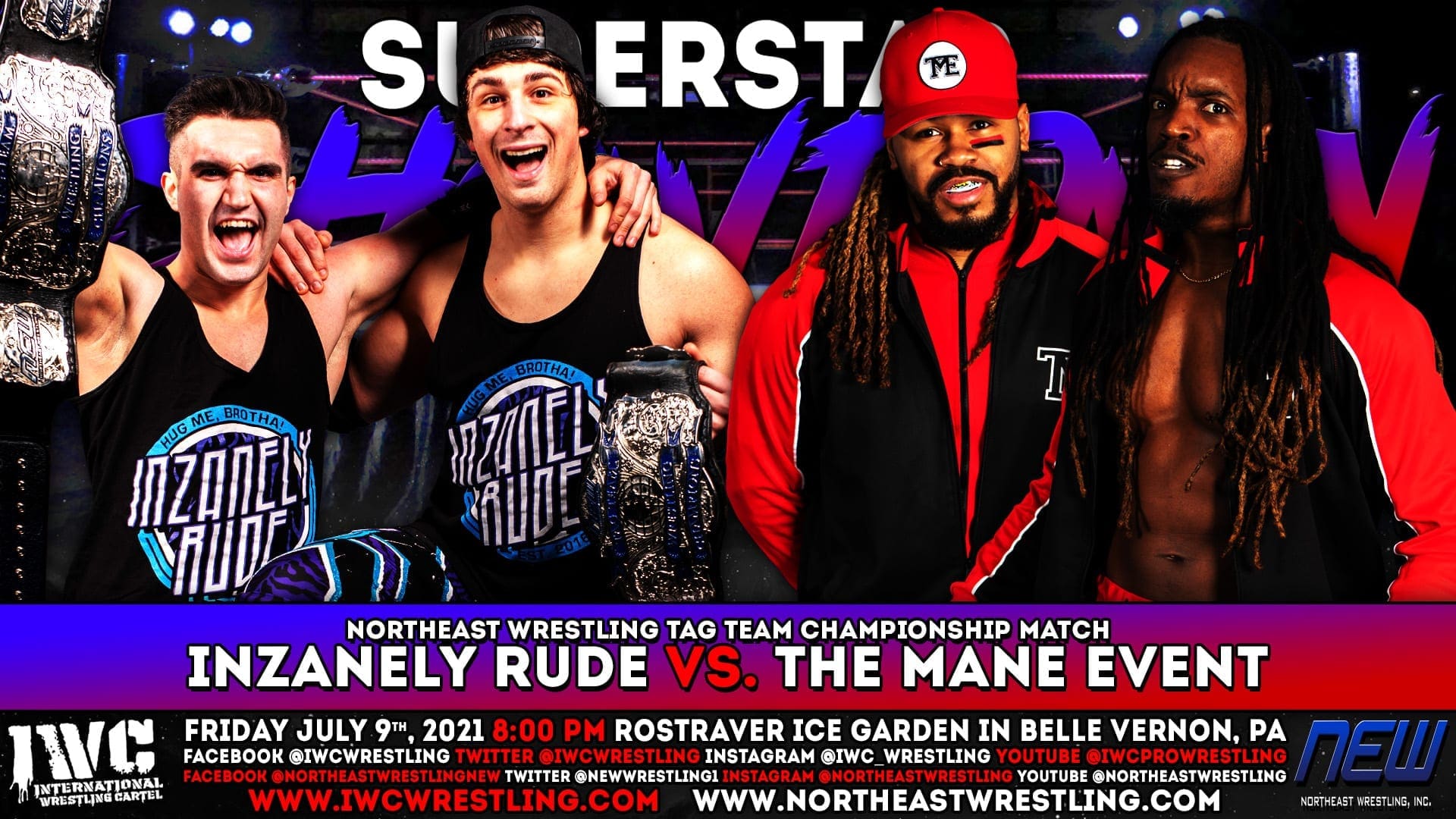 The Northeast Wrestling Tag Team Championships will also be on the line as Inzanely Rude defends against The Mane Event!  The Mane Event have been on absolute FIRE lately, making regular appearances for AEW and debuting for new promotions across the country – winning titles almost EVERYWHERE they go.  TME earned this title shot at our last event with another big win in a NEW Tag Team Title #1 Contender match.  But Inzanely Rude doesn't plan to become just another name to be added to TME's list.  And although TME will have hometown advantage, the NEW Tag Team Champions are confident that they can walk out with the gold!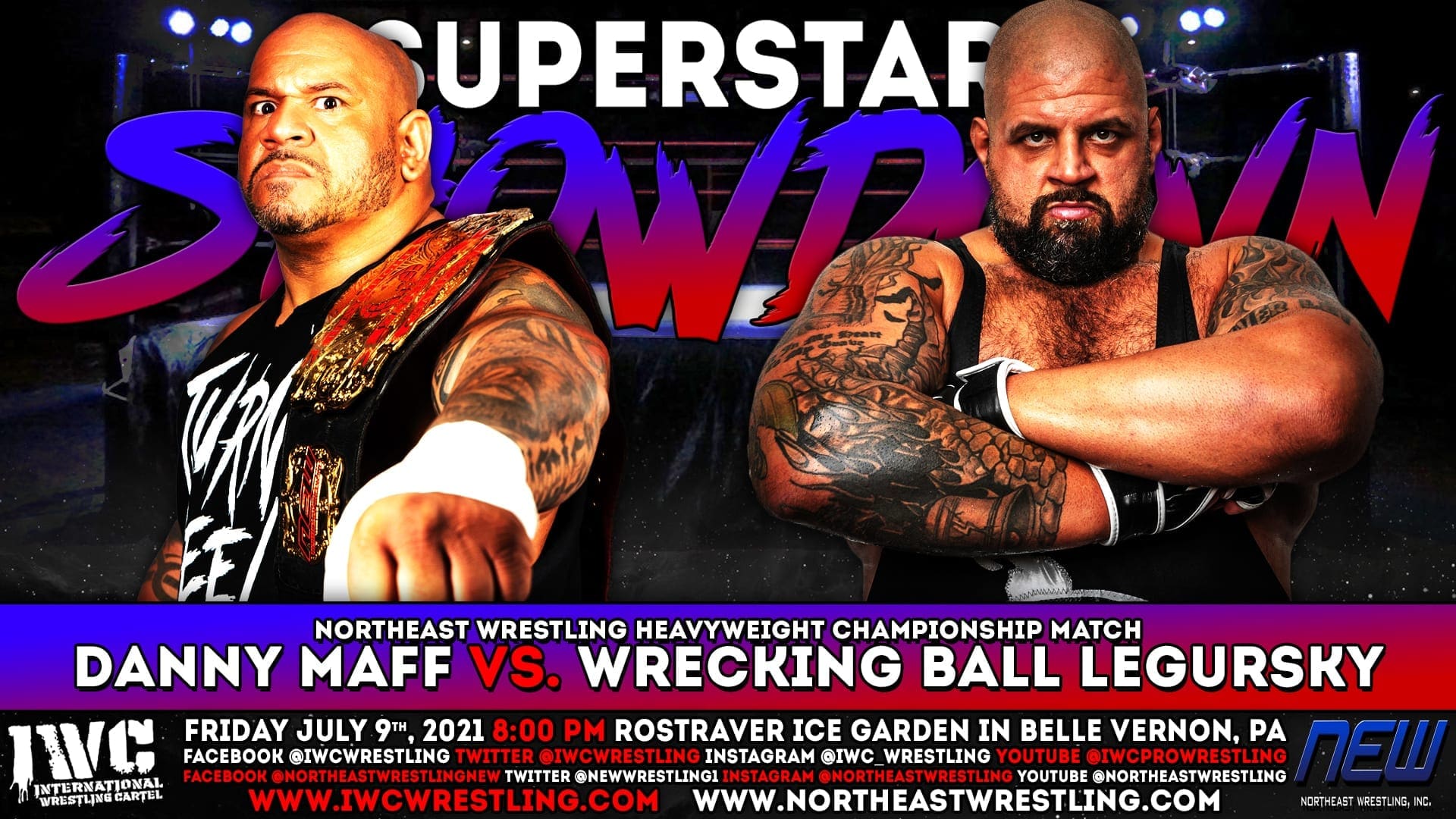 The Northeast Wrestling Championship will be on the line and Danny Maff defends his title versus Wrecking Ball Legursky.  The Rostraver Ice Garden may not be able to contain these two monsters as they go to war for the top prize in NEW!  Will Maff continue his reign as king of Northeast Wrestling?  Or will Wrecking Ball send his title reign crashing down?!
***Also IN ACTION***