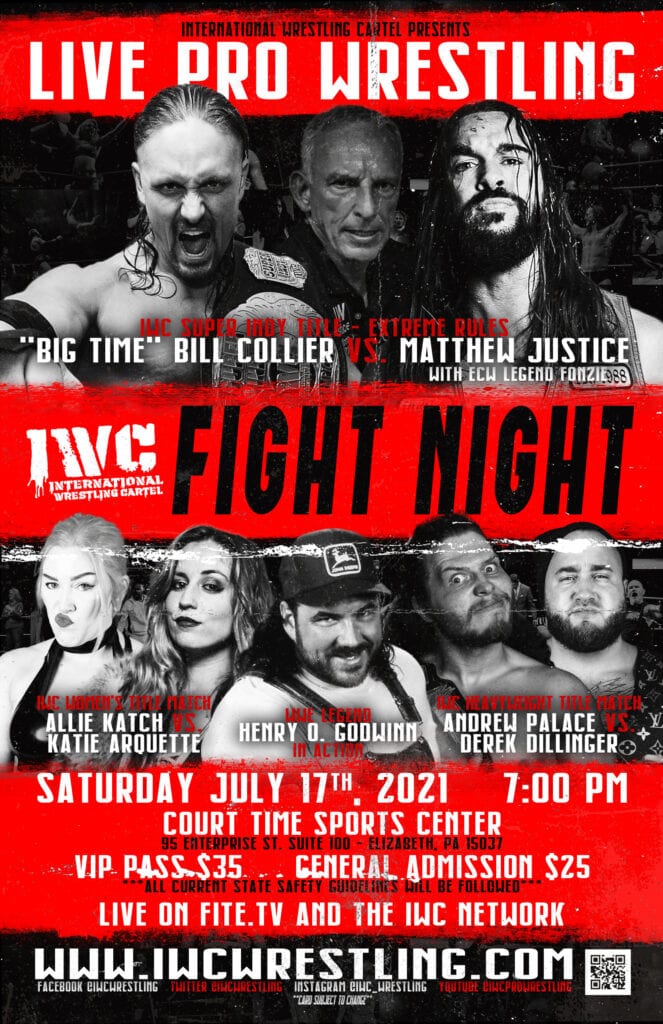 IWC returns to our home base on Saturday night July 17th, 2021! Court Time Sports Center in Elizabeth, PA plays host to FIGHT NIGHT at 7:00 PM! If you can't join us live, the event will be live on iPPV on FITE.tv, and will also be broadcast live to members of the IWC Network! Tickets are on sale now!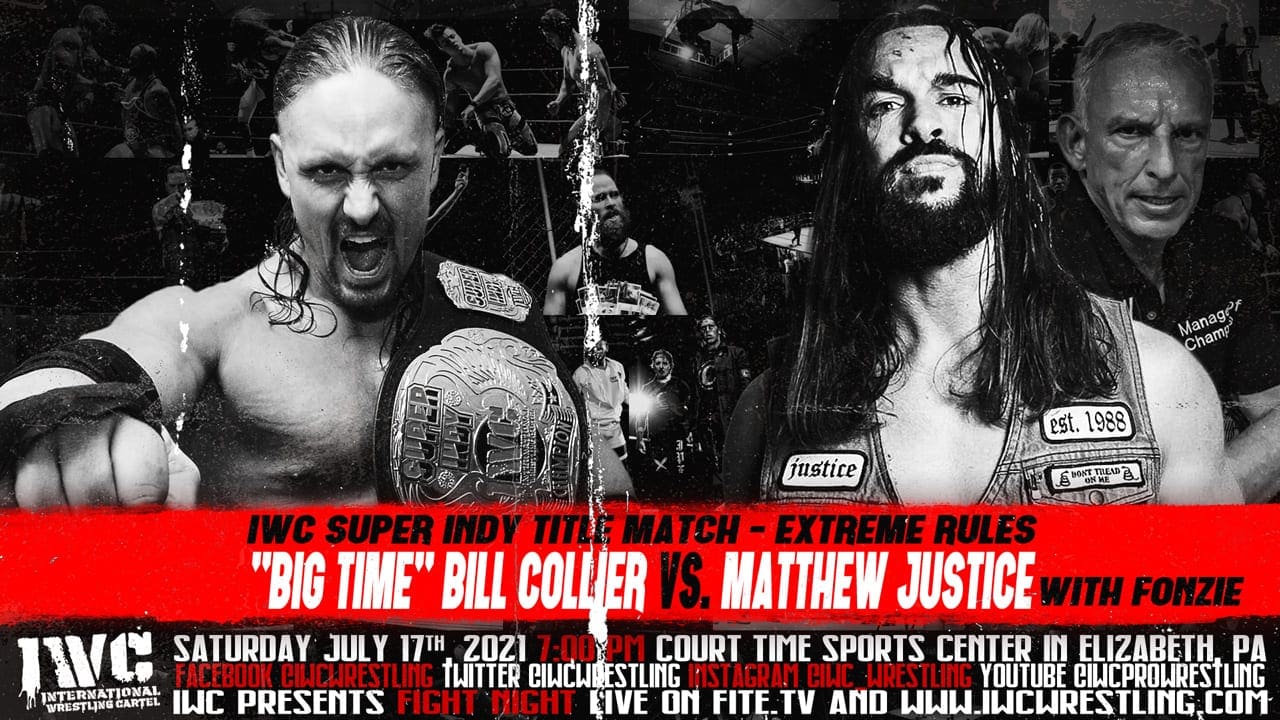 The main event for FIGHT NIGHT has been set! There will be NO DISQUALIFICATIONS as "Big Time" Bill Collier defends the IWC Super Indy Title against the "One Man Militia" Matthew Justice! At Reloaded 7.0, Justice was chosen by the Reset Button to challenge Collier. But, in the week leading into the event, Collier demanded more competition and the match was made into a single-fall three way. The Reset Button also chose the debuting Mance Warner to round out the match, which went all over Court Time Sports Center. Collier successfully defended his title by pinning Mancer, but Justice was left… unsatisfied. He promised to bring more violence and an extreme friend with him to FIGHT NIGHT in the form of ECW legend "Fonzie" Bill Alfonso!  Will this be the game changer for Justice to pick up the win? Or will Collier maintain his dominant Super Indy Championhip run?
Andrew Palace was shocked when the Reset Button Selected Derek Dillinger as his challenger at our last event. Derek made it clear that he had waited a LONG time for this opportunity. So when Palace scored a win with a roll-up, Derek couldn't contain his frustration, attacking Palace after the match and leaving him in a vulnerable position. At FIGHT NIGHT we are going to run this one back! This time, both men can prepare for the match appropriately, and we will get a clear winner! Will Derek Dillinger fulfill his long-time goal of being IWC Champion? Or will Palace continue his dominate reign as the heart and soul of IWC?!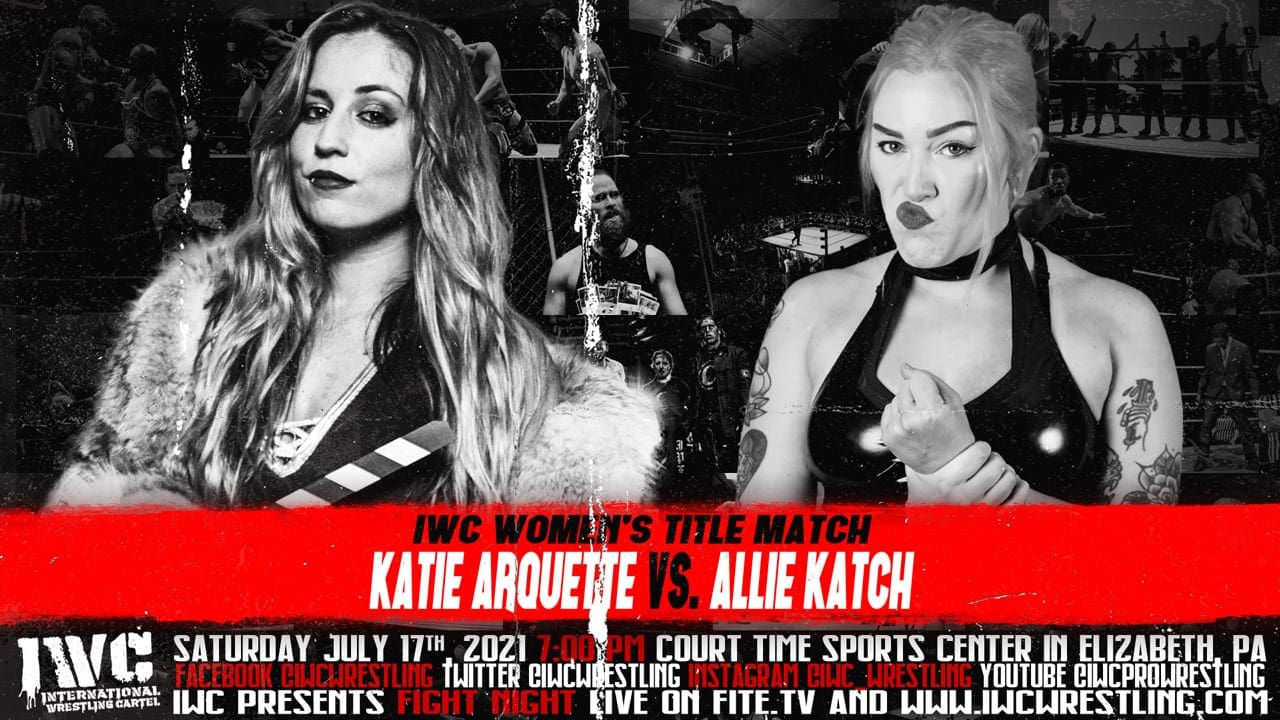 IWC Women's Champion Katie Arquette will take on one of the best in the game today, Allie Katch! Since we've last seen Allie in IWC, she has undergone a serious attitude change and is now more aggressive and determined than ever before. Katch will be coming for the crown at FIGHT NIGHT, but will she be able to dethrone the "Queen of the Silver Screen"?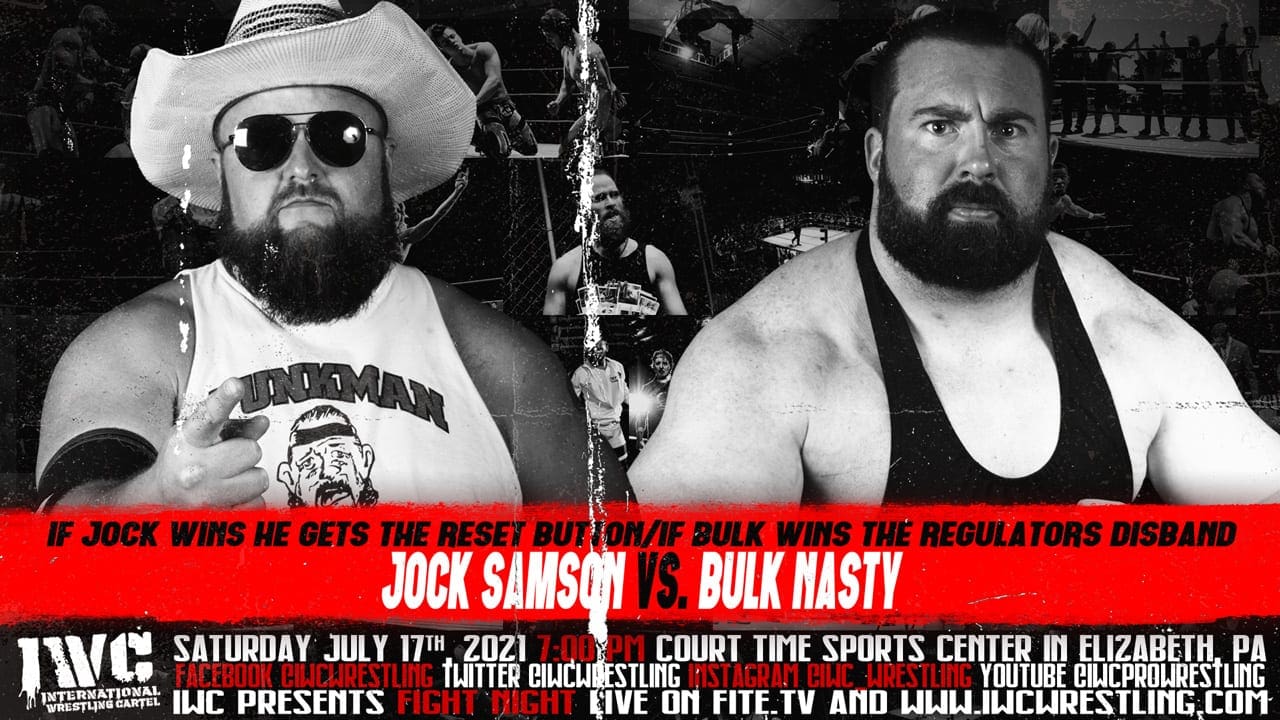 It has all led up to this. The months of running and hiding and strap matches and sneak attacks will all come to a head with everything on the line! Bulk Nasty won the 3rd-annual 16bit Challenge at Reloaded 7.0 to earn the power of the Reset Button, only to have it stolen at the end of the night by Jock Samson and the Regulators. Enough was enough, and IWC owner Justin Plummer put the Reset Button on the line, but if Jock Samson loses then the Regulators must disband! It's Bulk vs Jock! It's Reset vs. Regulators at FIGHT NIGHT!!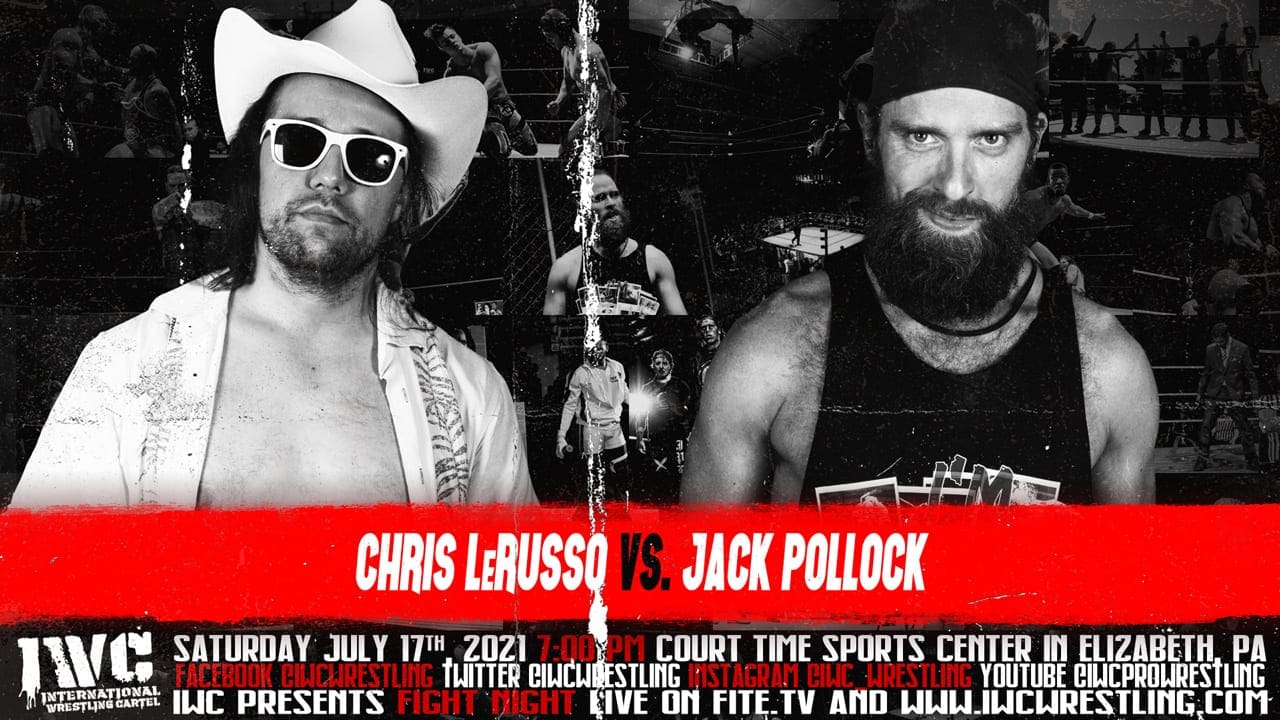 JACK is BACK in IWC after missing 8 months due to an attacker who took him out prior to his scheduled title match vs. Jock Samson. Finally fully recovered, Jack returned at IWC Reloaded and wasted no time going after the man who he believes took him out, Chris LeRusso! However, LeRusso denies having any involvement in the attack. On July 17th, we look to get more answers when these two men step into the ring one on one!
After getting too extreme for a second event in a row, Justin Plummer approached Hardcore Hammer Time in their locker room. But they made one thing clear – they are ready to settle their beef with the Gambinos once and for all and will get their opportunity at IWC FIGHT NIGHT!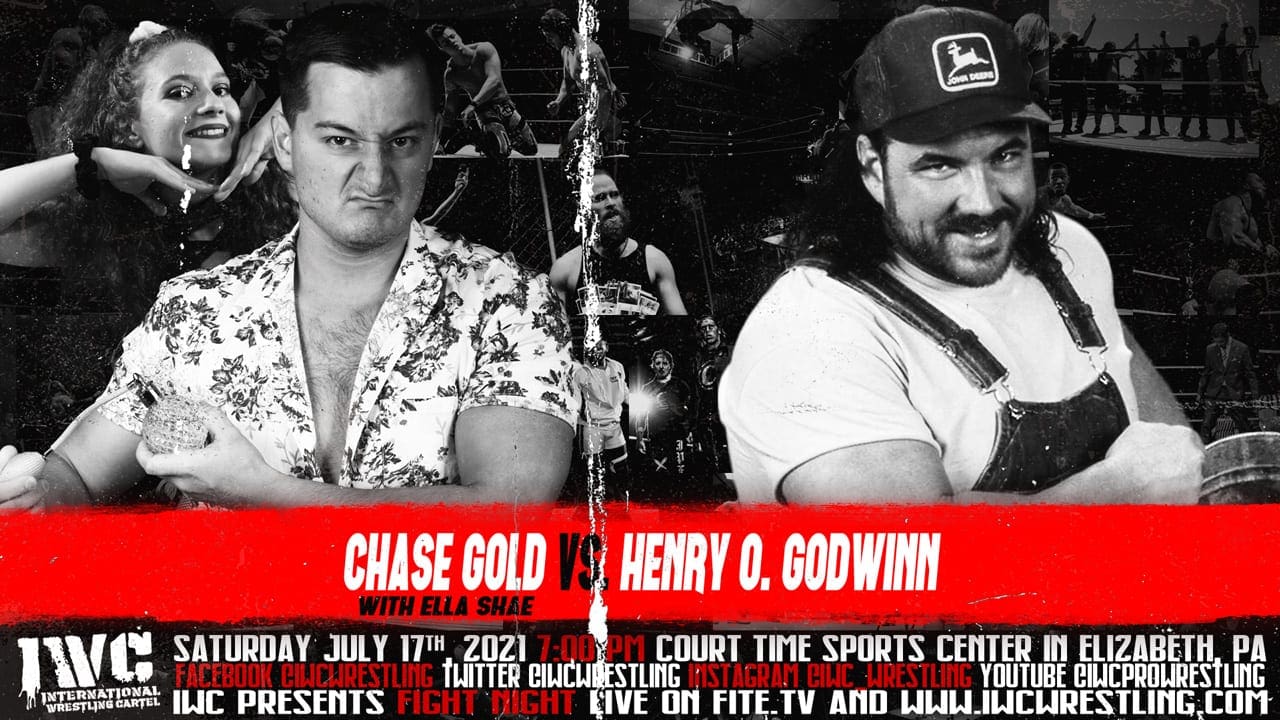 WWE Legend and two time tag champ Henry O. Godwinn made a shocking return to the ring at IWC Reloaded, and we got to see some incredible moments… at the expense of Chase Gold! Now he has DEMANDED revenge for the slop bath that Godwinn gave to him and his protégé Ella Shae. He has claimed that not even his best fragrances have been able to fully remove the stench of Godwinn's slop! Will Chase Gold avenge his lady and clean up Godwinn's act? Or will the hog farmer from Arkansas leave the cologne connoisseur with a rotten new fragrance?!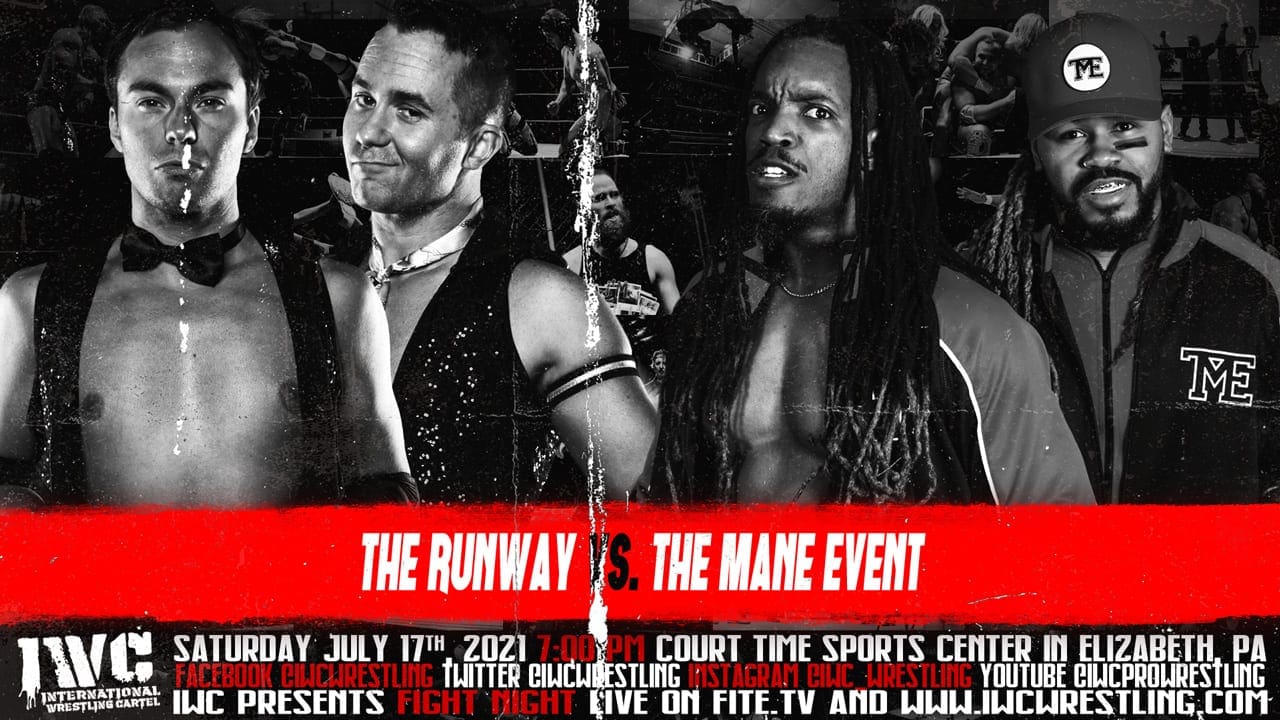 Since we're not cowards, we'll have more tag matches! The Mane Event of Duke Davis & Ganon Jones, Jr. will be in action at FIGHT NIGHT when they take on the debuting Runway! Calvin Couture is no stranger to IWC, but he brings along his tag team partner "Trophy Boy" Tyler Klein Tyler in their attempt of a "hostile makeover" of the IWC tag team division! TME looks to continue to assert their dominance as the top tag team not just in Pittsburgh, but the entire country! Which team will walk out of FIGHT NIGHT with momentum??
After the events of Reloaded 7.0, RC Dupree, Cole Karter, & "Greek God" Alexander Apollo all have beef to settle with Tito Oric & "Lebanon Don" Joey Moses. Lebanon Don has recruited the IWC Tag Team Champions Money Shot ("Mandime" Elijah Dean" & Zach Nystrom) to join the fight. Meanwhile, after getting manhandled by Oric & Don at Reloaded, IWC ring announcer Nick Lendl will be in the corner of RC, Cole & Apollo! Will he swing the momentum one way or the other? What will happen when these six men do battle at FIGHT NIGHT?!
All this plus much much more on Saturday July 17th!! Stay tuned!