IWC returns to Court Time Sports Center with our summer annual, Caged Fury 2021! Caged Fury takes place Saturday night August 14th at Court Time Sports Center in Elizabeth, PA! The action kicks off LIVE at 7:00 PM! If you can't make it in person, we will be broadcasting on IPPV on FITE.tv or for members of the IWC Network here at IWCwrestling.com! We have so much already announced, let's get to it!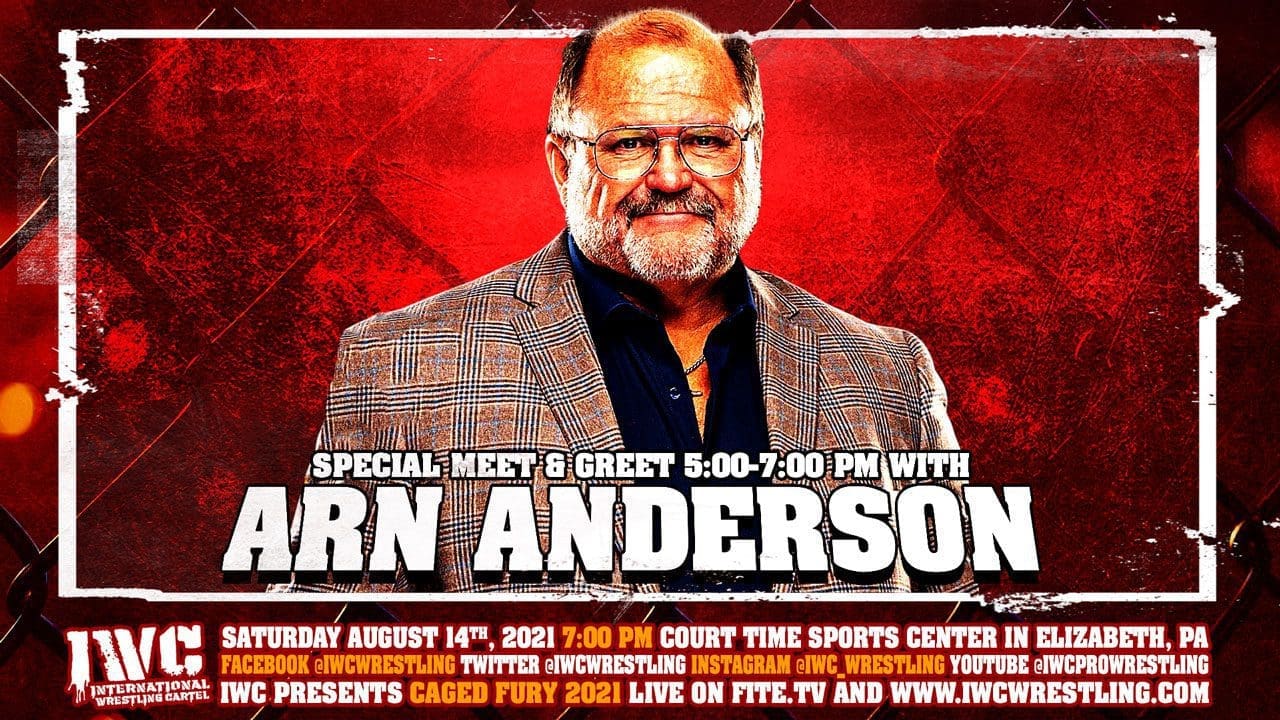 As previously announced here on IWCwrestling.com, "The Enforcer" Arn Anderson will be in the house on August 14th for a special meet & greet! This is a rare opportunity for some face time with the WWE Hall of Famer and current coach of the Nightmare Family starting at 5:00 PM! It's an honor to have "Double A" in the house at Caged Fury!!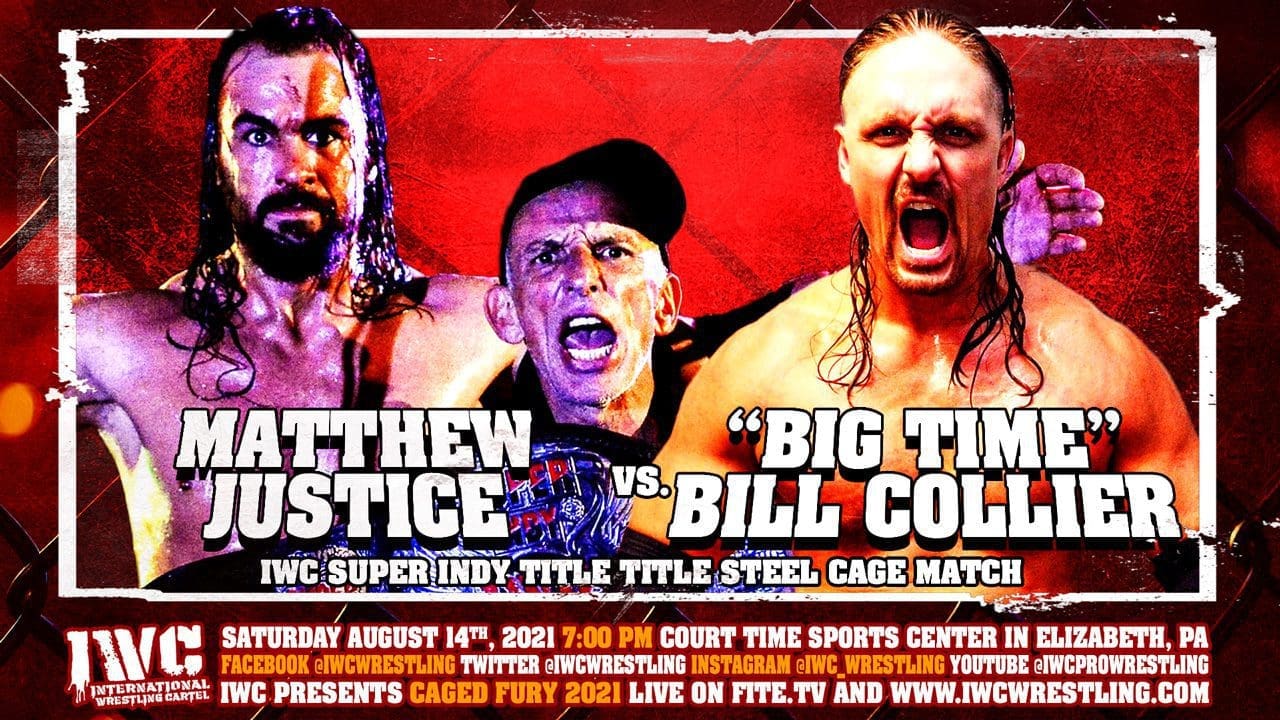 The main event of the night will see IWC Super Indy Champion Matthew Justice, with the legendary Bill Alfonso at ringside, defending his title against former champion "Big Time" Bill Collier! If you were in the house for Fight Night on July 17th, you know these two men put it all on the line for the Super Indy Championship. Some have called it the most extreme match in IWC history, and saw Collier throw Justice off of the balcony through a table, before jumping off the balcony himself! It took a splash through a table, followed by ANOTHER splash to give Justice the win and his second Super Indy Championship over 10 years after his first! Immediately following the match, Collier requested a rematch inside a cage, and Justice accepted! What kind of chaos will take place when these two men enter the 15-foot-high steel cage on August 14th??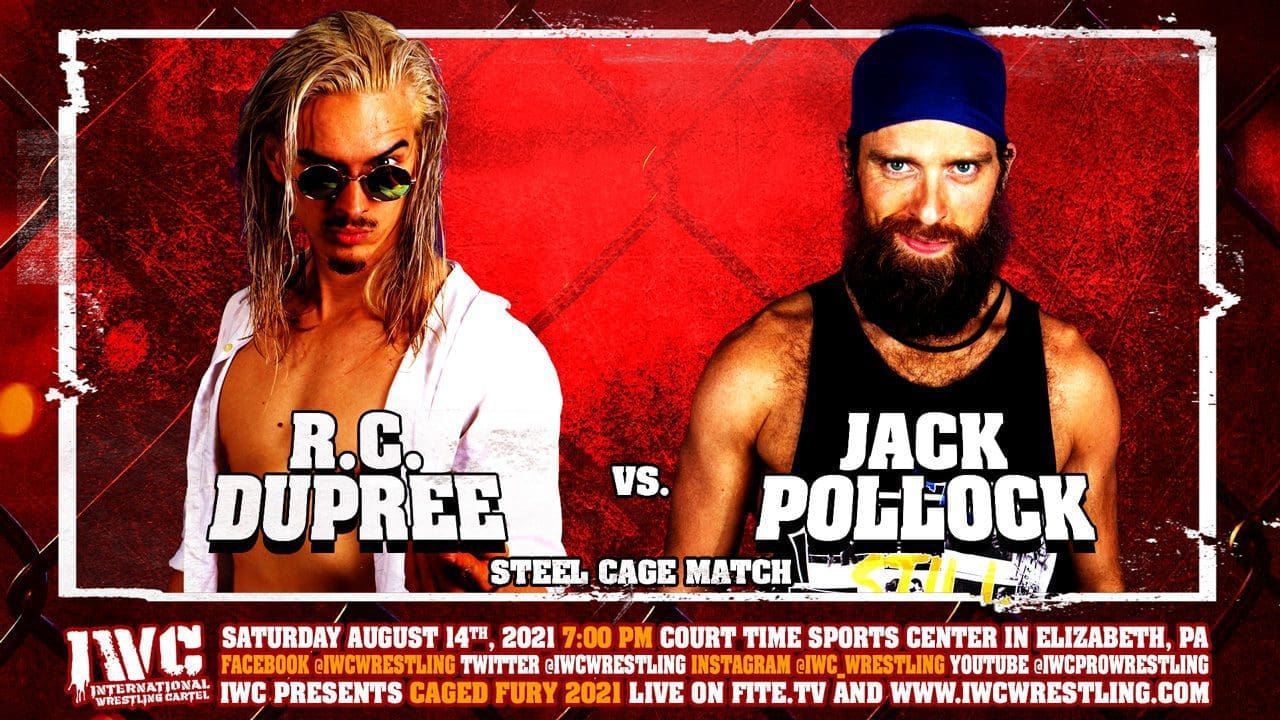 Back in December, Jack Pollock was assaulted and forced to pull out of his scheduled IWC World Heavyweight Title match that night against Jock Samson of the Regulators. Six months later, Pollock returned and focused his attention on Regulators member Chris LeRusso, blaming him for the attack. At Fight Night in July, Pollock defeated LeRusso but LeRusso still denied being the man who attacked him. The lights in Court Time went out, and when they came back on, a massive man we've come to know as Eddie Knoxxx was in the ring, and a masked figure attacked Pollock from behind. That masked man revealed himself to be "The Eccentric Artist" RC Dupree, who stated it's time for a change. Pollock will seek his revenge inside the steel cage at Caged Fury, but will he get it against his former friend and partner?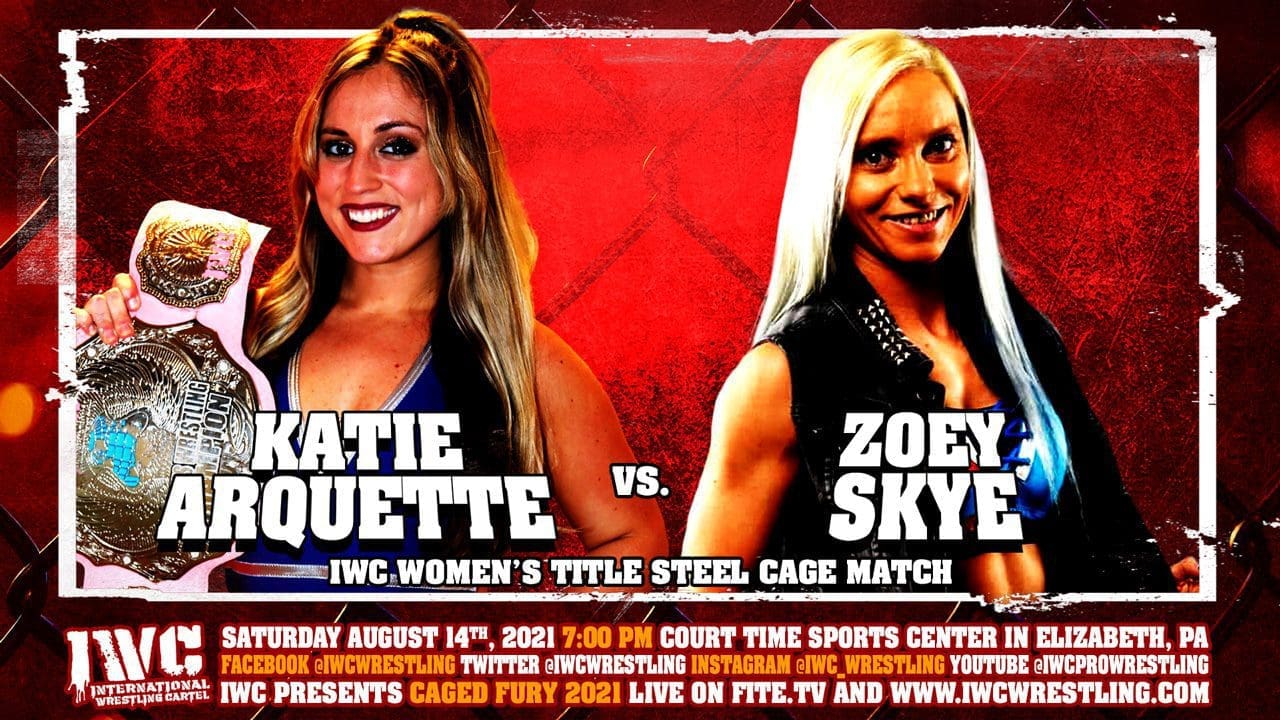 Staying true to the name of the event, we will have THREE steel cage matches at Caged Fury 2021!! For only the second time in our company's history, the IWC Women's Title will be defended in the cage, as Katie Arquette defends against Zoey Skye! After what seemed like a friendly contest back at TWENTY in March, Arquette defeated Skye only for Skye to attack Arquette after the match! Arquette wanted revenge, but Skye was nowhere to be found. Now, she'll have nowhere to hide as they're locked inside the cage! Who will emerge the champion on August 14th??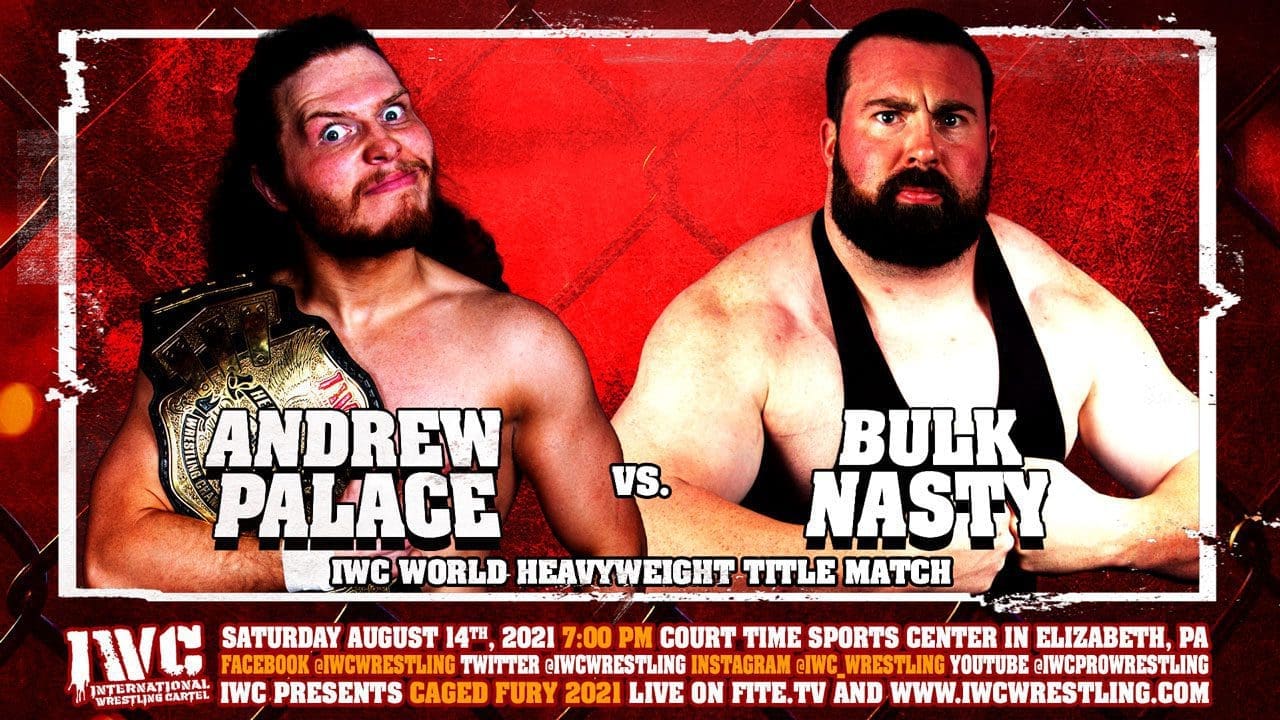 In one of the biggest IWC World Heavyweight Title matches in history, Andrew Palace will defend the title against Bulk Nasty! Back in June, Bulk won the power of the Reset Button in the 16bit Challenge. Bulk made a pit stop in July to take out Jock Samson and the Regulators, and challenged all the champions in IWC. His challenge was answered by Andrew Palace, who was standing by for his title match later that night. Rather than wait for Bulk to use the power of the Reset Button to get an opportunity at his title, Palace challenged Bulk to a match at Caged Fury! This is Palace's biggest challenge during this reign to date, both literally and figuratively. Will he be able to match up with Bulk, who is on the roll of a career? Or will Bulk put down the "Spazmanian Devil" and capture his first IWC World Heavyweight Championship?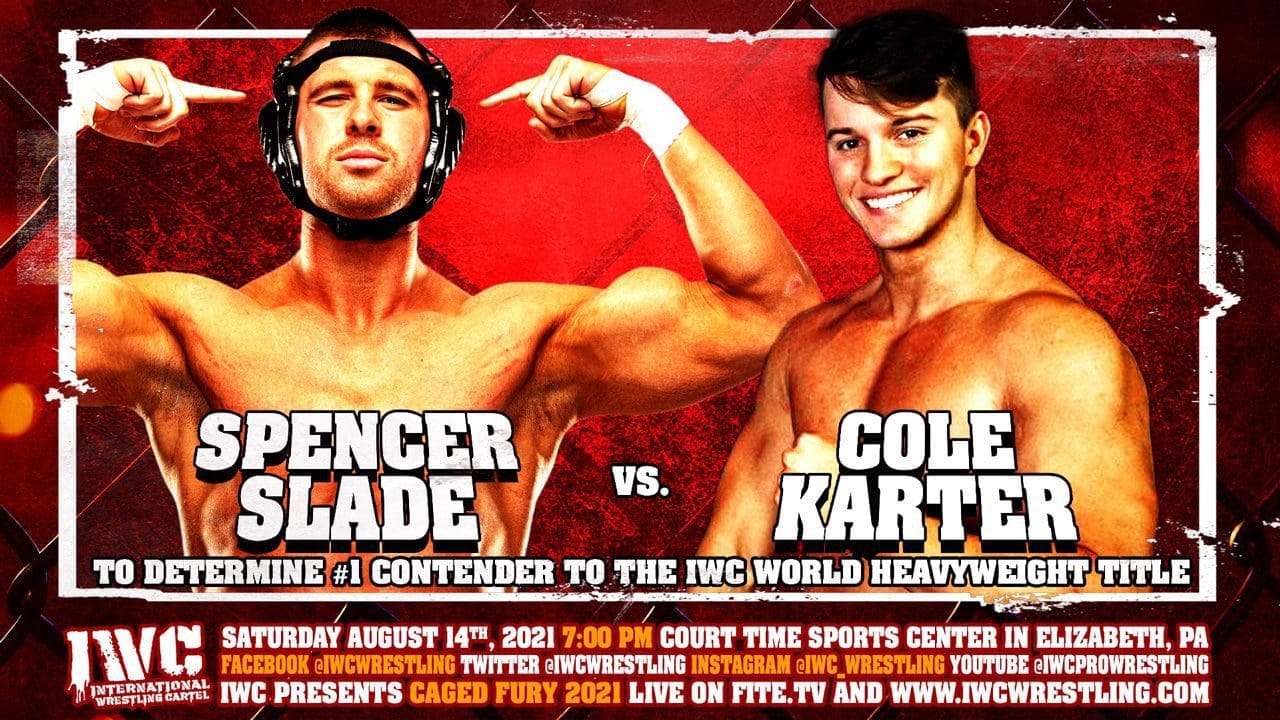 Coming off big wins on the Proving Ground Series, and overall impressive performances early in their careers inside and outside of IWC, two of wrestling's top future stars will face off one more time. This time a HUGE opportunity will be on the line! Cole Karter vs. Spencer Slade to be #1 contender to the IWC World Heavyweight Championship! The winner will challenge the winner of Palace vs. Bulk for gold in September!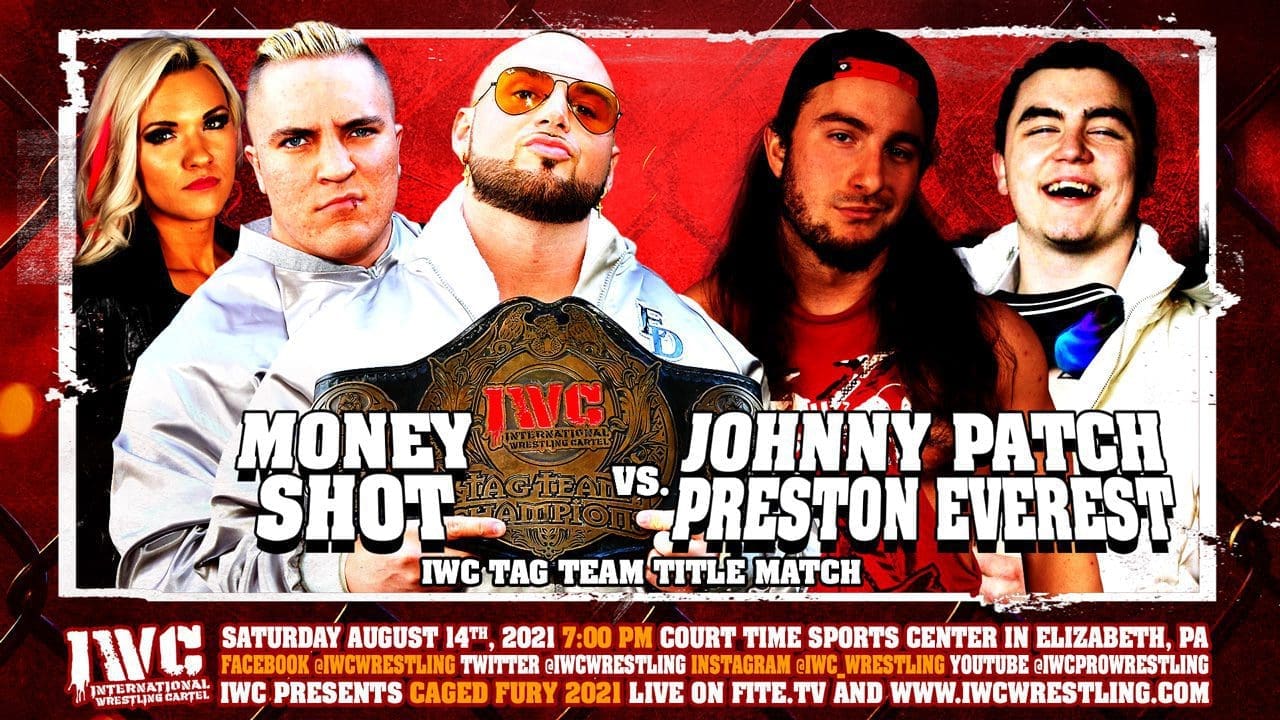 After a shocking victory in their debut match at the IWC Proving Ground Series, the brand new team of Johnny Patch and Preston Everest will face Money Shot at IWC Caged Fury for the IWC Tag Team Championships! Will this new duo be the fastest to ever capture tag team gold, or will Money Shot continue their record setting quest?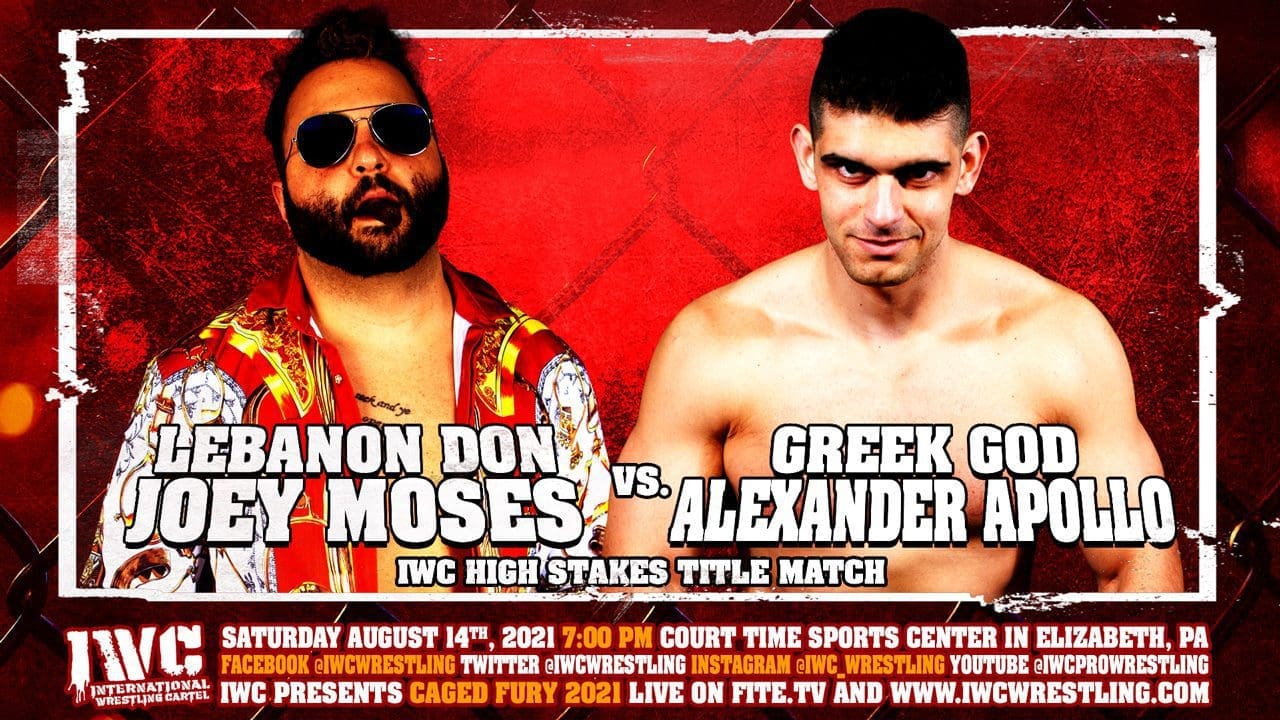 "The Greek God" Alexander Apollo and The Lebanon Don have been going round and round for months, most notably with several wars between Don's bodyguard Tito Oric battling Apollo. At Caged Fury, The Don will take lead in this rivalry as he will defend the IWC High Stakes Championship directly vs. The Greek God. No place to run, no place to hide, this is going down! BUT per the title's rules, the defending champion can pick the match stipulation! Will The Greek God finally end his rivalry with The Don and Tito, or will The Don use his Championship advantage to continue his impress title reign?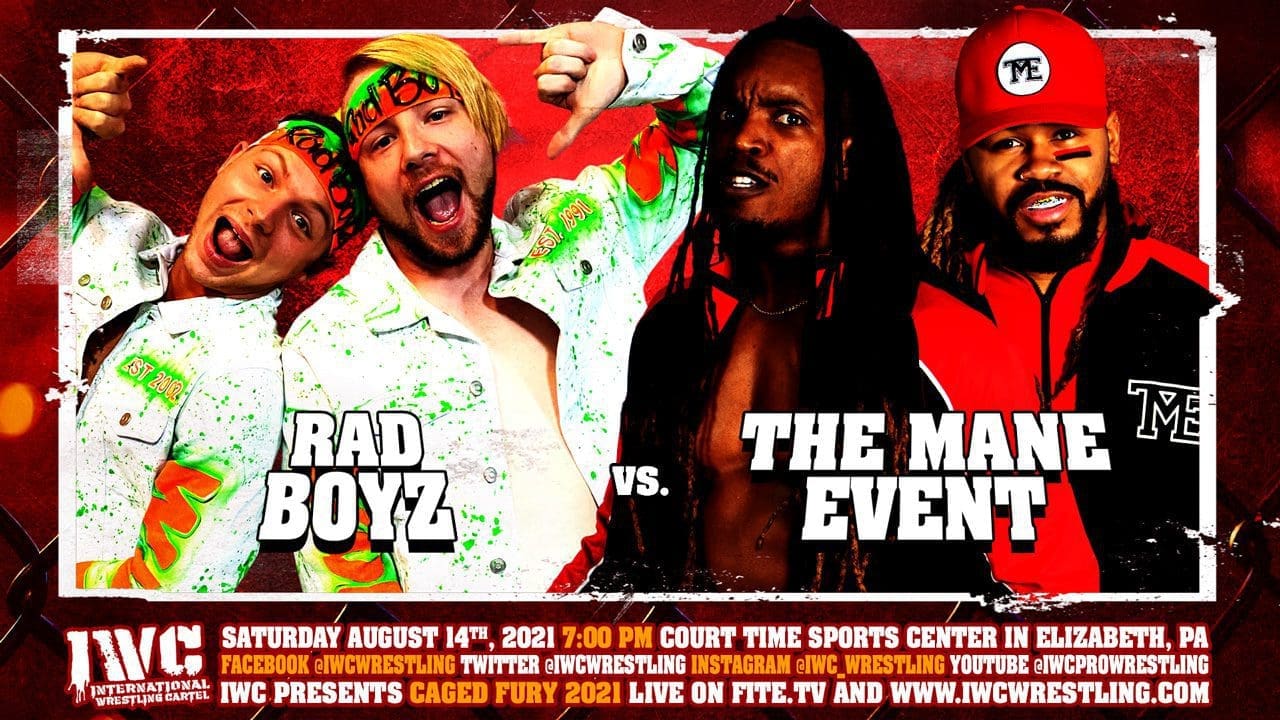 We have officially BOOKED MORE TAG MATCHES! The high-energy, BANG!-loving duo known as Rad Boyz, Jake Wily & Braden Elliot, make their IWC debut at Caged Fury! But this high energy duo will run into the buzz saw that is The Mane Event, Duke Davis & Ganon Jones, Jr., who have amassed one of the most impressive win streaks in recent history! See if these newcomers can pull the ultimate upset on August 14th!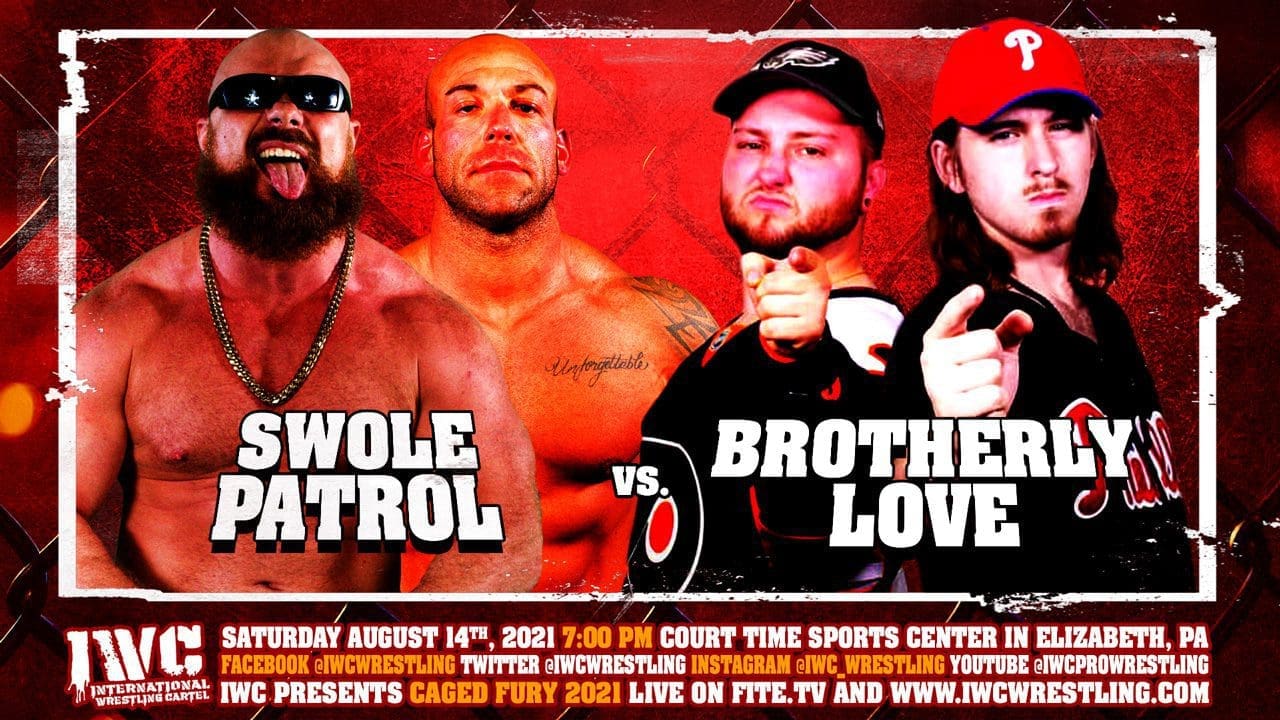 Swole Patrol attacked Brotherly Love after the Philly duo was serving up cheesesteaks at Fight Night to the IWC faithful. Thicc Vic Braun & VJ Hales were so offended that Ricky Dawkins & Kliff Klepto were offering such unhealthy food to IWC fans that they were forced to say something to them as the event was about to begin. After several matches on the IWC Proving Ground Series, these two teams will meet on August 14th at Caged Fury!