IWC returns to Marx's Court Time Sports Center on September 4th with a STACKED card featuring former WWE Superstar Chris Masters, the return of WWE Legend Henry O. Godwinn, and all of your favorite IWC Stars!
Tickets on sale now RIGHT HERE!
If you can't make it to Court Time live, be sure to check us out on IPPV at FITE.tv, or live as part of the IWC Network here at IWCwrestling.com!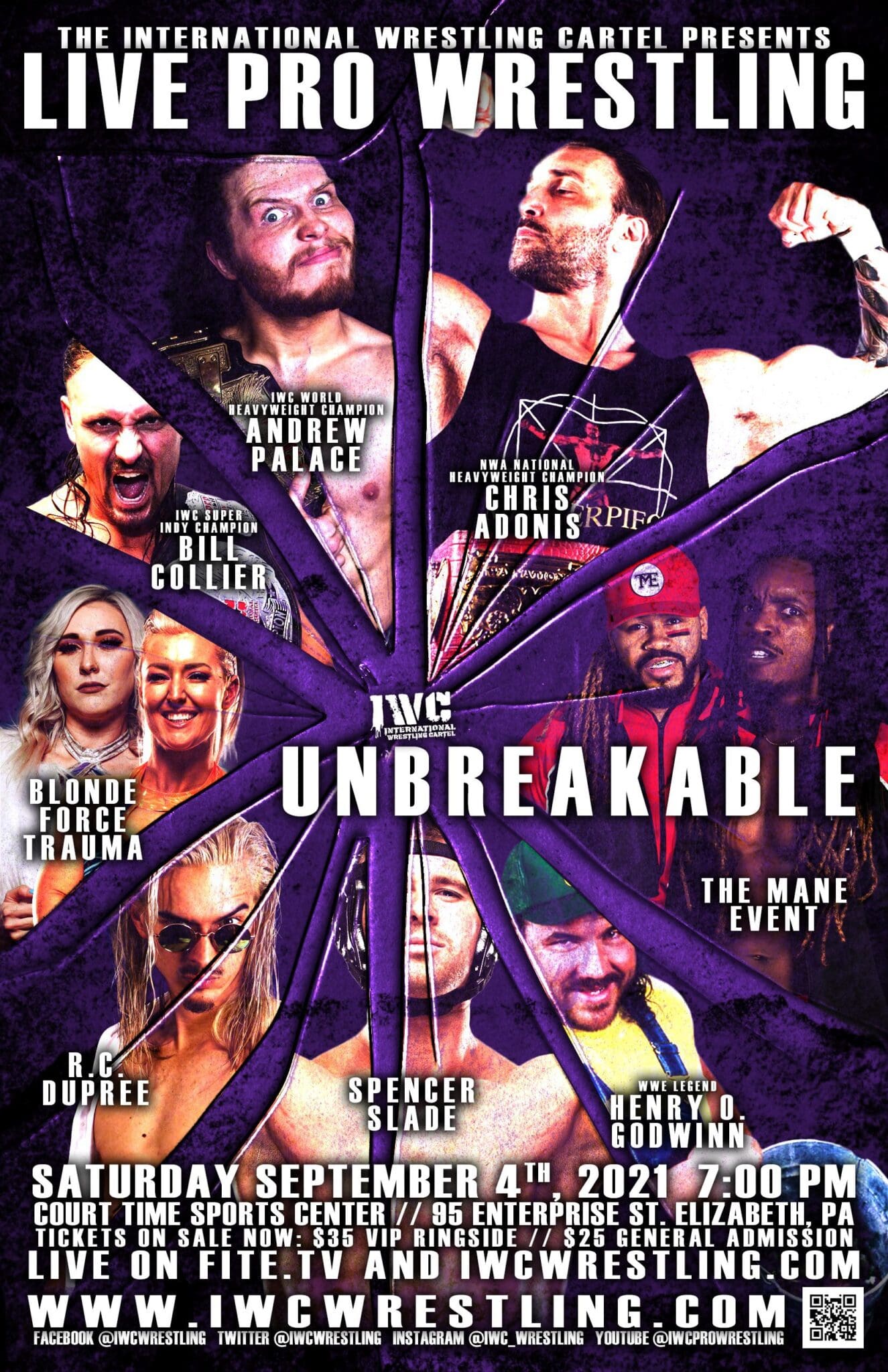 First, come early at 6:00 PM for your change to meet former WWE Star and current NWA National Heavyweight Champion, Chris Adonis (Chris Masters).  Entry to the meet and greet is included with your event ticket; however, photos and autographs will be an additional charge.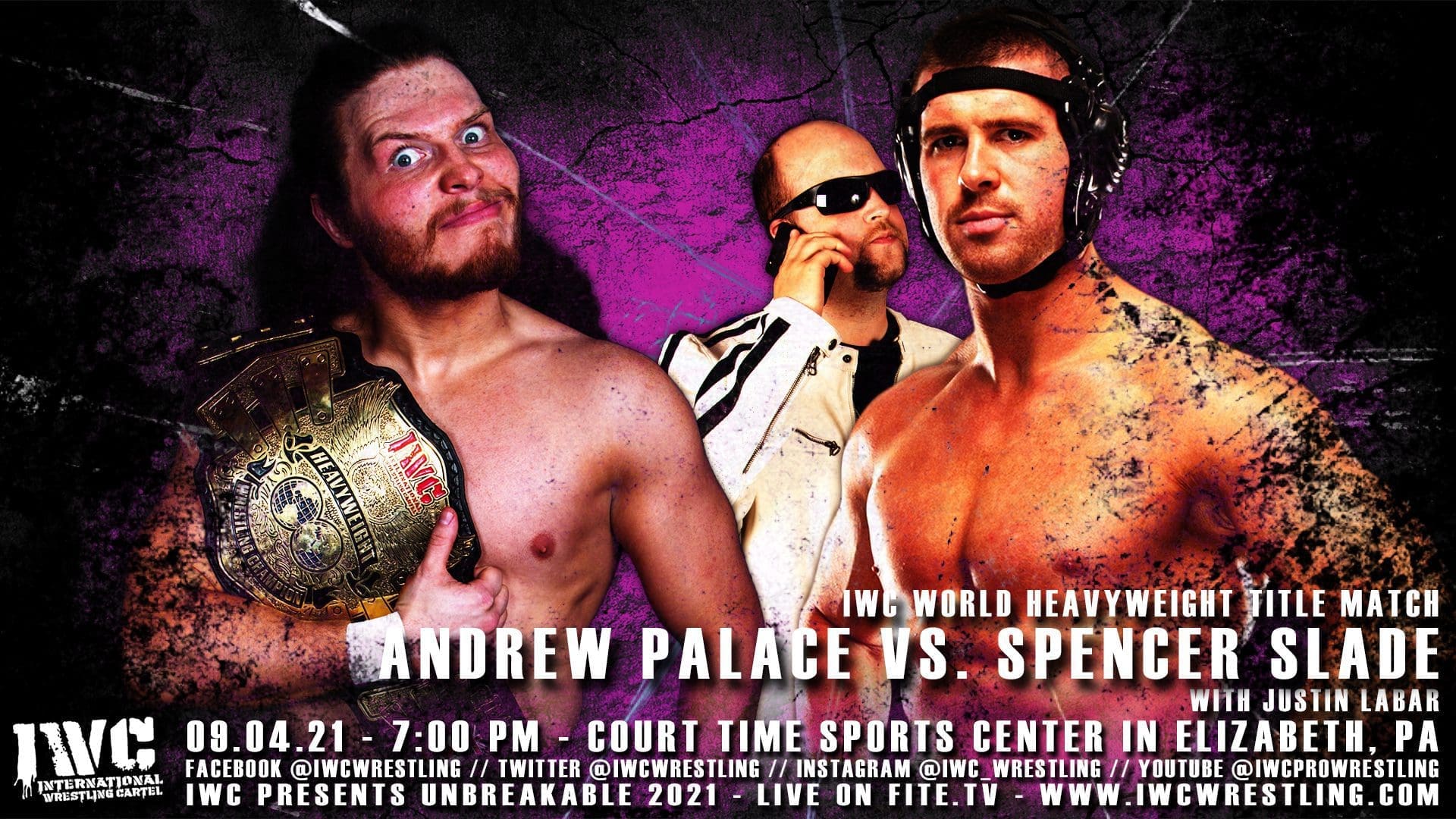 Spencer Slade has climbed to the top of the mountain in IWC and with the addition of Justin Labar he looks to realize his goal of becoming the IWC Heavyweight Champion and ending the incredible run of the heart and soul of the IWC, Andrew Palace. Will Palace cement his place as top dog or will Spencer Slade become the top man in the locker room?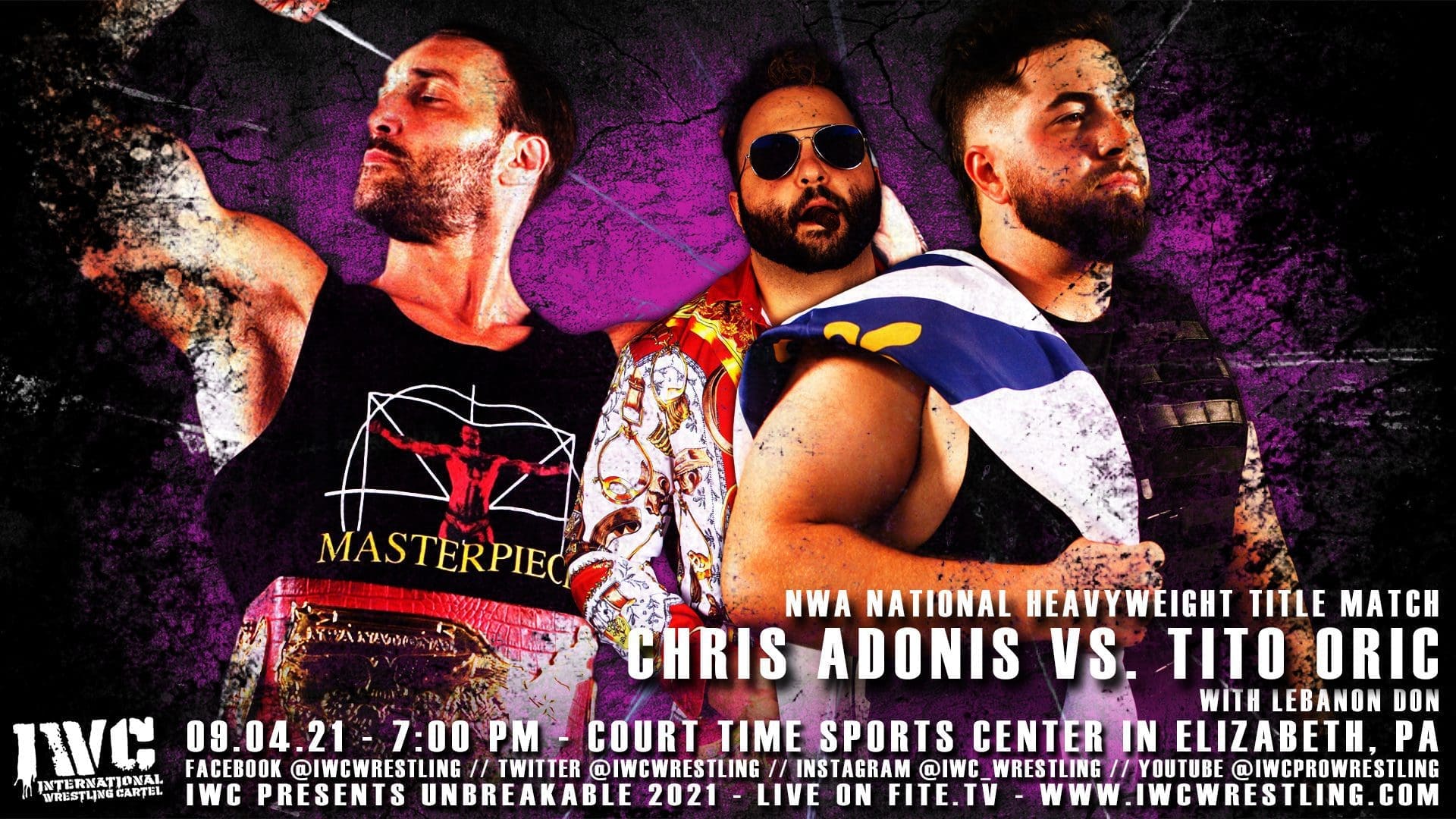 After Lebanon Don lost the IWC High Stakes Title to Alexander Apollo at Caged Fury, Don demanded a rematch. Except, he wanted his muscle, Tito Oric, to get the shot so he could once again hand the belt over to Lebanon Don. He even tried bribing IWC owner Justin Plummer to get his match. Plummer took the money, but instead of giving them a shot at the High Stakes Title, he instead put Tito in a match against the current NWA National Heavyweight Champion, former WWE star "The Masterpiece" Chris Adonis! Will Tito walk away with another prize to give to Lebanon Don??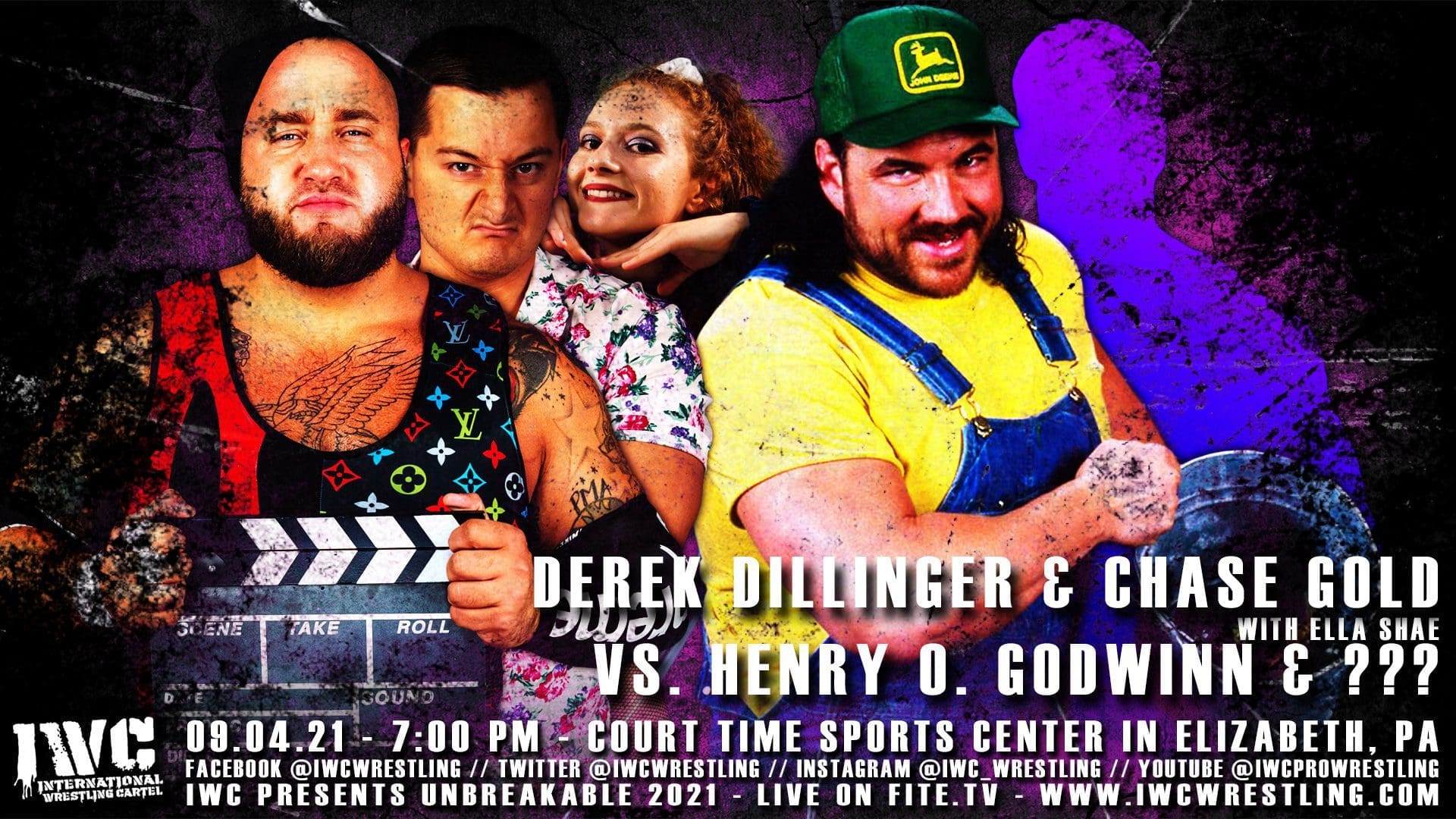 Henry Godwin is back for revenge after Derek Dillinger, Chase Gold, and Ella Shae cheated him out of a win and stole his slop bucket. Which IWC star will he chose to join him?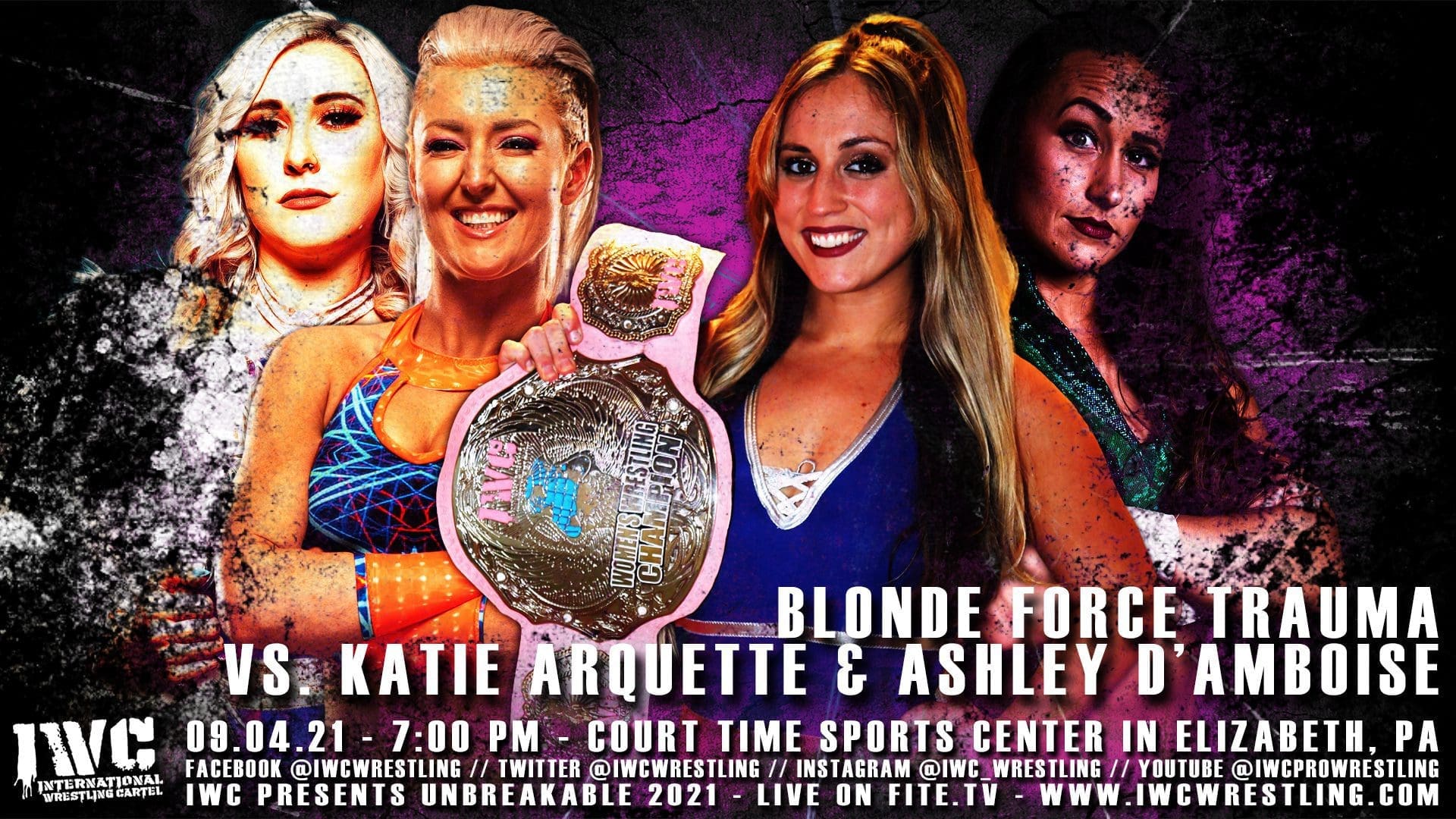 Ray Lyn is back and this time she isn't coming alone! Recently, she has joined forces with The "Killer Bae" Heather Monroe, and together as Blonde Force Trauma, they have found huge success! But she will be faced by one of her long time rivals in IWC Women's Champion Katie Arquette. Arquette will team with Nightmare Factory and AEW Dark standout, Ashley D'Amboise!
The Philly Marino Experience – Marino Tenaglia & Philly Collins – is a high energy tag team out of Cleveland. While the boys from Erotic City are all about good vibes and good times, inside the ring they are an accomplished team who have held several tag team championships in different promotions. Now they come to IWC in hopes of adding another set of titles to their resume when they face the red hot Money Shot!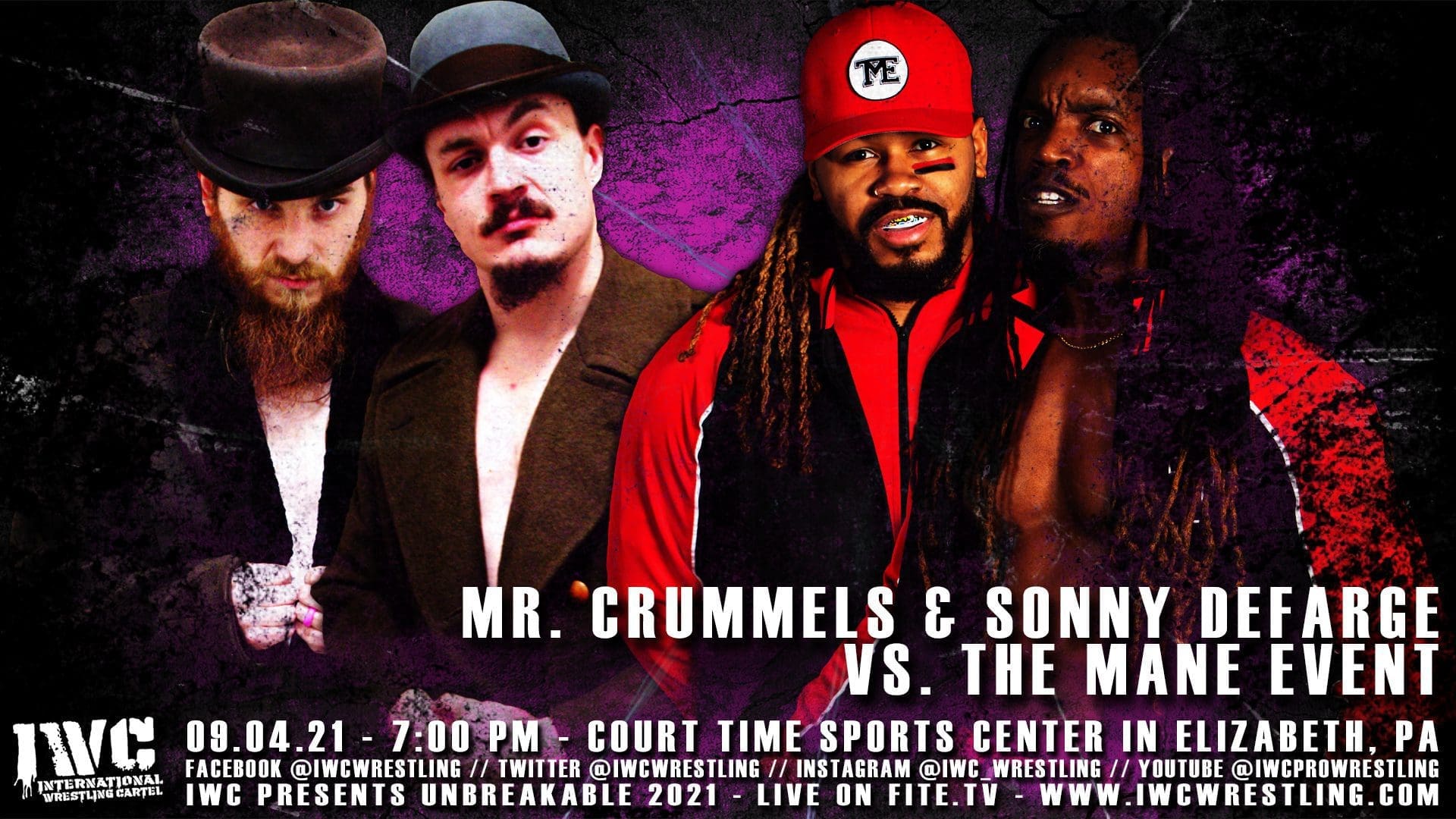 Mr. Crummels & Sonny Defarge are *ahem* "legitimate businessmen" who bring their nefarious and sometimes disgusting tactics from the business world to the ring. They've battled TME across other different promotions, trading wins and championships, and now bring their rivalry to IWC. Who will make the next big step towards the IWC Tag Team titles?!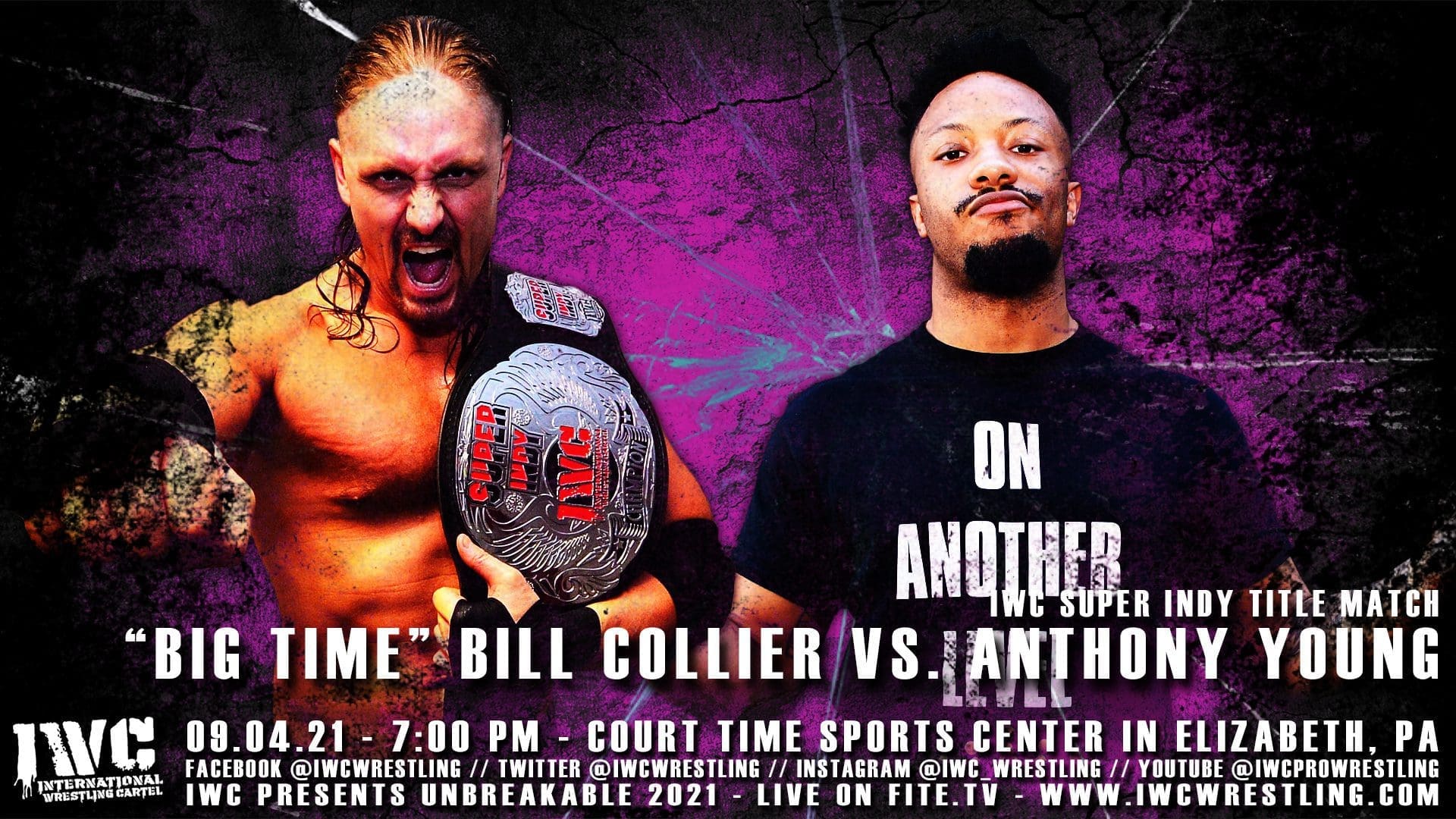 With the 20th Super Indy Tournament right around the corner, this is a big one! The Super Indy Stallion, Young Tony, will finally get his chance at the gold he has been chasing since he debuted in IWC. But "Big Time" Bill Collier has been on an absolute path of destruction as of late.
The winner will have the honor of entering the historic Super Indy Tournament as the defending champion! It doesn't get any bigger than this!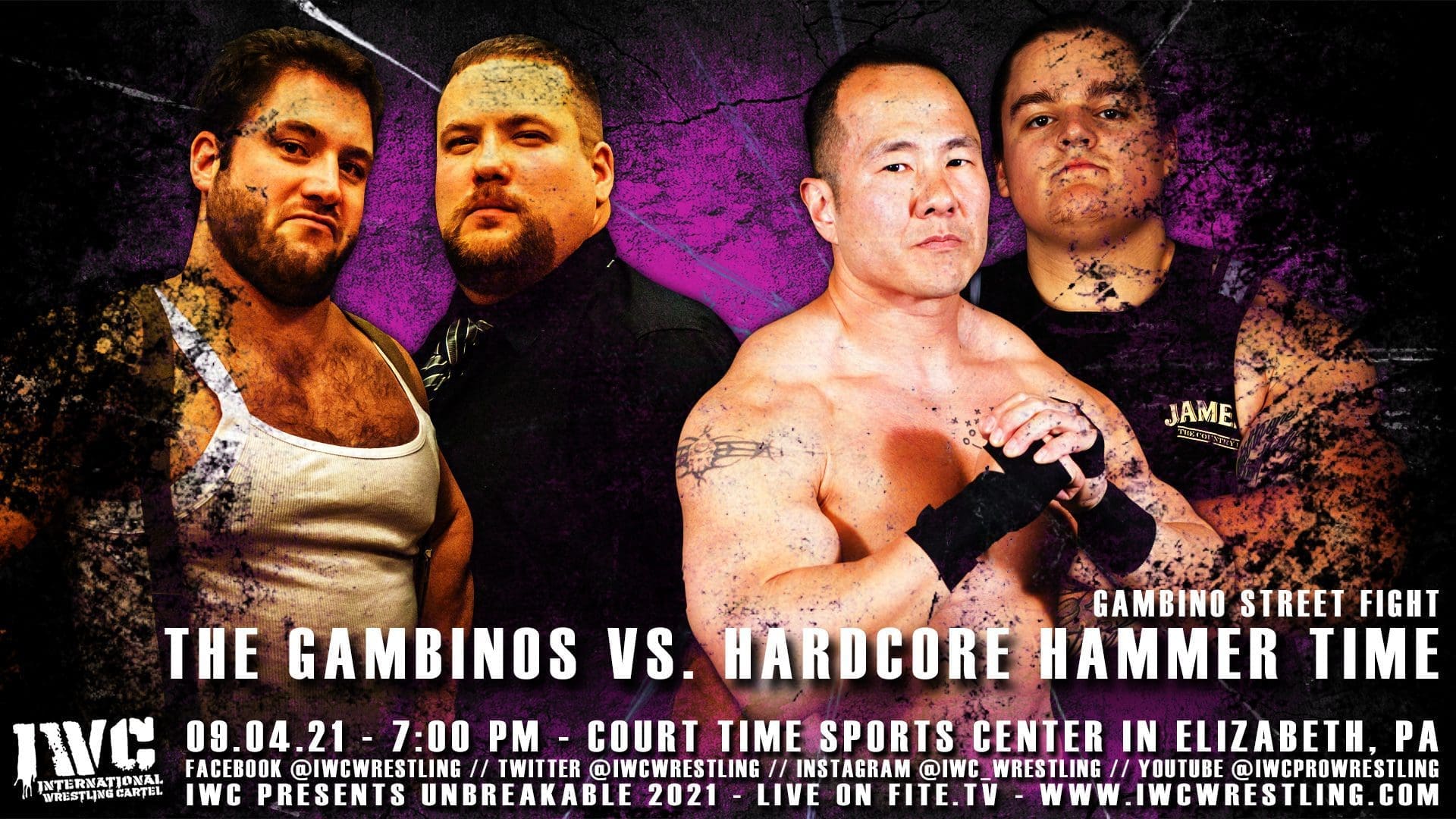 The nearly year long feud between the Gambino Brothers and Hardcore Hammer Time looks to come to a violent conclusion at IWC Unbreakable when Hardcore Hammer Time steps into Marshall and Mickey's world in a Gambino Street Fight, and this time, the fans bring the weapons!
Will The Gambinos show once again why they are the most decorated tag team in IWC Tag Team history or will Hardcore Hammer Time take the former five-time champs to the extreme?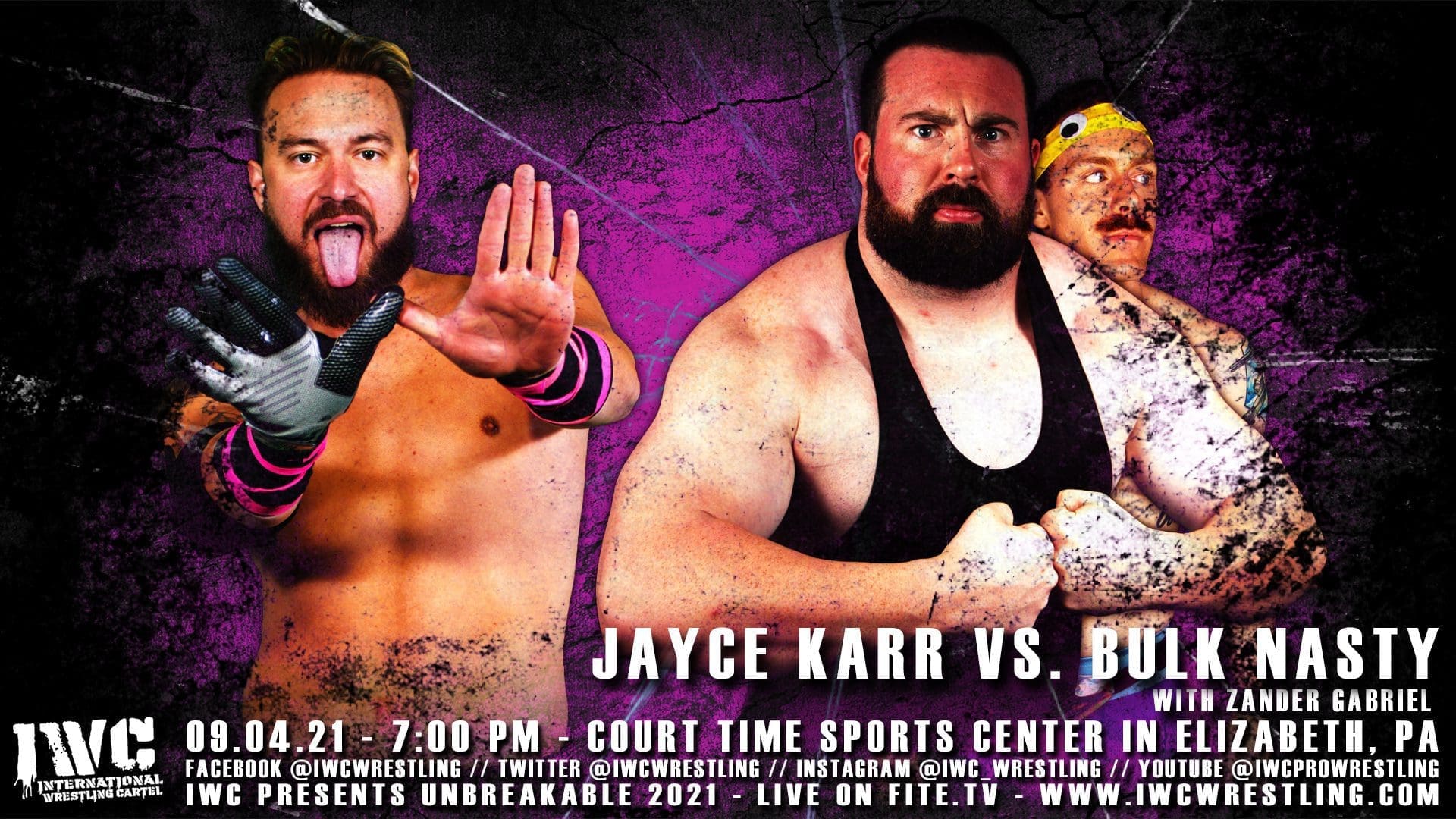 At Caged Fury, Spencer Slade ruined Bulk Nasty's chance at the IWC World Heavyweight Title by attacking Andrew Palace and causing the disqualification. Now, Bulk is angry. Bulk is looking for a fight. Jayce Karr is looking for an opportunity after taking several months away from IWC and finding success elsewhere, but has he bitten off more than he can chew?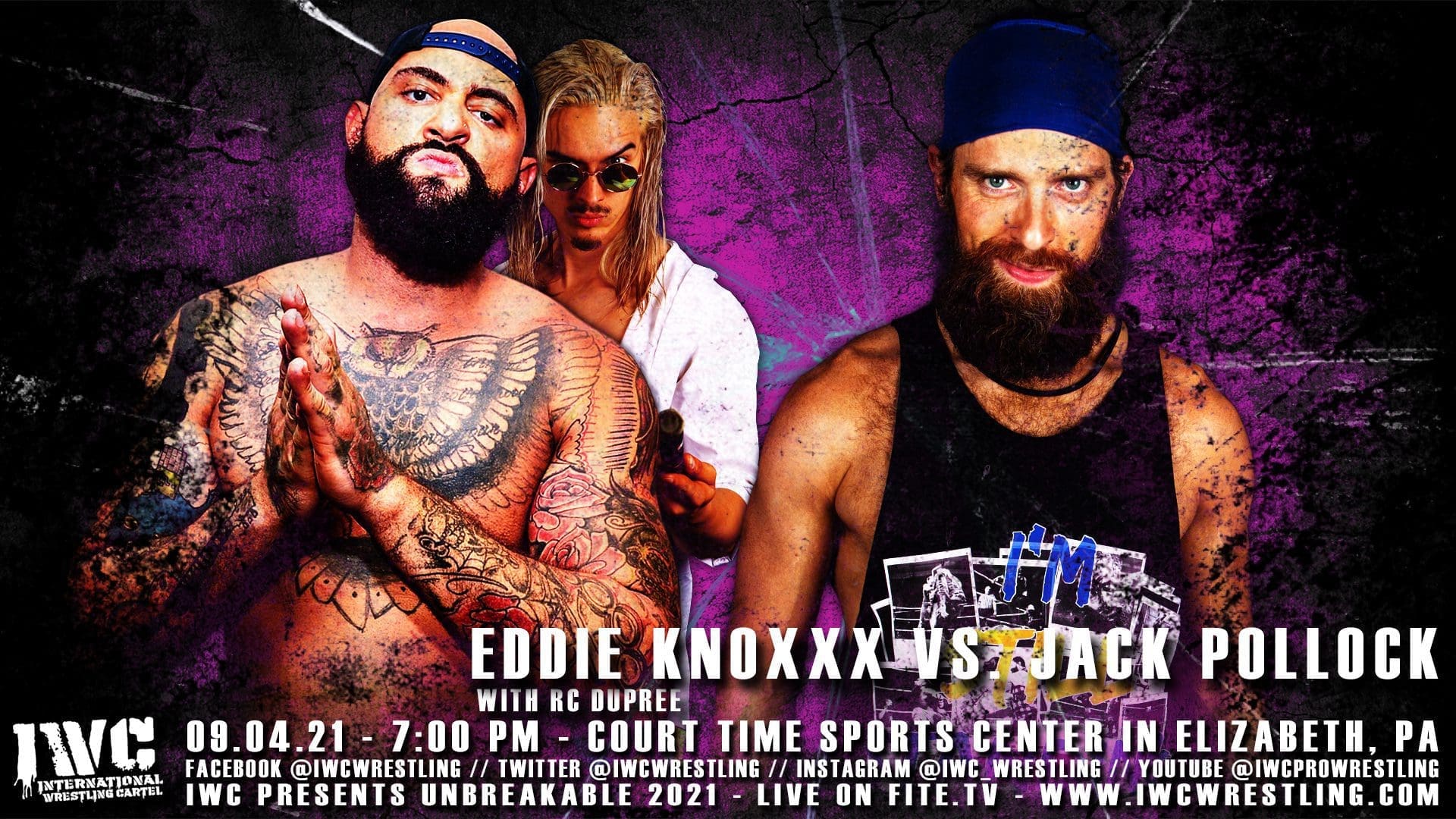 In a shocking twist, a year long mystery was solved when RC Dupree was revealed to be the man who attacked Jack Pollock and almost ended his career.  When they were set to. settle the score in a cage last month, Eddie Knoxxx attacked Pollock during his entrance and left an him injured to compete against RC Dupree. In the end, it was too much for Pollock to overcome, and RC got the win, but Jack challenged them BOTH to a match on September 4th. However, RC Dupree considers his business finished with Jack Pollock, and would rather Eddie do his dirty work and finish the hardcore icon off once and for all!  Will Pollock's career finally be put to an end? Or will he bounce back with a big win in an effort to get one more shot at RC Dupree?!