IWC's Flagship Event of the Year is being held at Court Time Sports Center on November 6th! Winner Takes All has long been the premiere event of IWC with many historic and memorable moments in the past, and this year will be no different as we have an absolutely STACKED Card!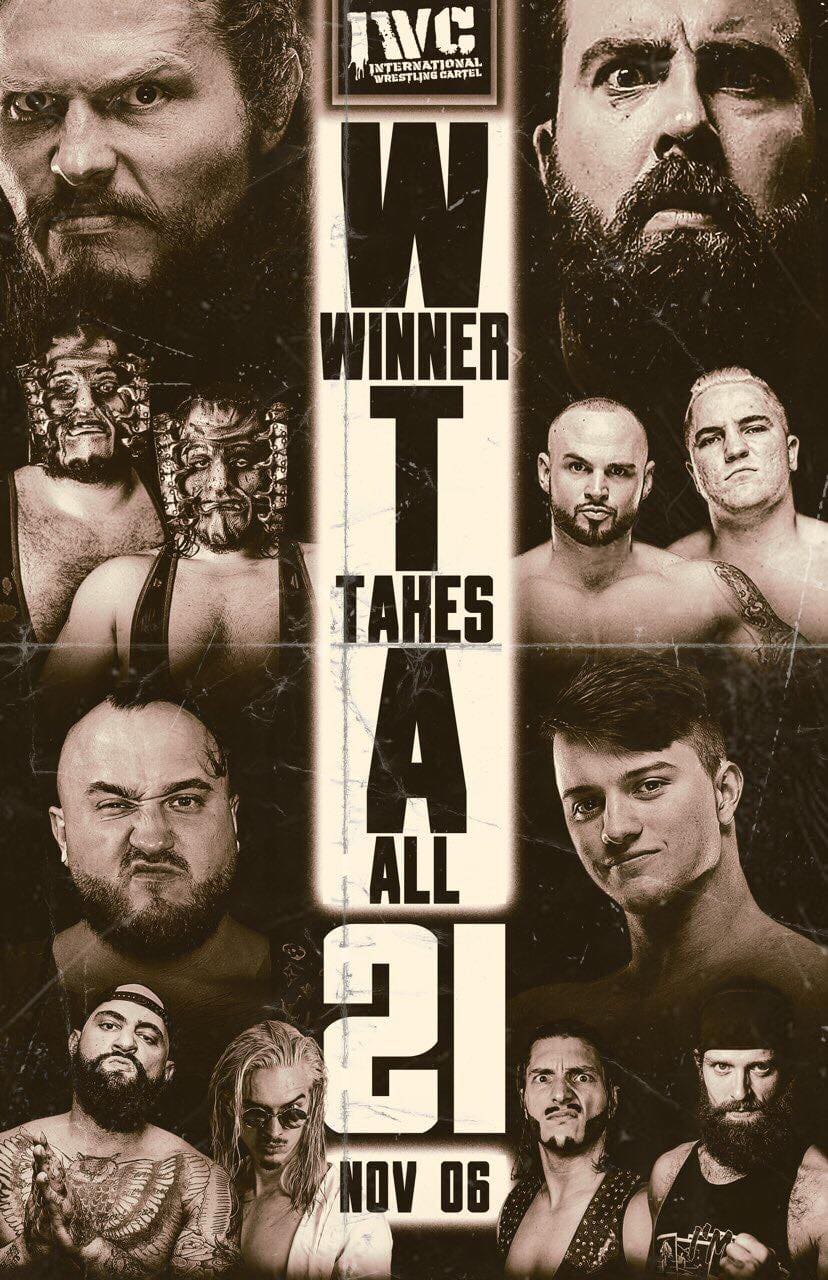 For over a full year, nobody has been able to beat Money Shot. Tag Teams from within IWC, other promotions, and even WWE legends have failed at their attempts to take the IWC Tag Team gold. But on November 6th at IWC Winner Takes All, they will face one of their toughest tests yet when AEW's Bear Country comes to IWC! Bear Country is one of the best tag teams in the game today, dominating every Tag division that they travel to. But will they have what it takes to end the impressive streak of Elijah Dean and Zach Nystrom?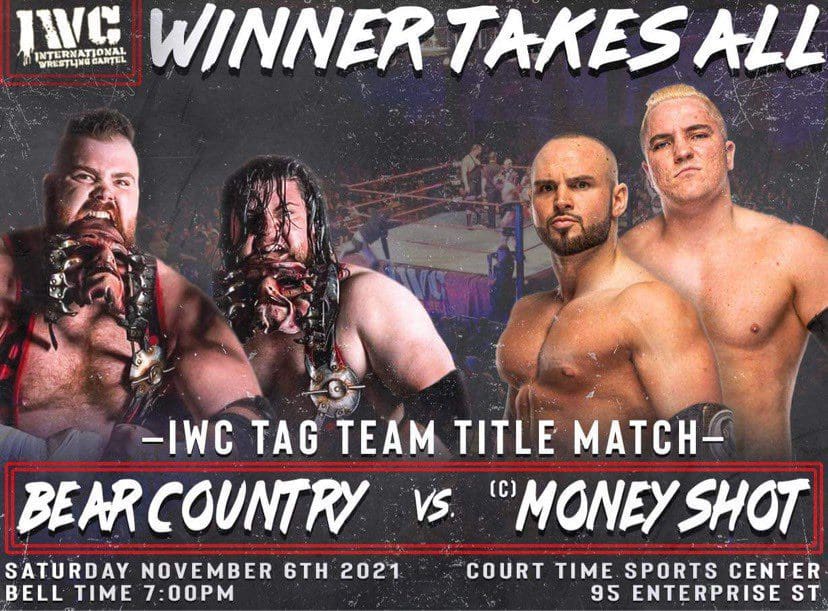 Although very heated words were exchanged and a brawl ensued, Andrew Palace will now officially challenge Bulk Nasty for the IWC World Heavyweight Championship on November 6th at IWC Winner Takes All! Palace is on a mission since he lost the title without ever being pinned, but Bulk has been on annunstoppable tear. Which of IWC's top stars will walk out as champ?!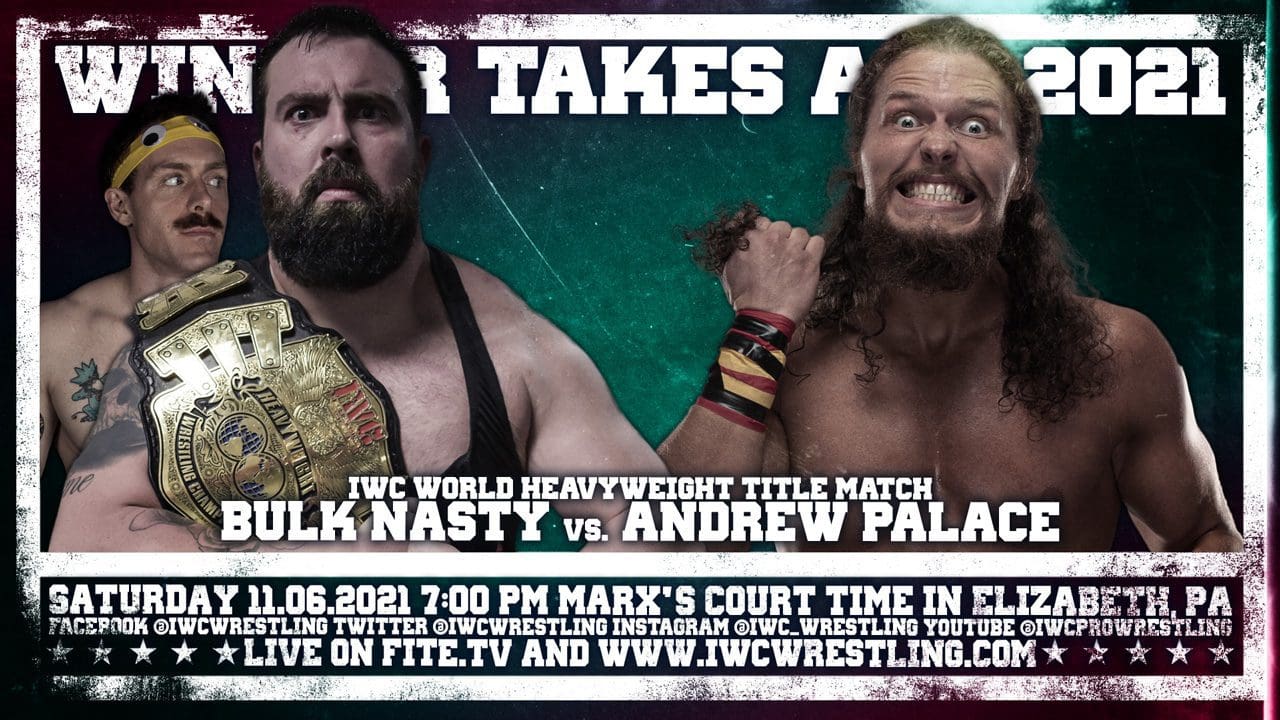 In one of the most talked about moments of #SuperIndy, JaXon Argos returned to IWC to save his former bitter rival, Jack Pollock! But can these two men co-exist long enough to put an end to the pain that RC Dupree and Eddie Knoxxx have been bringing?!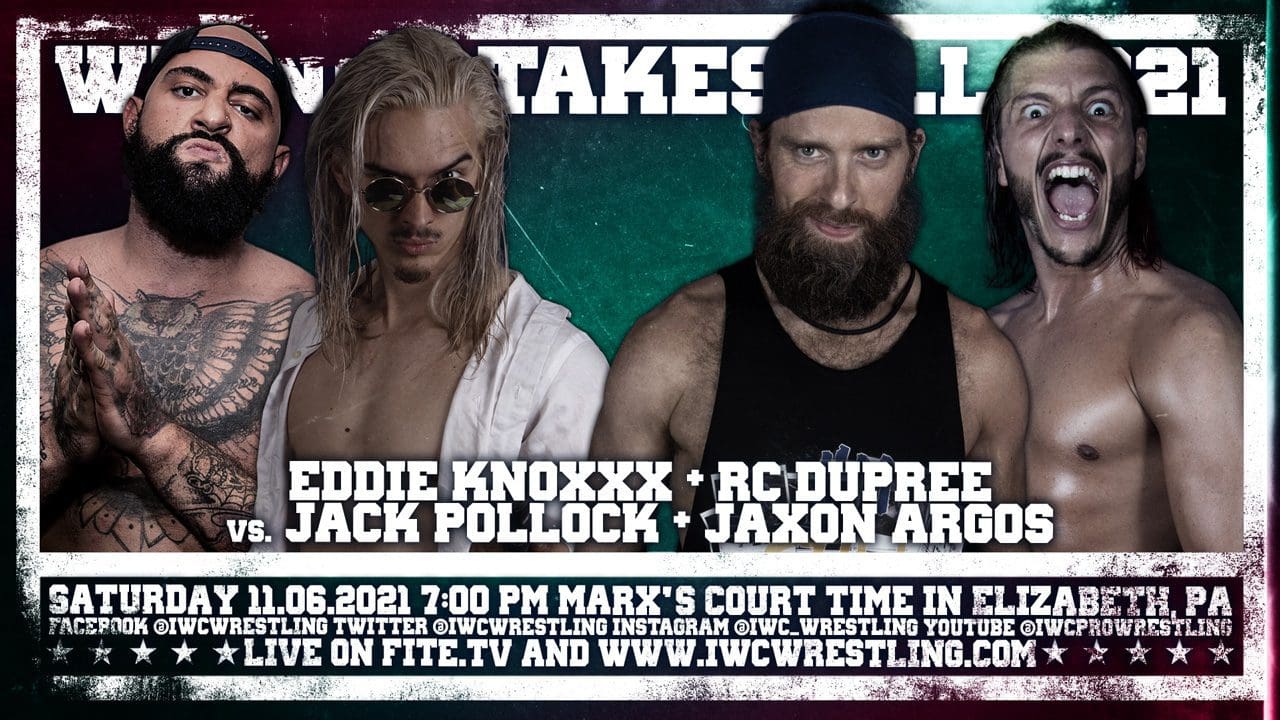 It's official! Derek Dillinger has some unfinished business with Cole Karter after the two crossed paths in September! Derek believes it's his destiny to hold IWC gold, while Karter looks to prove that he can top Dillinger even without a WWE Legend by his side! Will Cole continue his win streak on November 6th? Or will Derek finally get what he feels he deserves?!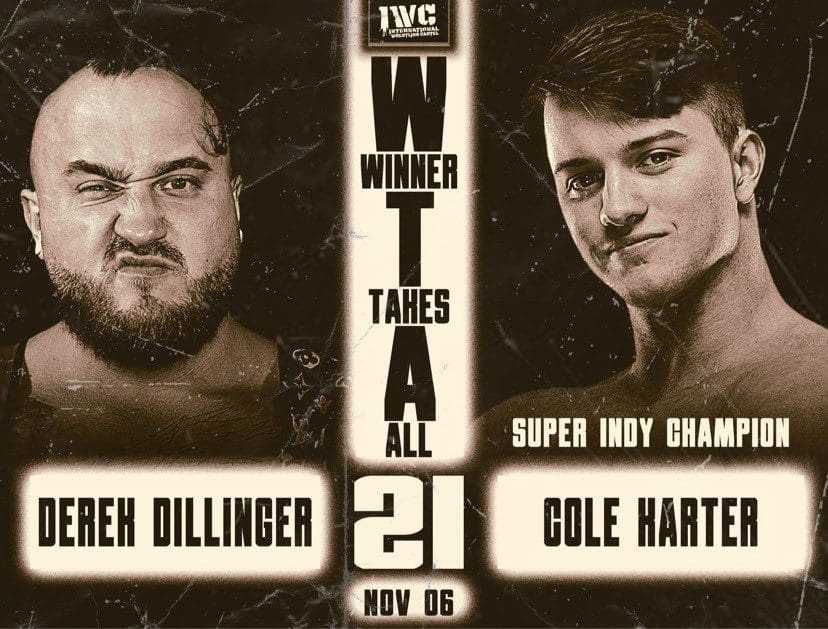 Megan Myers returns to IWC to challenge Katie Arquette for the Women's Championship on November 6th! Will her unorthodox and unpredictable style be enough for her to pull the upset?
Bill Collier will NOT be medically cleared to compete at IWC Winner Takes All as a result of the heinous attack by Spencer Slade and Justin LaBar at our last event. However,
 Spencer Slade WILL be forced to compete on November 16th WITHOUT the services of Justin Labar, because u
ntil Bill Collier is medically cleared to return to IWC competition, LaBar will be SUSPENDED from our events due to the role that he played in the disgusting attack on Collier.  
Slade alone will face ICWA standout "Iron" Mike Bonner, who has been making waves in training with his unique combination of strength and agility! If Slade loses, he will be returned to the bottom of all IWC championship standings and Iron Mike will receive his spot.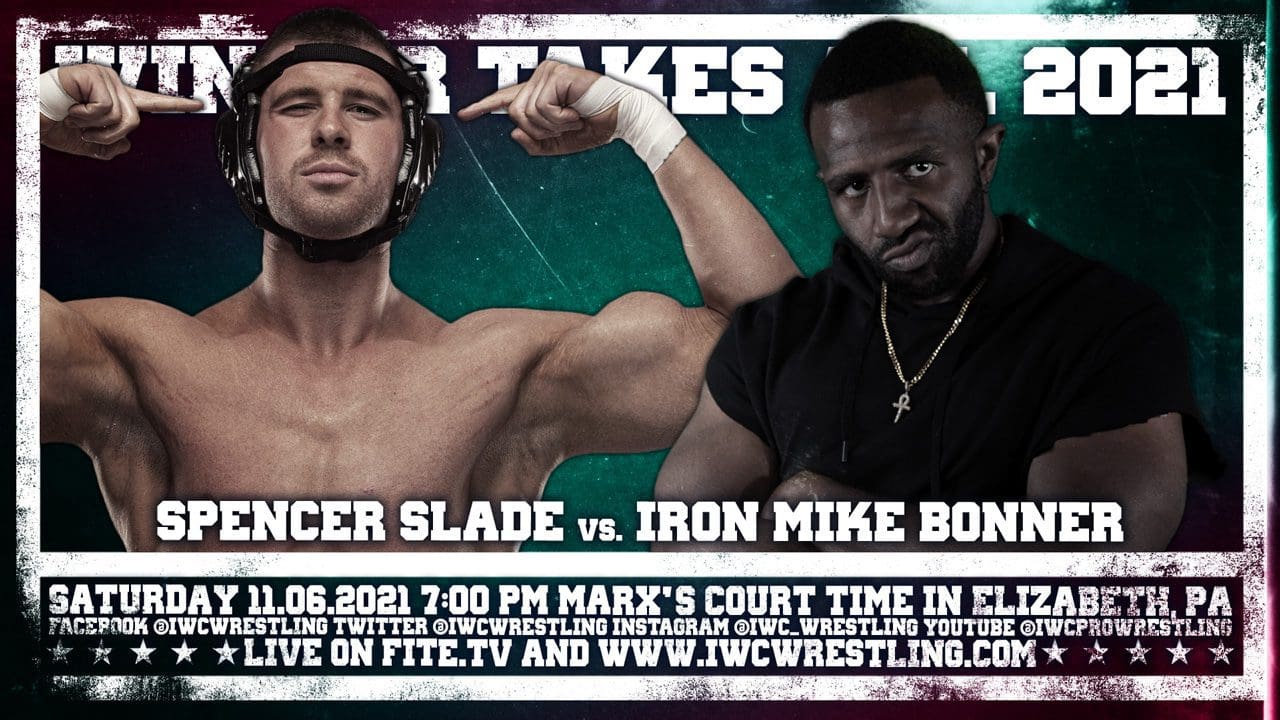 Two of the hottest tag teams over the past year will collide on November 6th at IWC Winner Takes All, but only one will earn the right to move on and challenge for the IWC Tag Team titles (vs. either Money Shot or Bear Country)! TME has had multiple IWC Tag Team Title runs, but after falling into a short slump, they have built an incredible win streak in 2021! Hardcore Hammer Time have never been IWC Tag Champs, but they have been climbing the ranks fast this year, including a huge win over IWC legends, The Gambino Brothers. It's TME vs. HHT!!! Who is your pick to win?!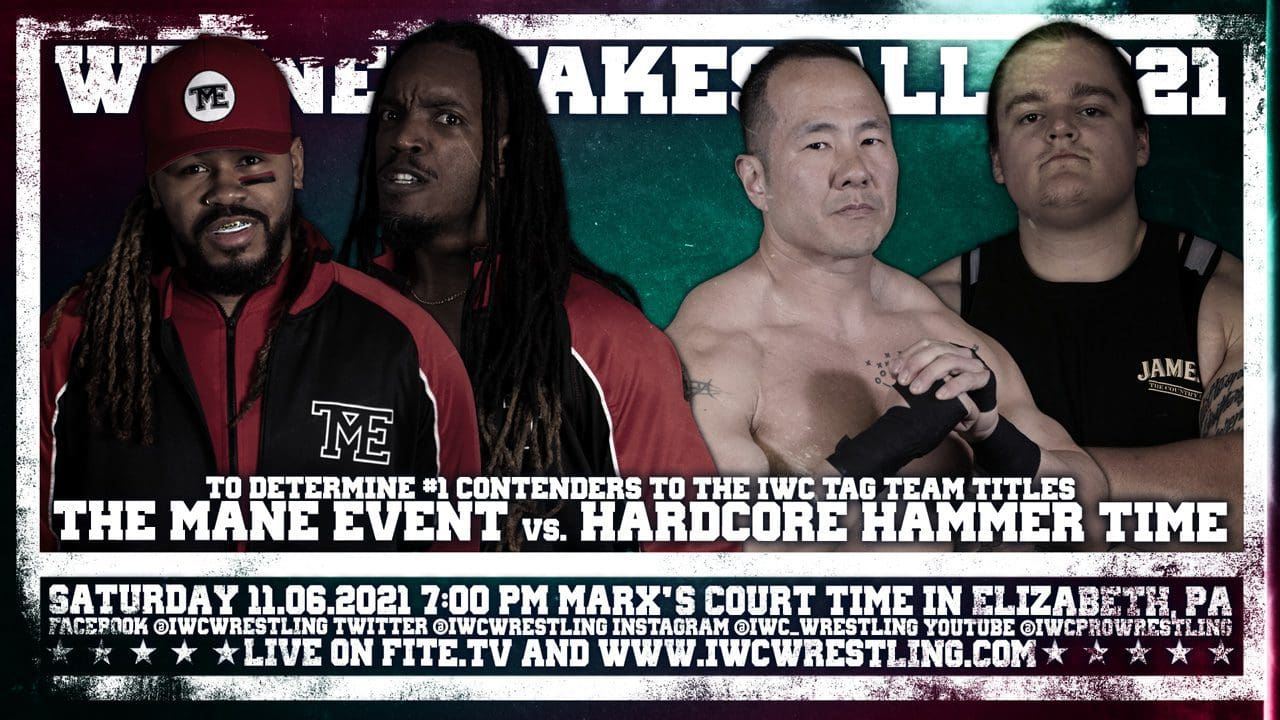 "The Greek God" Alexander Apollo has chosen to defend the IWC High Stakes Title against three other competitors in a Winner Takes All Scramble Match on November 6th! Some of the fastest rising stars inside and outside of IWC will challenge for the title, and the first man to score a pinfall or submission will be champion!  
Will choosing this challenging stipulation prove that Apollo is a fighting champion, or will his reign end quickly with a new champion being crowned?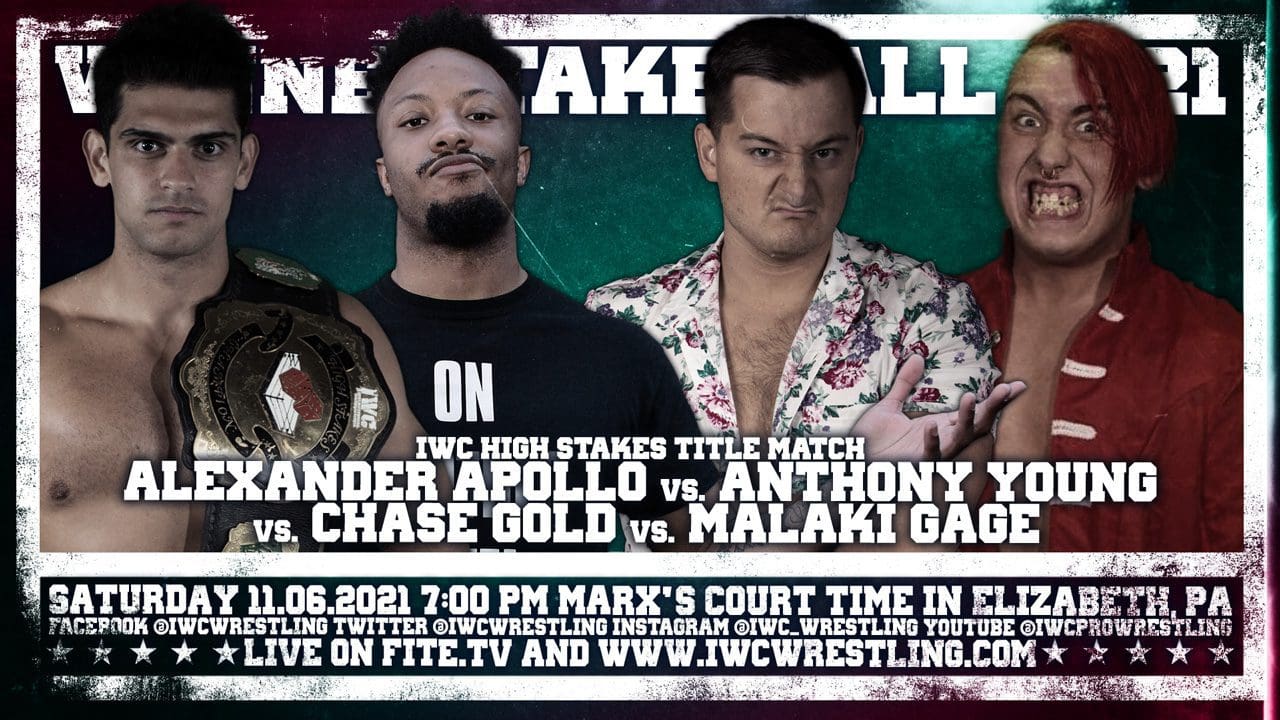 On November 6th, the team of Lebanon Don and Tito Oric will take on the… undefeated… team of Brotherly Love! Will Brotherly Love be able to keep their streak alive after some time off serving their signature cheesesteaks, or will Tito and Don leave them sleeping with the fishes?!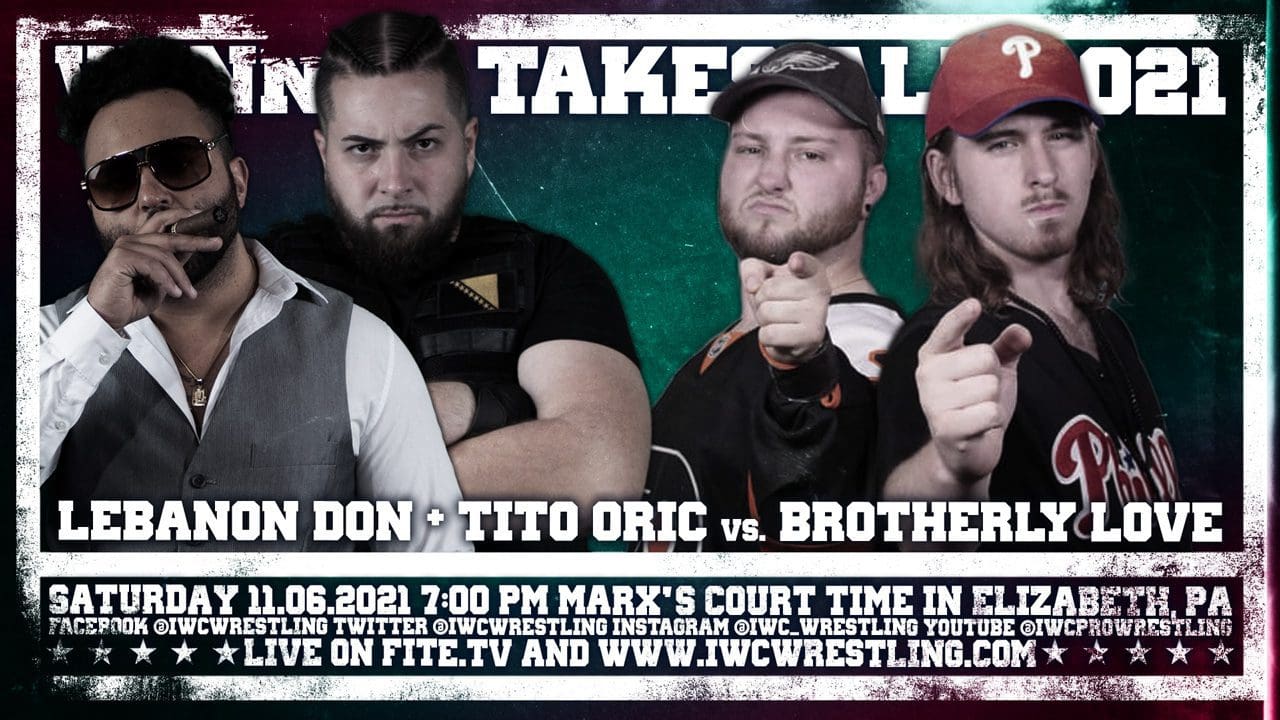 All of this, plus so much more – and you never know what surprises IWC events have in store!
Pre-Order your tickets today,
or if you can't be there in person,
subscribe to the IWC Network
to see ALL of our live iPPVs PLUS get unlimited on-demand access to our entire historical library!