Pittsburgh Pro Wrestling's 2021 Grande Finale is back on December 4th with the Fourth Annual Pittsburgh Pro Wrestling Classic!  Matches start at 7:00, but you will want to come EARLY for our special activities including:
Meet and Greet with former WWE NXT Star and IWC Alumni Chris Hero (FKA Kassius Ohno) – 6:00 PM – Prices Vary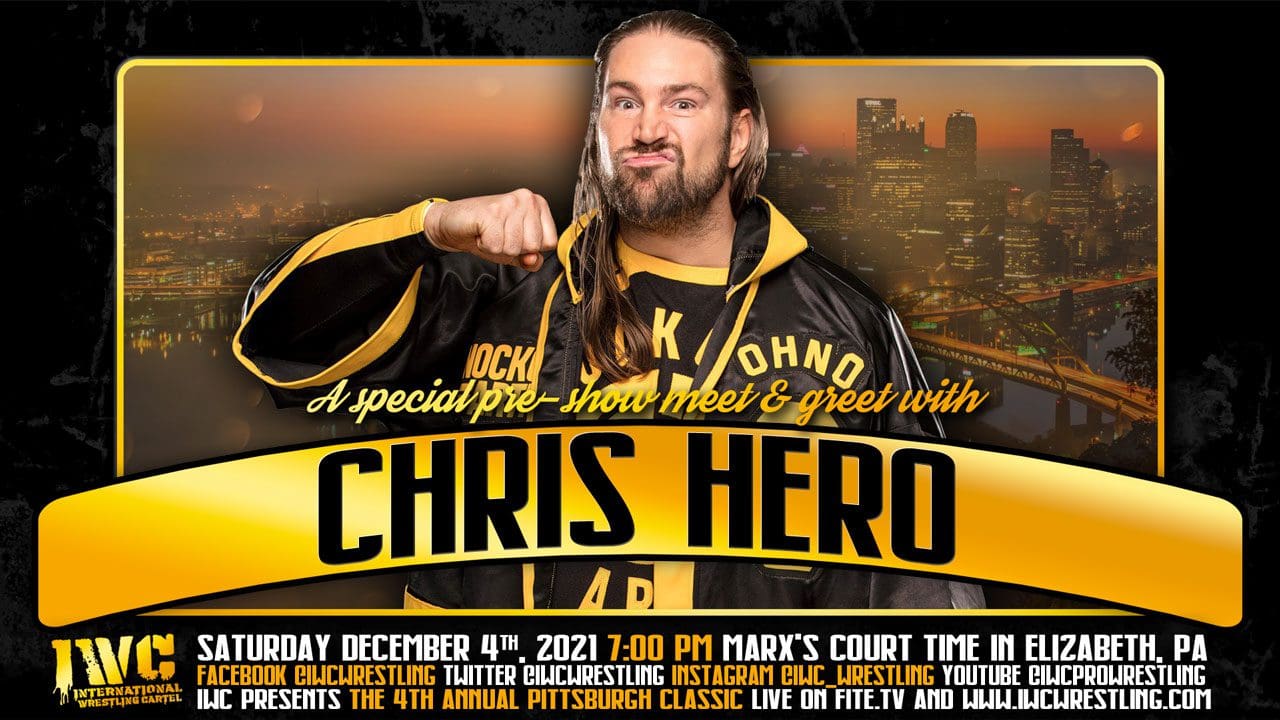 We are excited to announce that  Chris Hero be available at 6:00 PM on December 4th for a meet and greet.  This is a very RARE opportunity as Hero rarely makes appearances on the independent circuit.  Now is your chance to meet this former NXT Star and IWC Alumni!

LIVE "Ask Mark Anything" with Pittsburgh Radio star and former WCW member Mark Madden – 6:00 PM – $10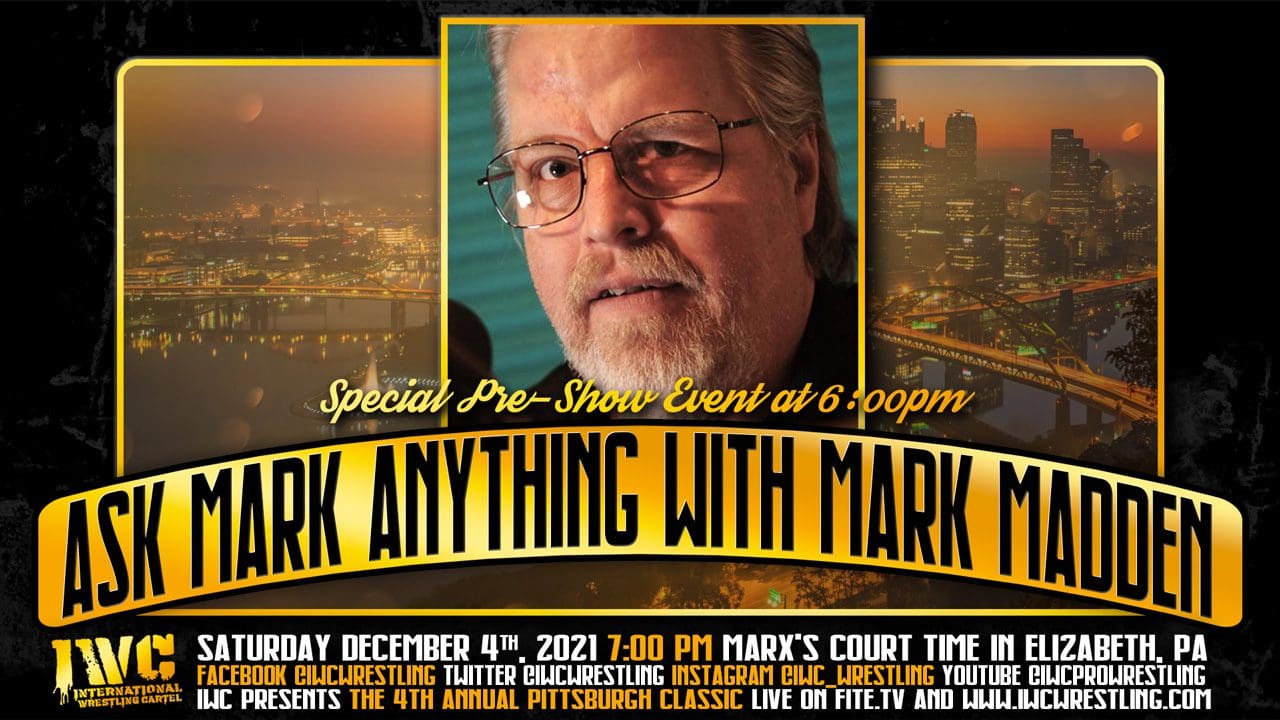 Mark Madden is BACK in IWC!  Mark's new podcast with Ric Flair debuted at #1, and now you can meet him prior to The Pittsburgh Classic!Come early on December 4th for a LIVE and UNCENSORED Q&A session! Now is your chance to ask The Super Genius anything you want, face-to-face! Just $10 with the purchase of a live event ticket!
Matches Begin at 7:00!
Matches will start promptly at 7:00 headlines by an EPIC Tables, Ladders, and Chairs Tag Team Title match!

This EPIC main event for December 4th is set! A Triple threat TLC Match for the IWC Tag Team Titles where there MUST be a clear winner! Money Shot has DOMINATED the IWC Tag Team Title scene for over a year, but TME and Hard Core Hammertime have been hot on their tails by also racking up major wins throughout the year.  Now the time has finally come to determine once and for all who the best tag team in IWC really is!   And based on our current schedule, if Money Shot retains they will surpass The Fraternity for the longest single IWC Tag Title reign in our company's 20+ year history! Can they do it?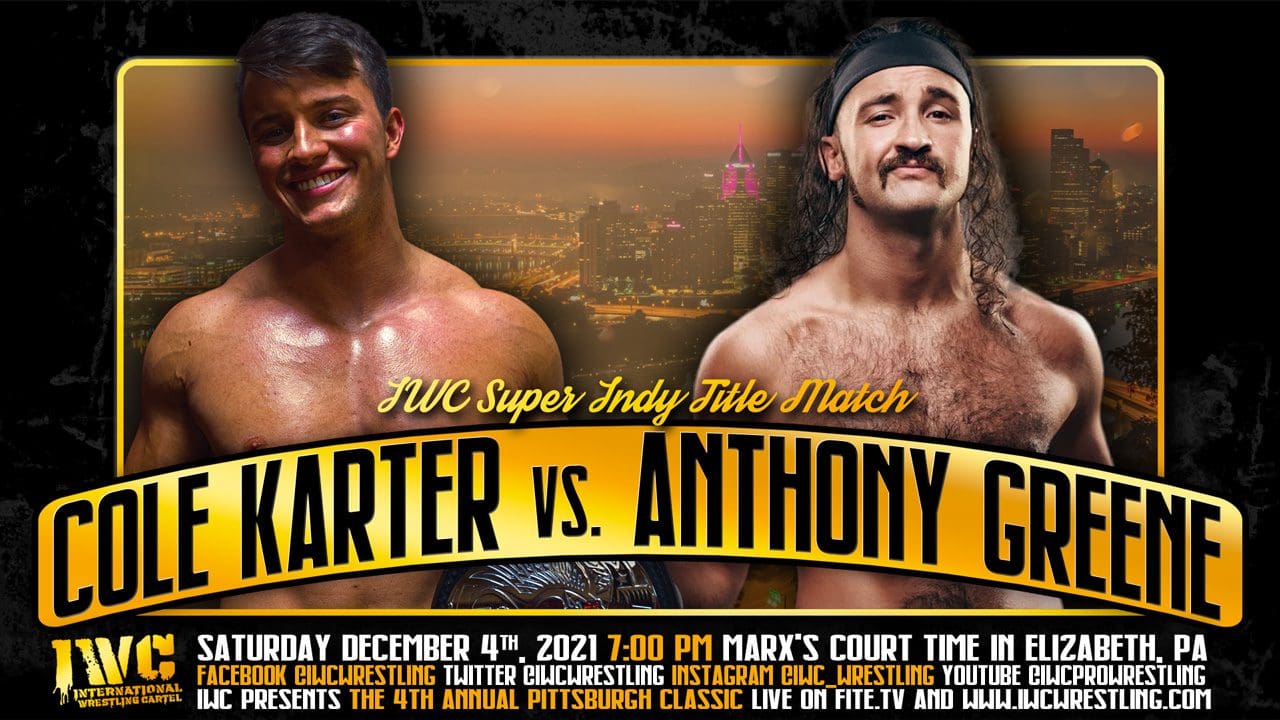 Former NXT and current AEW star, "Alternative" Anthony Greene returns to IWC for the biggest rematch of the year! After coming up just one victory short of winning the Super Indy Tournament, Greene will get a shot at redemption as he challenges "The Thoroughbred" Cole Karter for the IWC Super Indy Championship!  Cole edged out the victory in October, but he and Greene had both already survived two prior matches. On December 4th, both men will be fresh, focused, and have time to fully prepare! Will lightning strike twice for Cole Karter, or will Anthony Greene finally earn the title he has strived for?!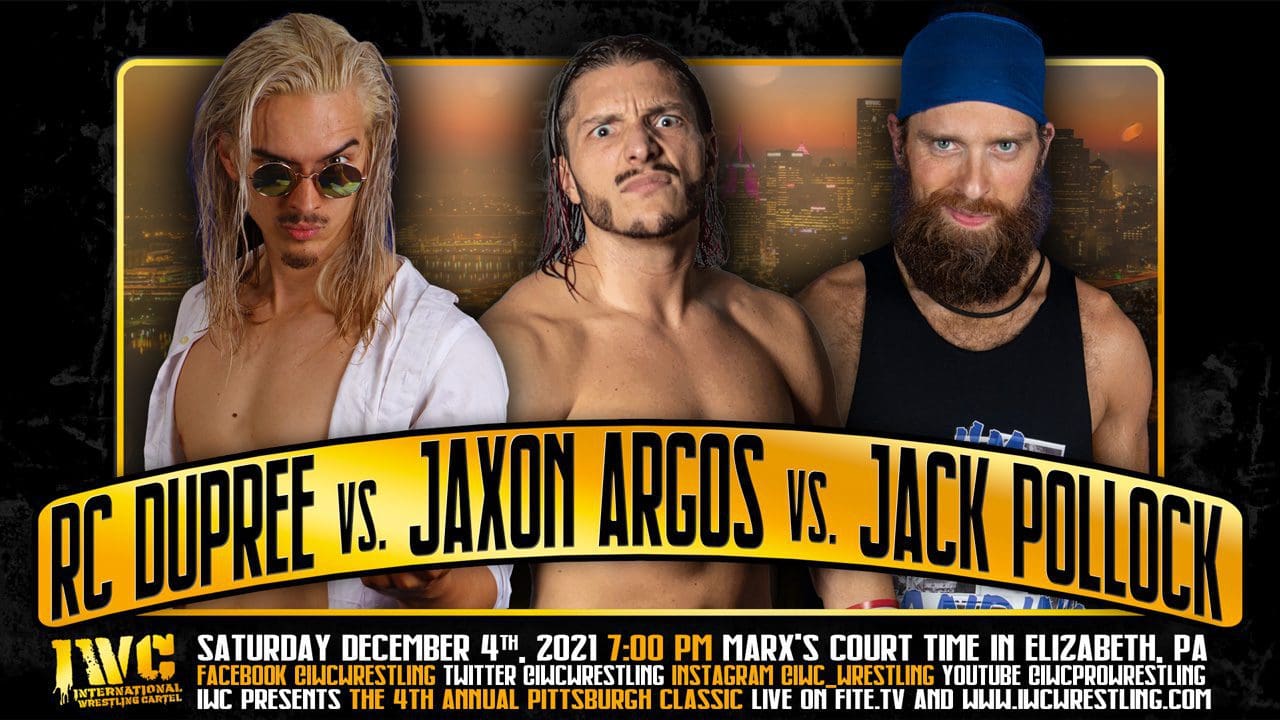 TEAM STORM EXPLODES! After the shocking turn of events at Winner Takes All and the years of drama surrounding these men, the match we never thought we would see is finally happening! It's very rare in pro wrestling for a saga to unfold over a FIVE YEAR period, but here we are, and here we END! RC Dupree vs. JaXon Argos vs. Jack Pollock in a triple threat match on December 4th to determine once and for all which member of the former TEAM STORM will stand above the rest!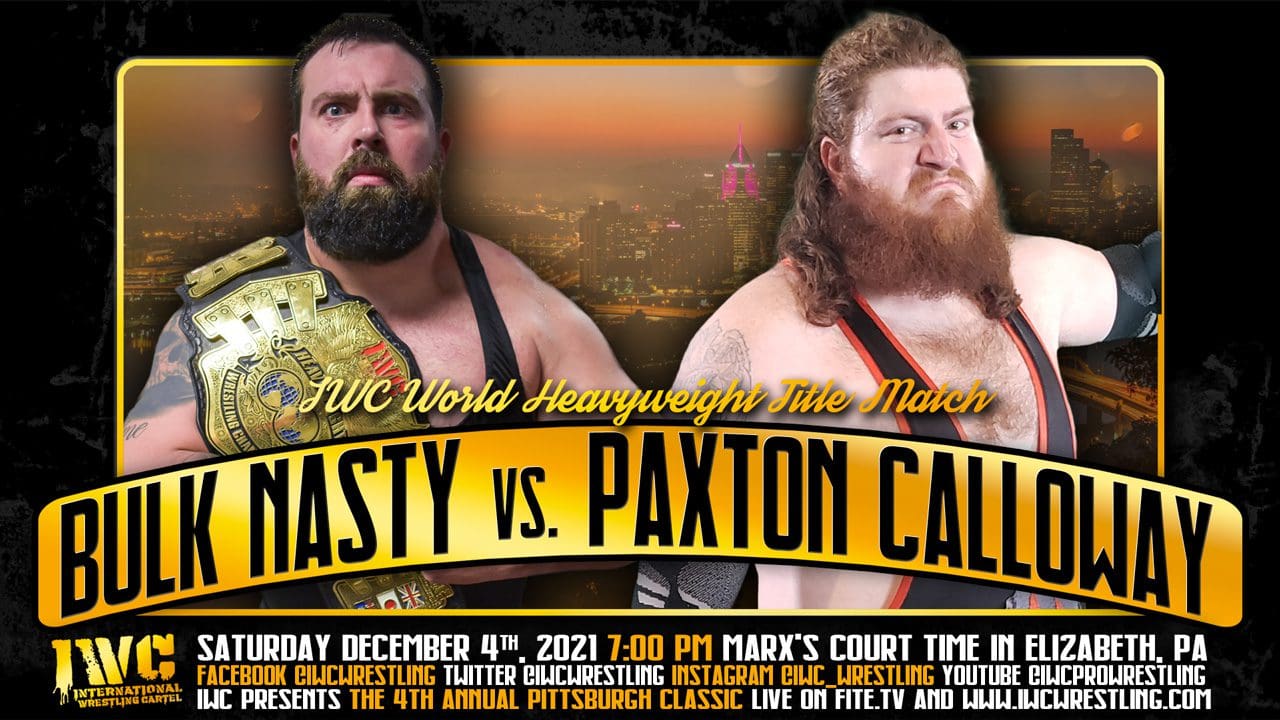 Ever since BC Steele brought him to IWC, Paxton Calloway has used blatant force to do whatever he has wanted. He used that same aggression to bully his way to the front of the line in the IWC World Heavyweight Title scene.  Now on December 4th, the 7'1 GIANT Paxton Calloway will finally have to pick on someone (almost) his own size!  Bulk Nasty has been the most dominant wrestler in IWC for well over a year, and proved it when he captured the IWC Championship several months ago. But Bulk has never been the smaller competitor in any of his matches!  We will definitely make sure that we reinforce the ring (and the building) for this WAR! The unstoppable force meets the immovable object for the biggest prize in IWC on December 4th at The Pittsburgh Classic!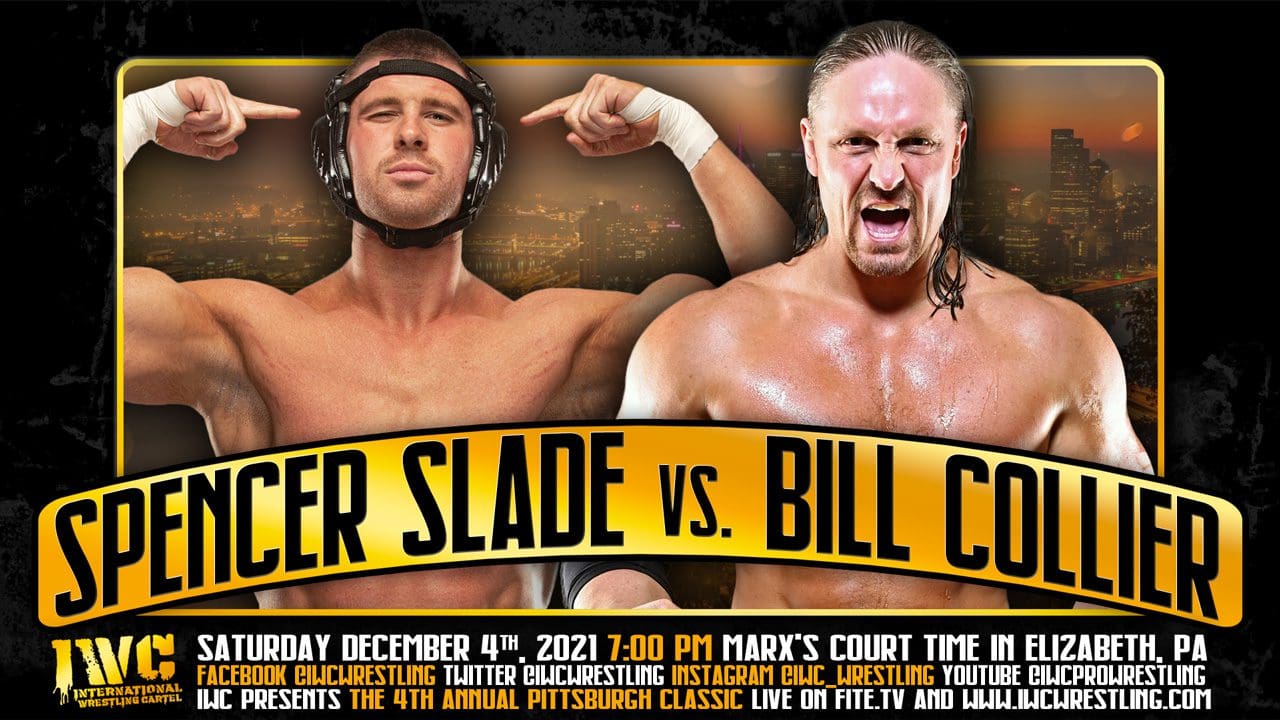 Several months ago, Bill Collier defeated Spencer Slade in an INSTANT CLASSIC in the opening round of the Super Indy Tournament, but Slade (and his manager Justin Labar) did not take the loss lightly.  They immediately attacked and brutalized Collier following that match, and may have cost him his chance to advance in the tournament in the process.  As a result, Justin Labar was suspended for as long as Collier was deemed to be out with his injury resulting from that attack.  NOW – Bill Collier is cleared by doctors and ready for revenge! On December 4th, Bill Collier will face Spencer Slade for the first time since Slade attacked him and expedited his exit from the Super Indy Tournament. With emotions running high, what are each of these incredible athletes willing to do to come out on top?!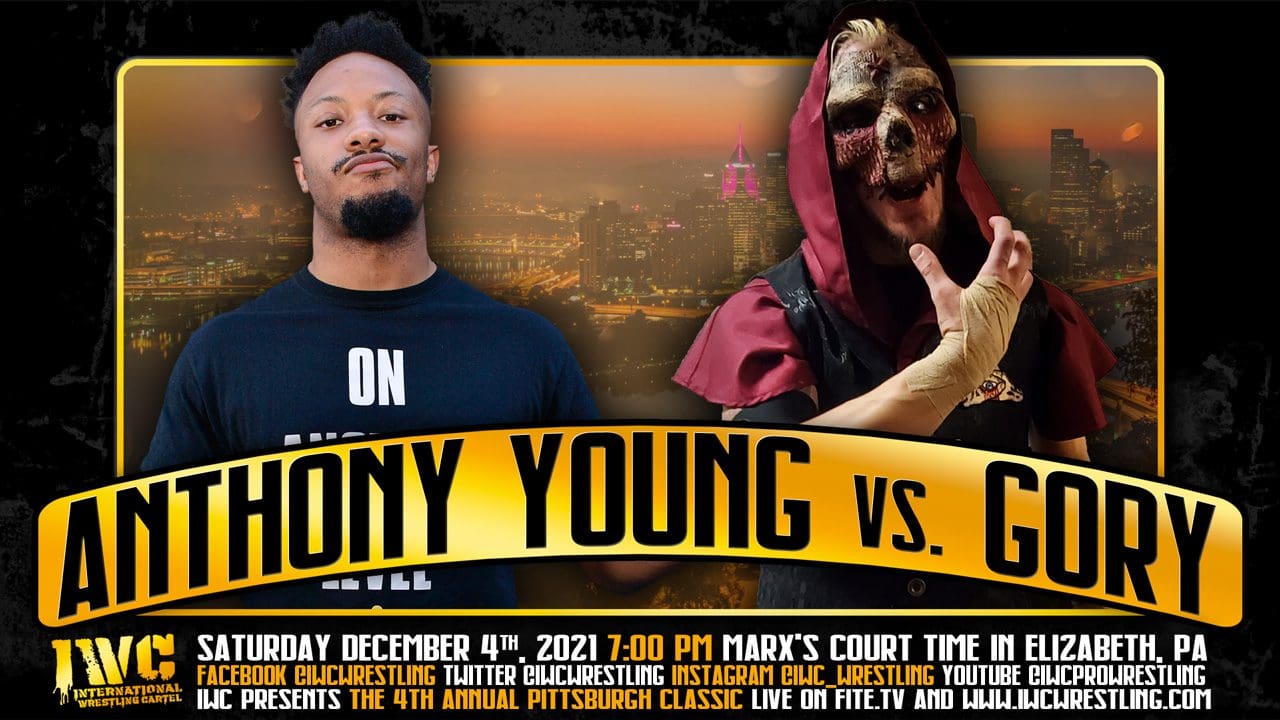 Angelik had to die for Gory to rise.  Now Anthony Young, the man responsible for the rebirth of Gory in IWC, may be the first to feel his vengeance! He may have escaped his fate at our last event, but on December 4th there will be no place to hide! Will Gory avenge the past misdeeds of Young Tony, or will the Sky Prince sentence Gory to the same fate as Angelik?!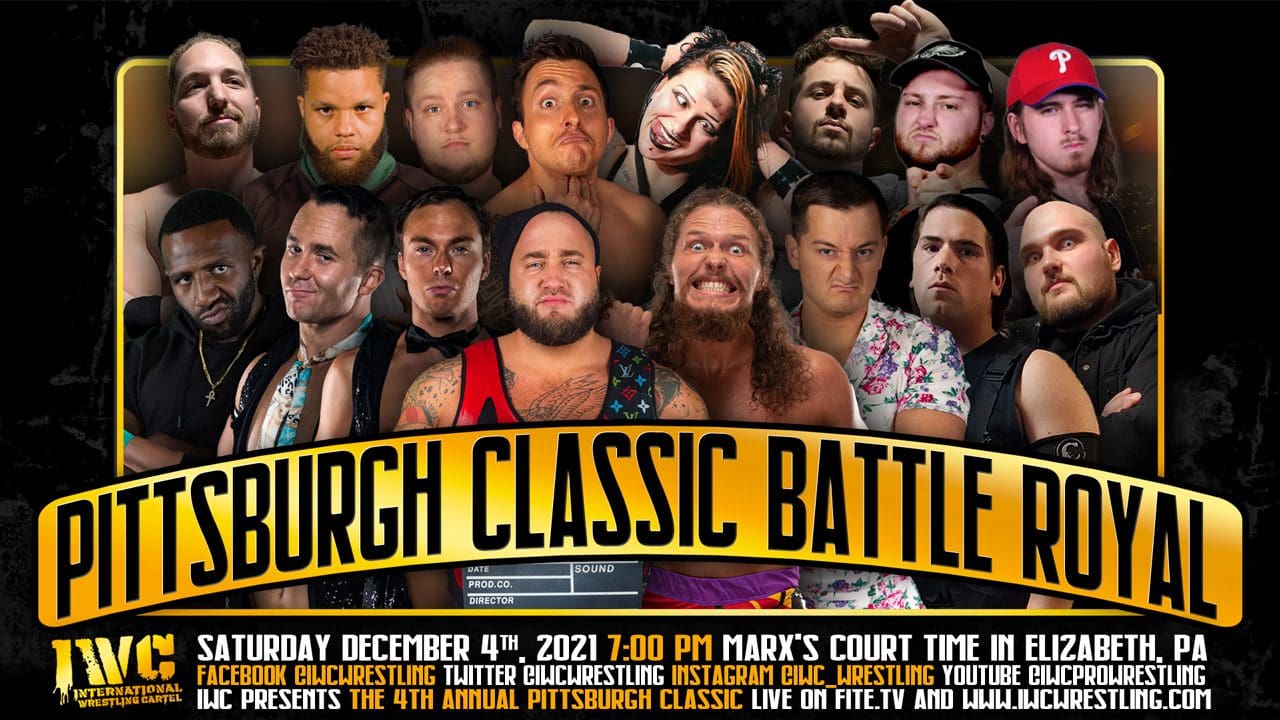 The Fourth Annual Pittsburgh Classic Invitational Match is set! In the past, the winner of this event has gone on to have an incredibly successful following year, often going on to win IWC gold.  PLUS, they win the 4-foot tall Golden Classic Trophy! With some of IWC tops stars such as "The Greek God" Alexander Apollo, Andrew Palace, Derek Direction, Chase Gold, and MORE already announced as entrants, who will win and earn the title of best wrestler in Pittsburgh for 2021?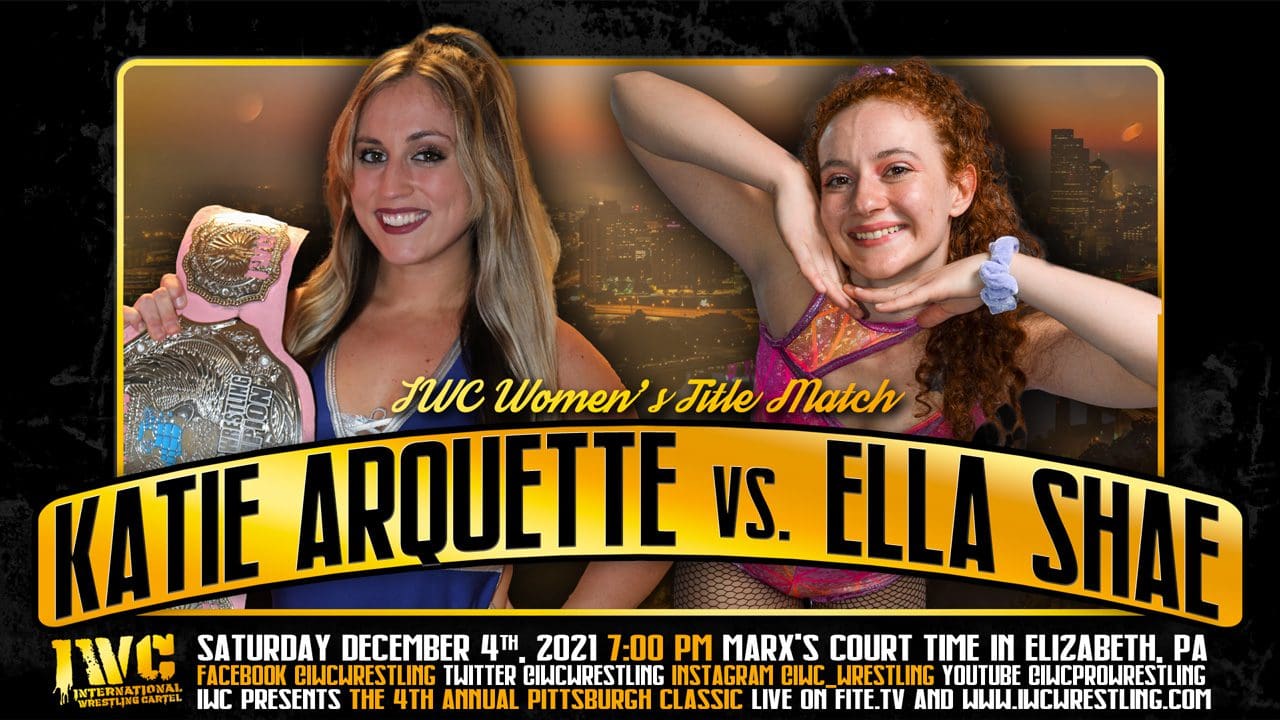 After Katie Arquette's successful title defense at our last event, Ella Shae stormed the ring and made it clear that she was skipping to the front of the line in the IWC Women's title hunt.  Ella has seen enough of Katie on top of the company month after month, and is demanding that she get a chance to change that on December 4th! Ironically, the last time that these two me tone-on-one was exactly one yer ago at this very event!  But both women are much improved since that match, and are both better than ever!  Will Ella finally be the one to end Katie's long title run, or will The Queen of the Silver Screen continue her history run into IWC's record books?!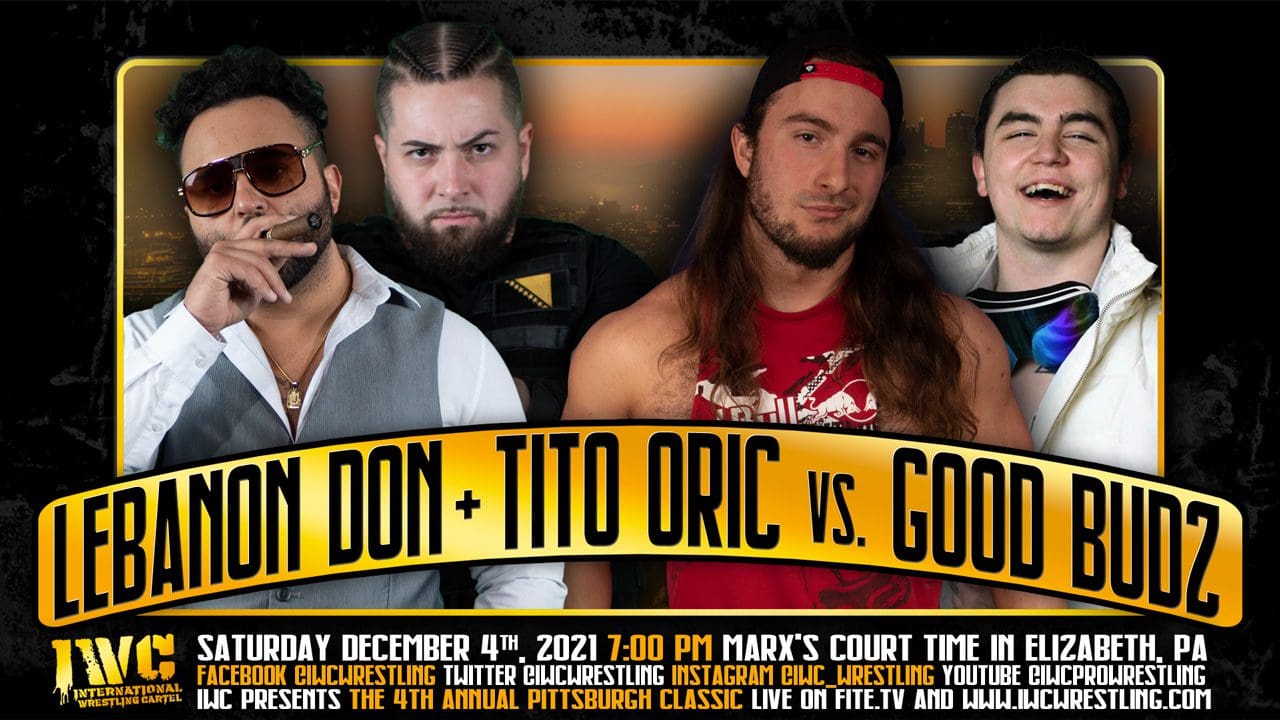 After weeks of conflict, the tension between Lebanon Don/Tito and The Good Budz came to a head when The Good Budz helped Brotherly Love score a pinfall victory over Lebanon Don at our last event. Humiliated by the outcome, The Don has DEMANDED this tag team match on December 4th.  Will The Don and Tito re-establish their dominance and get revenge?  Or will the Good Budz smoke their competition?!
Remember, if you cannot join us live and in-person on December 4th, you can watch LIVE online with an IWC Network Subscription right here at IWCwrestling.com, or you can purchase the event through Fite.tv!