After the most unpredictable night in Professional Wrestling, IWC keeps things Hot after Valentine's day with the explosive IWC IGNITION!  Matches kick off at 7:00 PM!
Matches Begin at 7:00!
IWC Women's Title Match
Ashley D'Amboise vs. Ella Shae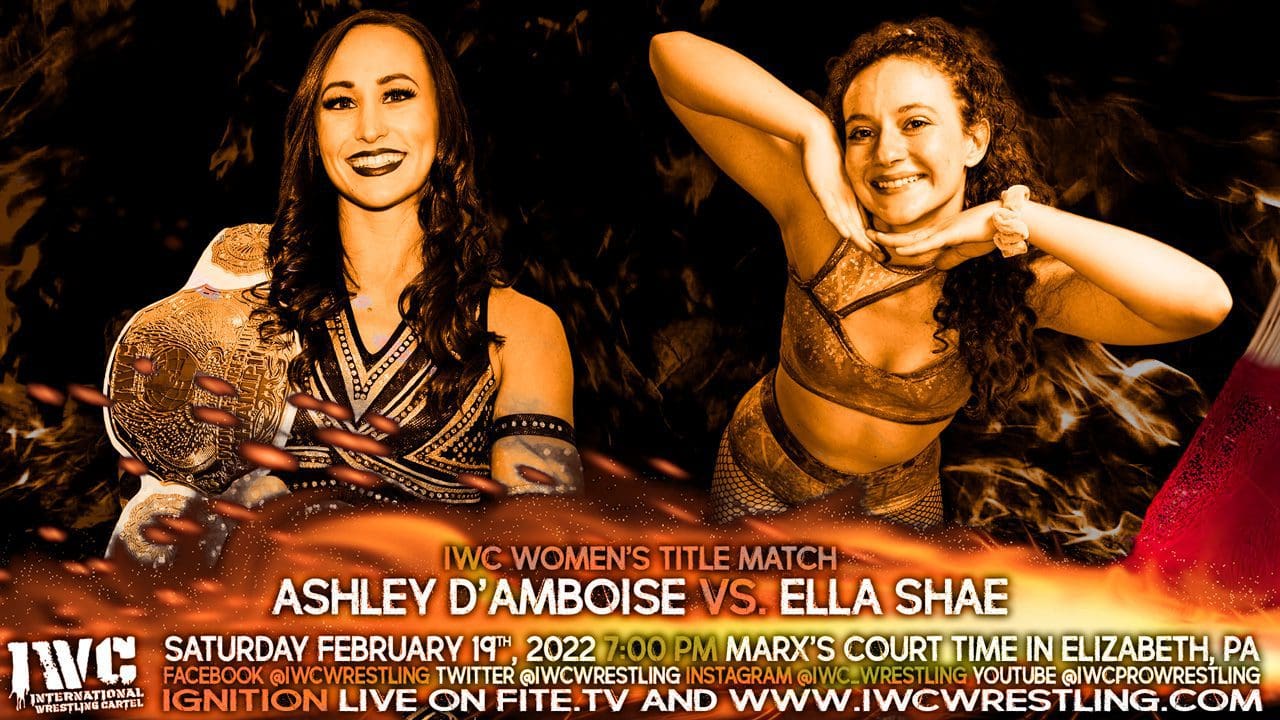 Ashley D'Amboise shocked everyone when she was chosen by the Reset Button and defeated Ella Shae to become the new IWC Women's Champion, just moments after Ella debuted a brand new championship belt to signify "The Era of Ella"!  On February 19th Ella gets her rematch, but this time she has the opportunity to prepare for her opponent!  Will Ella win back the title belt that she introduced to IWC or will lightning strike twice for Ashley D'Amboise?!
IWC Super Indy Title Match
Derek Dillinger vs. Anthony Young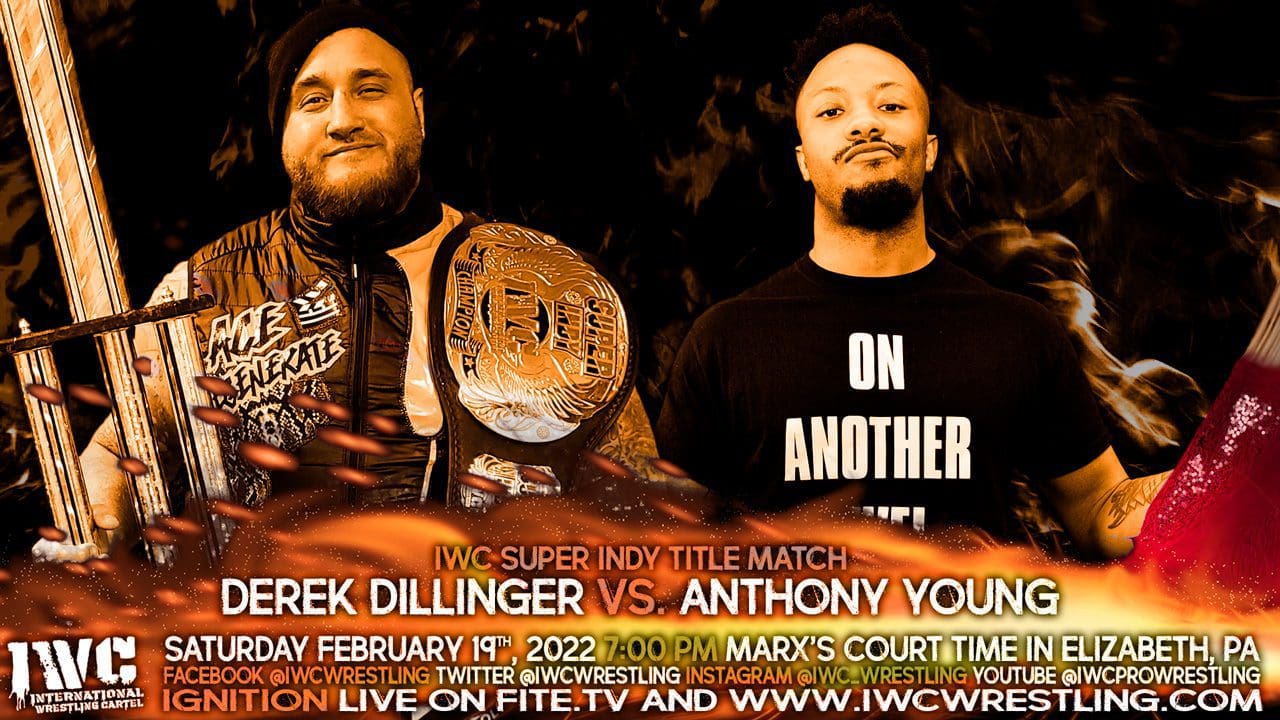 Last event, "A1" Anthony Young had what many are calling the breakout performance of his career!  But, thanks to "The Man Dime" teasing activation of the Reset Button, Derek Dillinger would get the upper hand and steal A1's ultimate goal of capturing the IWC Super Indy Championship.  Fair or unfair, Derek has been on a run of his own!   After physically taking the Pittsburgh Classic trophy from Andrew Palace and crowning himself Pittsburgh's newest wrestling legend, he now has captured one of the most prestigious titles in all of Professional Wrestling!  
Will Derek prove that he is at the top tier of Indie Wrestling, or will A1 continue his fast-paced climb to the top?!
IWC Tag Team Title Match
TME vs. Iron Mike Bonner & Julian Jay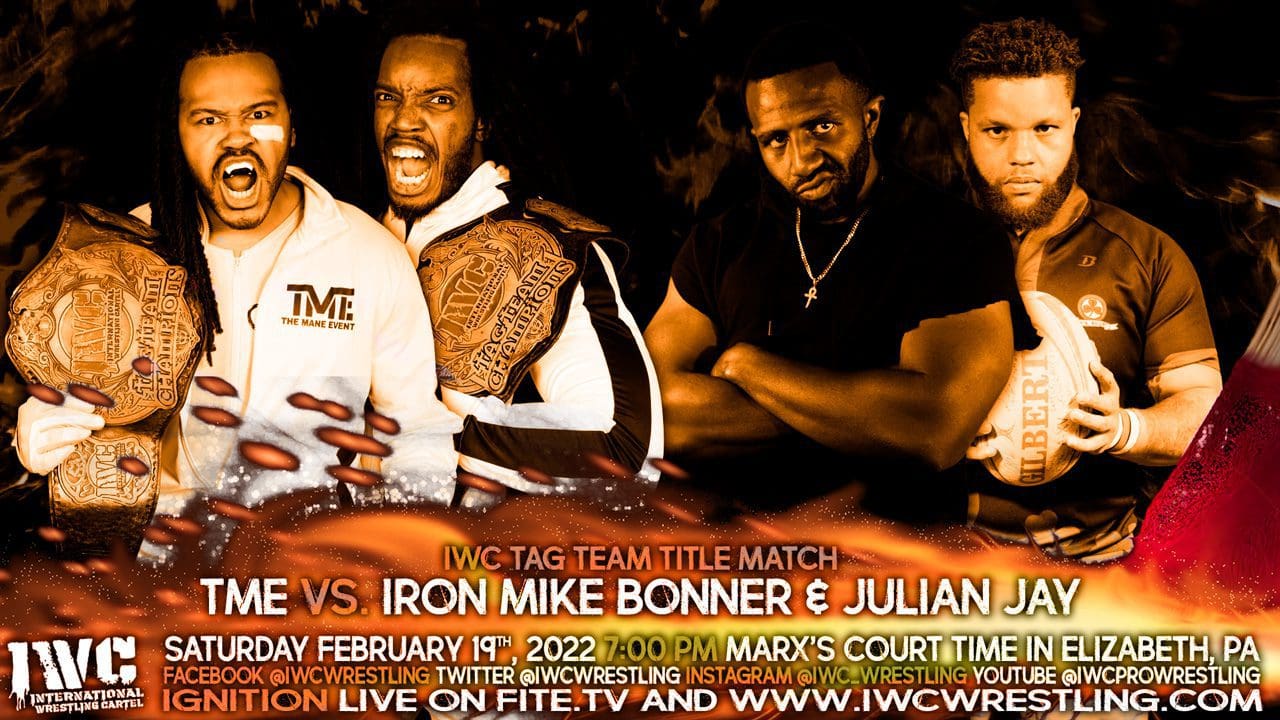 TME is all about opportunity as they have officially granted a tag team title match to the rookie tag team of Iron Mike Bonner and Julian Jay on February 19th at IWC Ignition!  Will TME continue their path of dominance as the best free agent tag team or will this new duo of elite athletes pull the upset of the year and start their careers with the historic IWC Tag Team Championships?!
IWC High Stakes Title Match
Alexander Apollo vs. Jaxon Argos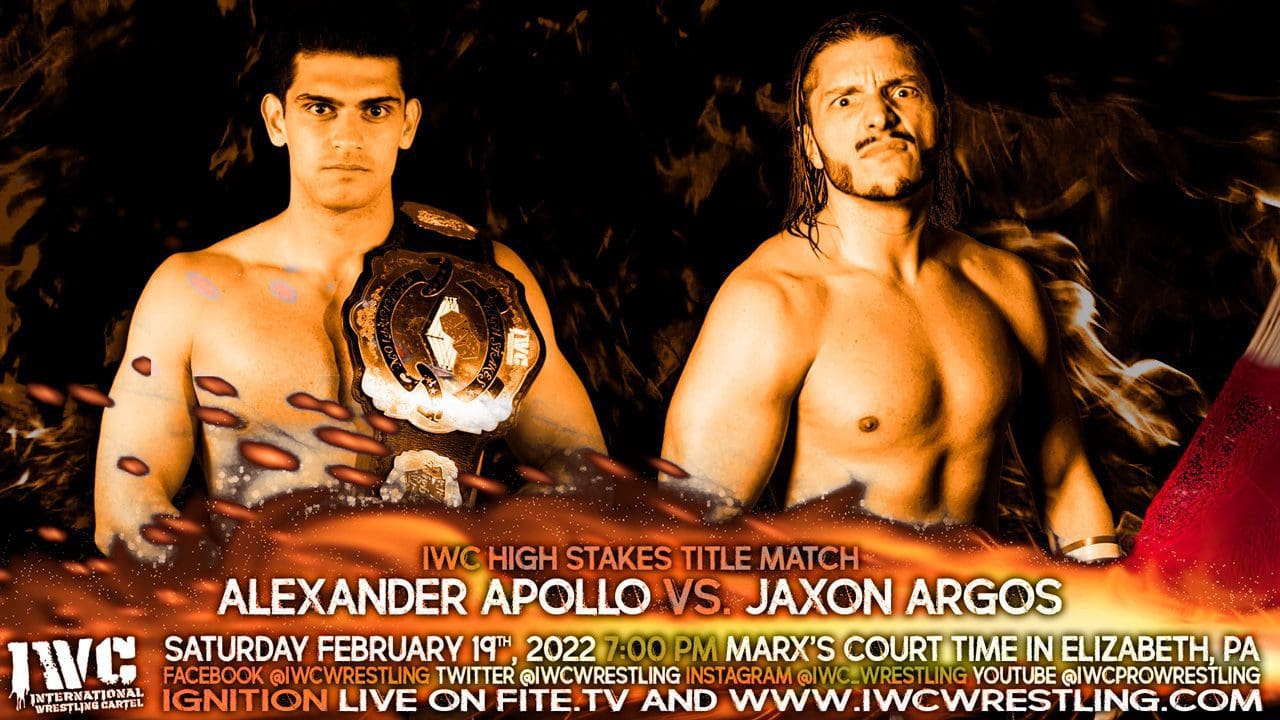 Between Alexander Apollo picking an Aerial Assault stipulation and JaXon Argos almost winning the IWC Super Indy Championship, both competitors are Igniting the competition in IWC!  The IWC High Stakes Championship will be on the line on February 19th as "The Greek God" Alexander Apollo defends vs. one of the most controversial stars in IWC history, JaXon Argos!
RC Dupree & Eddie Knoxxx vs. Steak'N'Eggs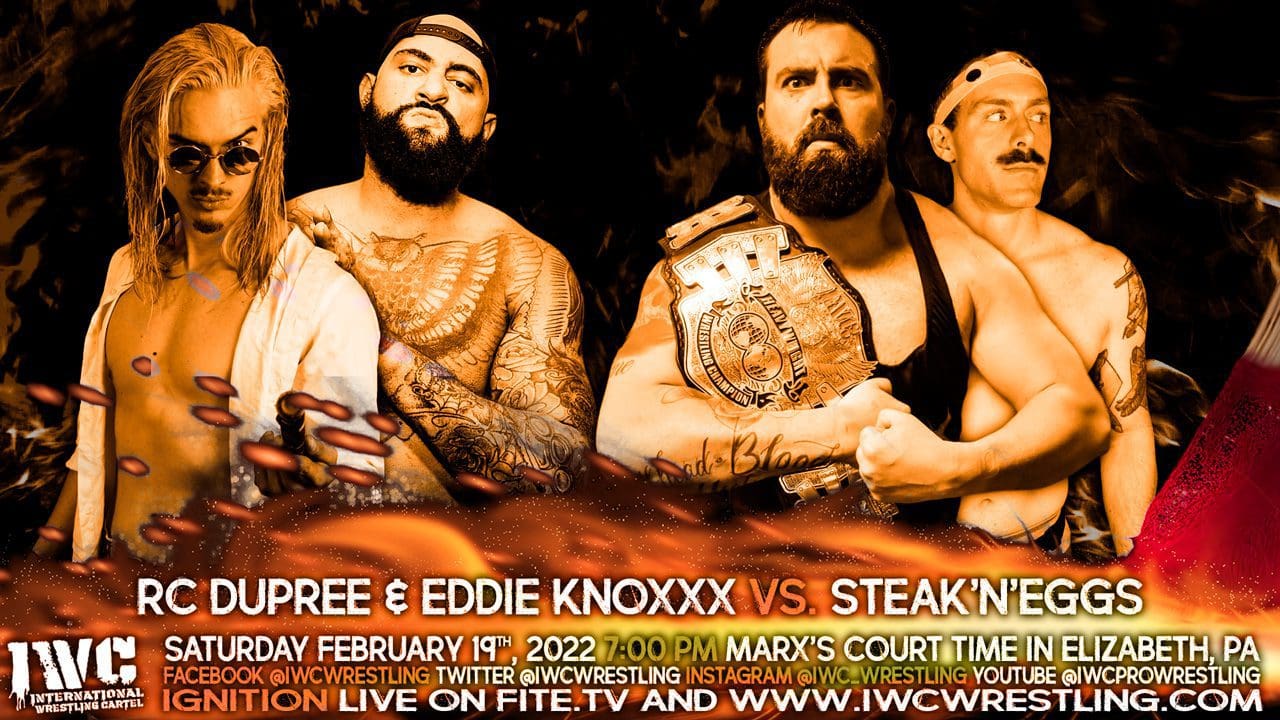 After the Wolf of IWC, RC Dupree, and his insurance policy, Eddie Knox, would viscously attack Bulk Nasty and Zander Gabriel, the duo left the IWC Heavyweight Champion stunned but full of rage.  RC Dupree made his intentions clear:  His goal in 2022 is to take the IWC Heavyweight Championship.  Reuniting for the first time in nearly 2 years, and perhaps to contain a raging Bulk, the tag team of Zander Gabriel and Bulk Nasty, Steak N Eggs, will face RC Dupree and Eddie Knox on February 19th at IWC's Ignition.
Elijah Dean vs. John McChesney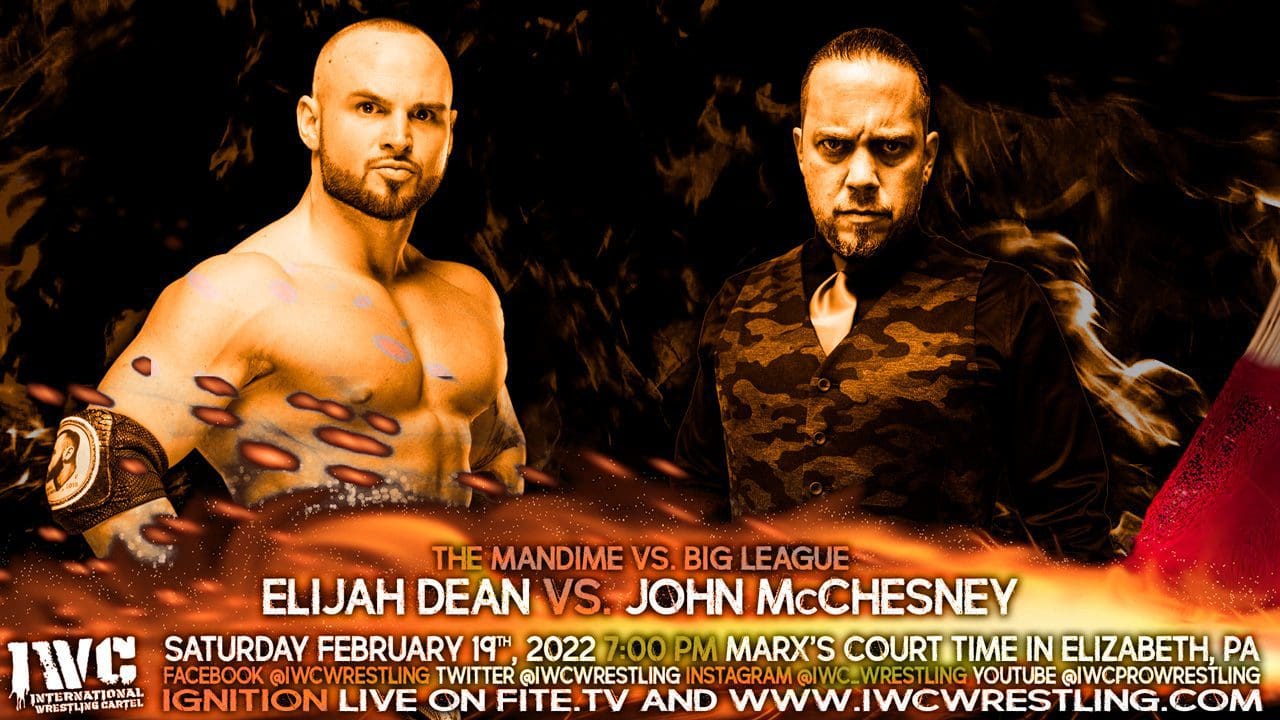 A rivalry years in the making but ignited by betrayal over one year ago, will be settled on February 19th!  Man Dime vs. Big League!  Fighting across the territories, slashing each other with personal insults on social media, and costing each other victories, these two have gone far beyond mutual respect.   Will there be a passing of the torch or will Big League pull out another big win?!
Spencer Slade & ???  vs. Bill Collier & ???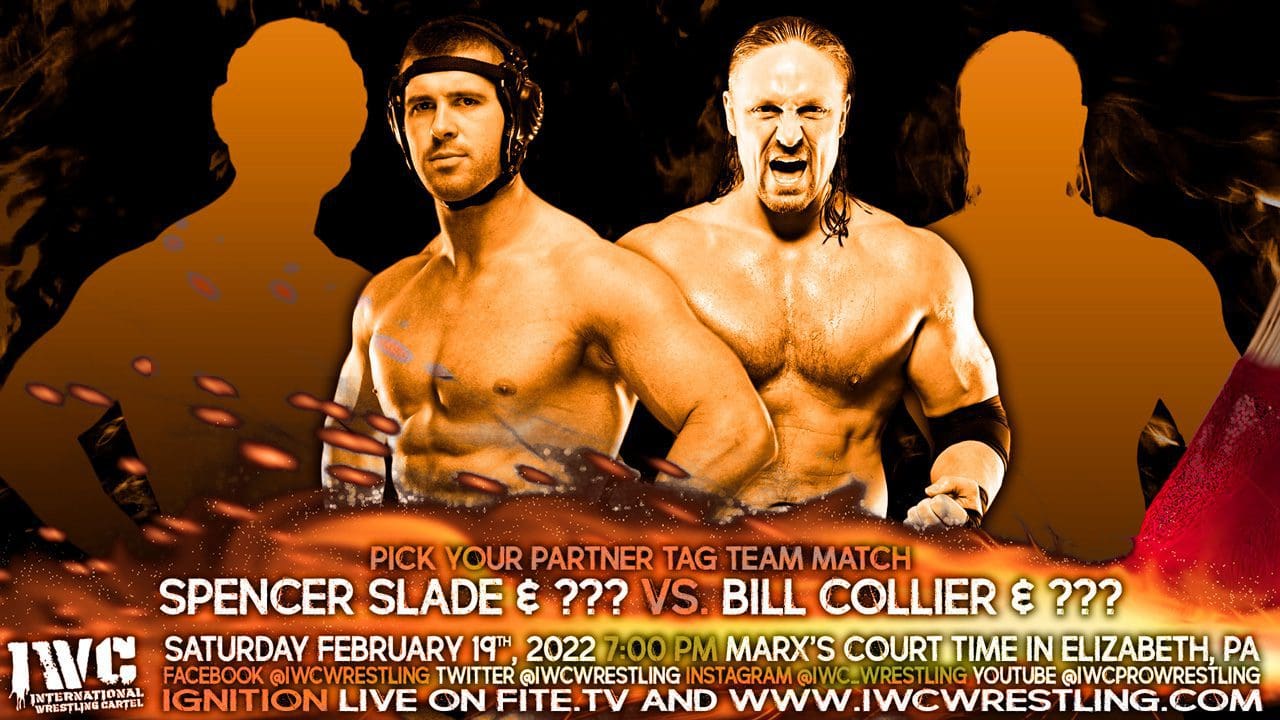 After the Reset Button paired these two rivals as tag partners, we saw that they could NOT co-exist.  On February 19th, Spencer Slade and Bill Collier will be back in tag team action, but this time on opposite sides!  Even better, they get to hand pick their own partners!  Will this be the match that finally ends this rivalry?!  Who will each man pick to team with?!
The Culmination vs. Jason Tyler & RadBoyz 
For the first time since forming, The New Culmination will ALL be in action together as they take on the charismatic team of The Sexy Fireman and The Rad Boyz on February 19th!
Jock Samson vs. Preston Everest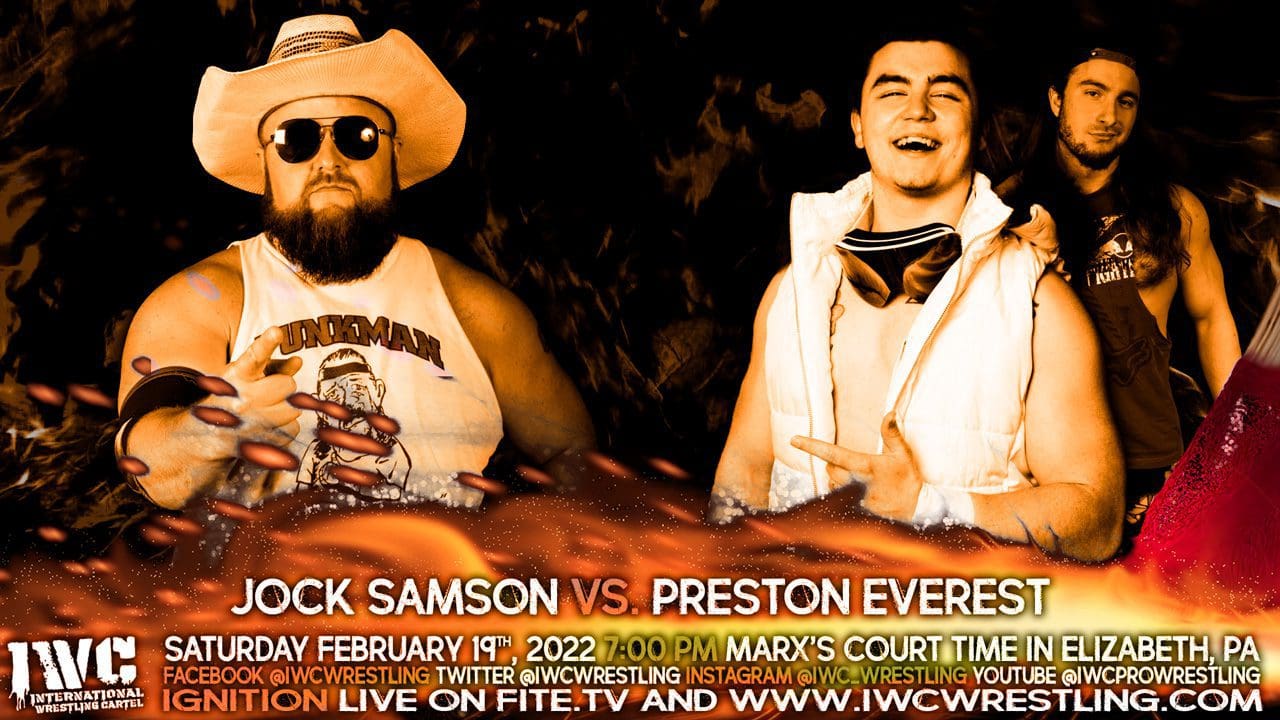 Jock Samson has been calling out IWC management for his lack of opportunity, lack of championship matches, and annoying Justin Plummer – honestly, we only posted this because Preston Everest is a nice guy –  but on February 19th he will makes his IWC singles match return as he faces Preston Everest!  Will one half of "The Good Budz" continue to fly high?  Or will the former IWC Champ get back to his winning ways?
Remember, if you cannot join us live and in-person on February 19th, you can watch LIVE online with an IWC Network Subscription right here at IWCwrestling.com, or you can purchase the event through Fite.tv!