IWC returns to Marx's Court Time on Saturday night March 19th, 2022 as we celebrate 21 years of IWC with TWENTY-ONE! The action kicks off at 7:00 PM!
Matches Begin at 7:00!
IWC Heavyweight Title Match
Bulk Nasty vs. R.C. Dupree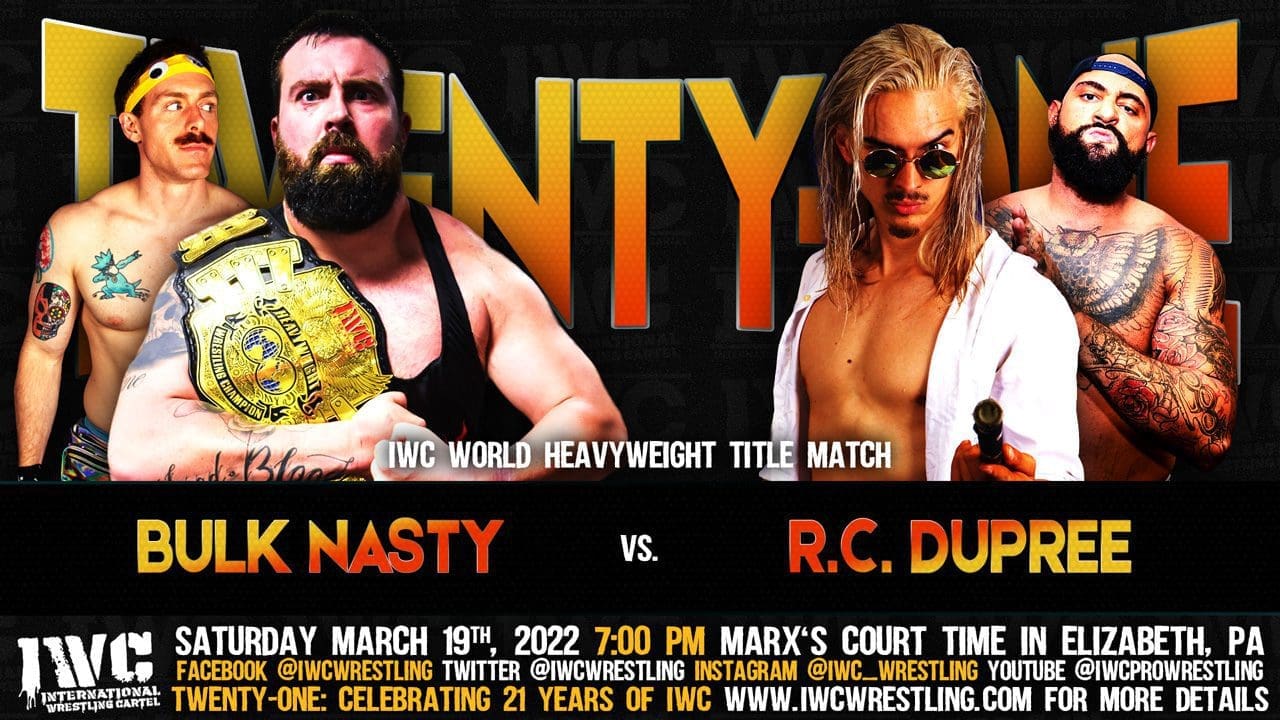 Bulk Nasty may have finally met his match with RC Dupree & Eddie Knoxxx, who have left him in despair the past two months straight.  Now at IWC TWENTY ONE, it's all on the line!  Bulk Nasty defends the IWC World Heavyweight Championship vs. RC Dupree as two of IWC's most polarizing stars collide on March 19th in Elizabeth, PA!
IWC Super Indy Title Match
Derek Dillinger vs.  Andrew Palace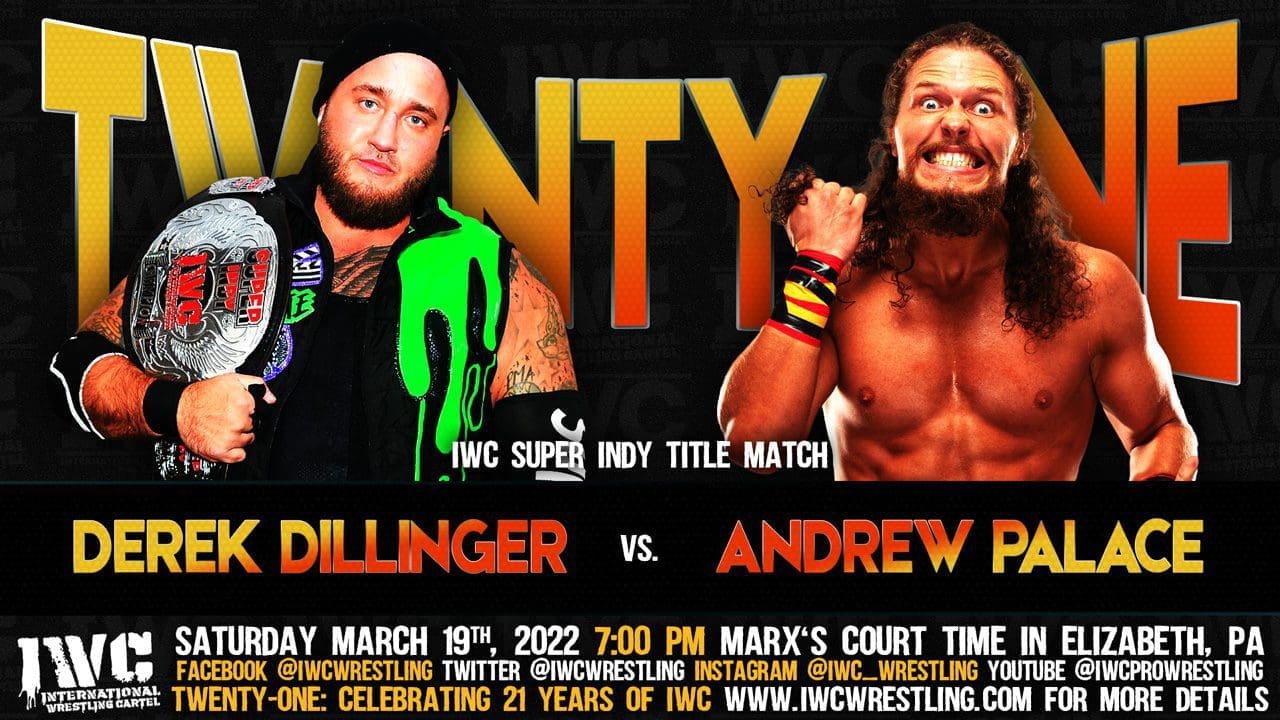 After months of psychological warfare, the match is officially set!  Andrew Palace will not only get a chance to become a 3-time IWC Super Indy Champion, but he will also attempt to put an end to Derek Dillinger's "interest" in Katie Arquette.  It's all on the line on March 19th!
IWC Tag Team Title Match
The Mane Event (TME) vs. Philly Marino Experience (PME)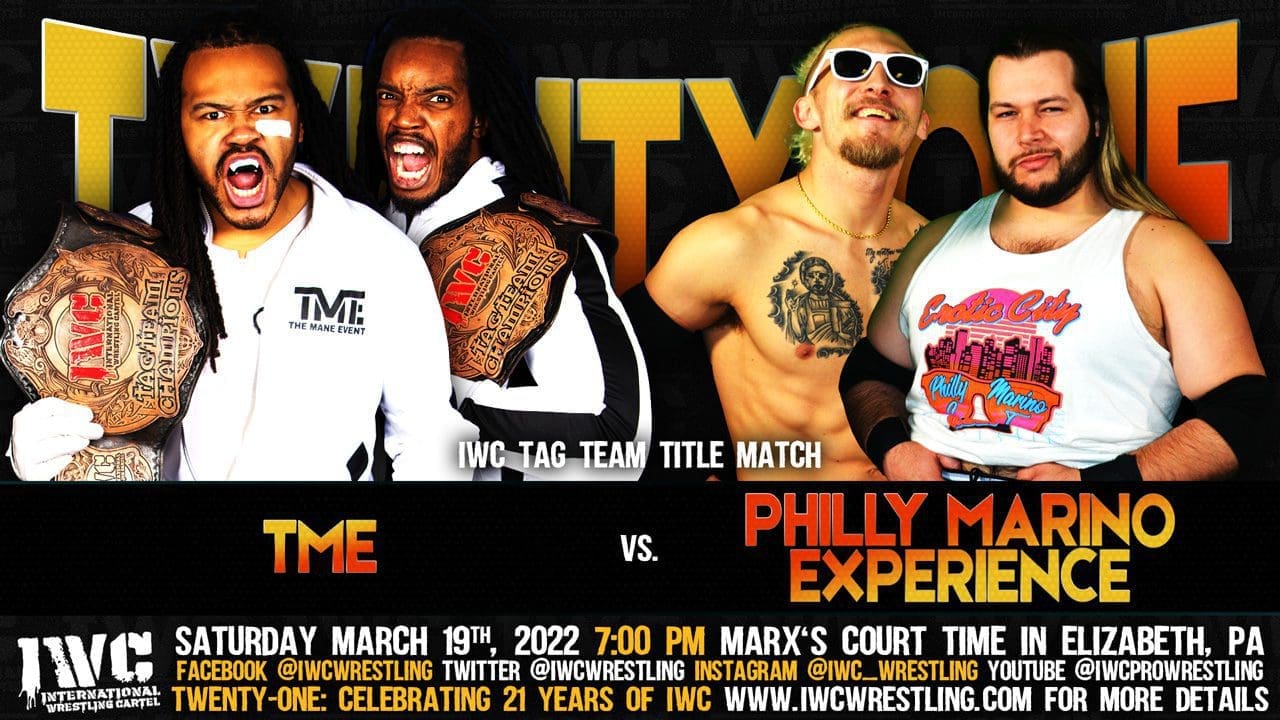 TME vs. PME for the IWC Tag Team Championships!  Since we last saw the Philly Marino Experience in IWC, they have been collecting wins all over the tri-state area.  Now they're back to prove t they're better than ever and to capture IWC Tag Team Gold!  But, they will have to defeat, arguably, the greatest Tag Team in IWC history, the red hot TME!
IWC High Stakes Title Match
Alexander Apollo vs. Mambo Italiano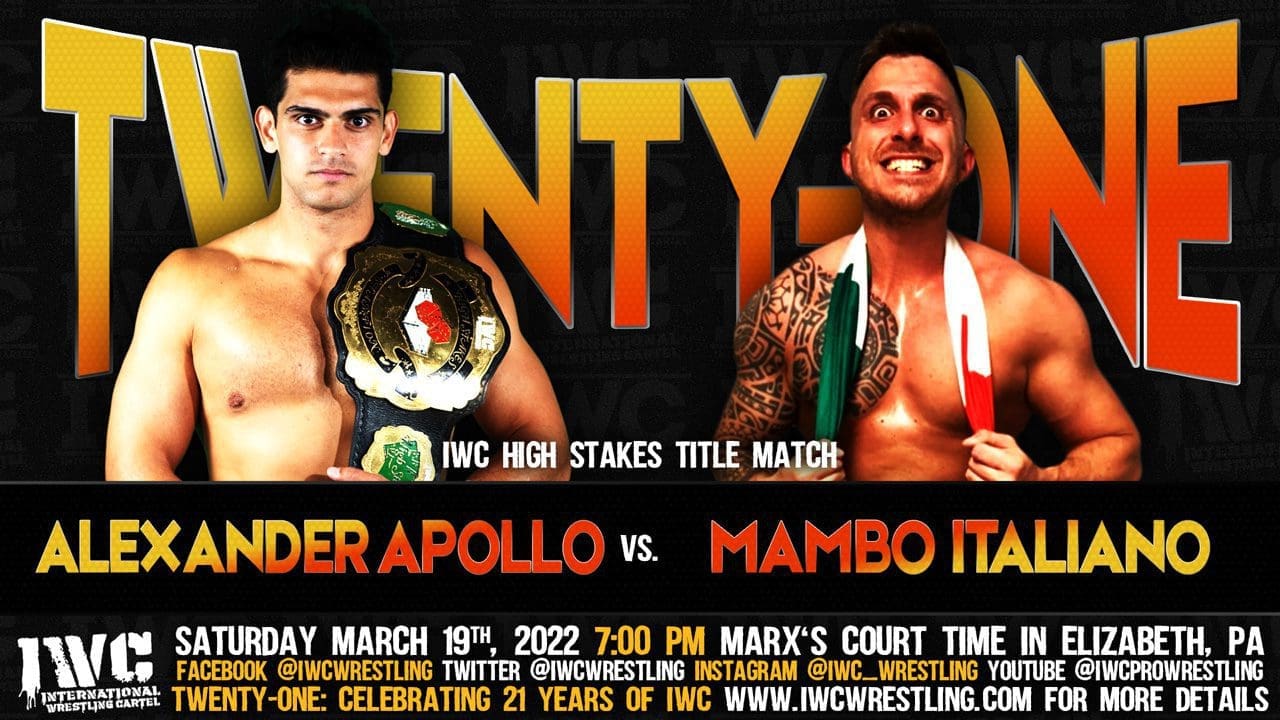 Continuing a Title reign worthy of the record books, the 'Greek God' Alexander Apollo successfully defended his title against a former IWC Heavyweight champion at IWC's Ignition, last month.  On March 19th, Apollo will have to defend his championship against a former IWC High Stakes Champion in Mambo Italiano.  Will Mambo's loss of smile and new attitude be enough to become a two time IWC High Stakes Champion or will the Greek God's might go on uninterrupted?
IWC Female Singles Match
Ella Shae vs. Queen Aminata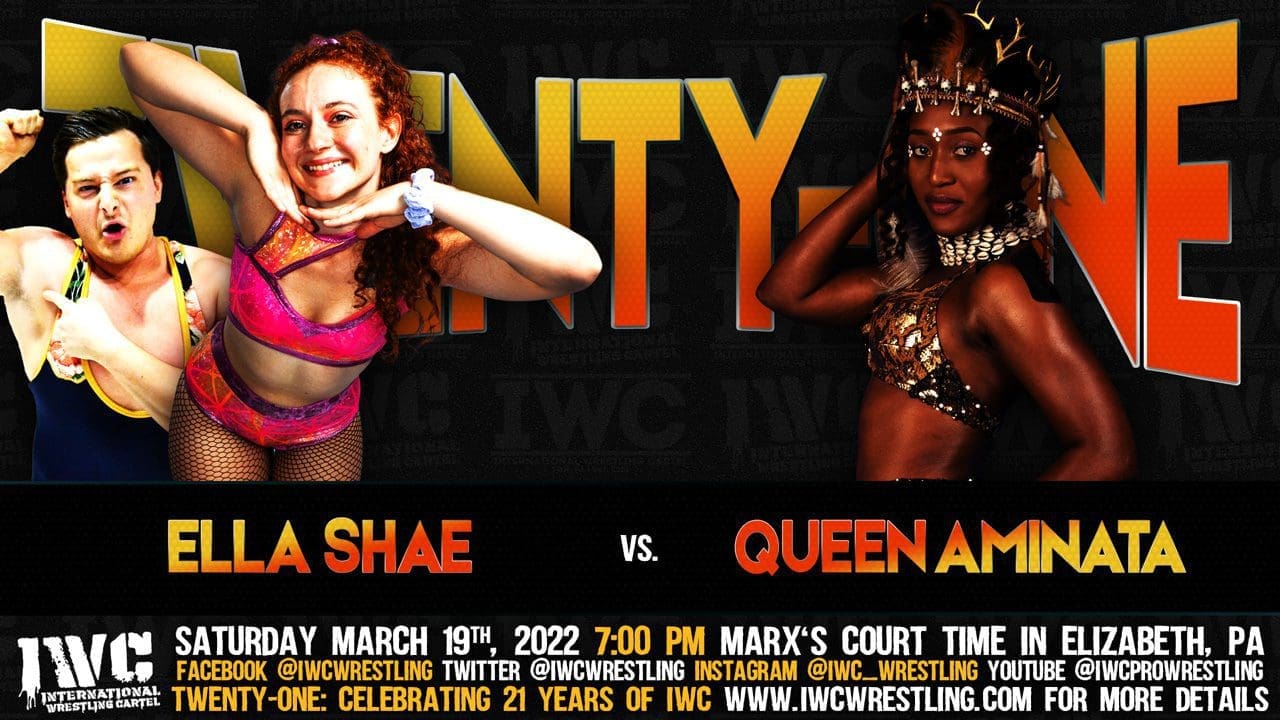 Queen Aminata returns to IWC on March 19th!  This time, she will face former IWC Women's Champion Ella Shae, who believes she's been robbed TWICE of HER title!  Will Ella prove she belongs back in the title hunt or will the Queen reign Supreme?
Best 2 out of 3 Falls Match
Spencer Slade vs. Bill Collier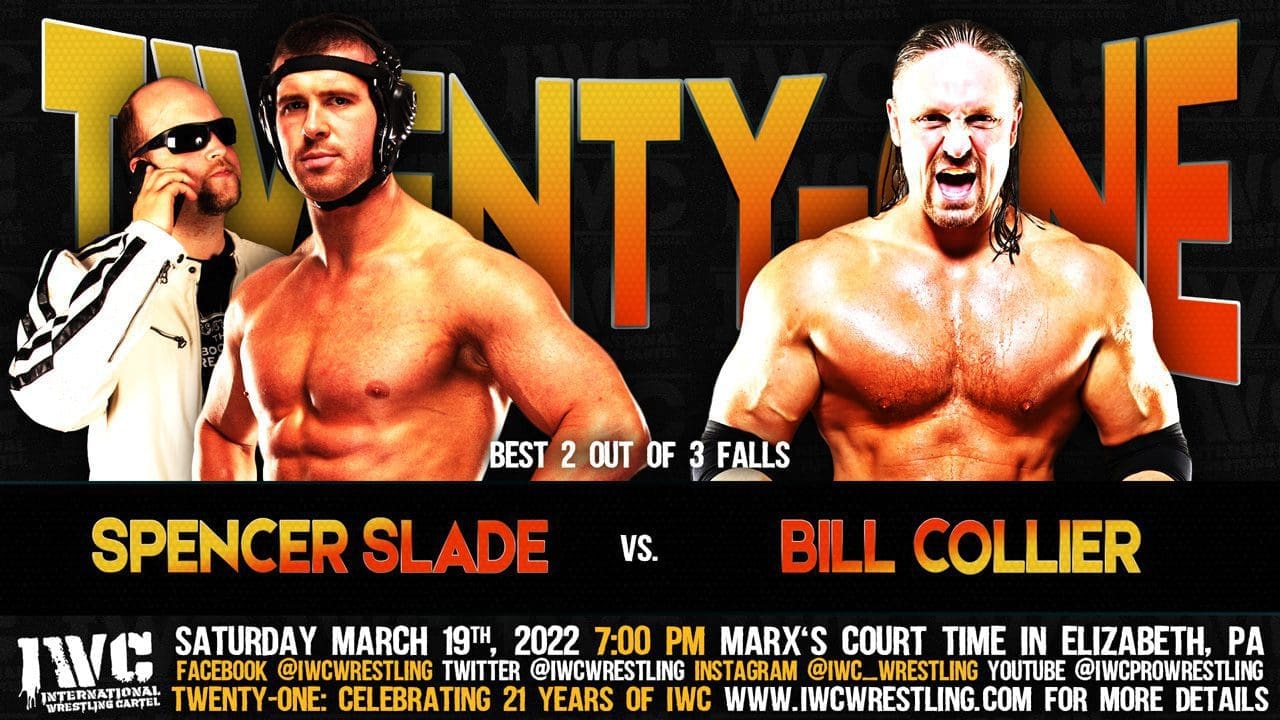 After months of this back and forth rivalry, two of the top athletes in IWC history will settle their red hot feud on March 19th! T o ensure we have a clear and decisive winner, Spencer Slade will compete against Bill Collier in a best two out of three falls match.  Are you ready for this potential match of the year?!
Six-Man Tag Team Match
Elijah Dean, Tito Oric, Lebanon Don vs. John McChesney, Jack Pollock, Anthony Young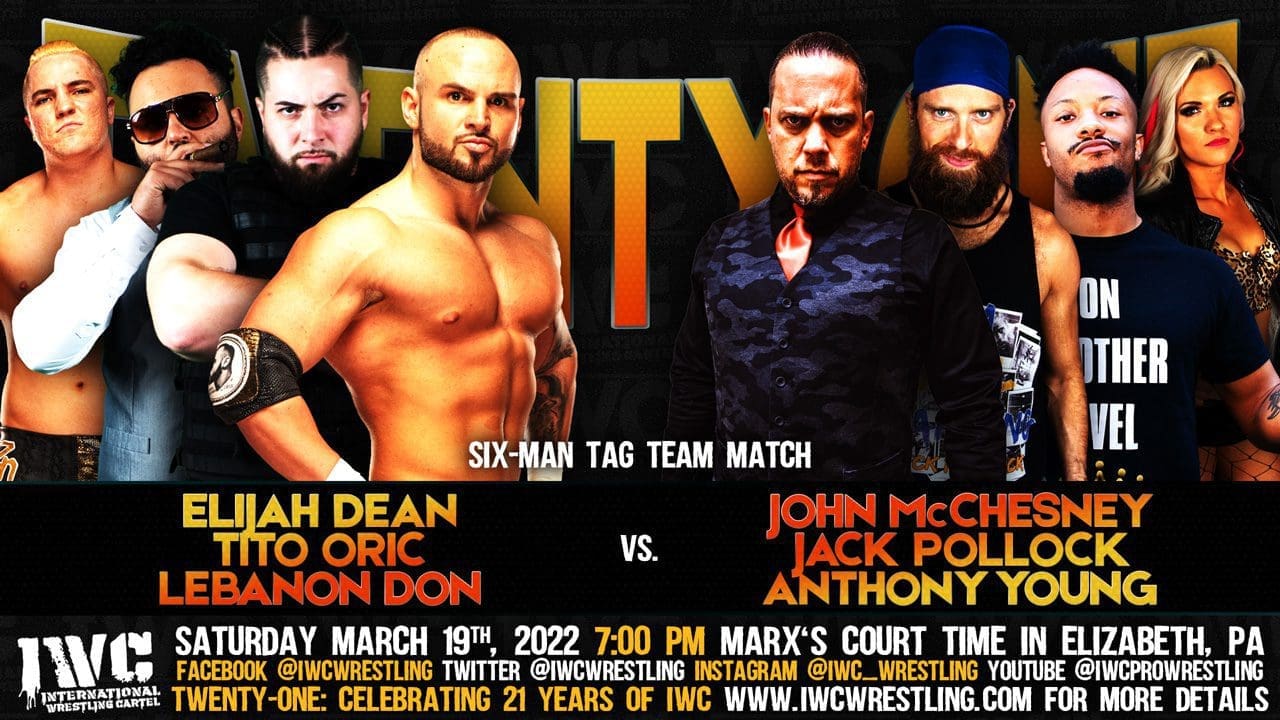 As tensions continue to rise and rivalries continue to grow, The 'Man Dime' Elijah Dean has called on some old friends for help.  Dean has been making enemies at a fast pace in 2022, so on March 19th he'll enlist the services of Tito Oric and The 'Lebanon Don' Joey Moses to help fend off the new Team Big League and Jack Pollock in their pursuit for revenge.  Don't miss this star studded 6-man tag team match as we see the next chapter of this complex rivalry unfold!
IWC Male Singles Match
Jock Samson vs. Johnny Patch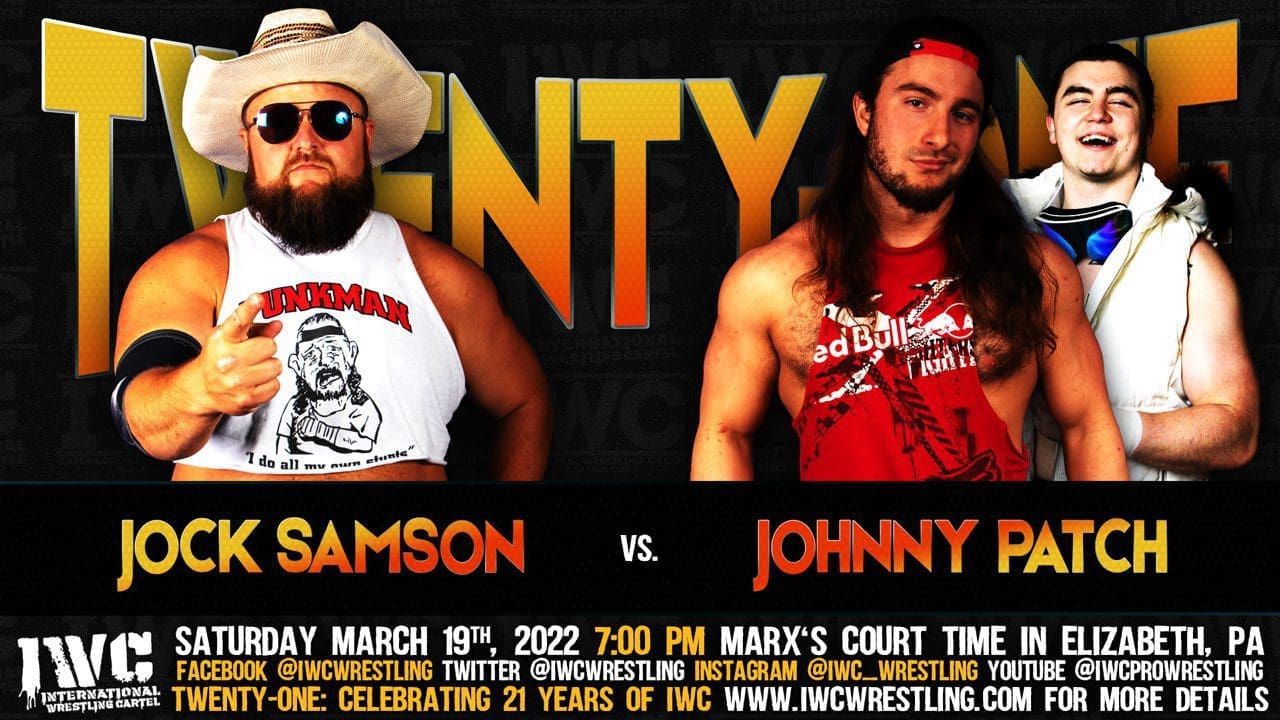 At our last event, Jock Samson defeated Preston Everest.  However, in typical Jock fashion, the win wasn't without some controversy and "extra-curricular" activity.  Now on March 19th, the other half of The Good Budz – Johnny Patch, will look to right some wrongs and get some pay back for his teammate!  Who will come out on top as a former IWC World Heavyweight Champion collides with a former IWC Super Indy Champion?!
Six-Man Tag Team Match
The Culmination vs. Brotherly Love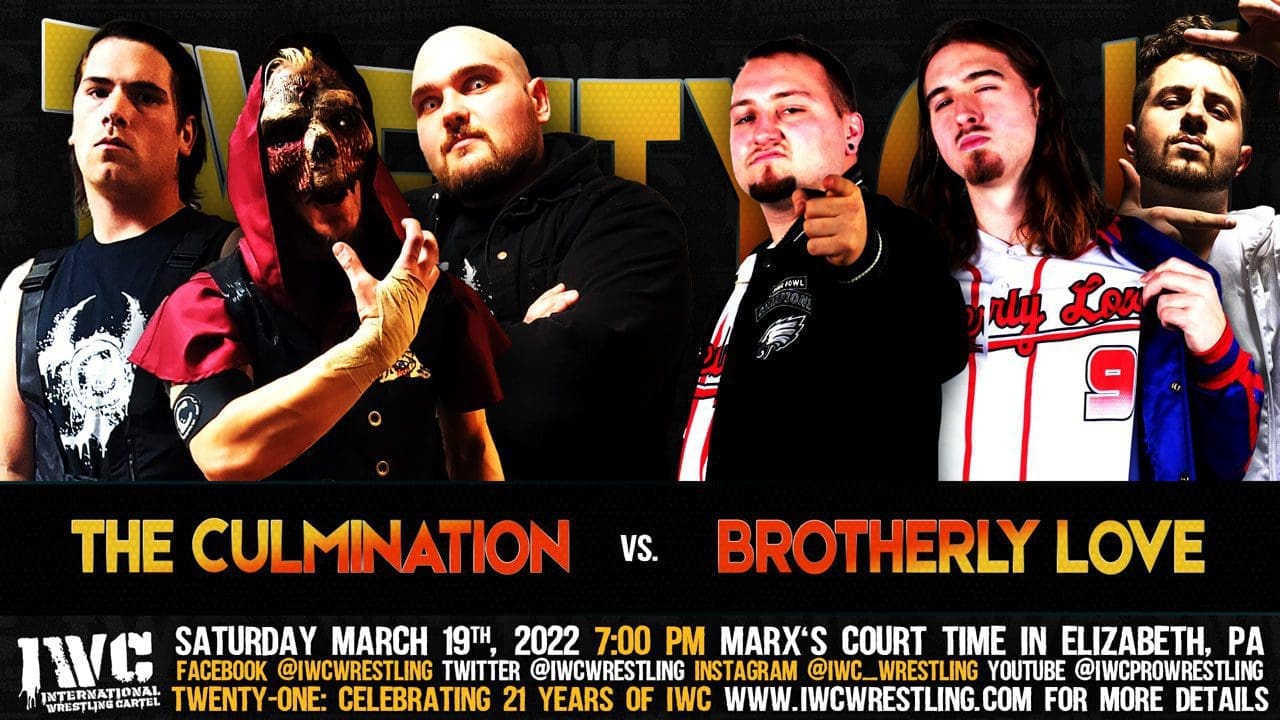 One of the most respected and feared names in IWC history, the Culmination.  One of the most underrated and fearless names of today's IWC, Brotherly Love.   The challenge was made last event by Brotherly Love!  Culmination have accepted!  Did Brotherly Love bite off too much to chew?
Special Announcement from former IWC High Stakes Champion
Hardcore Hooven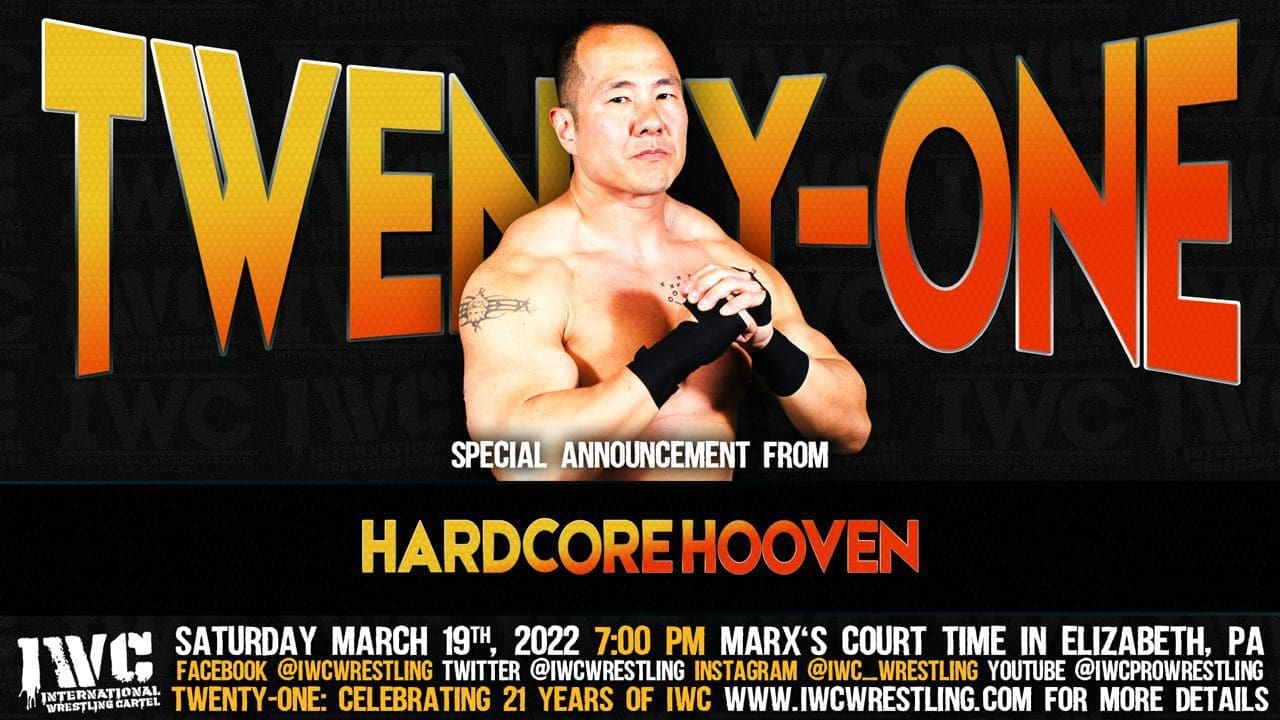 Former IWC High Stakes Champion and one of the few IWC athletes personally endorsed by Shane Douglas, Hardcore Hooven has been on the shelf recovering from injury.  Requesting time for a Special Announcement, what will Hooven have to say?  Come find out on March 19th.
Remember, if you cannot join us live and in-person on March19th, you can watch online with an IWC Network Subscription right here at IWCwrestling.com, or you can purchase the event through Fite.tv!