For the 3rd time, IWC and Northeast Wrestling (NEW) team up to present SUPERSTAR SHOWDOWN III, returning to the Rostraver Ice Garden in Belle Vernon on Sunday, July 31st!!  This time nZo, Penta Oscuro, Matt Taven, and Cole Karter will be showing down for our Meet & Greet at 1:00 PM, then live and in-action starting at 4:00 PM!!  On top of that, see the IWC Heavyweight, Super Indy, and Tag Team Championships all defended in marquee match-ups!!  The Action kicks off with our Meet & Greet, starting at 1:00 PM!!
Meet & Greet Begins at 1:00 PM!
Matches Begin at 4:00 PM!
No DQ Match
Zach Nystom vs. Penta Oscuro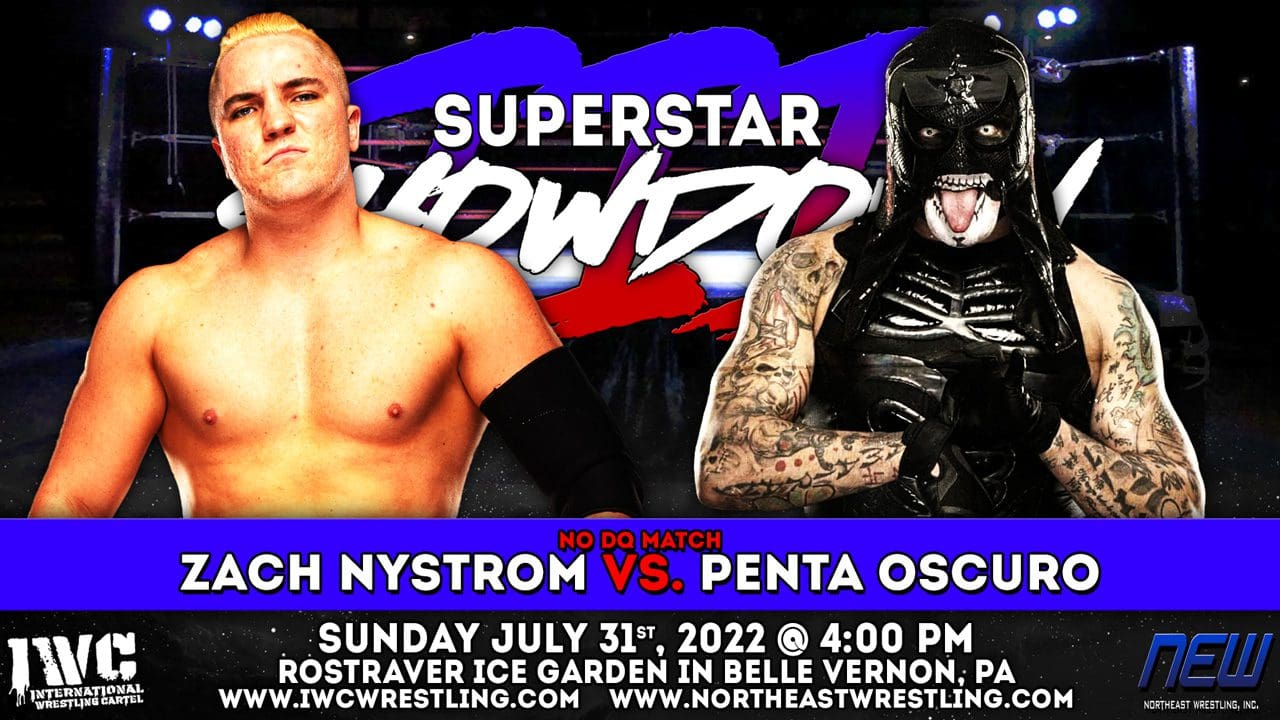 Zach Nystrom doesn't care about "superstars" or "cero miedo".  But, he knows a thing or two about a broken arm.  Penta Oscuro is scheduled to compete against one-half of Money Shot, Zach Nystrom, at Superstar Showdown 3!!  Will Nystrom suffer another broken arm at the hands of Penta, or will "Cero Miedo" be counting stars while laying on the mat for 1, 2, 3…?!
IWC Heavyweight Championship Match
Elijah Dean vs. Jack Pollock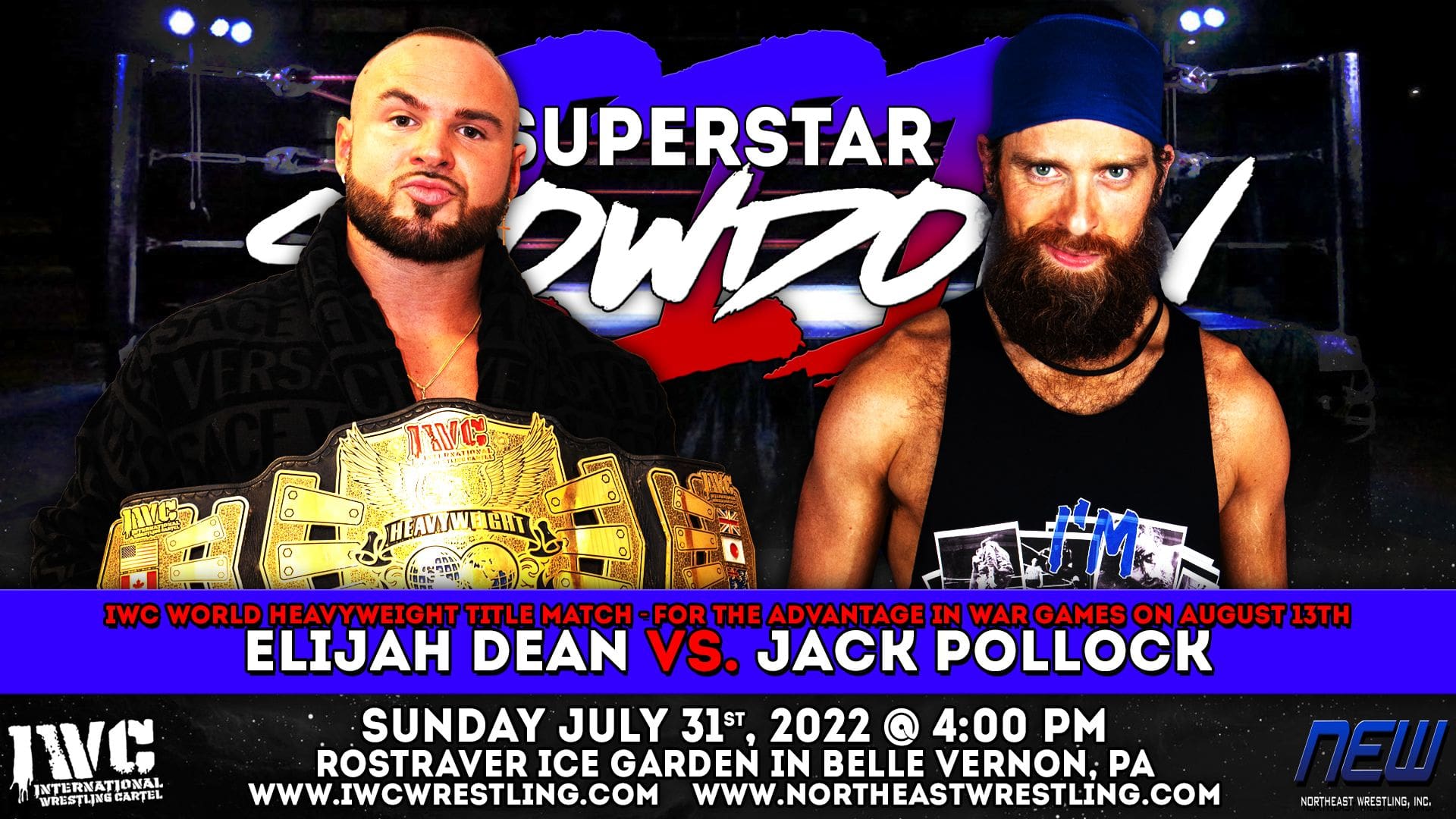 Due to the outcome of a number 1# contender's match at Wrestling at the Ballpark 2022, available now on the IWC Network, Jack Pollock is scheduled to go one-on-one against the IWC Heavyweight Champion Elijah Dean! Along with the championship, the winner's team will get the starting advantage for War Games at Caged Fury on August 13th! Which superstar will leave Superstar Showdown III with the momentum and gold!?
Men's Singles Match
Matt Taven vs. Cole Karter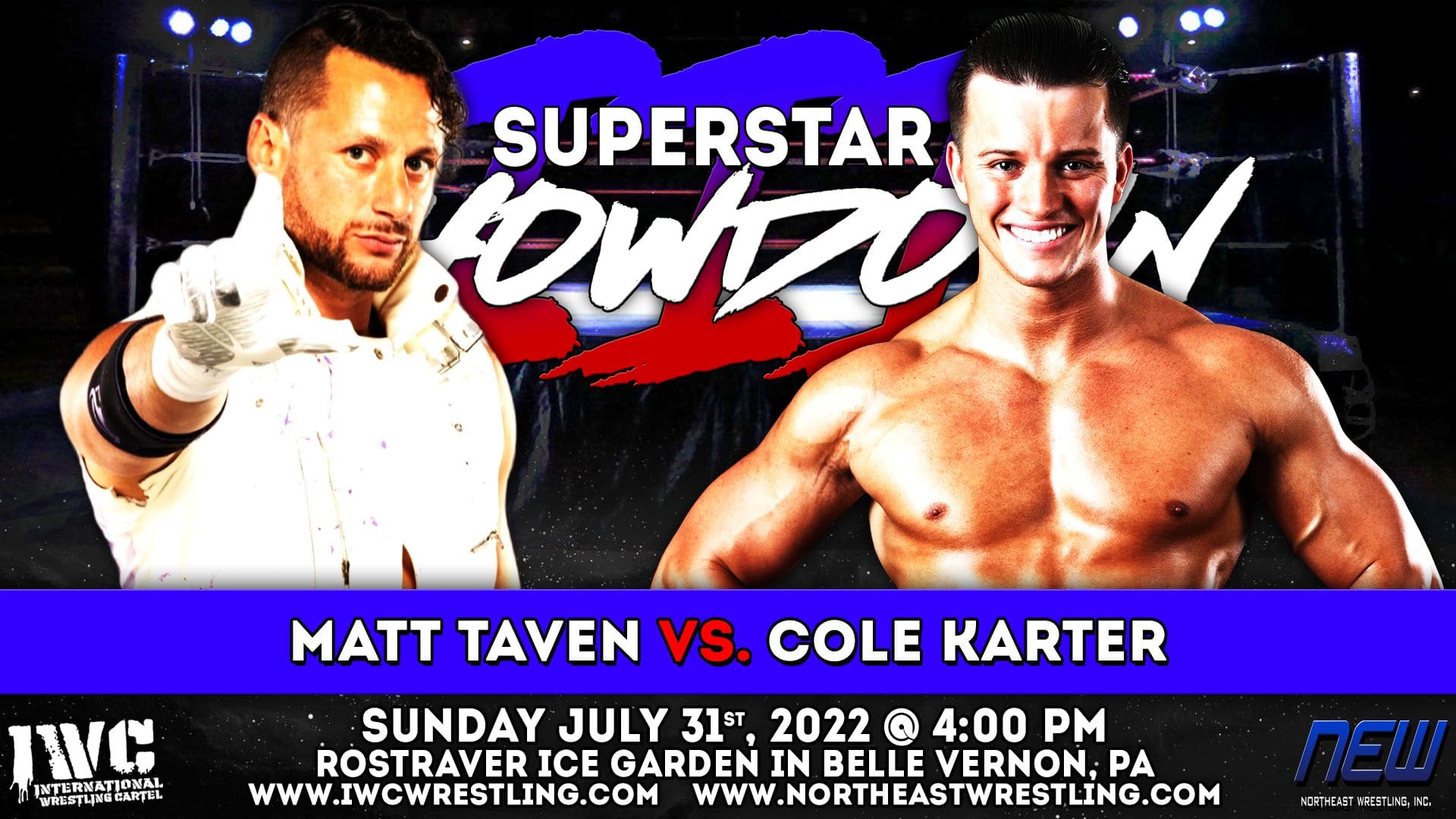 Cole Karter had a successful return at IWC Wrestling at the Ballpark!  On July 31st, Cole continues his return tour when faces off against former ROH world champion and leader of the Kingdom, Matt Taven!
IWC Super Indy Championship Match
Derek Dillinger vs. nZo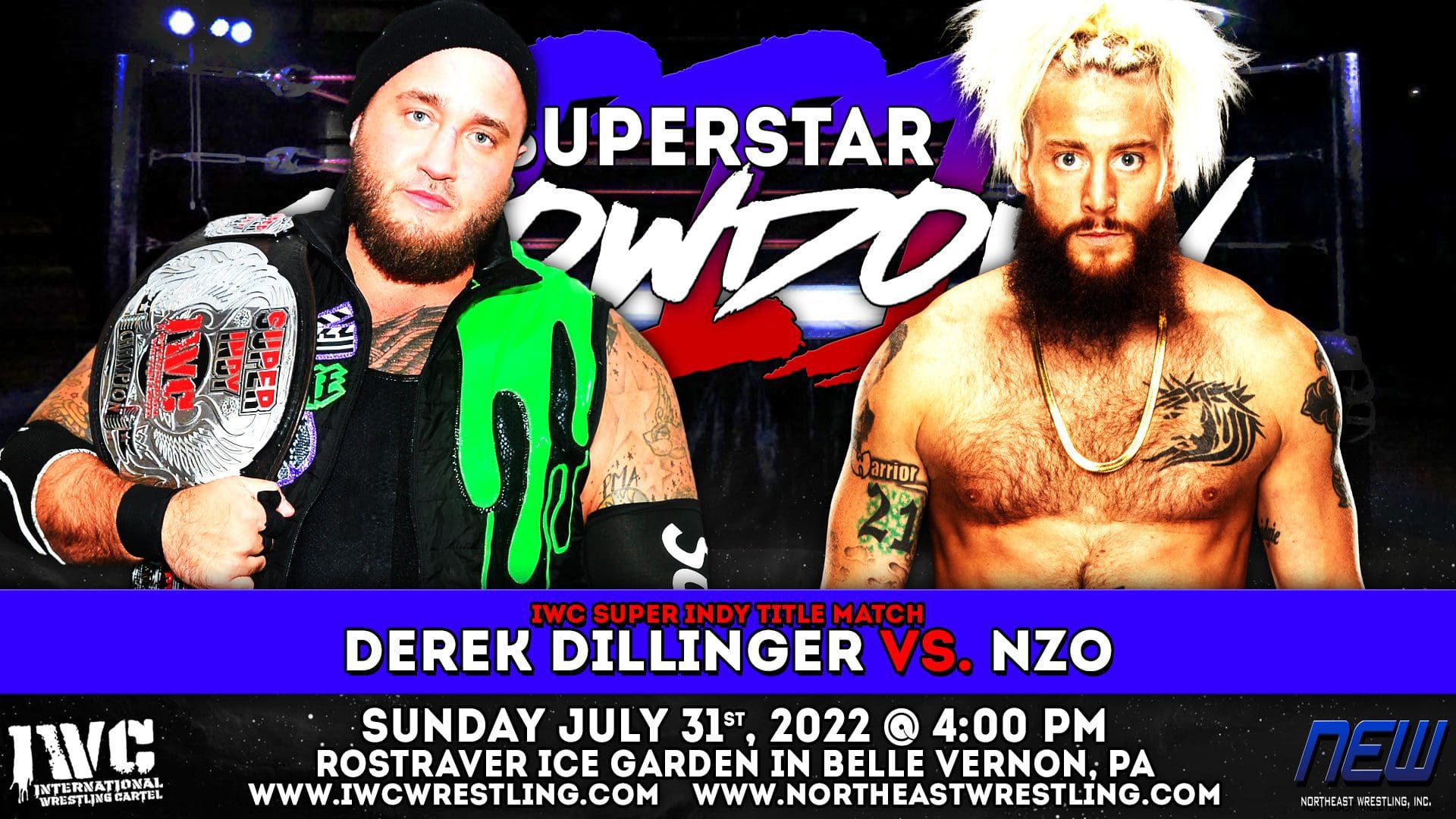 The IWC Super Indy Championship will be on the line at SUPERSTAR SHOWDOWN 3!! nZo will get a chance to compete for Derek Dillinger's Super Indy Championship, a title he's never held. Can the Director of IWC survive the realest guy in the room!?
IWC Tag Team Championship Match
For the vacant IWC Tag Team Championships
Good Budz vs. The culmination vs. TME vs. Chase Gold & Jaxon Argos
There will always be claims to the IWC Tag Team Championships, but at SUPERSTAR SHOWDOWN 3 on July 31st, 4 of the top IWC tag teams will compete for the Vacant IWC Tag Team Championships! TME denied being handed the Tag Titles, instead demanding the IWC tag roster step-up and earn their claimed gold!! Which IWC Tag Team will answer the challenge and prove to be the Undisputed IWC Tag Team Champions!?
Men's Singles Match
Spencer Slade vs. Anthony Young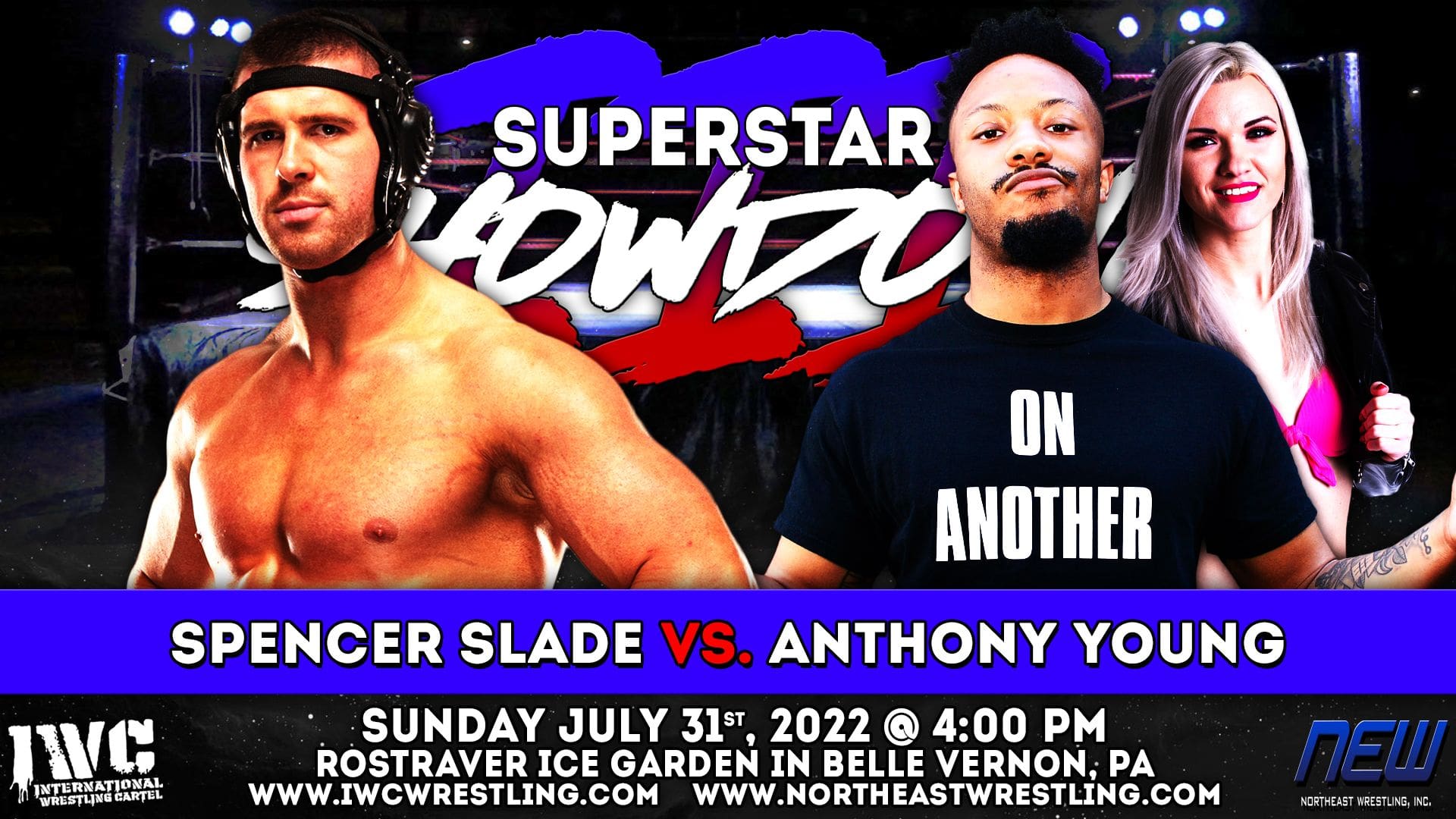 Aiming to achieve the same success as his Tag partner Jack Pollock, Anthony Young goes 1-on-1 against the submission specialist Spencer Slade! A victory from either competitor could push them towards a Championship pursuit! Can A1 catch a break and defeat Slade, or will he be just another broken ankle by the submission specialist?!
Men's Singles Match
Tito Oric vs. Bill Collier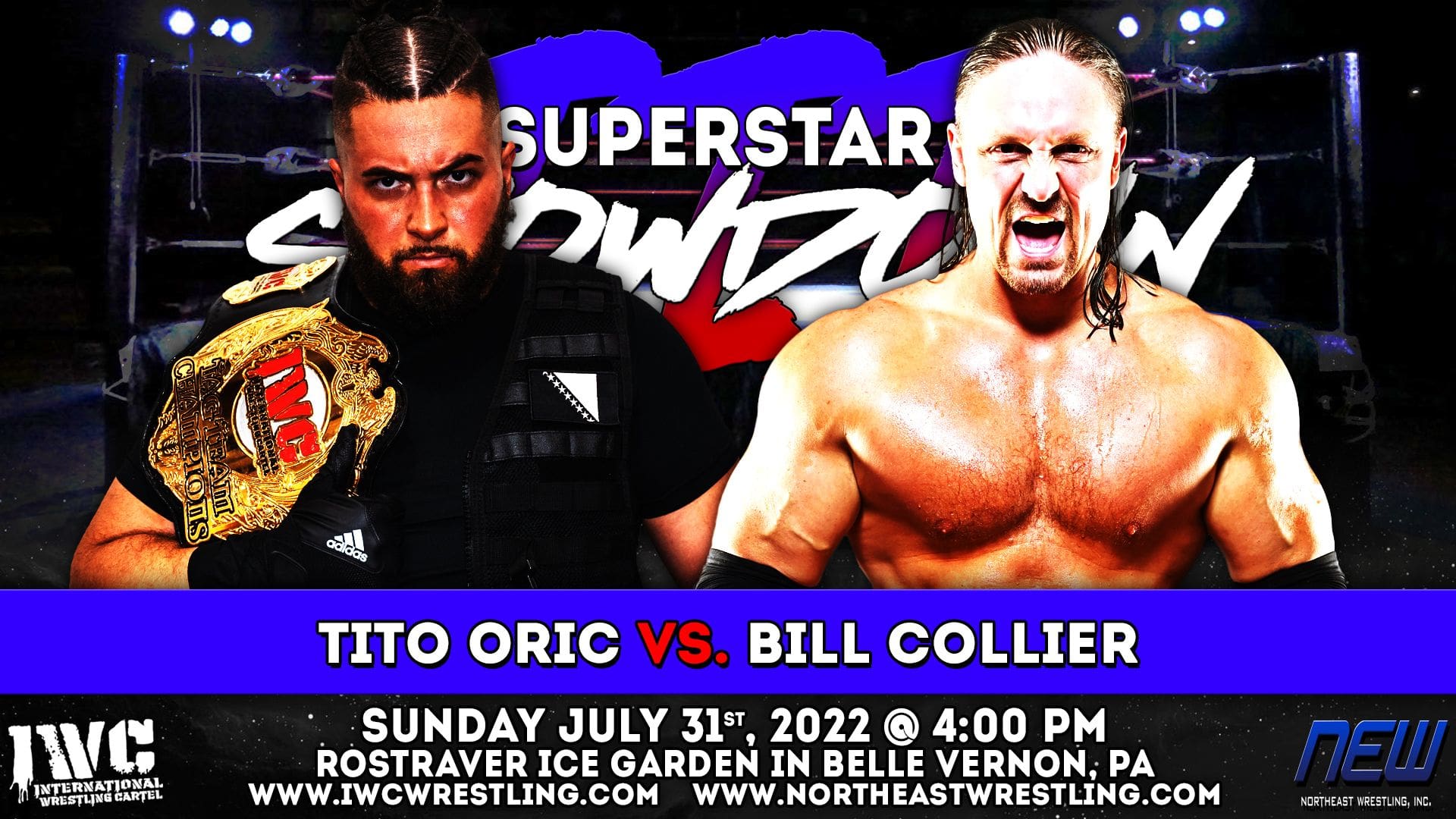 Although Bill Collier may be working through the rankings of IWC to earn himself an IWC Heavyweight Championship match, that won't solve the unfinished business between he and Tito Orič! Attacking Collier after initially winning the Heavyweight Championship, Tito nearly handed the championship over to Elijah Dean with an easy victory. Will Collier get his revenge and continue up the ladder, or will the Bosnian Bone Breaker live up to his moniker!?
Tag Team Match
Both competitors will hand-pick their team member
Katie Arquette   &   ???    vs.   Andrew Palace   &   ???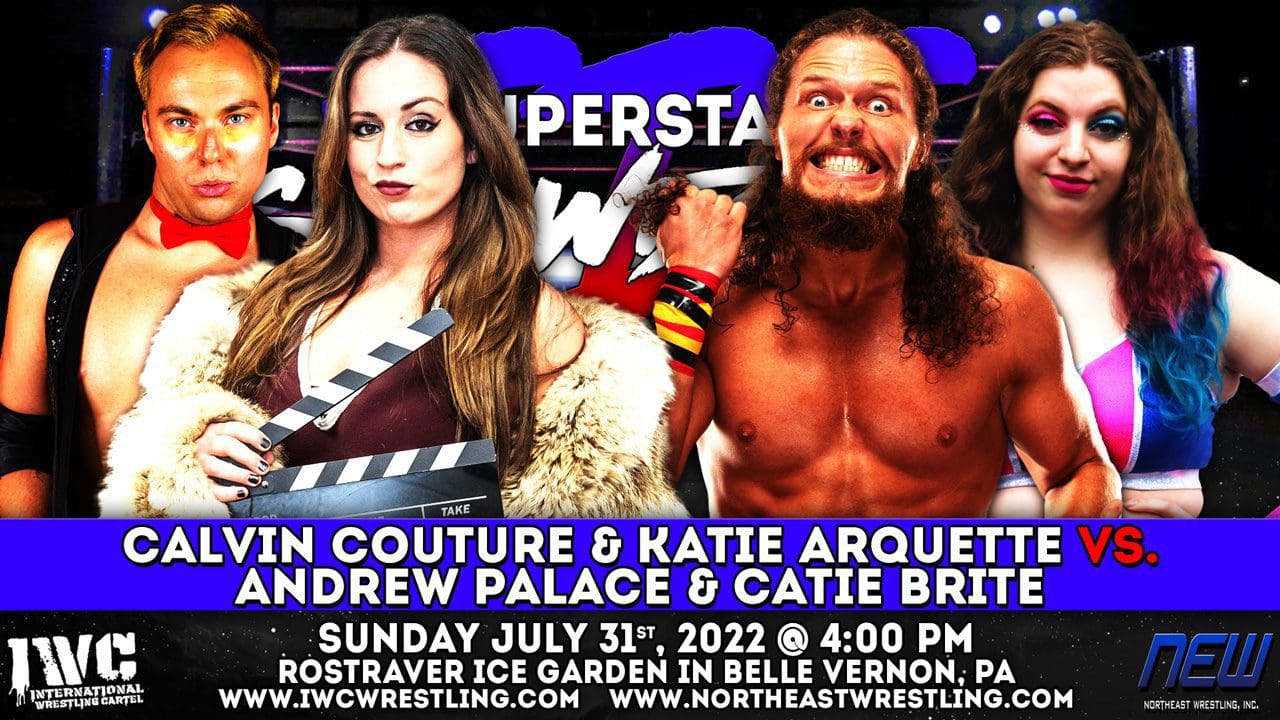 Andrew Palace has hand-picked his Tag Team partner for this Sunday, and it's none other than Catie Brite! Fresh off her first Championship opportunity, Catie is looking to capitalize with a win over the Queen of the Silver Screen, Katie Arquette. On the other hand, Katie has called up an old friend, Calvin Couture, who may know her even better than Palace! Will Arquette silence her haters and hog the spotlight or will Andrew shine Brite and finally give Katie a taste of her own medicine!?
Don't miss Superstar Showdown III, or we'll tell Penta.  Be sure to get your tickets now before the event is sold out!!  And, keep your eyes open for more match announcements leading up to Sunday, July 31st!!