After the events at CAGED FURY, we saw the IWC Heavyweight Champion Elijah Dean lead his team to victory in WAR GAMES, but then be chased out of the cage by an enraged Bill Collier!!   When IWC returns to Clearfield on Saturday, September 10th, who will be the #1 contendor to the Heavyweight Championship?  Will we see more Super Indy 21 announcements?  CLEARFIELD COMEBACK will be live on the IWC Network for a special livestream able to feature live commentary and one camera angle.   But, there's nothing like being there live!!  Get your tickets now!  Live action kicks off at 7:00PM!!
Matches Begin at 7:00 PM!
Men's Singles Match
Zach Nystrom vs. Brian Pillman Jr.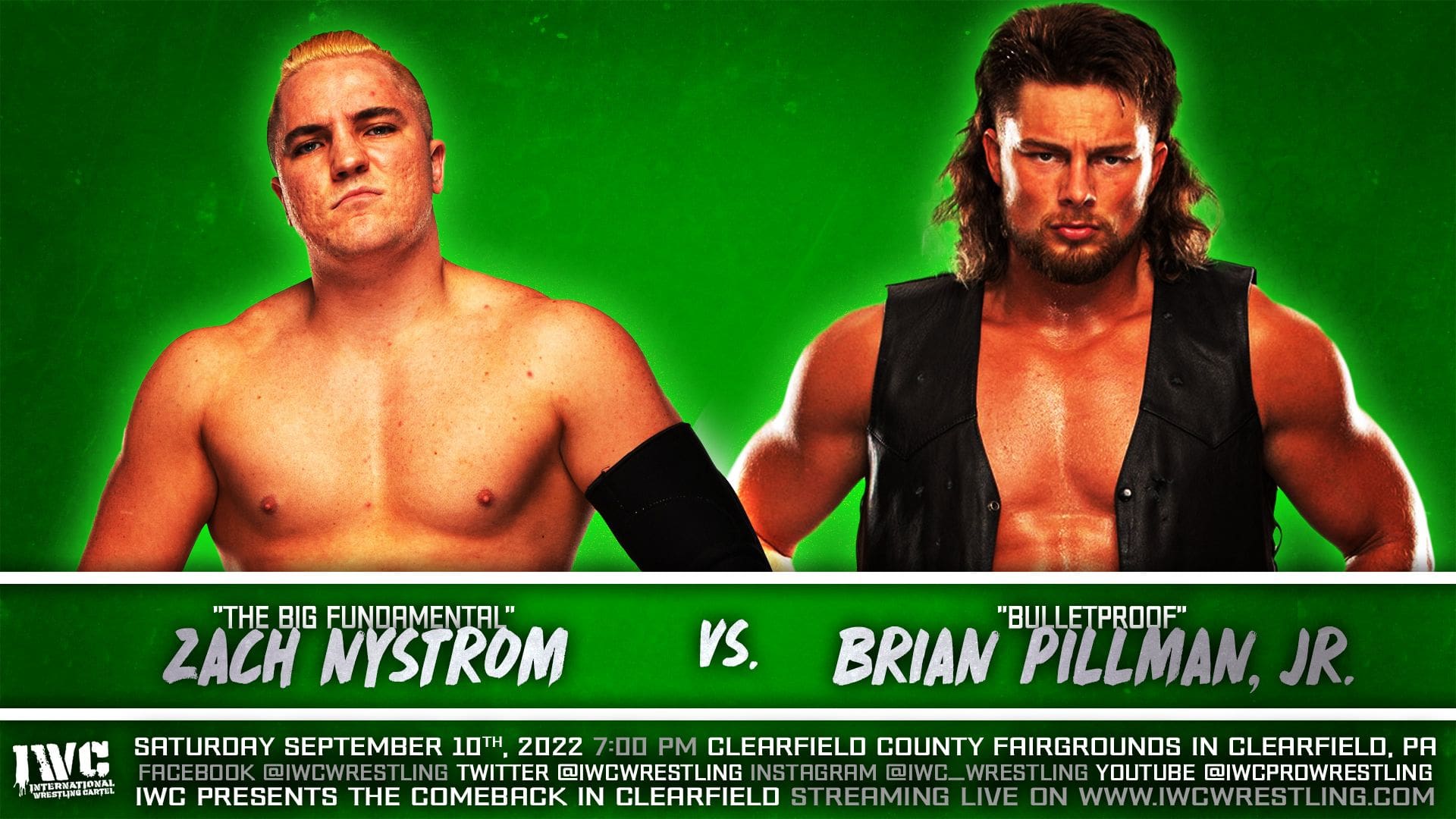 For the first time ever, Zach Nystrom will go 1-on-1 with Brian Pillman Jr, at Clearfield Comeback on Saturday September 10th!! Nystrom saw Pillman's announcement as an opporunity to assert himself as the one to see Pillman right back out of IWC. Which young competittor will come out the victor!?
IWC Heavyweight Championship Match
Elijah Dean vs. Jason Tyler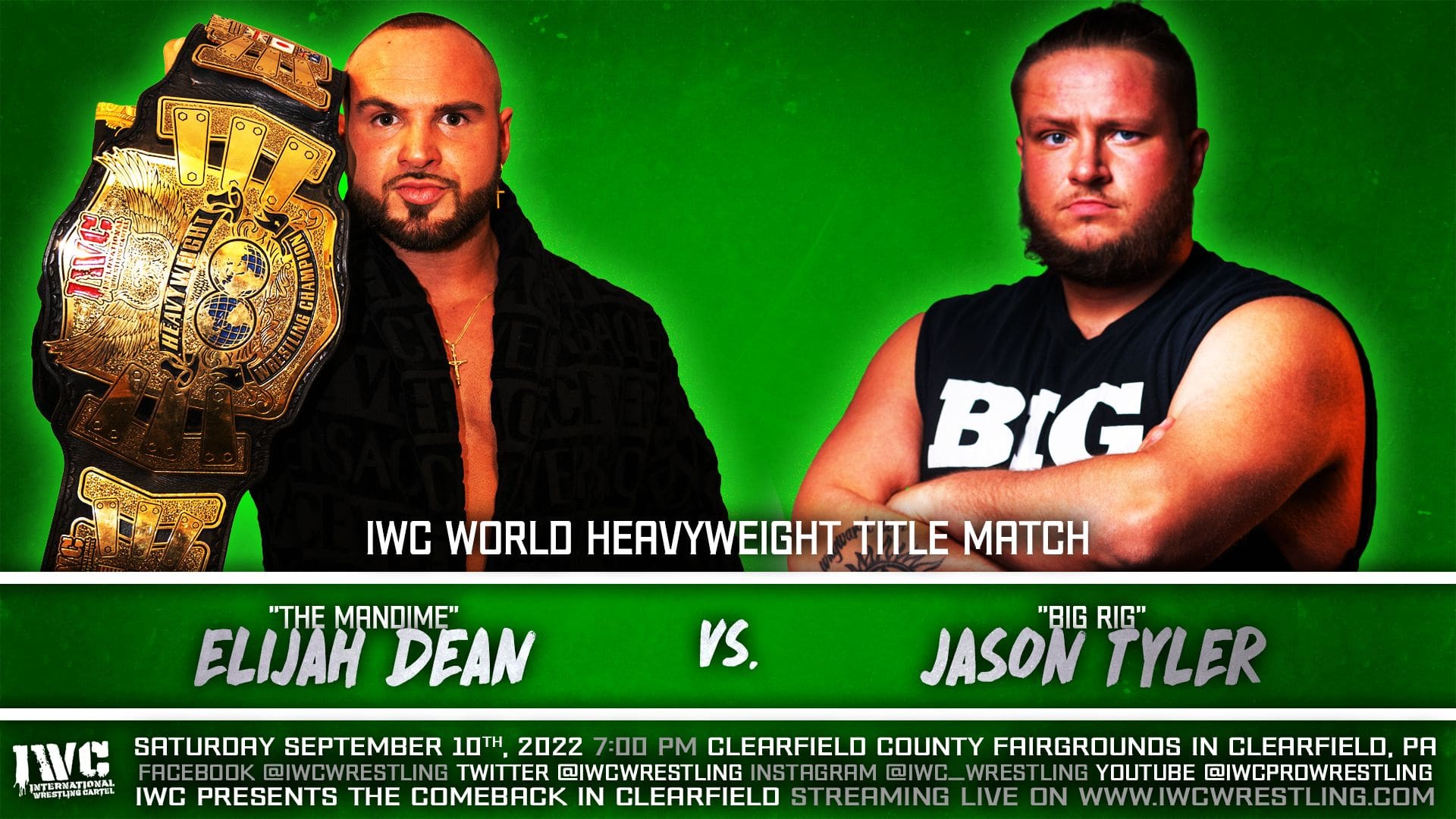 The IWC Heavyweight Champion Elijah Dean has made it clear he respects the line of challengers to his title. Insisting he's the best IWC Heavyweight Champion of all time, Elijah Dean has "graciously" picked a competitor he feels has struggled to get to the head of the line, Jason Tyler. Being Jason's first IWC Heavyweight Championsihp match, the Big Rig isn't planning to run on Dime Time.
Men's 3-on-3 Tag Match
The BrotherHood (Julian Jay, Mike Bonner, & RJ Booker) vs. Brotherly Love (Kliff Klepto, Ricky Dawkins, & Dior Castro)
Still undefeated, Brotherly Love goes 3-on-3 against the The Brotherhood, consisting of Julian Jay, Mike Bonner, and RJ Booker! The Brotherhood are hot off a defeat from the Disputed IWC Tag Team Champions after some questionable tactics from the Champs. Will a win from either team put them in line for bigger and better things?!
Men's Singles Match
Glenn Spectre vs. Andrew Palace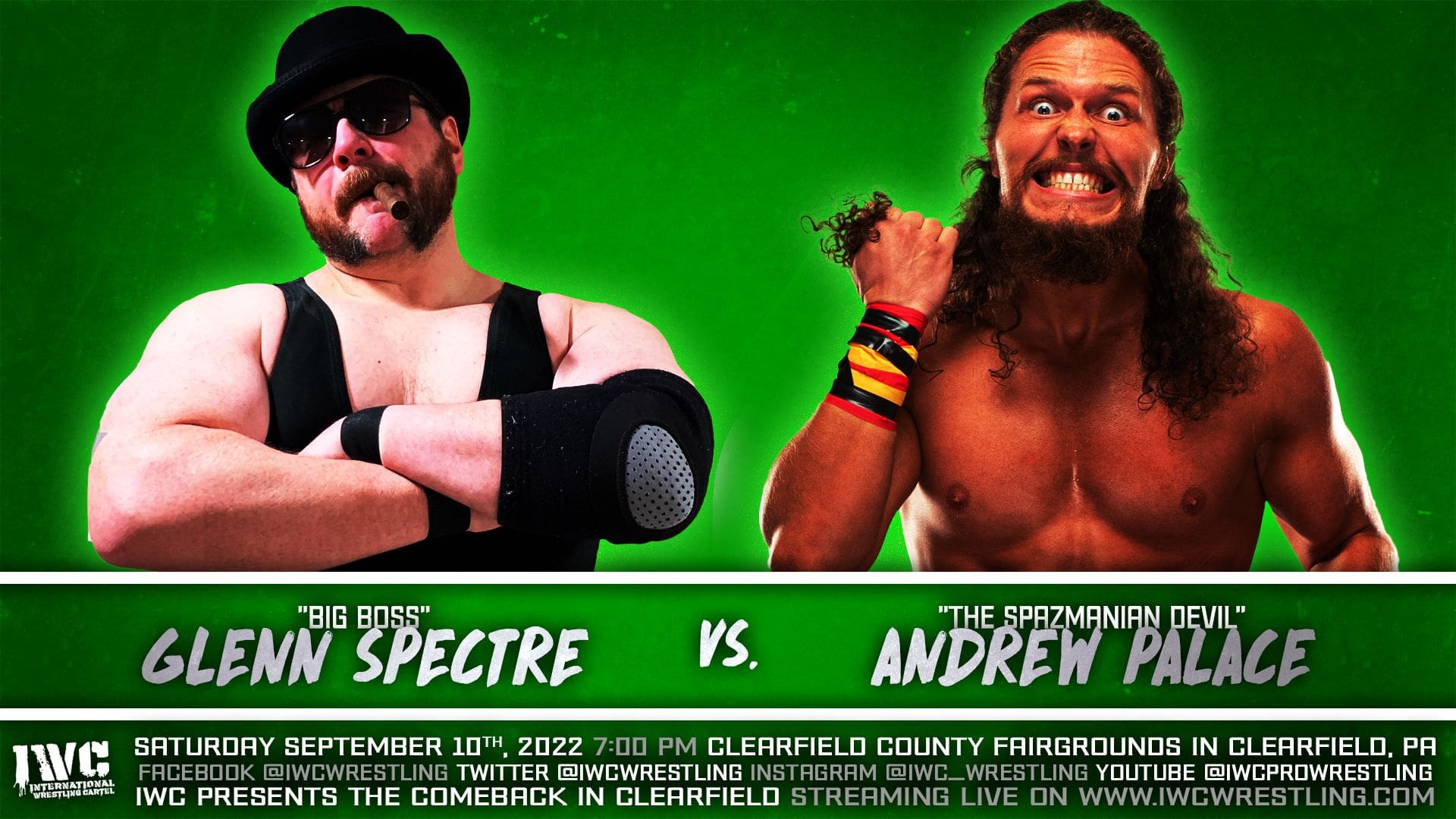 Katie Arquette has tried to rid her spotlight of Andrew Palace by using and manipulating opponents from outside IWC, only to have each of them fall to Palace. This time, Katie is relying on the veteran experience of the Big Boss Glenn Spectre to take out Palace!! Will years of calculated execution be too much for Andrew, who's nearly on the verge breaking!?
IWC Tag Team Championship Match
TME vs. The Culmination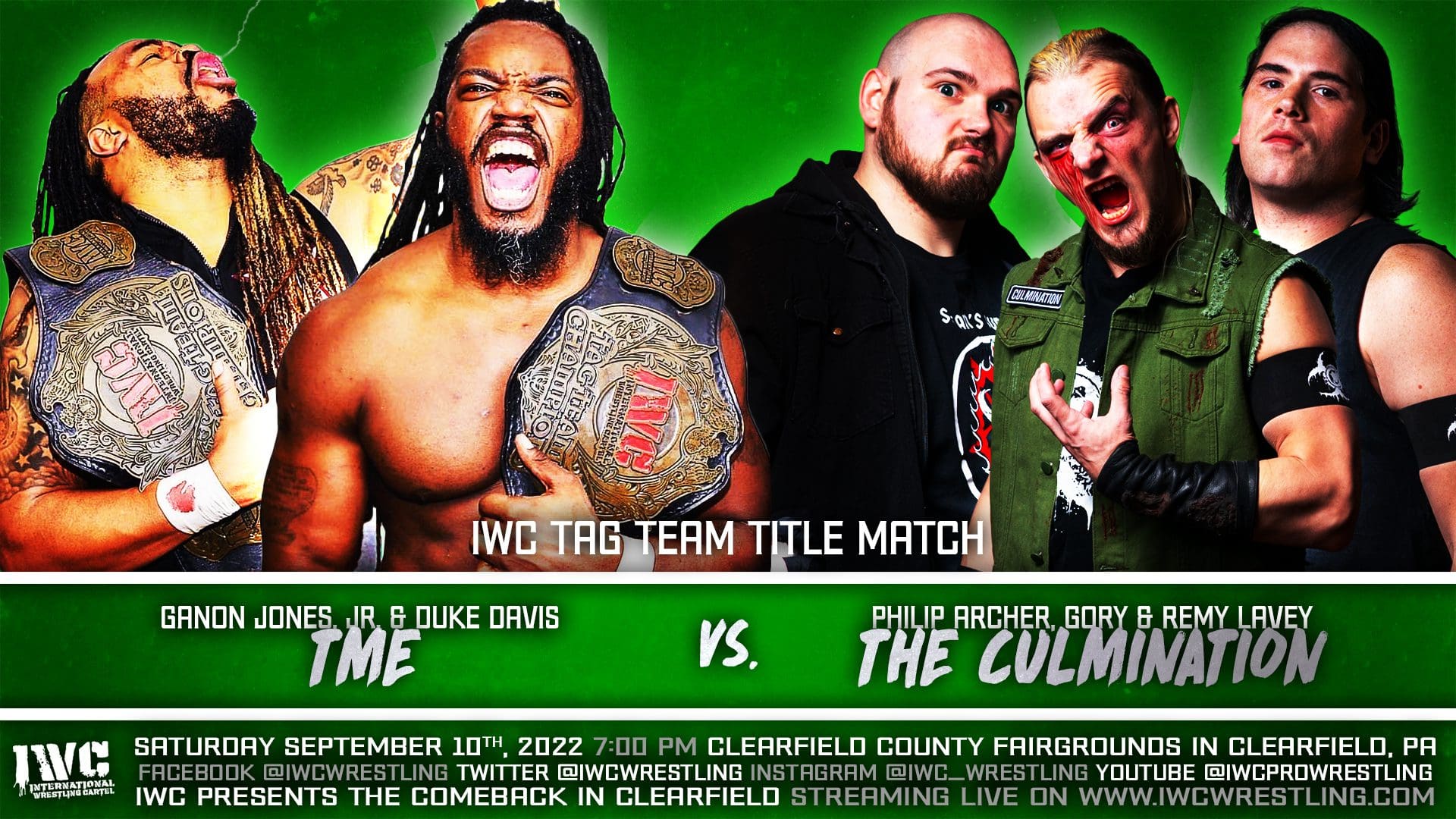 On September 10th, the IWC Tag Team Champions, TME, will defend their titles against The Culmination! Neither team are strangers to one another, but the Culmination won't waste this opportunity no matter that they have to do!
Men's Tag Match
Tito Oric & Spencer Slade vs. Good Budz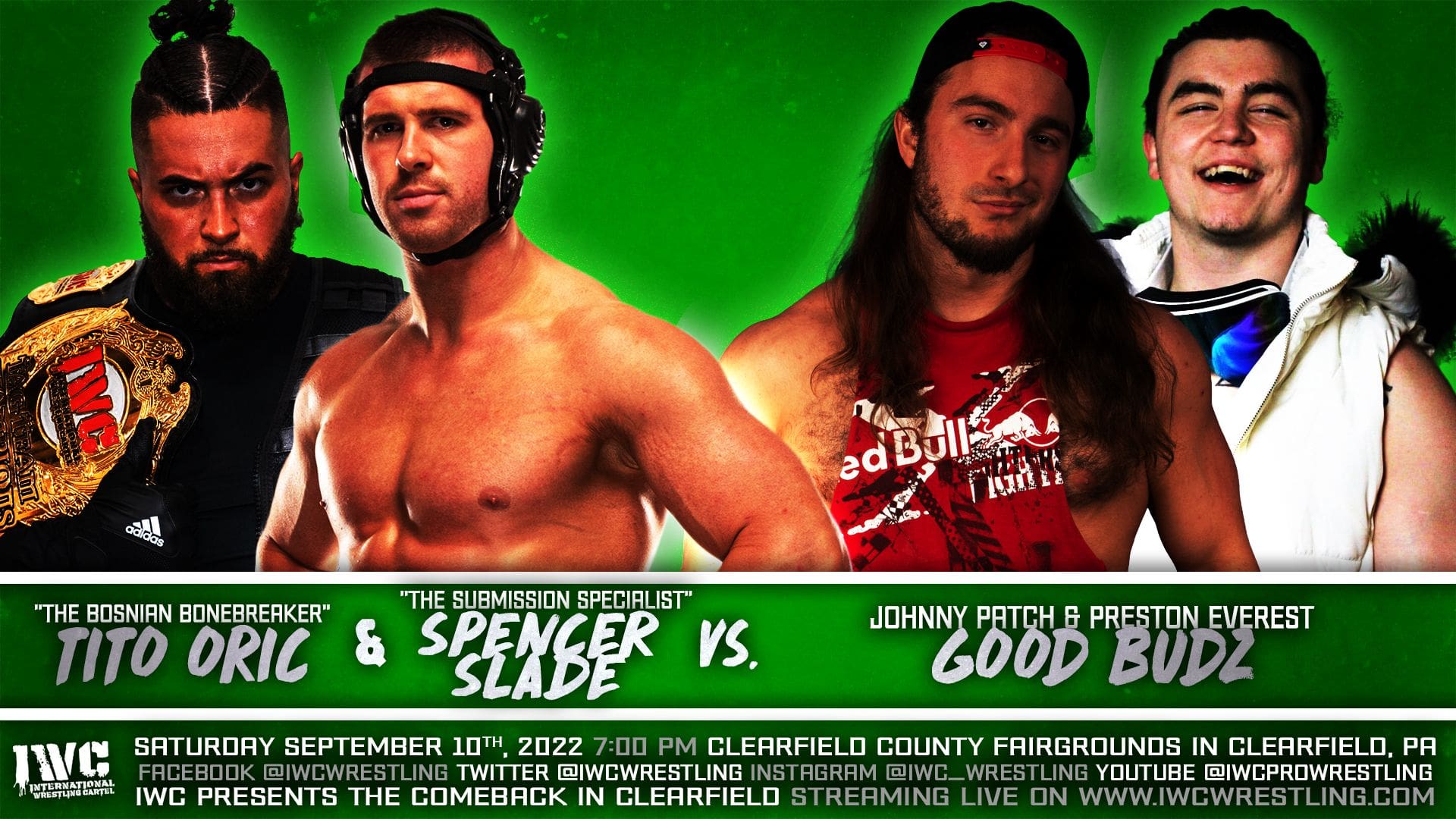 The Good Budz have wanted a shot at Tito Orič and The Lebanon Don Joey Moses for months, even before they were Dipsuted IWC Tag Team Champions! Instead, the Lebanon Don has other business to tend to, emphasising "…ugh, Clearfield?" and has purchased the services of Spencer Slade for the evening thanks to Justin Labar, Spencer's manager. Tito and Spencer were successful in working together before, but the Good Budz are looking to make a comeback in Clearfield!
Men's Singles Match
Mambo Italiano vs. Bill Collier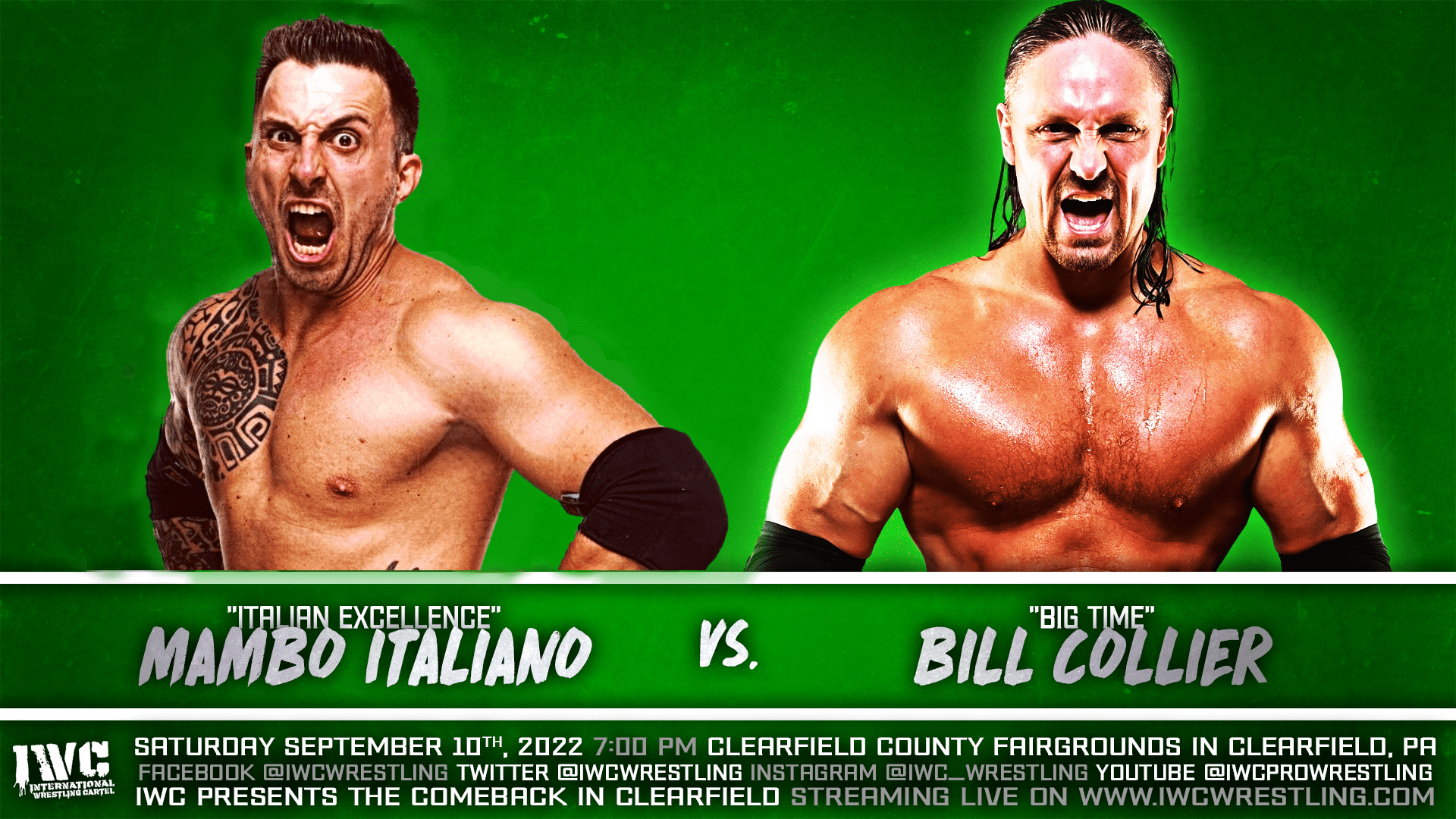 A Big Time match for two Big Time players. Bill Collier has been on a winning streak in IWC since June while Mambo Italiano has been seizing opportunity and wrestling on cable TV! Both men meet for the very first time in IWC and neither man plans to waste their momentum.
Women's Singles Match
Catie Brite vs. Aisha Armani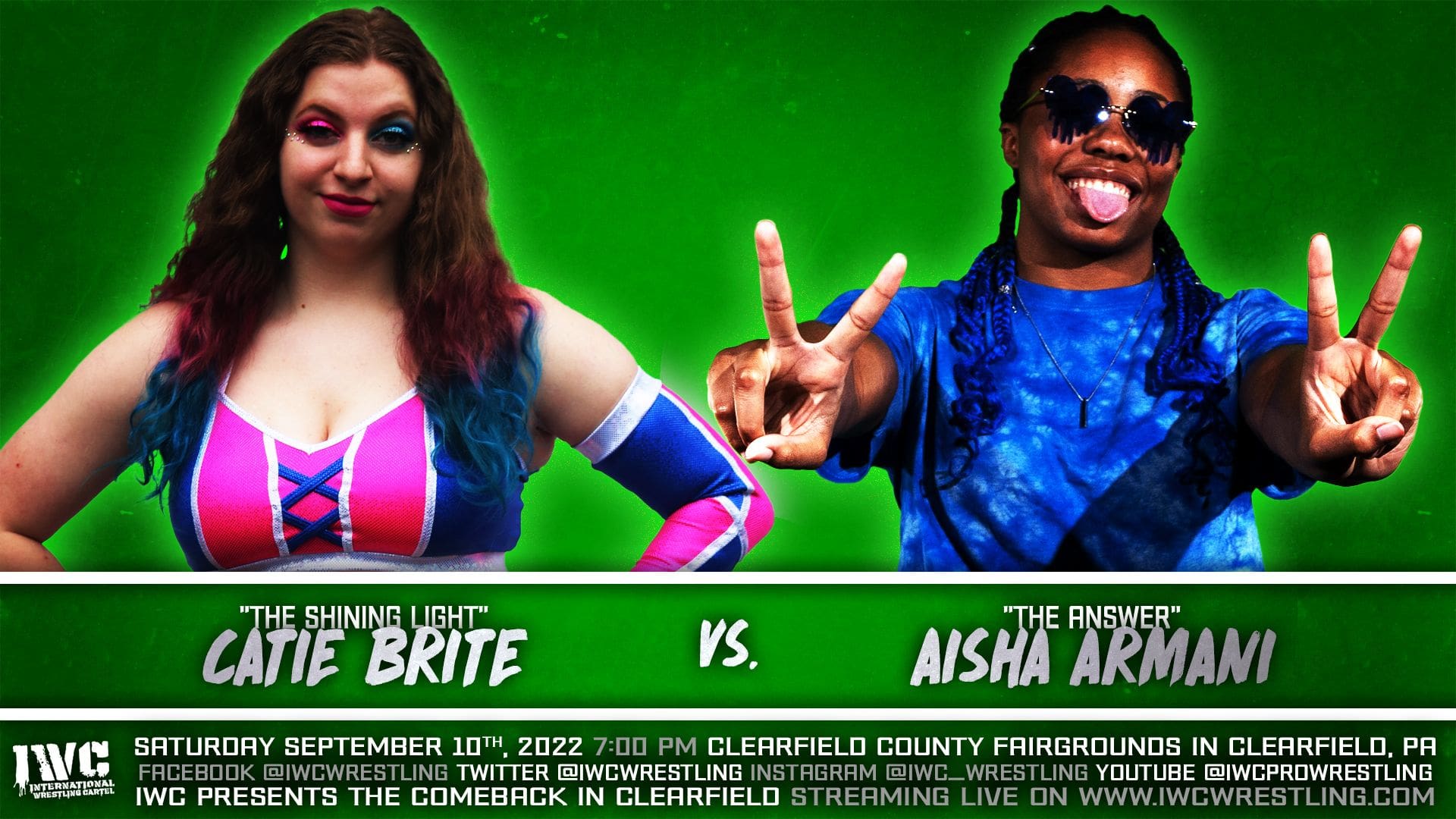 Catie Brite and "The Answer" Aisha Armani both debuted at IWC's Feature Presentation in May. Catie has already teamed with Andrew Palace and contended for the IWC Women's Championship. Now, Aisha is looking to make her breakout statement and remind everyone she's here to be the best Women's wrestler on the IWC roster!
Men's Singles Match
Jami Jameson vs. Anthony Young  w/ Julia Lynn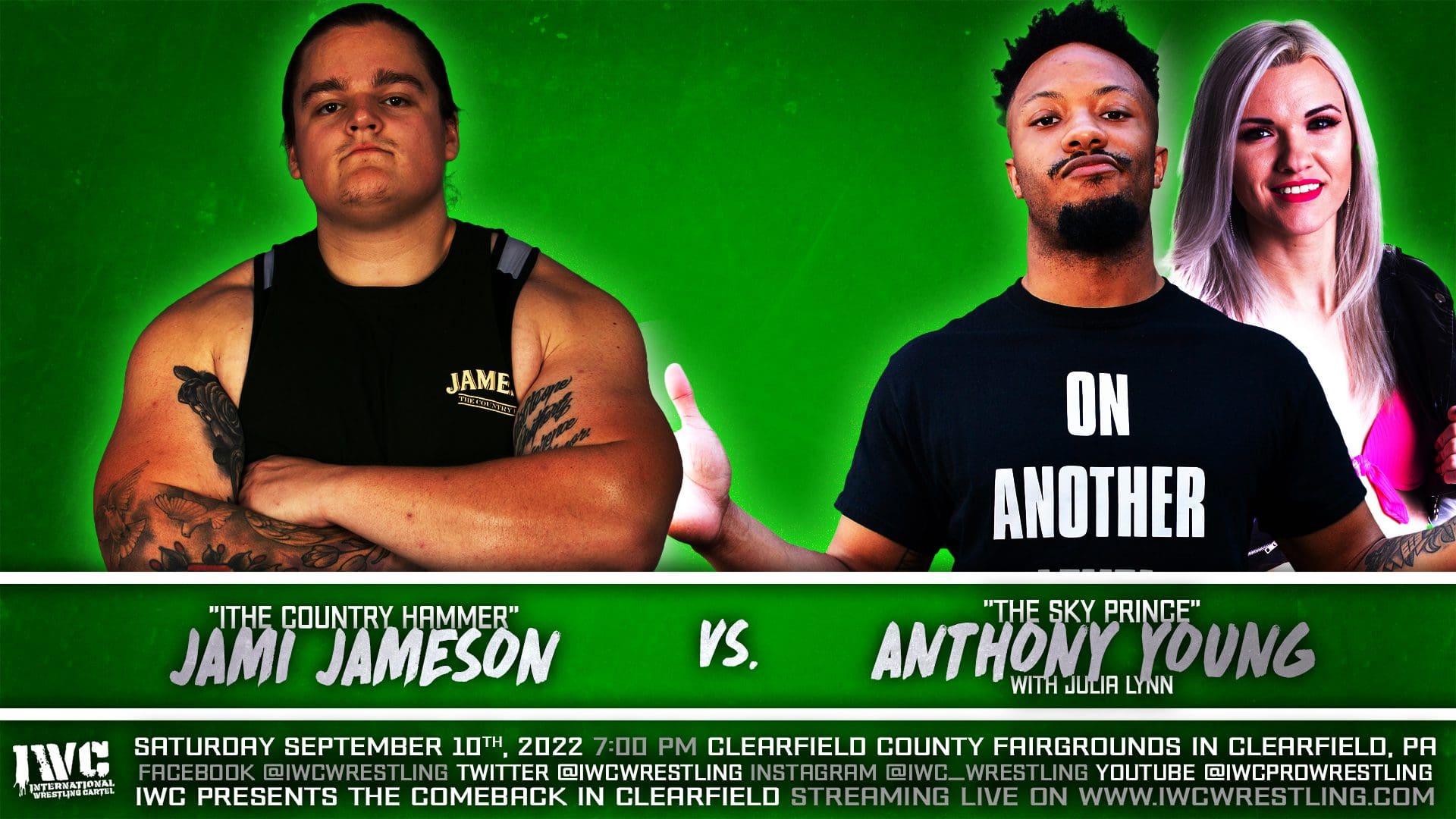 Jami Jameson made his Comeback to IWC just last month. He made it clear he'll do whatever it takes to get back in the grind and rise to the top! Anthony Young is a reason highlight reels were invented and continues to show unmatched athletisim in IWC! Both competitors are hungry for a win and plan to make a Comeback in Clearfield!
***
IWC will be livestreaming "The Clearfield Comeback" in an exclusive IWC NETWORK only LIMITED production on September 10th. Typically only available in the full, edited version on the IWC Network and FITE.tv afterwards, this Clearfield Livestream will be able to feature live commentary and an exclusive one-camera angle.