Super Indy 21 made history by crowning Cole Karter as the only back-to-back tournament winner, ever!!  Both fans and critics agree, Super Indy 21 may be one of best tournaments in IWC history!  With a new Super Indy Champion, a returning RC Dupree, and a heavy-fisted IWC Heavyweight Champion, WINNER TAKES ALL may be even better!!  The event will be live on the IWC Network and FITE.TV+, but there's nothing like being there live!!  Get your tickets now!  Live action kicks off at 7:00PM!!
Matches Begin at 7:00 PM!
BUILD BULK BETTER
Bulk Nasty & Zander Gabriel Return!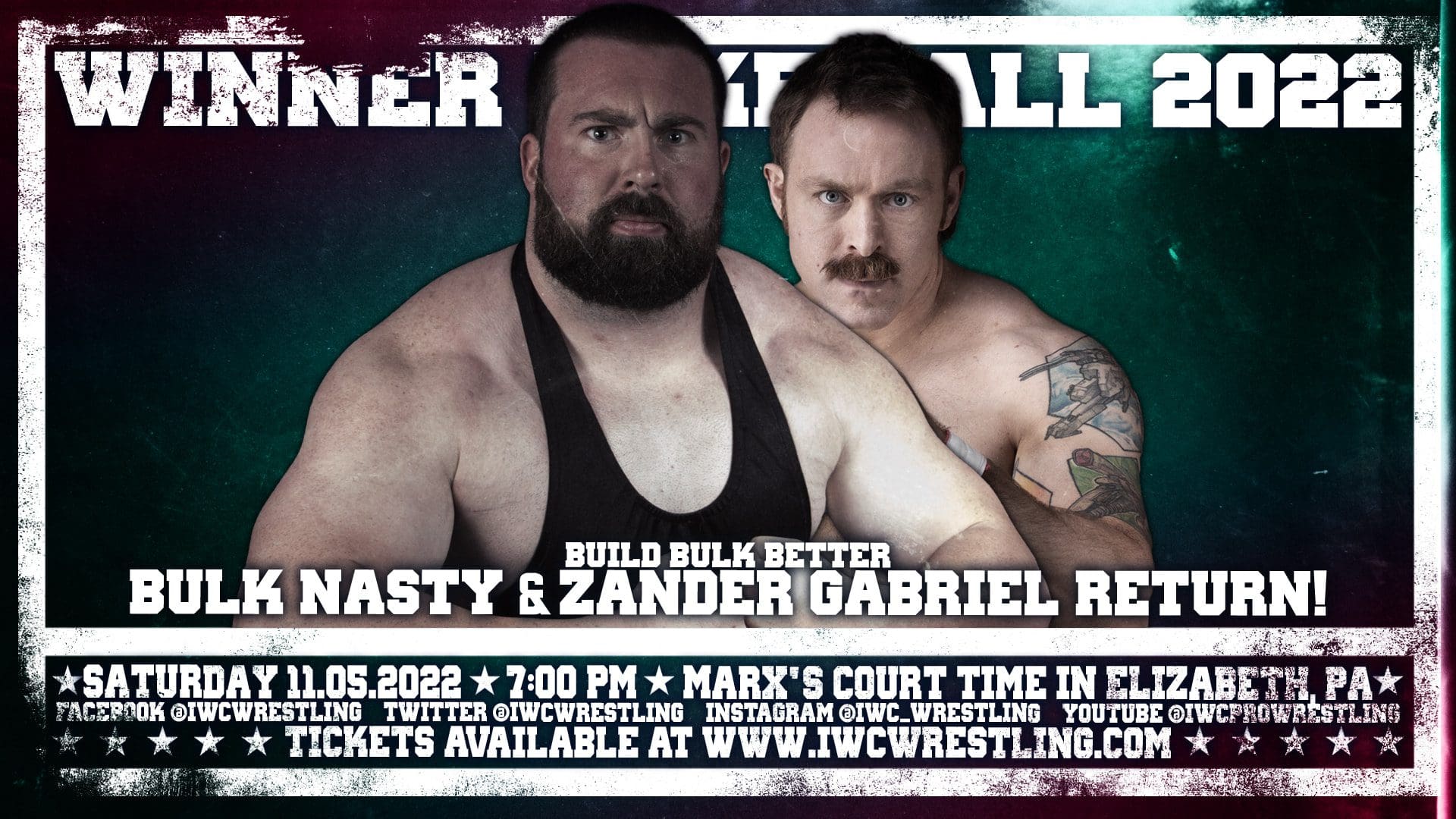 Zander Gabriel has spent MONTHS rebuilding Bulk Nasty after his IWC Championship loss.  Now we are told Bulk is better than ever, and on November 5th this former champion is BACK for BULK TAKES ALL!!  Who will step up to the challenge?  And, has Zander Gabriel created an unbeatable monster?!
Men's Tag Team Match
IWC Tag Team Championship Matc
Lebanon Don & Tito Oric vs TME (Duke Davis & Ganon Jones Jr.)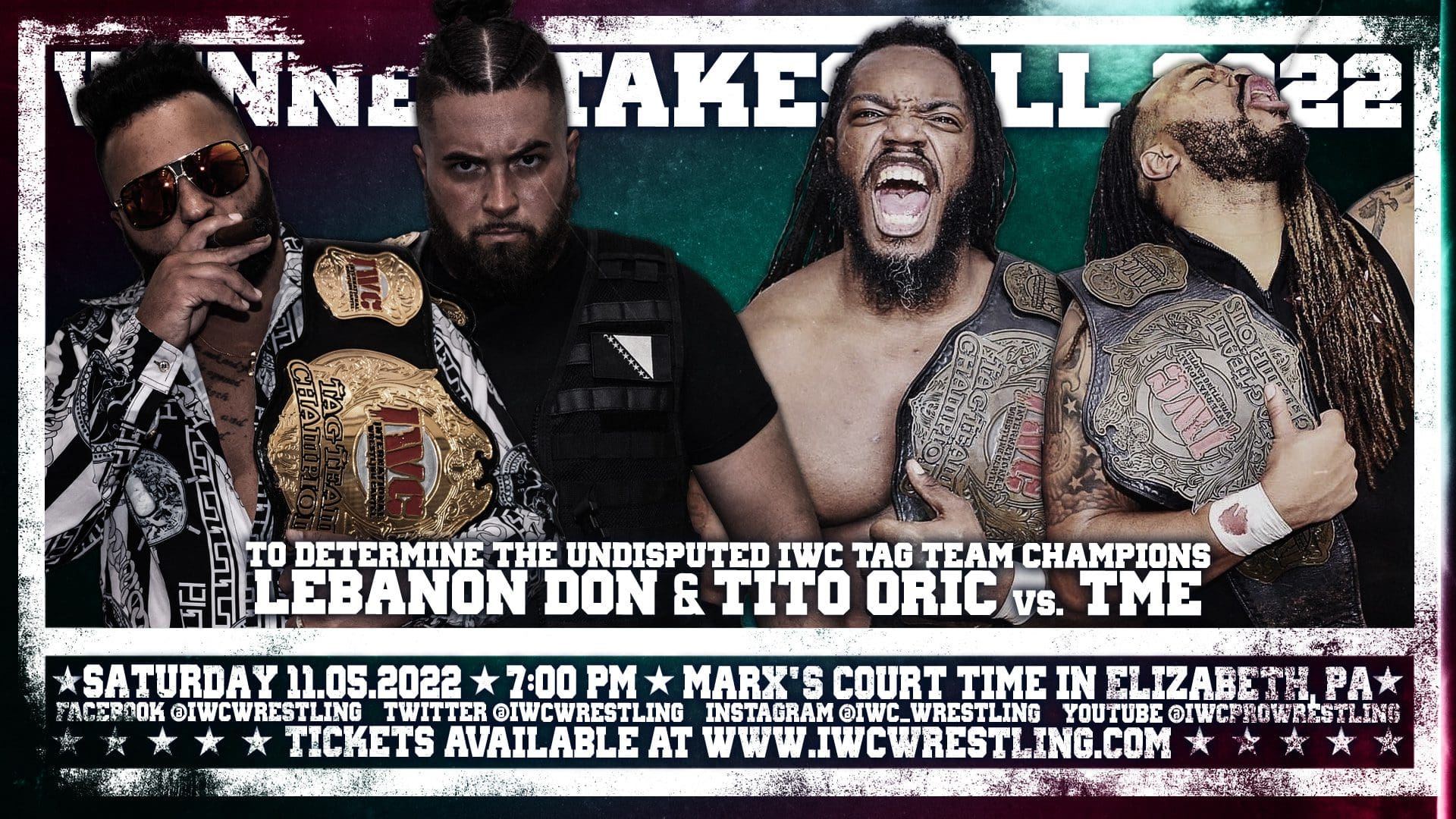 It's finally happening!  Both pairs of IWC Disputed Tag Team Champions will settle months of controversy in a unification match to determine the new UNDISPUTED IWC Tag Team Champions!  Who will take home ALL of the gold?!
Inter-gender Singles Match
Katie Arquette vs Andrew Palace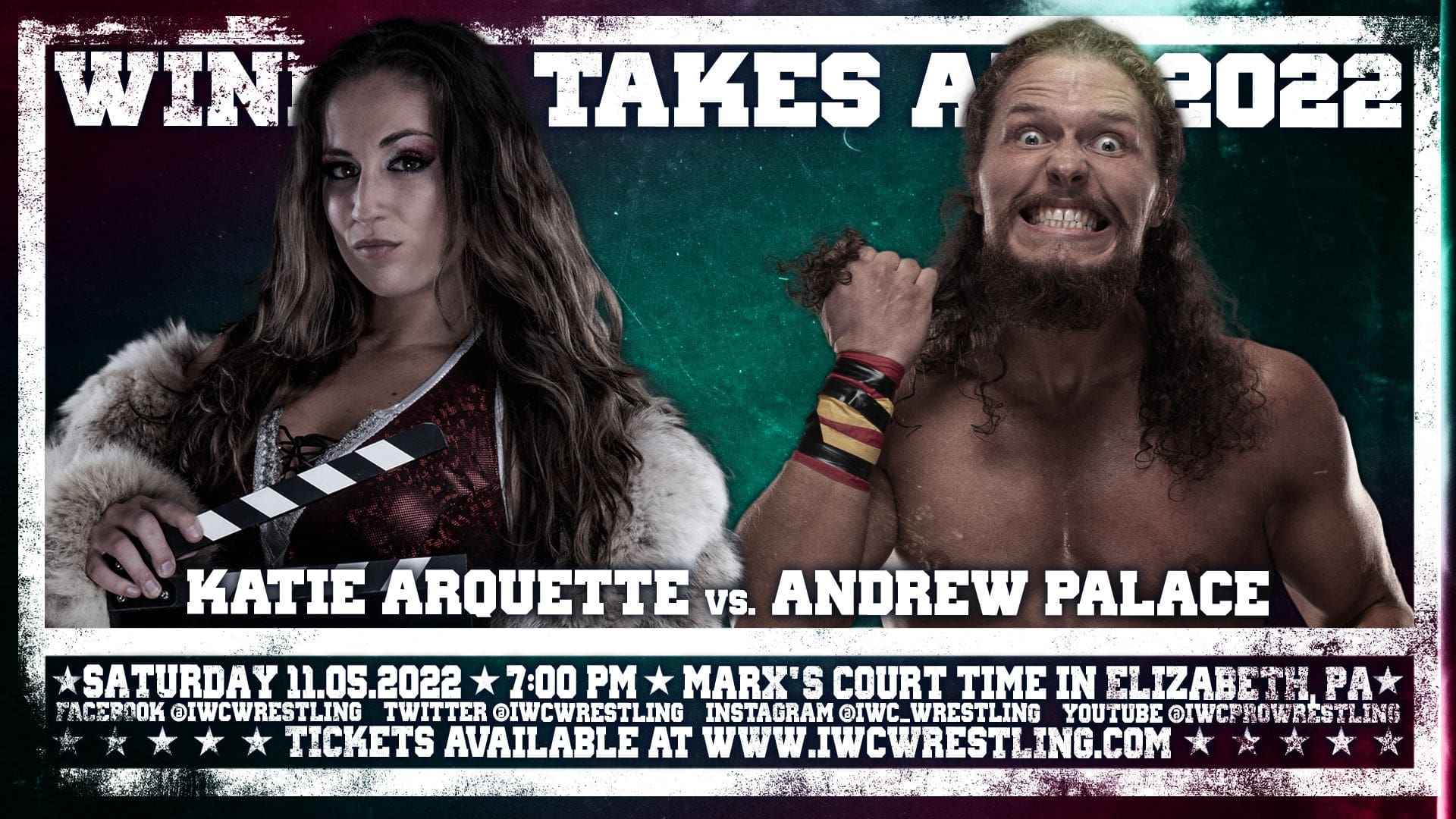 In order to end the back-and-forth distractions, interferences, and elongated tensions, Andrew Palace has agreed to a singles match against Katie Arquette. Arquette has been picking Palace's opponents for months, trying to break him down and dismantle him; but why?! Palace is determined to get answers from Katie, no matter what he has to do.
Men's Singles Match
Pick Your Posion Match
Bill Collier vs Mandime's Choice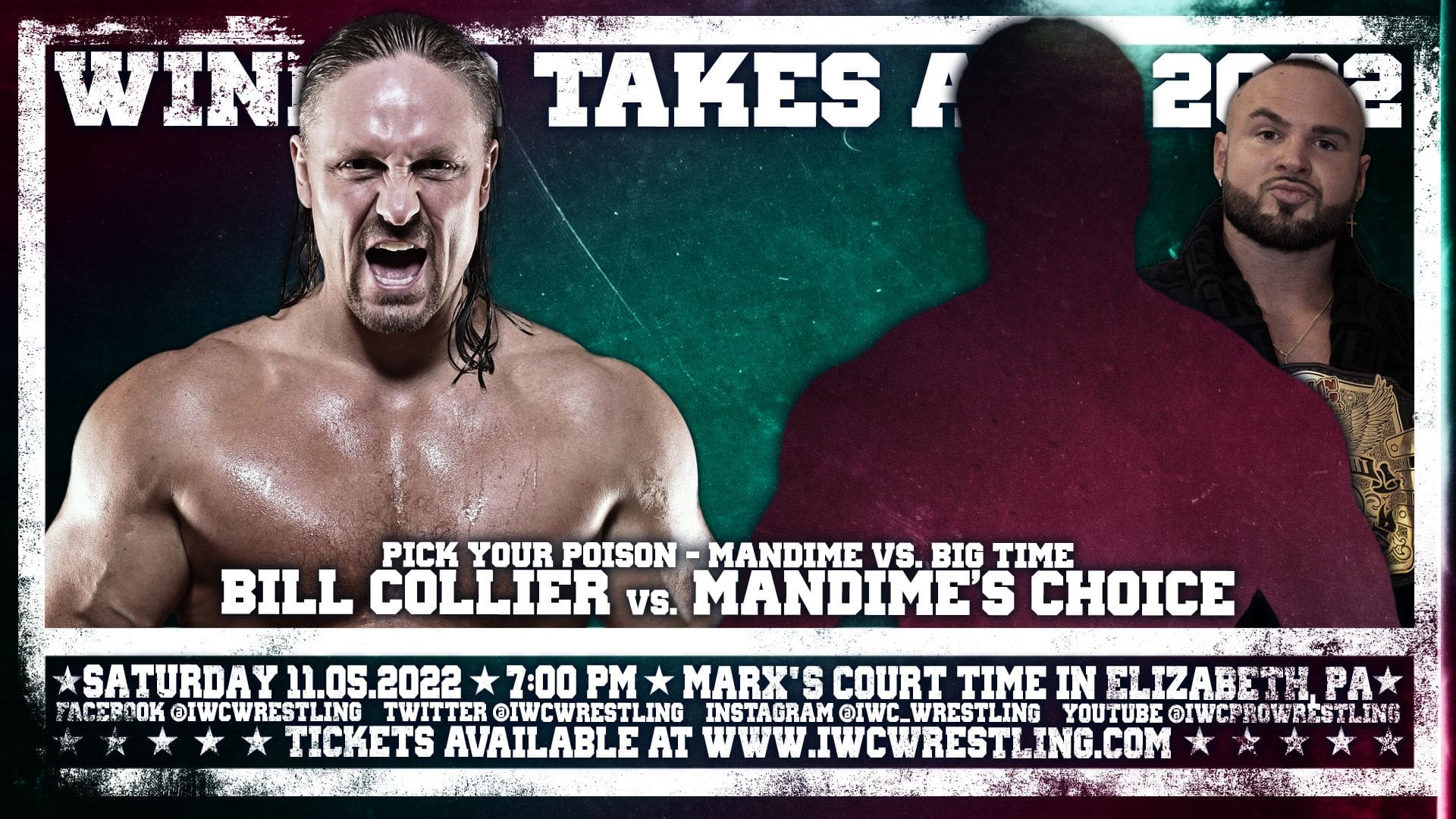 Announced recently, IWC Heavyweight Champion 
Elijah Dean
 will only face 
Bill Collier
 if Bill agrees to take on the Champ's secret weapon in a Pick Your Poison match. Bill Collier must defeat whomever Dean picks before he can get his hands on the Champ!! Who will Dean pick?
*
Men's Singles Match
Pick Your Posion Match
Bill Collier vs Mandime's Choice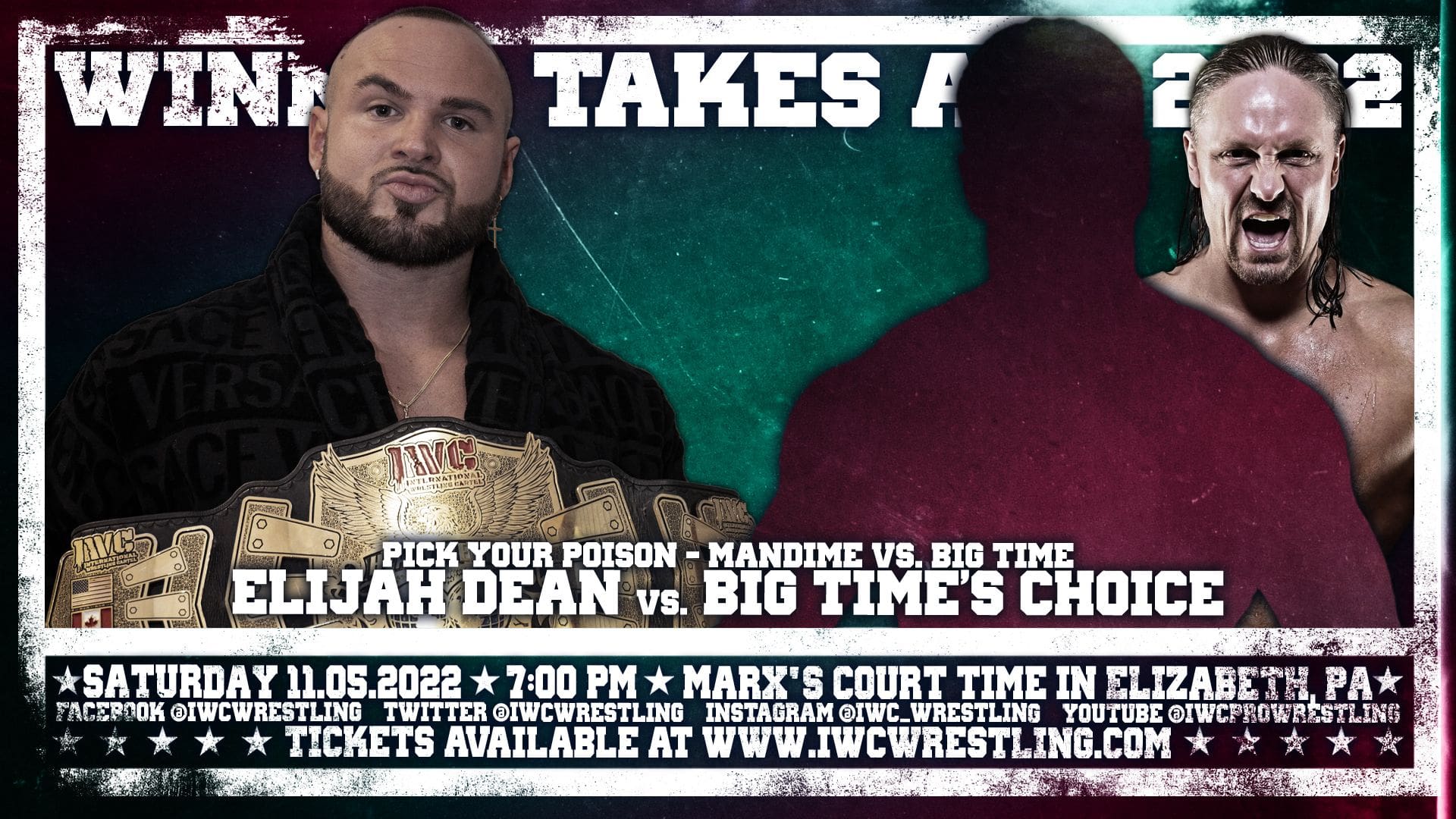 Quick to accept,
Bill Collier
agrees to the
Elijah Dean
's challenge to wrestle an opponent of the IWC Heavyweight Champion's choosing. But, to reciprocate the opportunity, Dean must wrestle an opponent of Bill's choosing. And, Bill has some scary friends.
*
Men's Singles Match
IWC Super Indy Championship, Rematch
Cole Karter vs Derek Dillinger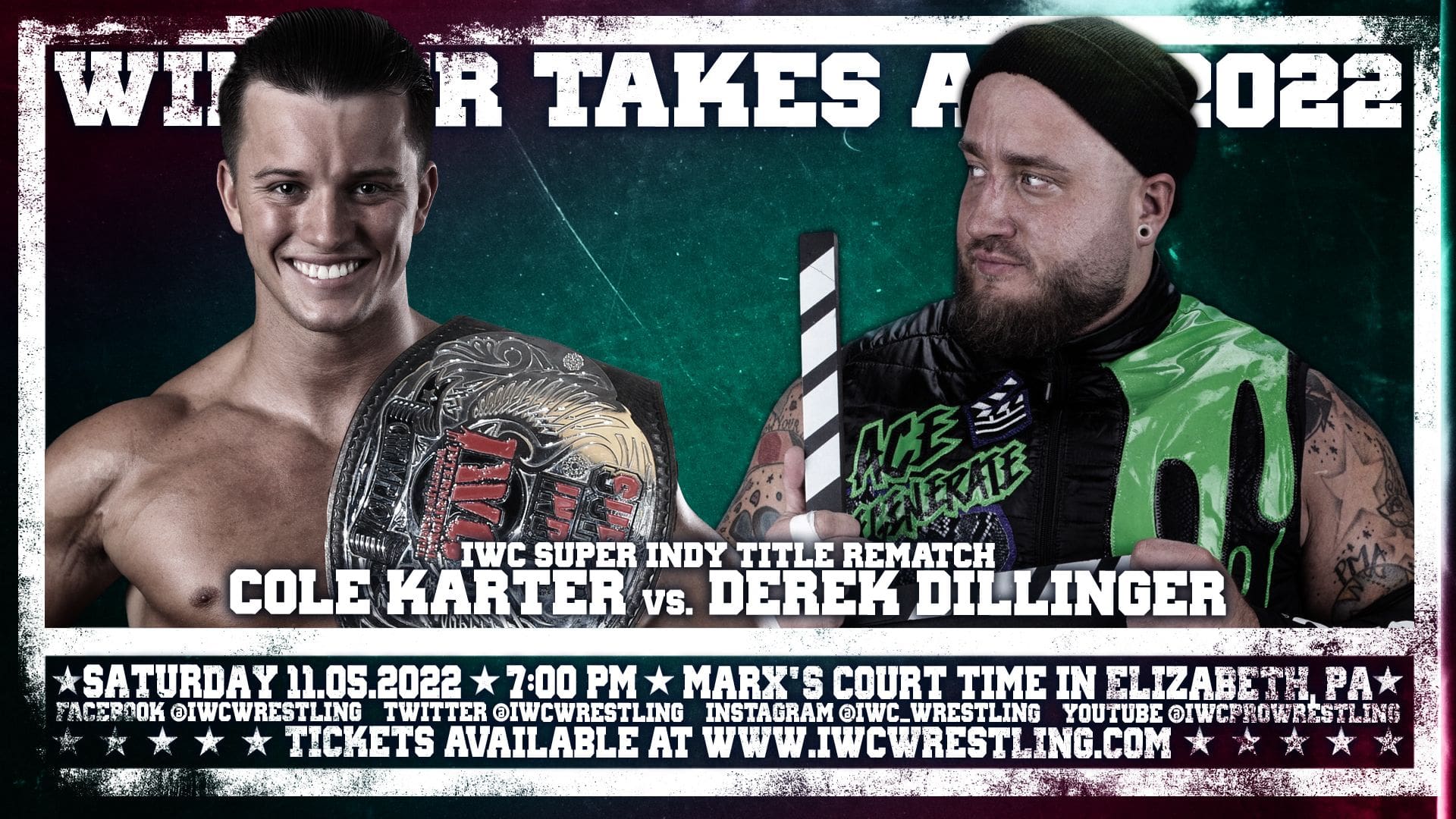 Cole Karter
 will defend his IWC Super Indy Championship against Derek Dillinger at Winner Takes All!! Dillinger lost the Super Indy Championship after Cole Karter was the first person to win back-to-back Super Indy Tournaments! Dillinger is in no mood to wait and demanded his rematch immediately!
*
Men's 5-Way Match
IWC Super Indy High Stakes Championship 
Alexander Apollo vs Glenn Spectre vs Gory vs Johnny Patch vs Anthony Young
Alexander Apollo
has taken on every challenger and stipulation possible for over a year. Because of this impressive performance, he's now the longest reigning High Stakes Champion in IWC history!  A fighting Champion, Apollo has agreed to a 5-Way Battle (
Glenn Spectre
,
Jason Gory
,
Johnny Patch
, & Anthony Young) for the High Stakes Championship where the Winner Takes All!
*
Men's Singles Match
Mambo Italiano vs Jack Pollock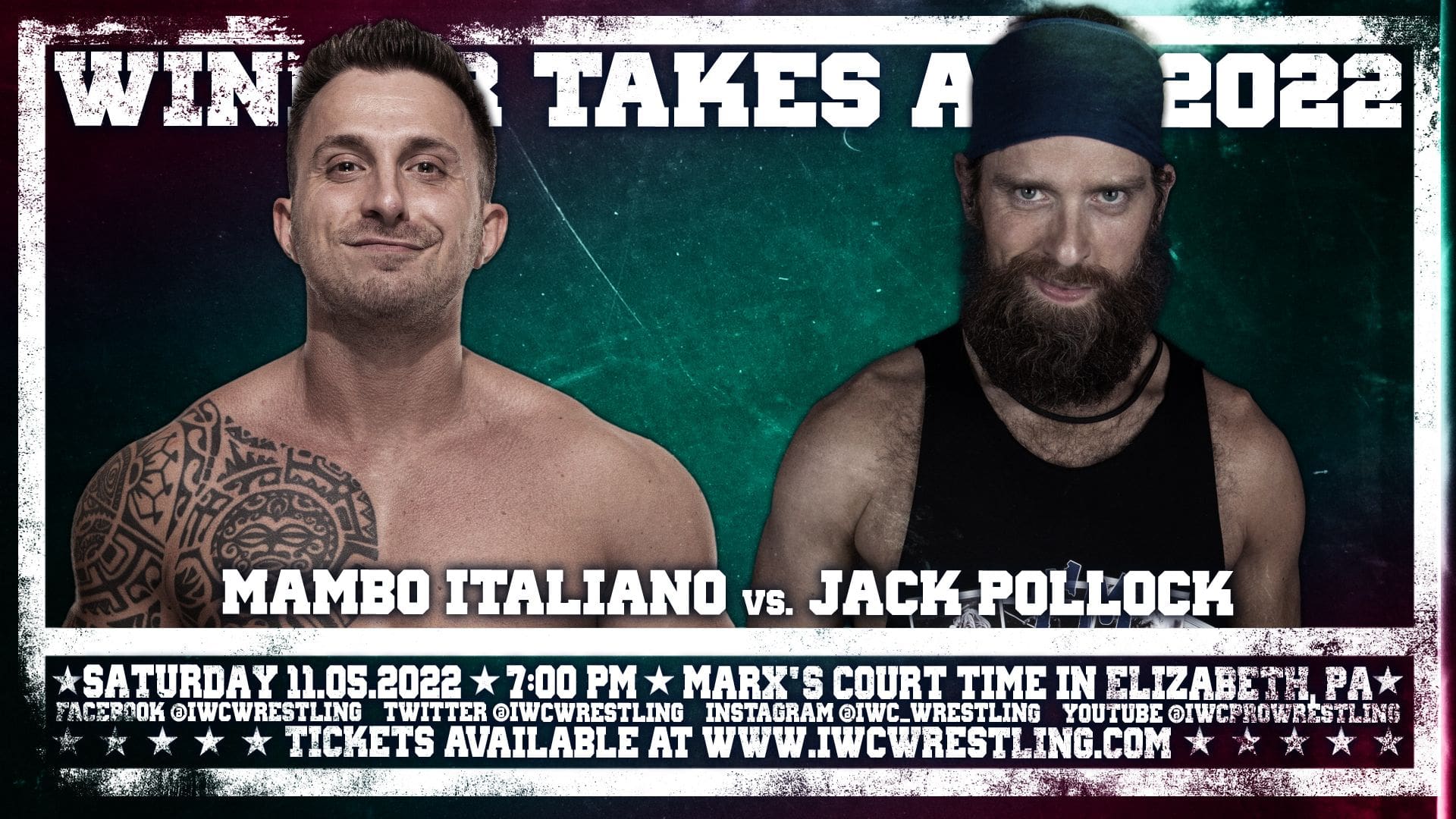 Jack Pollock
is back in IWC!! Being sidelined since War Games, Pollock is rested but restless. Hoping to rebuild momentum, Pollock requested a top competitor to give him a challenge on his return. Making rounds on Network Television, traveling the world for fights and opportunities,
Mambo Italiano
knows he's just the man to answer the call and spoil Jack's comeback!
*
Men's Tag Team Match
Chase Gold & Paris Sahara vs Brotherly Love
Brotherly Love
might as well dress like the Eagles for Halloween because both teams are undefeated! With the IWC Tag Team Championships under contention, Brotherly Love is instead looking to continue to test their abilities in IWC.
Chase Gold
is still mad about Wrestling at the Ball Park and
Paris Sahara
is making his return to IWC, and plans on stealing all of Brotherly Love's momentum and motivation!
***
***
Prepare for IWC's Winner Takes All on Saturday Novmeber 5th!  Tickets are available now!!