We don't know about you, but it's starting to feel like the Twenty Second anniversary of the International Wrestling Cartel (IWC)!!  With 22 years of rich, Pittsburgh wrestling history, this year's anniversary event is pulling out all the stops in featuring two WWE Legends:  X-Pac and JTG!  Along with that we'll see every Championship defended and the debut of several ICWA Graduates!  Find your tickets now or stream live on FITE+ and the IWC Network!!!
Men's Singles Match
IWC Heavyweight Championship
Bill Collier vs TitoOric, w/ The Lebannon Don Joey Moses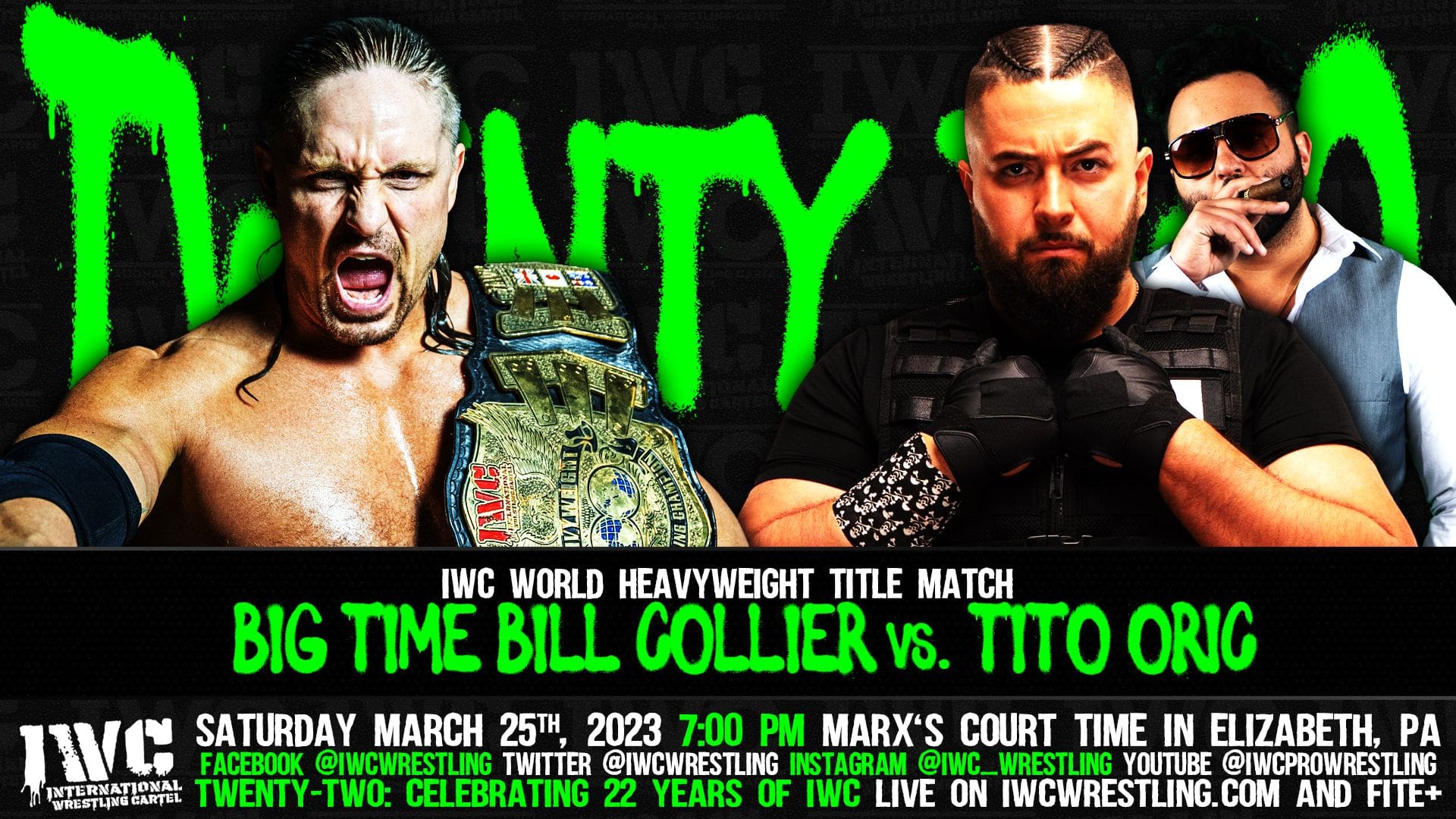 After a successful defense of the IWC Heavyweight Championship against Reset Button surprise opponent, Matt Taven, Bill Collier had to stare the future in the face! Tito Oric made his presence know to the champ, and showed no signs of backing down. Will it be the "Bosnian Bone Breakers" time? Or will "Big Time" show Oric what time it really is?
Men's Singles Match
IWC Super IndyChampionship
Cole Karter vs J.T.G.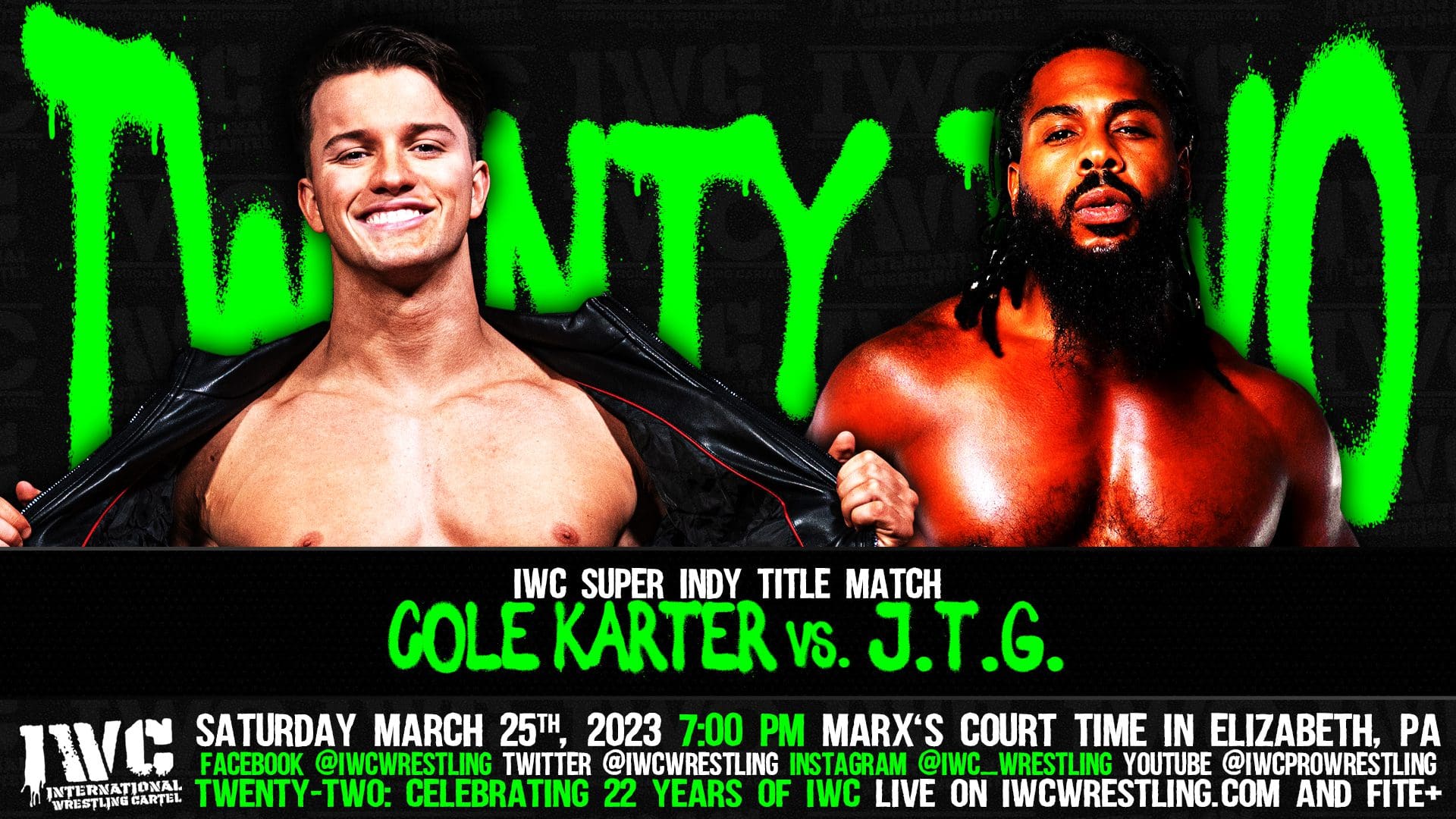 You asked for it, so you got it! AEW Star Cole Karter has the opportunity to solidify his legacy when he defends his title against former WWE Star JTG!!
Women's Singles Match
IWC Women's Championship
Ray Lyn vs Katie Arquette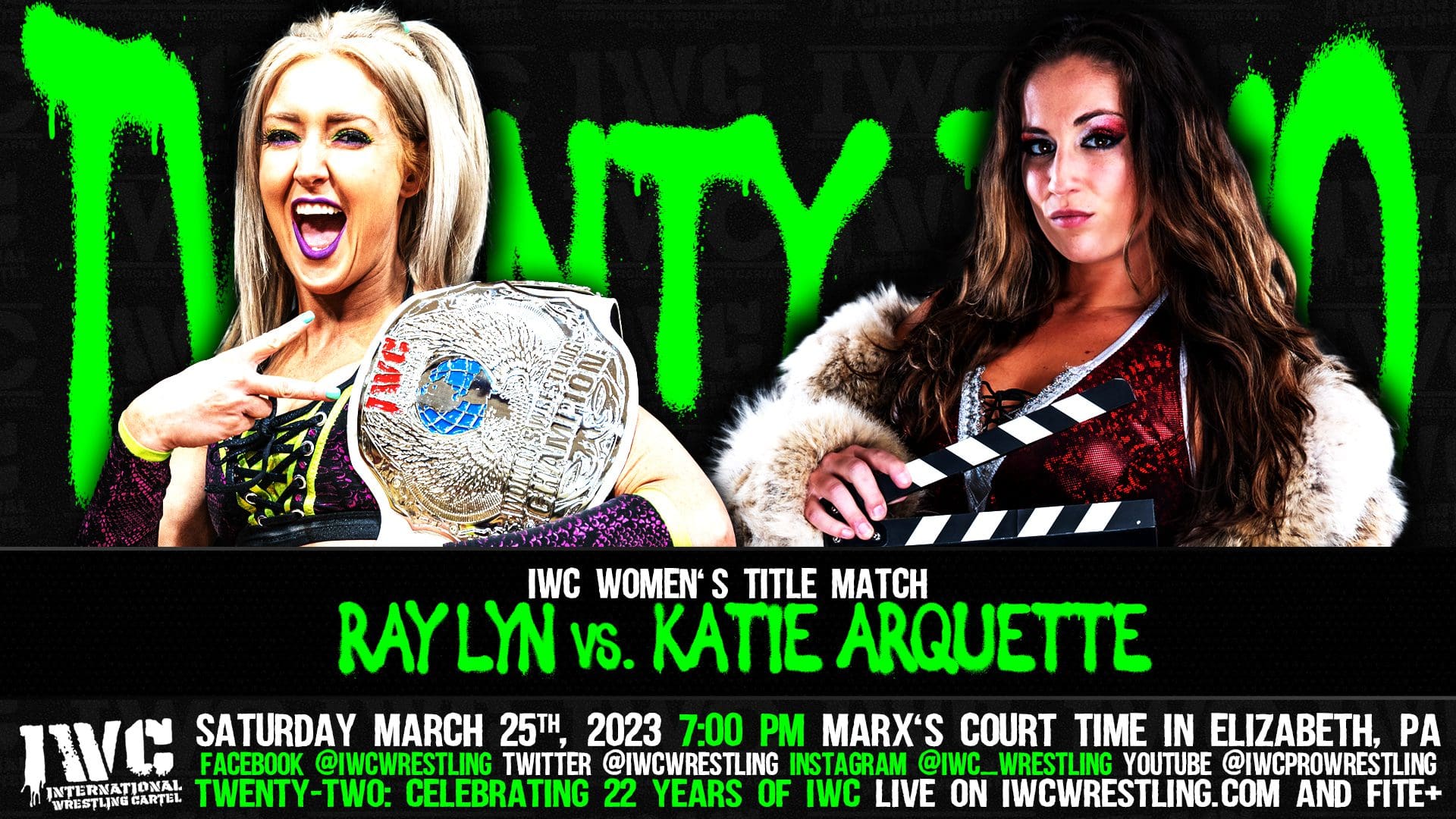 If you were at our last event, you already know! On March 25th, we celebrate our anniversary with an incredible match-up between two of the greatest IWC Women's Champions in our 22 year history!
Men's Triple Threat
IWC High Stakes Championship
Spencer Slade vs Anthony Young. w/ Julia Lynn vs Wes Barkley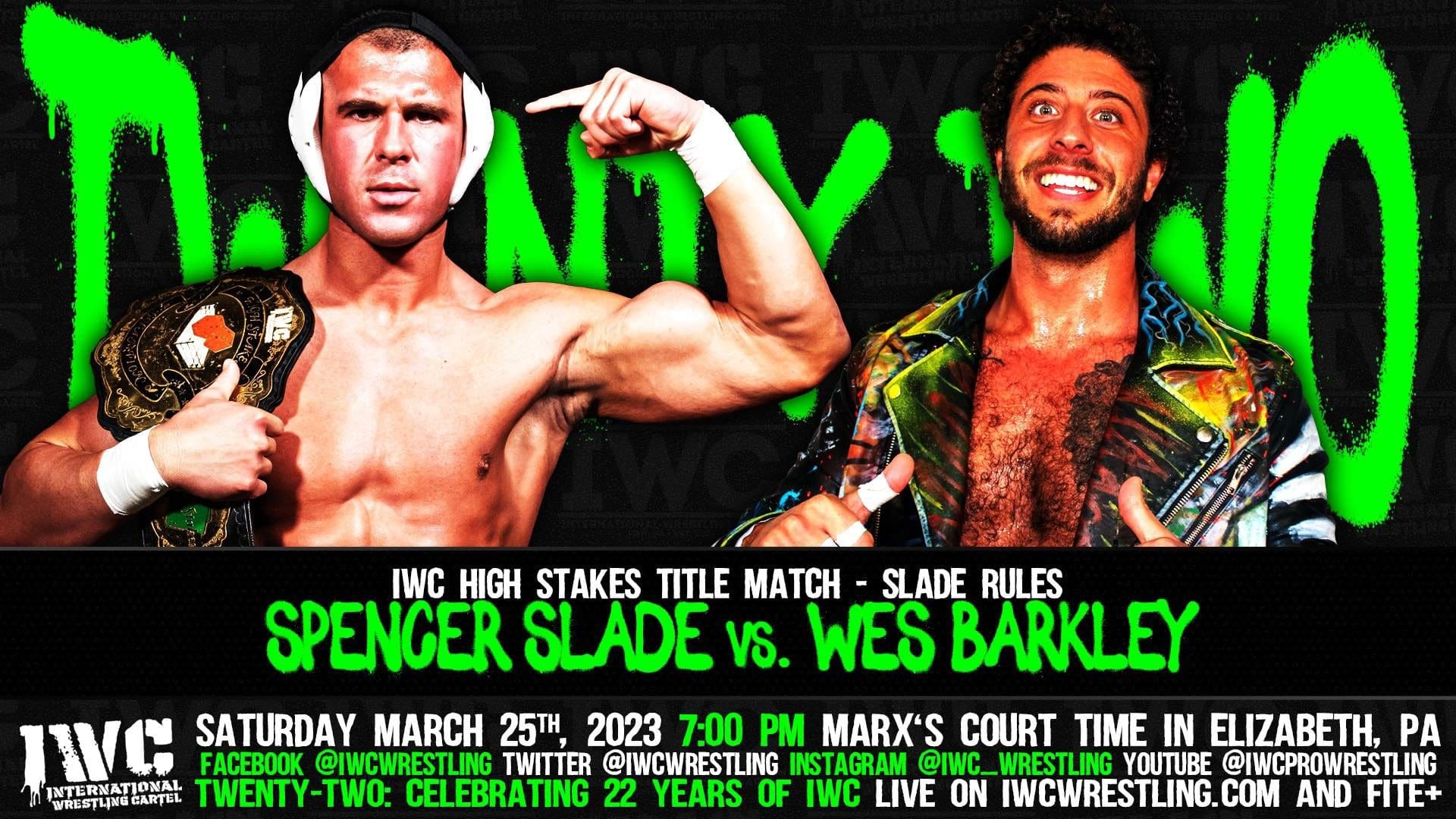 After speaking with management about his contractual obligations as the High Stakes Champion, Spencer Slade has informed IWC that there's been an amendment to the "Slade Rules". Due to this added stipulation, the previously announced match versus Anthony Young and Wes Barkley must be modified accordingly…!
Men's Tag Team Match
IWC Tag Team Championships
Brotherly Love vs The Culmination vs TME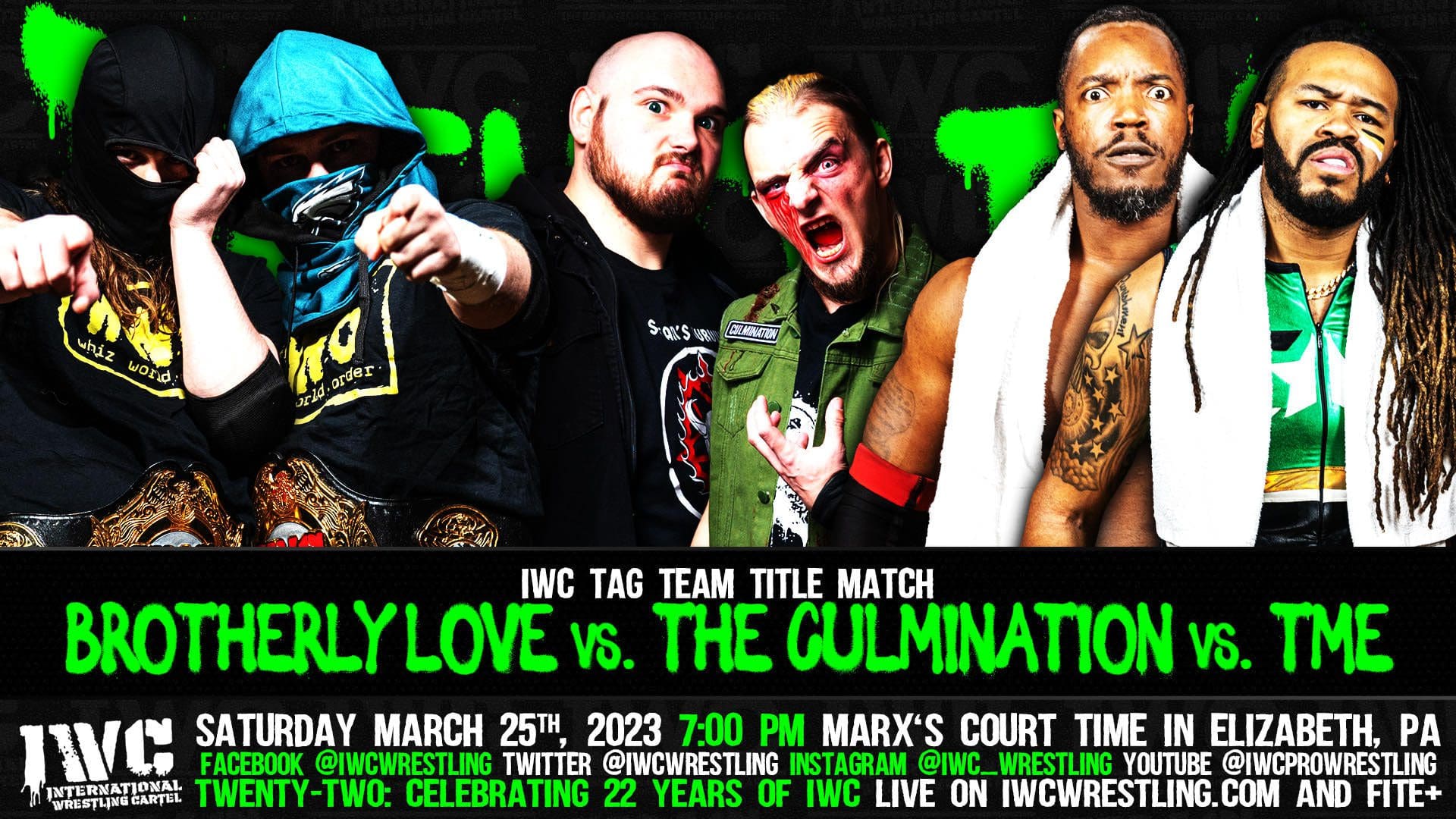 AtThe card is always subject to change! Now at IWC Wrestling ft. X-Pac! on March 25th, TME will join the tag team title match in the second half of our double main event! If TME wins, they will set the record for most IWC Tag Team Championship reigns in our 23 year history! Can they do it?
Men's Singles Match
Derek Dillinger vs John McChesney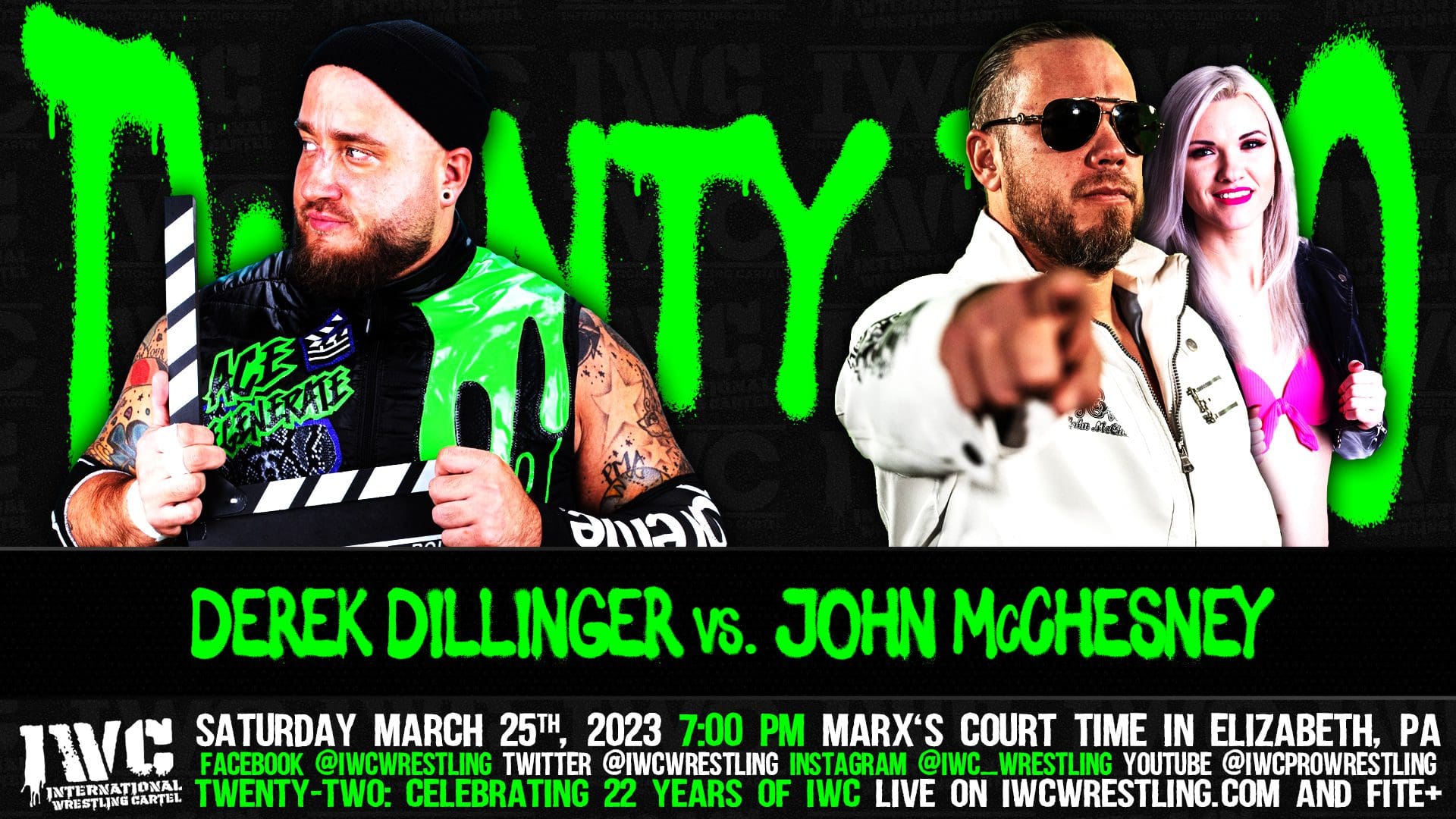 Ever since winning the Pittsburgh Classic Invitational, Derek Dillinger has been adamant that he is the one true Pittsburgh wrestling legend. However, one man has now taken exception to that, and that man may truly be the best ever in this area! John McChesney has held more titles than anyone in IWC history, and he looks to prove he's still one of the best on March 25th!
Men's Singles Match
Anthony Catena vs Sam Handeman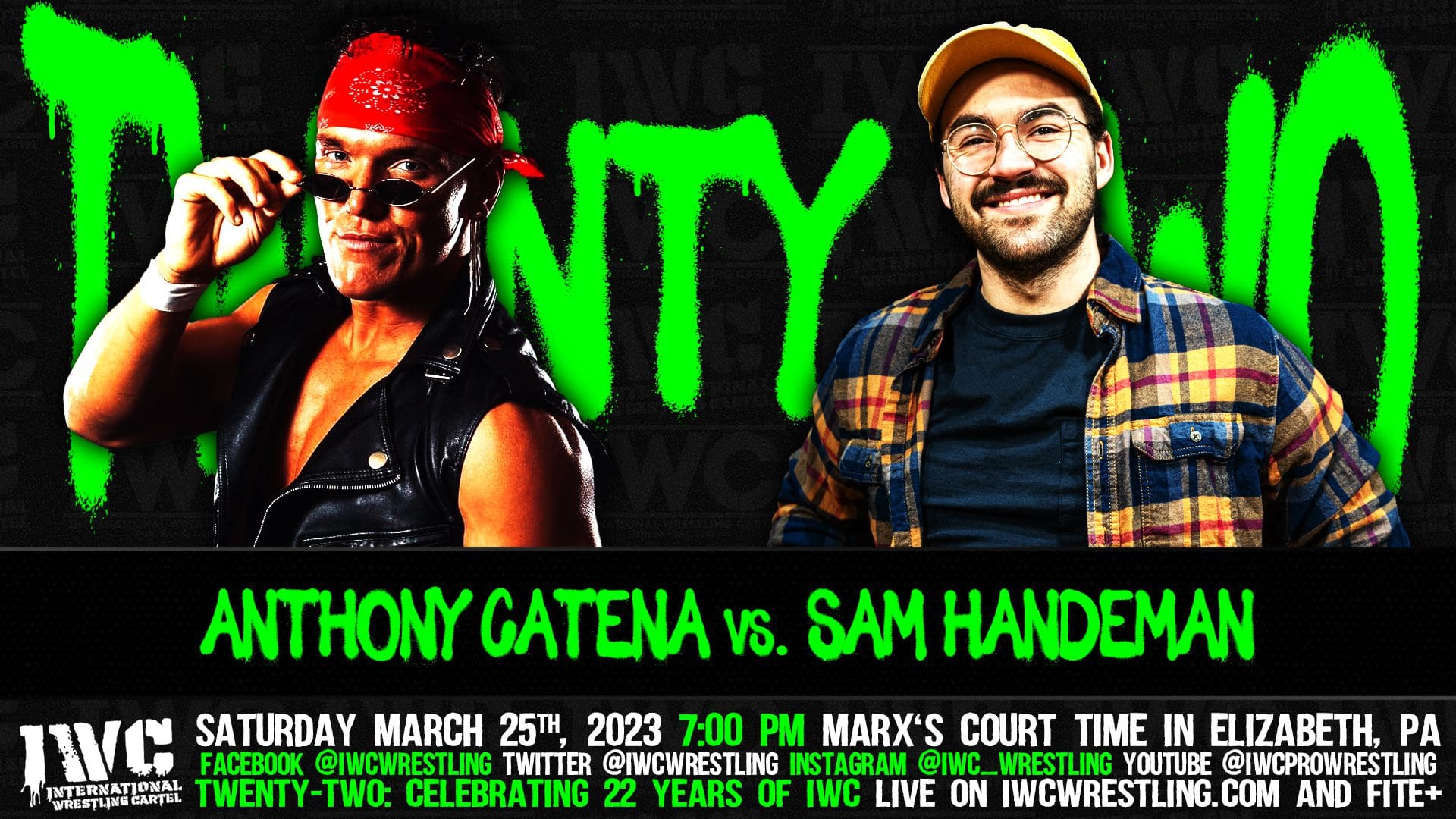 Anthony Catena had an impressive singles debut in IWC, but on March 25th he is back to prove he belongs the title hunt! However, he will have his hands full with one of the top rookies debuting out of the ICWA, Sam Handeman!  At Twenty-Two, the IWC faithful will get a glimpse at several wrestlers aspiring to make a name for themselves.  Sam "Handeman" has a real knack for taking care of business.  He enjoys going to work and doing what's needed to get things done. On March 25th, will Sam Handeman have a successful first day? Or will he find out how hard this job really is?!
Men's Tag Match
Andrew Palace & Jaxon Argos vs RC Dupree & Jack Pollock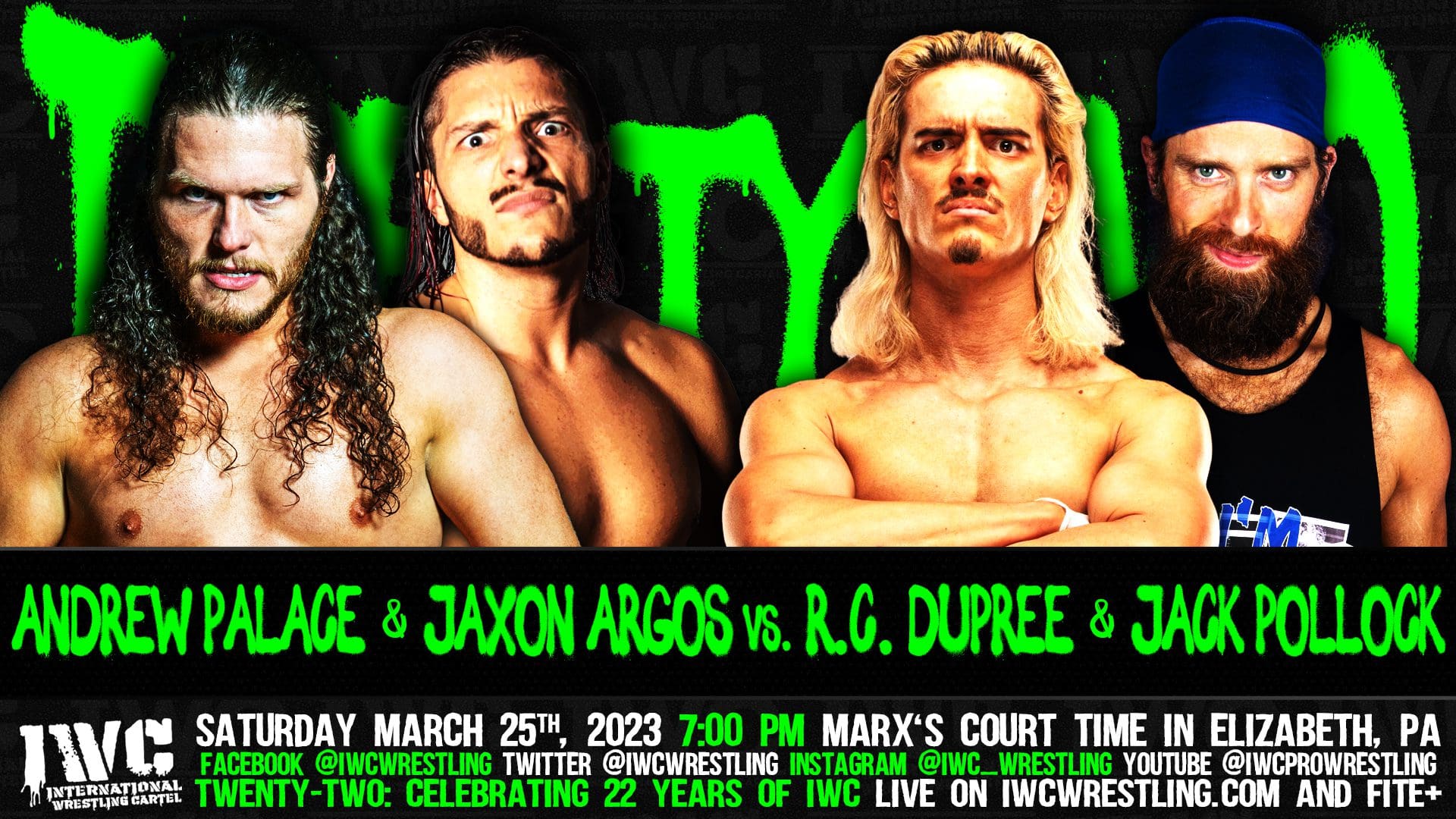 Another match added to this Saturday! And it's going to be…. "FUN"!
Men's 2-on-1 Match
The Regulators vs Jock Samson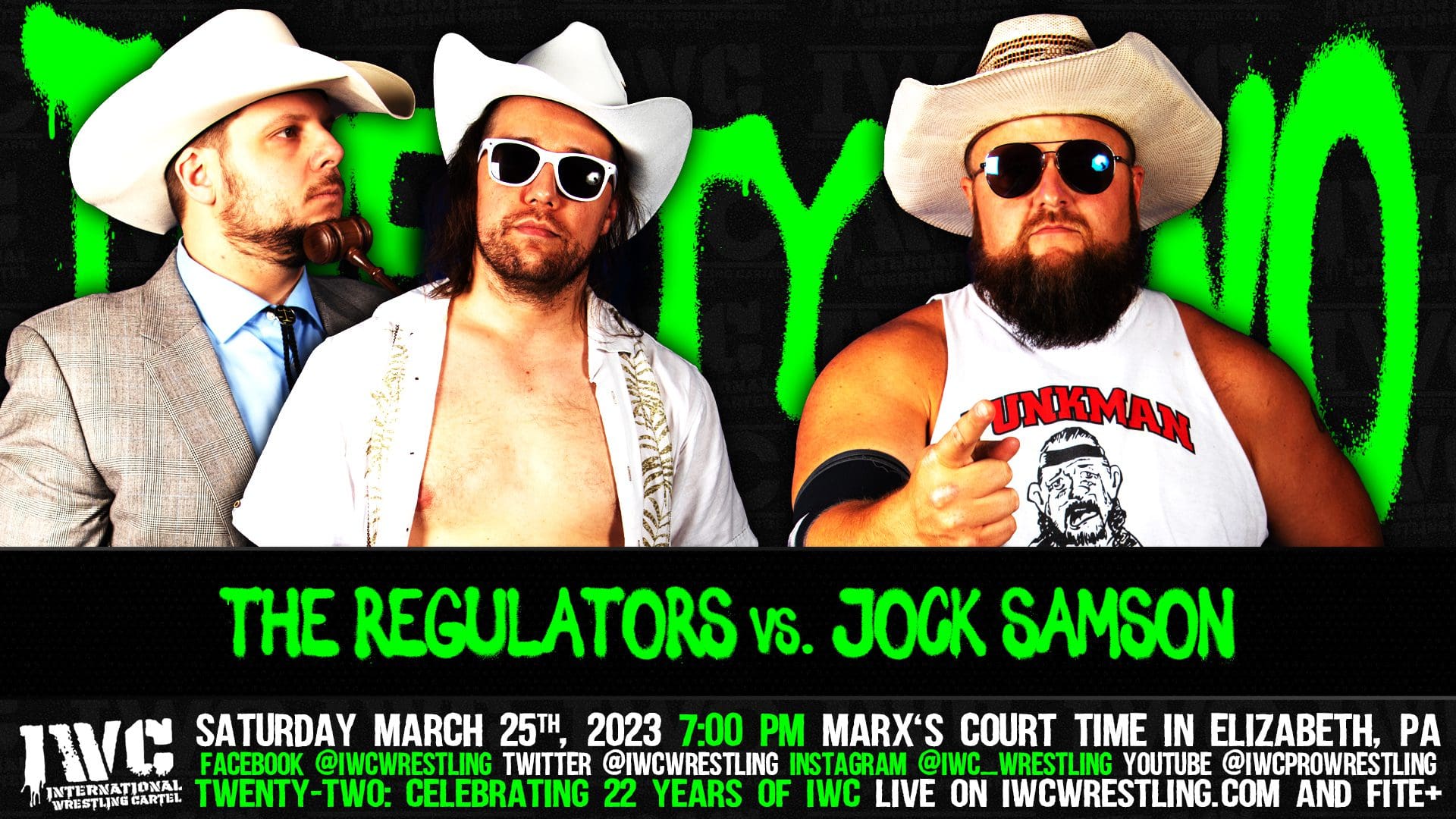 Jock Samson's career is on the line when he faces his former teammates David Lawless and Chris LeRusso!!
*
*
Men's Singles Match
Jami Jameson w/ Zander Gabriel vs Jason Tyler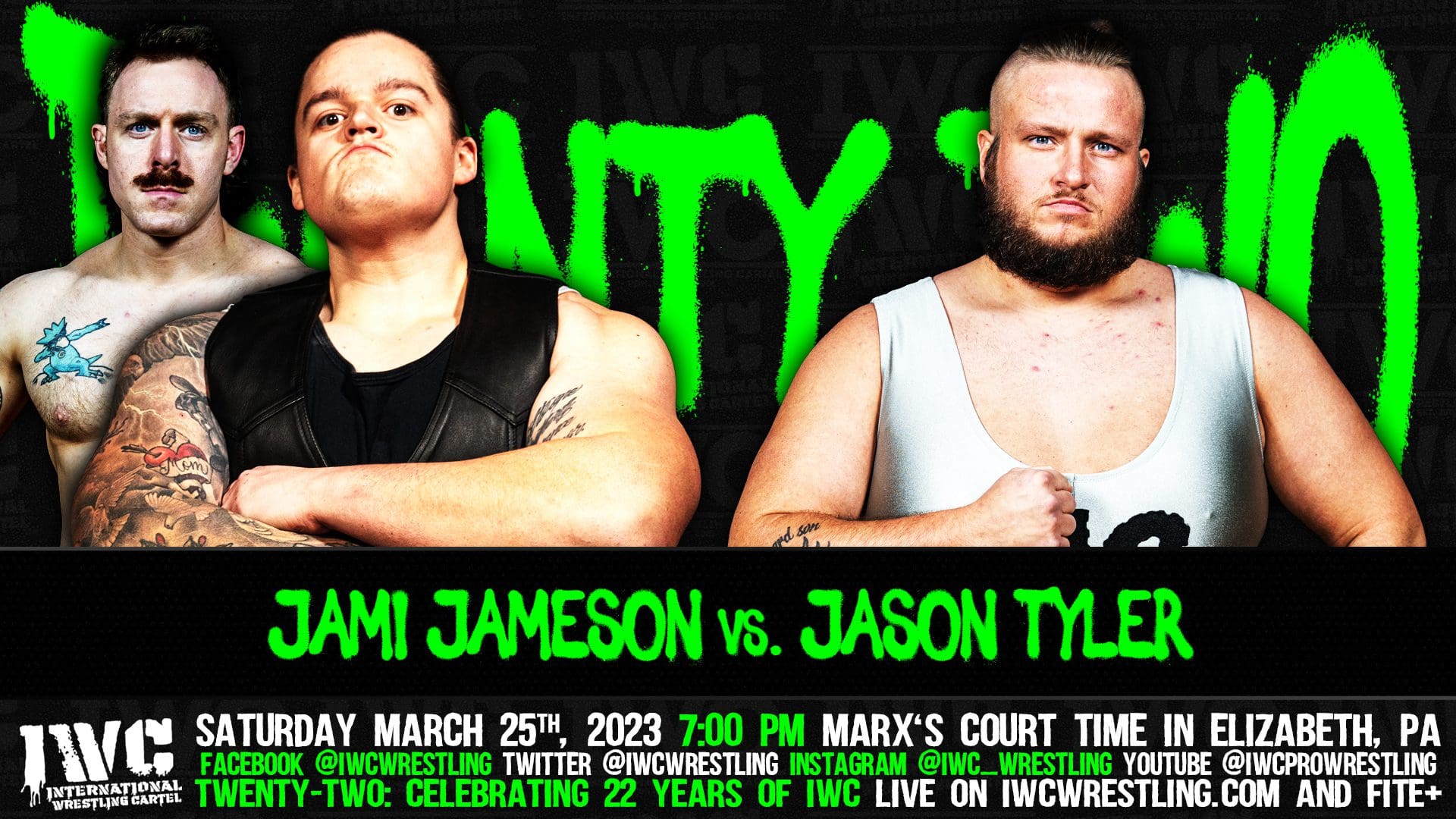 At IWC's Reloaded, Jason Tyler attempted to make the save for Bulk Nasty. Unfortunately, he may have gotten himself involved in a fight most would have strayed away from. On March 25, Jami Jamison, along with Zander Gabriel, are looking to bring their brand of justice to the "Big Rig". Will Jason Tyler prove himself ready? Or will the "Country Hammer" detour his path forward?
*
*
Men's Singles Match
Glenn Spectre vs Matthew Jaeger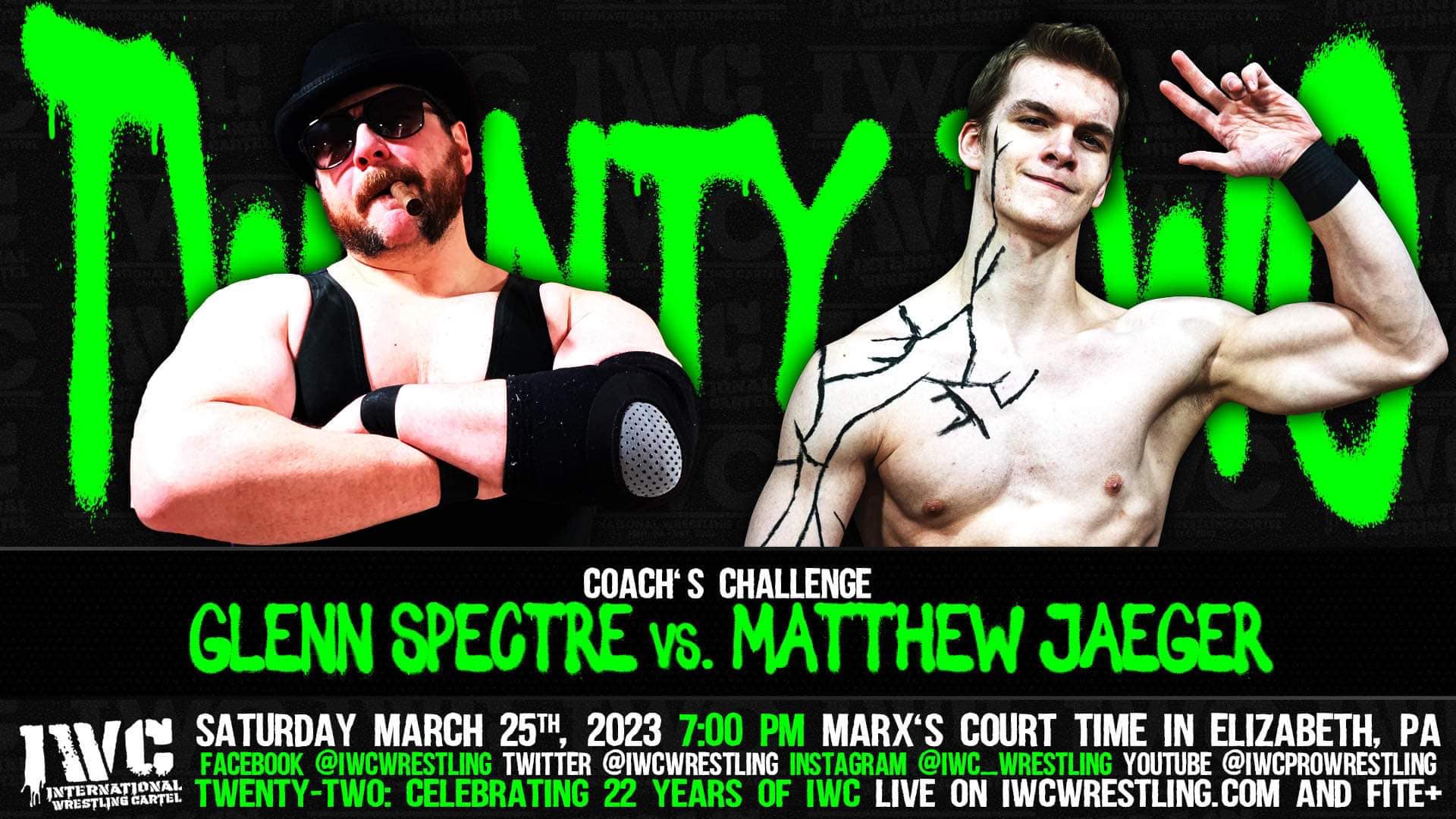 Glenn Spectre has had enough when it comes to "rookies". In his early years, Spectre was one of the "young lions" in the IWC. But now, as the Big Boss of the ICWA, he's here to teach these up and comers a lesson. The "Coach's Challenge" seems to be specifically designed to do that, and it didn't take long for one of the next crop of talent to accept. A debuting Matthew Jeager has his eyes set on victory. This young athlete seems to enjoy pushing the limits, as he's always trying to feel that rush of adrenaline. Can Jeager's thrill seeking style overcome the Big Boss' years of experience? Find out if March 25th!!
*
*
In-Ring Apology
Referee C.J. Sensation
After the oblivious actions of Referee C.J. Sensation at our last event, Mr Plummer has demanded C.J. apologize for his erroneous behavior or face punishment!
*
*
Facebook Live Pre-Show Match
Mambo Italiano & Chase Gold vs Anthony Young w/ Julia Lynn & Alexander Apollo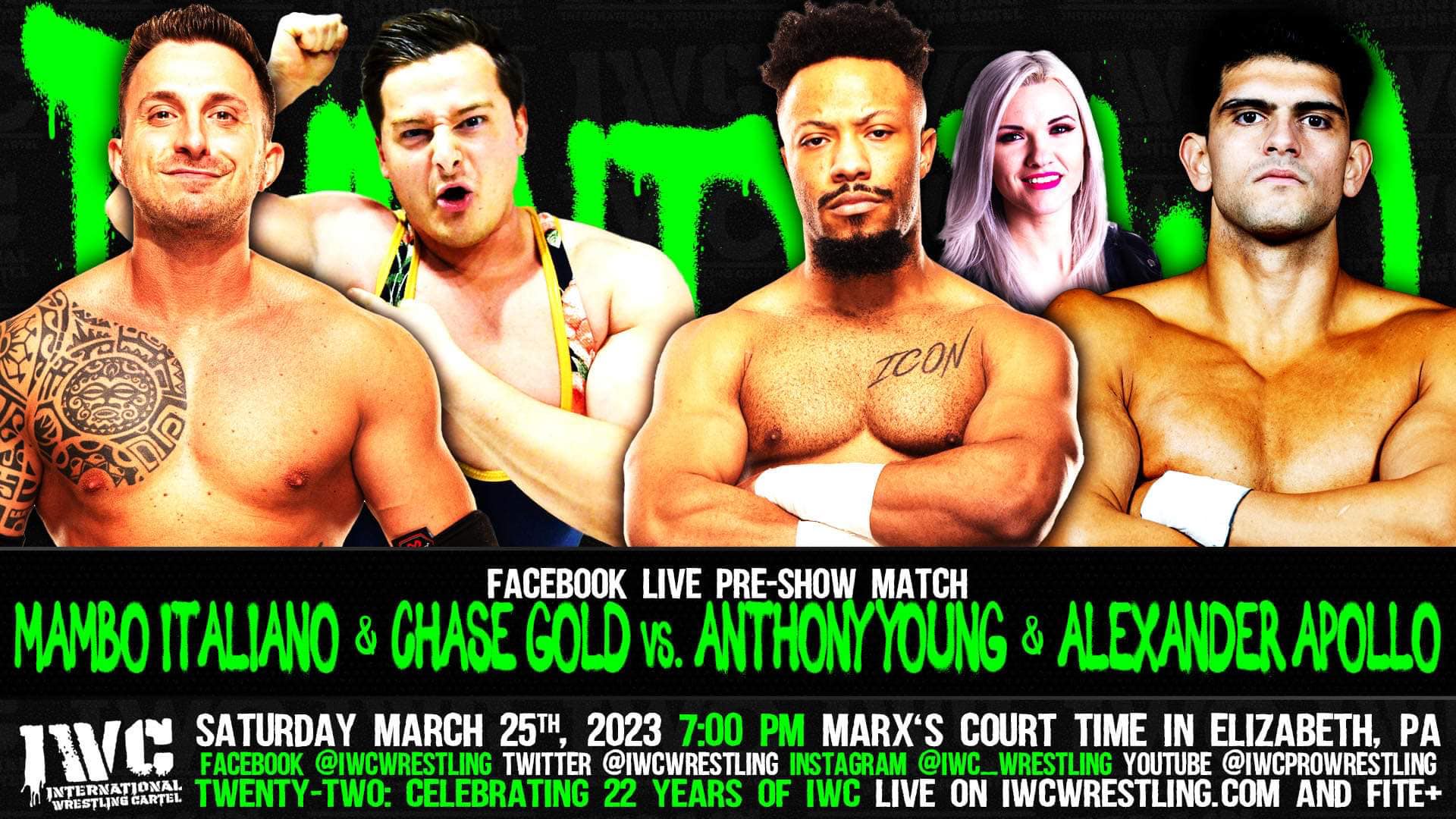 After being denied an opportunity at the High Stakes Title, Anthony Young is looking to build some momentum at IWC Twenty-Two. On March 25th, A1 cashes in a favor from Alexander Apollo, as this freshly paired duo takes on the team of the world traveled, Mambo Italiano and the self proclaimed best smelling man in wrestling, Chase Gold! This tag team encounter will be "Free for All", as it'll take place before the main card, on Facebook Live. Check it out, at 6:40pm, only on the IWC Wrestling Facebook page!
*
*
 Only a fewingside seats remain (don't worry, we have unlimited General Admission) ! But don't miss your chance to celebrate IWC's 22nd Anniversry!!  Tickets are available now!!