SUPERSTAR SHOWDOWN is back and this time IWC has invited vintage and legendary wrestlers from all over!!  On April 29th IWC takes over the cfsbank Event Center in Belle Vernon, PA (formerly Rostraver Ice Garden) when they bring you WWE Hall of Famer Rob Van Dam in action, a special meet & greet with WWE Hall of Famer Jake "the Snake" Roberts, plus AEW/ROH star Briane Cage in action!!  Find your tickets now or stream live on FITE+ and the IWC Network!!!
Meet & Greet 5:00 PM
Belltime 7:00 PM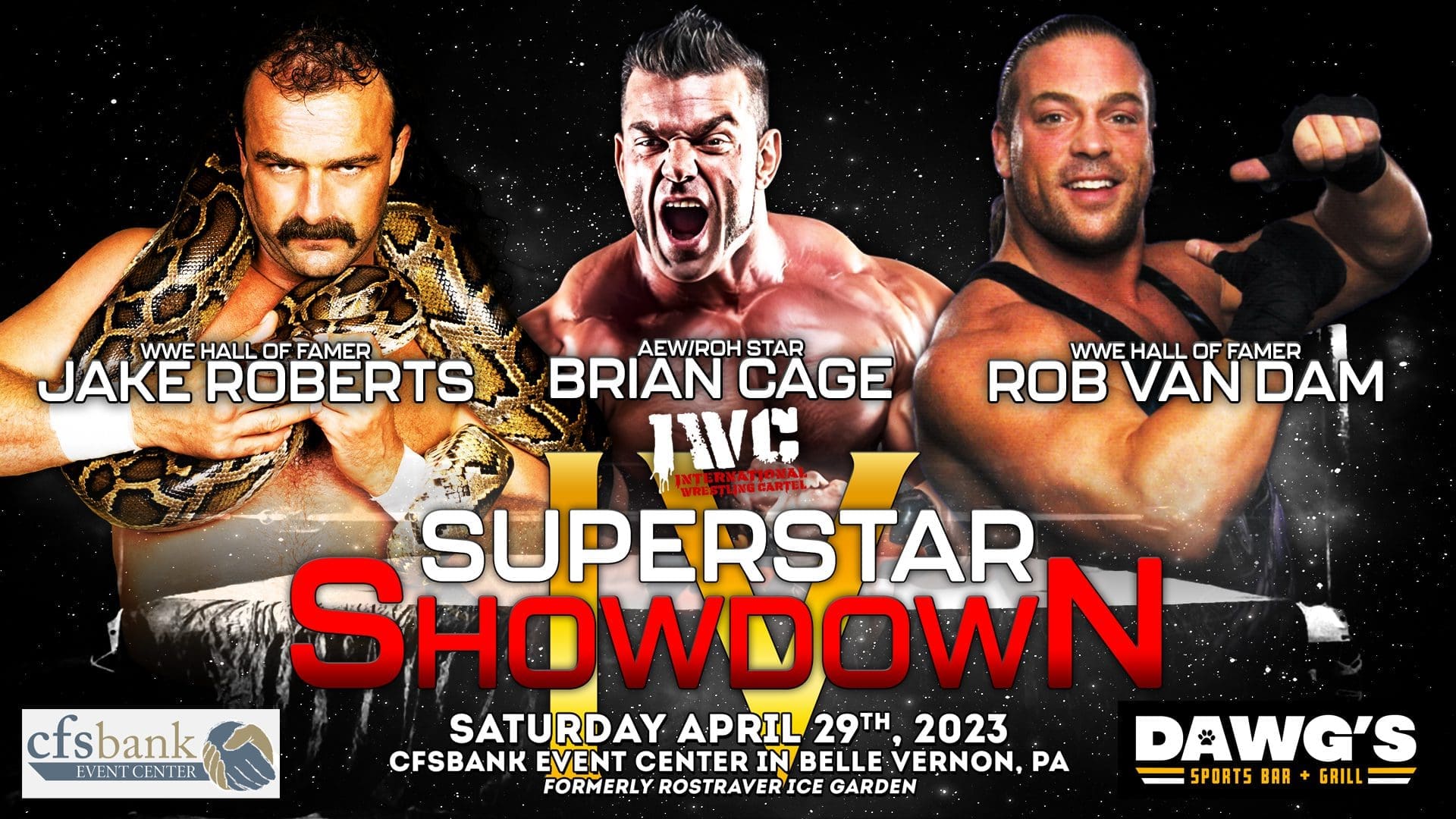 Men's Singles Match
Rob Van Dam vs Channing Decker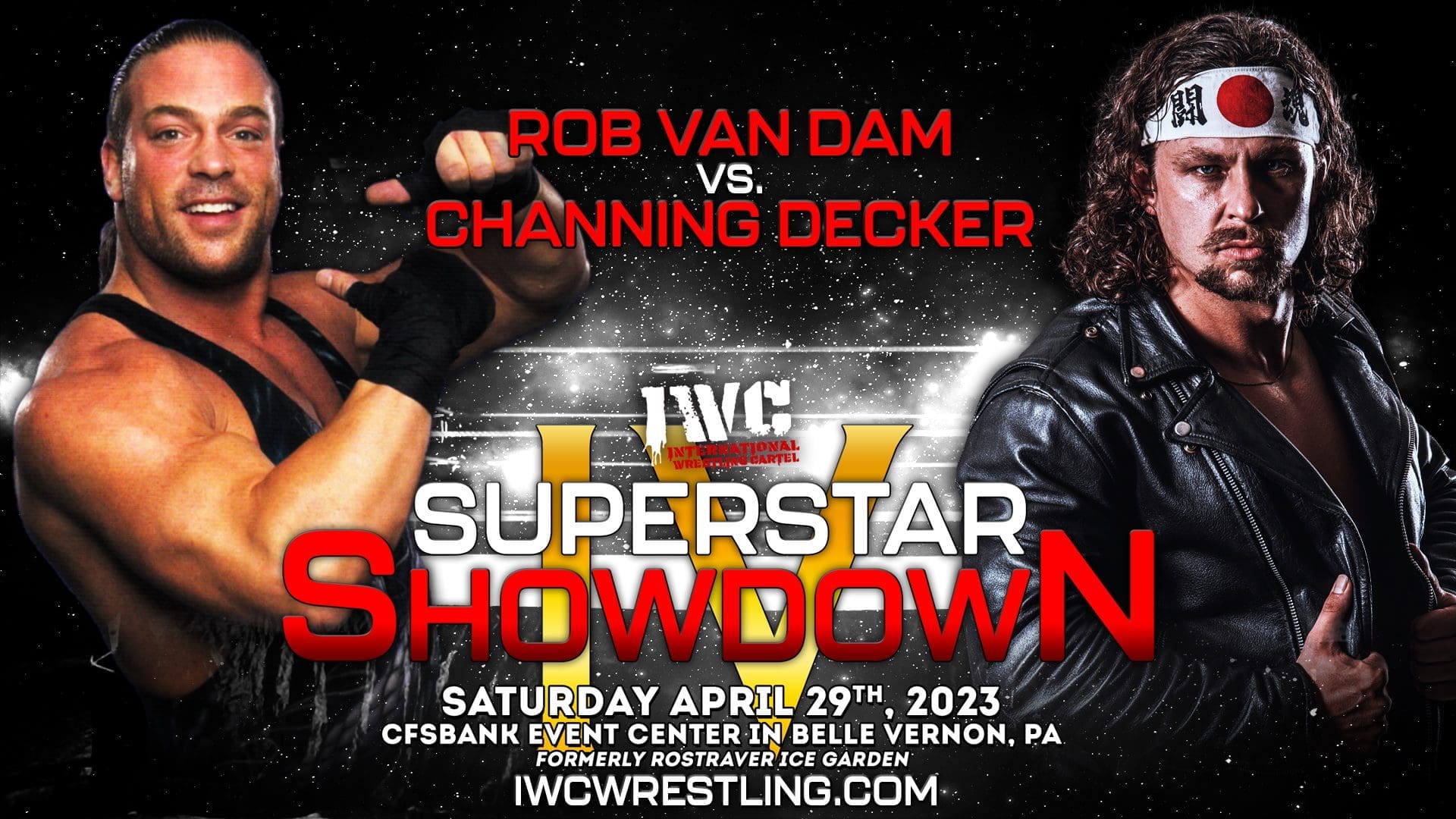 On April 29th, a rivalry that has formed across the continent comes to IWC! For the first time in the United States, former WWE & ECW Champion, "The Whole F'N Show" RVD will face-off against "Hardcore" Channing Decker at the historic Rostraver Ice Garden! RVD has had many memorable matches in this venue, but will it be time for him to pass the torch?
Men's Singles Match
Anthony Caten vs Brian Cage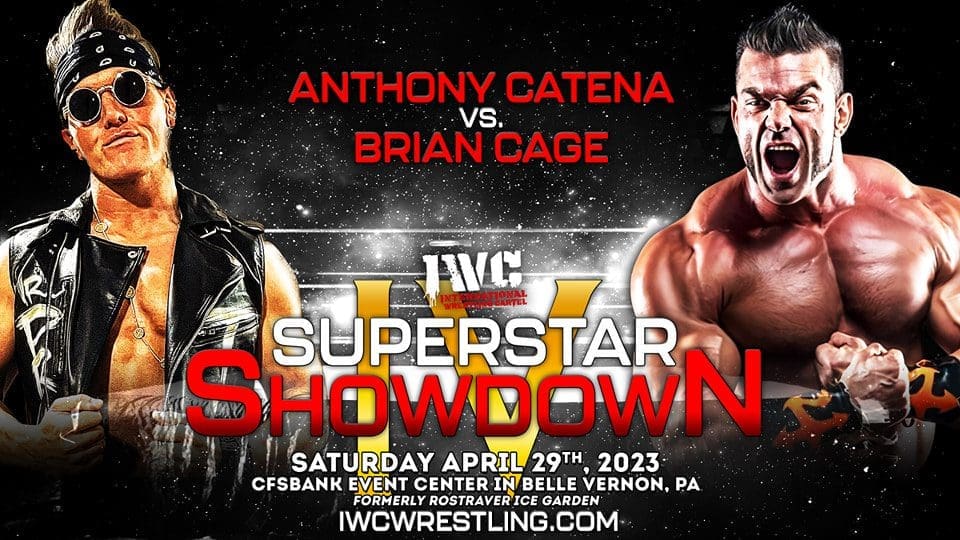 Anthony Catena has burst on to the scene this year in IWC. On April 29th, he has an opportunity to prove he belongs in the main event scene when he faces AEW Star, Brian Cage! Cage is one of the most dynamic and complete athletes in pro wrestling today, but will Catena's desire to make a name for himself overcome all?
Men's Singles Match
IWC Heavyweight Championship
Bill Collier vs DerekDillinger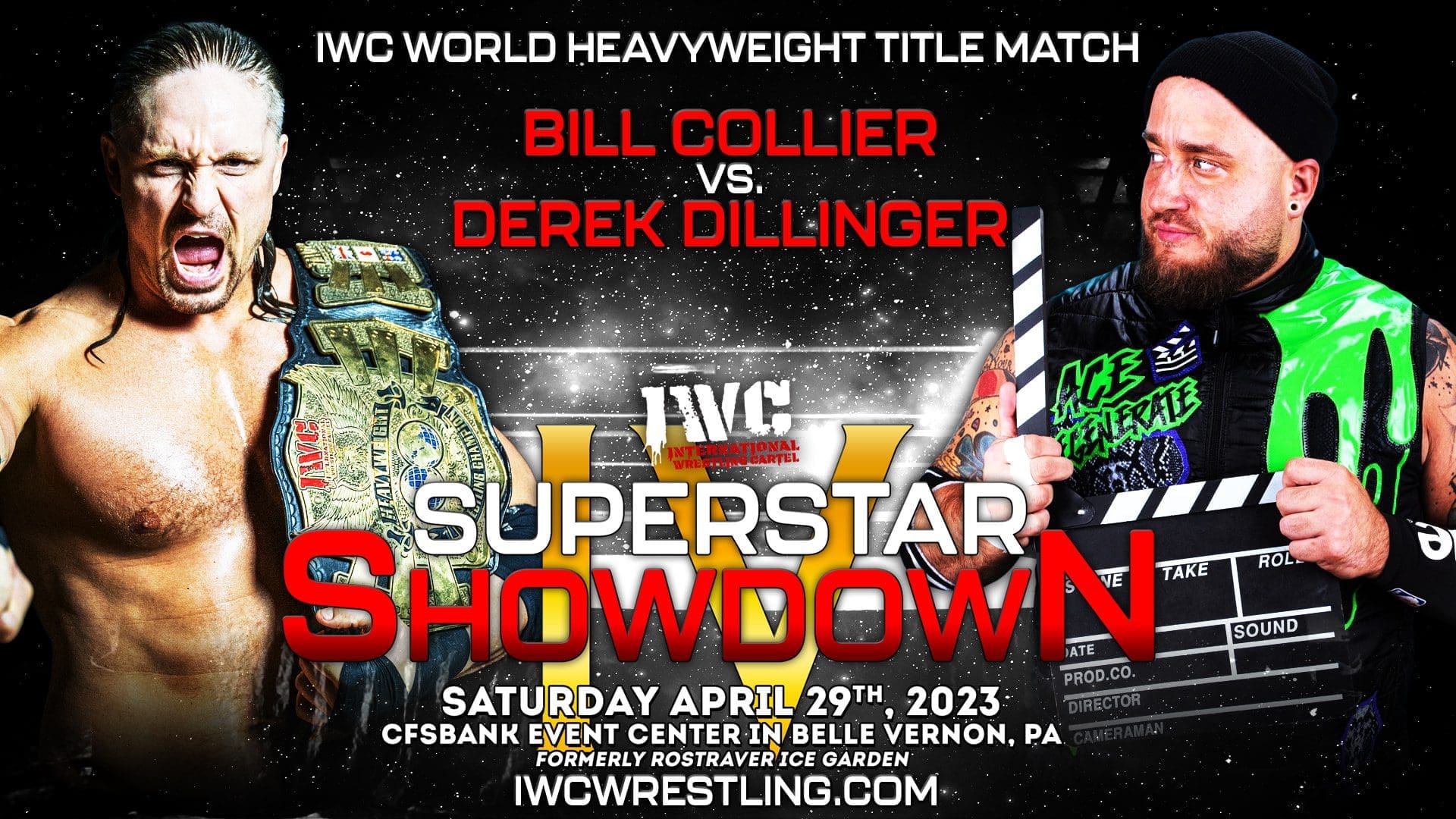 Derek Dillinger has been on a roll – from his Super Indy Title run, to winning the Pittsburgh Classic Invitational, to besting former IWC legends! Now he had earned himself a shot at the top prize today, an IWC World Heavyweight Championship match against "Big Time" Bill Collier. But Collier has been on an insane hot streak himself. Who will finally fizzle out?!
Men's Singles Match
IWC High Stakes Championship
Spencer Slade vs John McChesney
John McChesney looks to capture the only singles title that he has never held in IWC. But he will have to do it under "Slade Rules" when he faces Spencer Slade for the IWC High Stakes Championship! Will the IWC legend's experience help bring him even more gold? Or will Slade's special rules and technical prowess be too much to overcome?
Men's Handicap Match
David Lawless & Plummer Security vs CJ Sensation & Jock Samson
Jock Samson likes to run his mouth. Ref CJ Sensation doesn't like to do his job.  Now they will get what they deserve! And if Jock takes the fall, his career is OVERRRR!
6-Person Tag Match
Katie Arquette, Andrew Palace,  JaXon Argos vs Ray Lyn , R.C. Dupree, Jack Pollock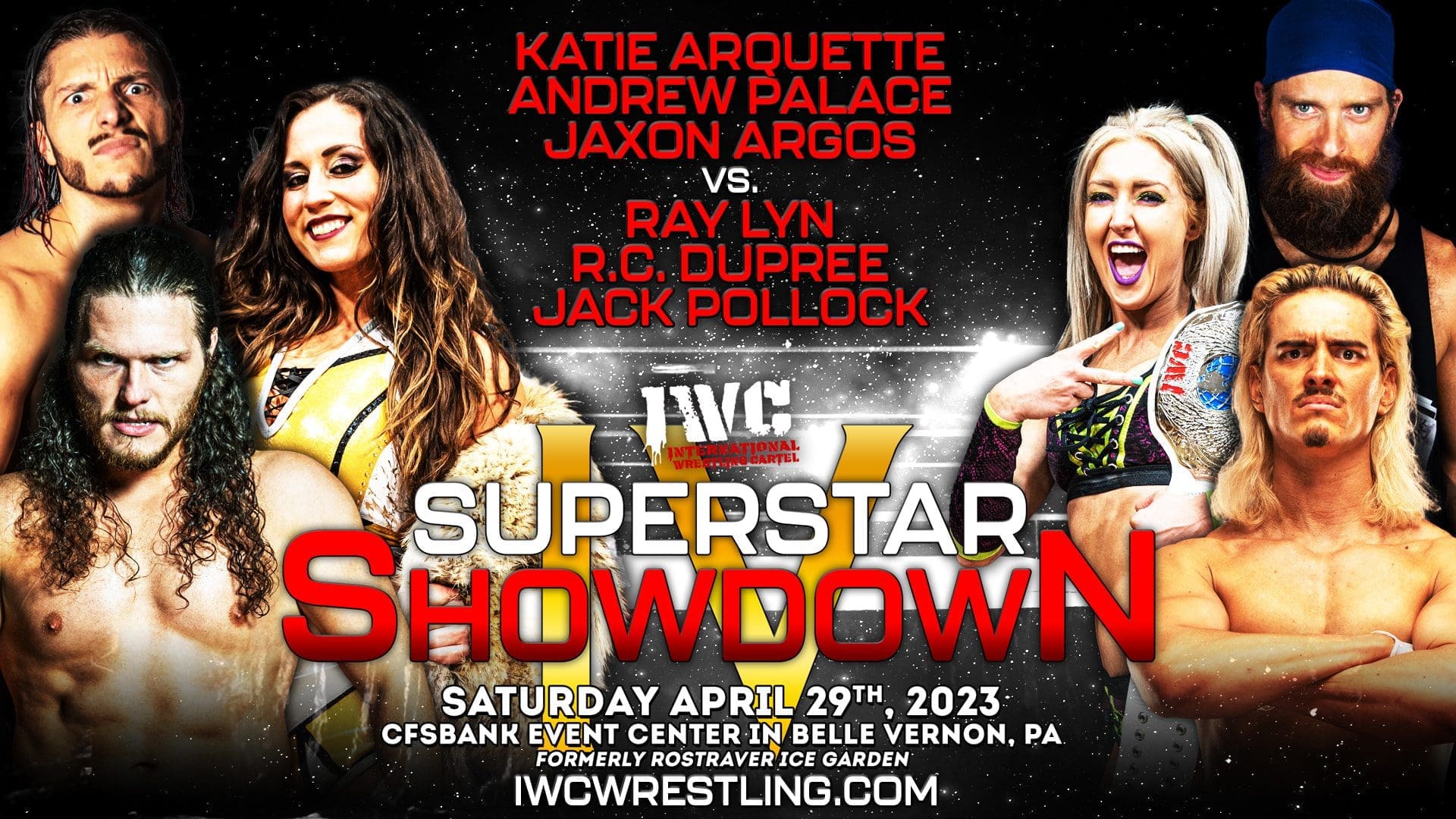 After everything that happened at our last event, this one only makes sense to get on the books! Catch this star studded mixed tag match on April 29th!
Men's Singles Match
Super Indy Championship
Cole Karter vs Ganon Jones Jr.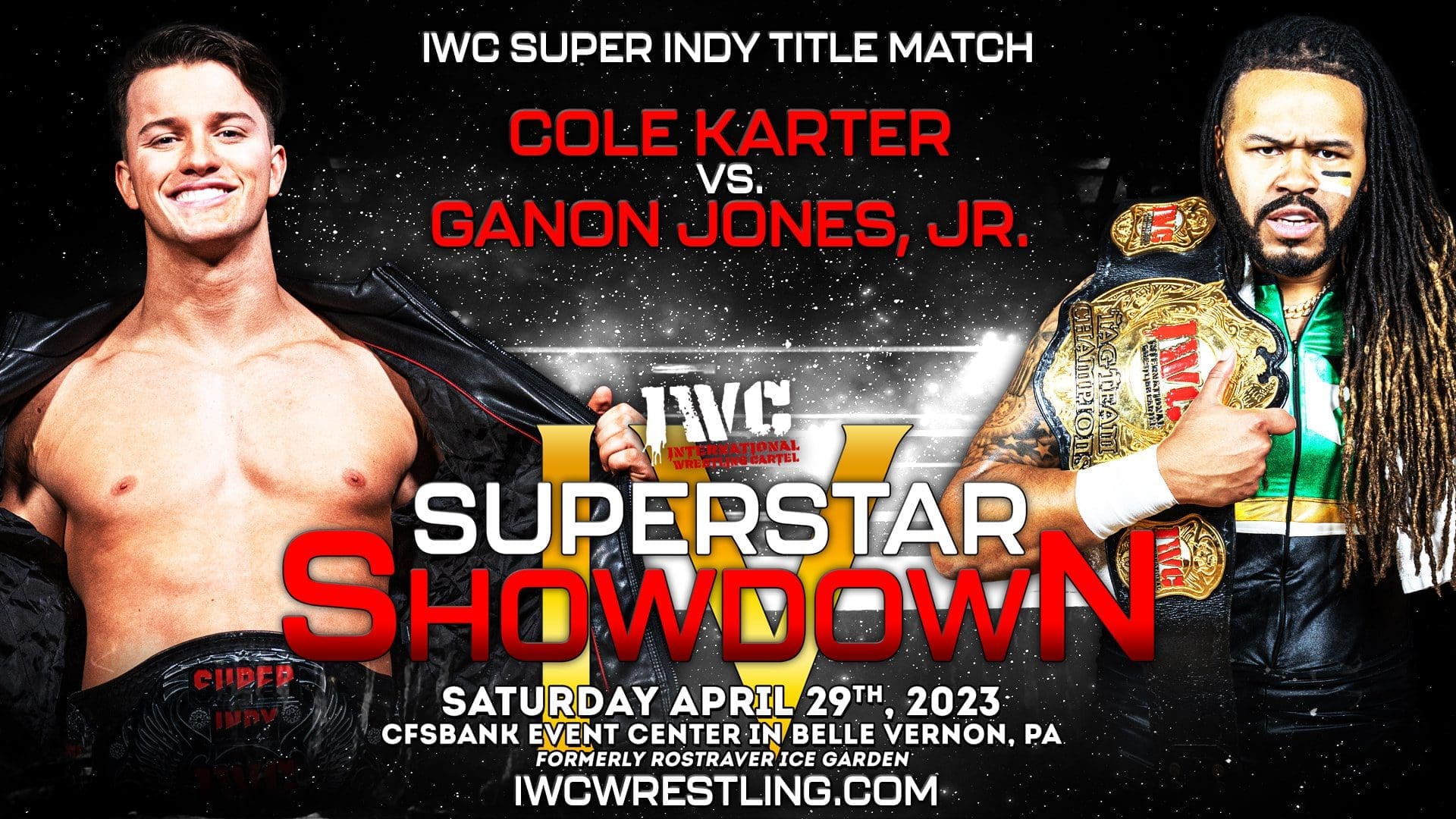 Ganon Jones, Jr. will be asked to relinquish the IWC Tag Team Titles
and to ensure his cooperation, he will be awarded an IWC Super Indy Title Match vs. AEW Television star
Cole Karter
!
 Due to this act of kindness on behalf of IWC's owner, Ganon WILL be expected to NOT use the
#ResetButton
on the Super Indy Title going forward after he fails to defeat Cole.
Men's 4-Way Tag Match
IWC Tag Team Championship
Brotherly Love vs Lebanon Don & Tito Oric vs Mambo Italiano & Chase Gold vs Alexander Apollo & Anthony Young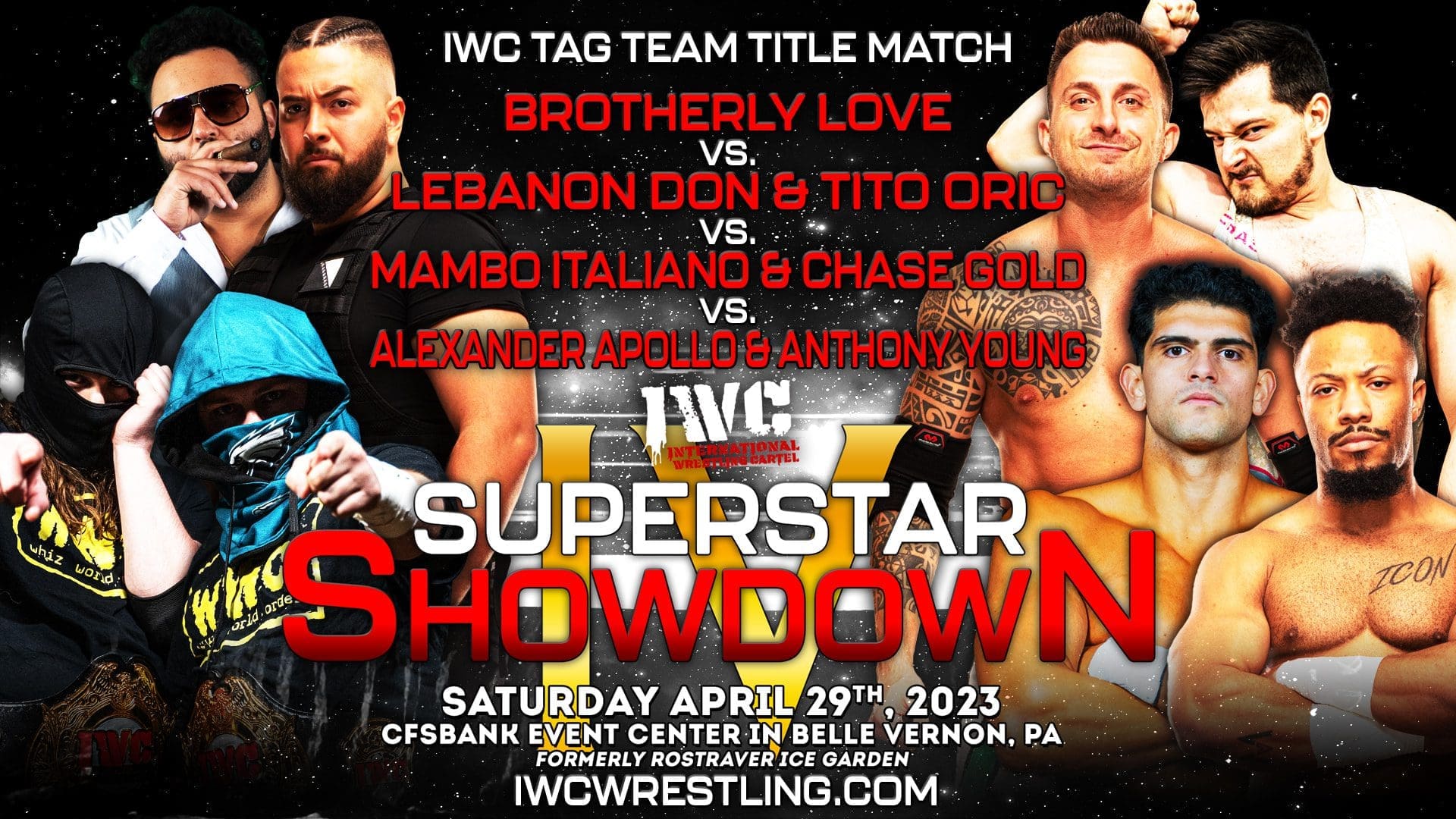 On April 29th, Ganon Jones, Jr. will be asked to relinquish the IWC Tag Team Titles.  A 4-way match has been signed to crown new IWC Tag Team Champions!
Men's Tag Match
Jami Jameson & Zander Gabrie lvs Bulk Nasty & JasonTyler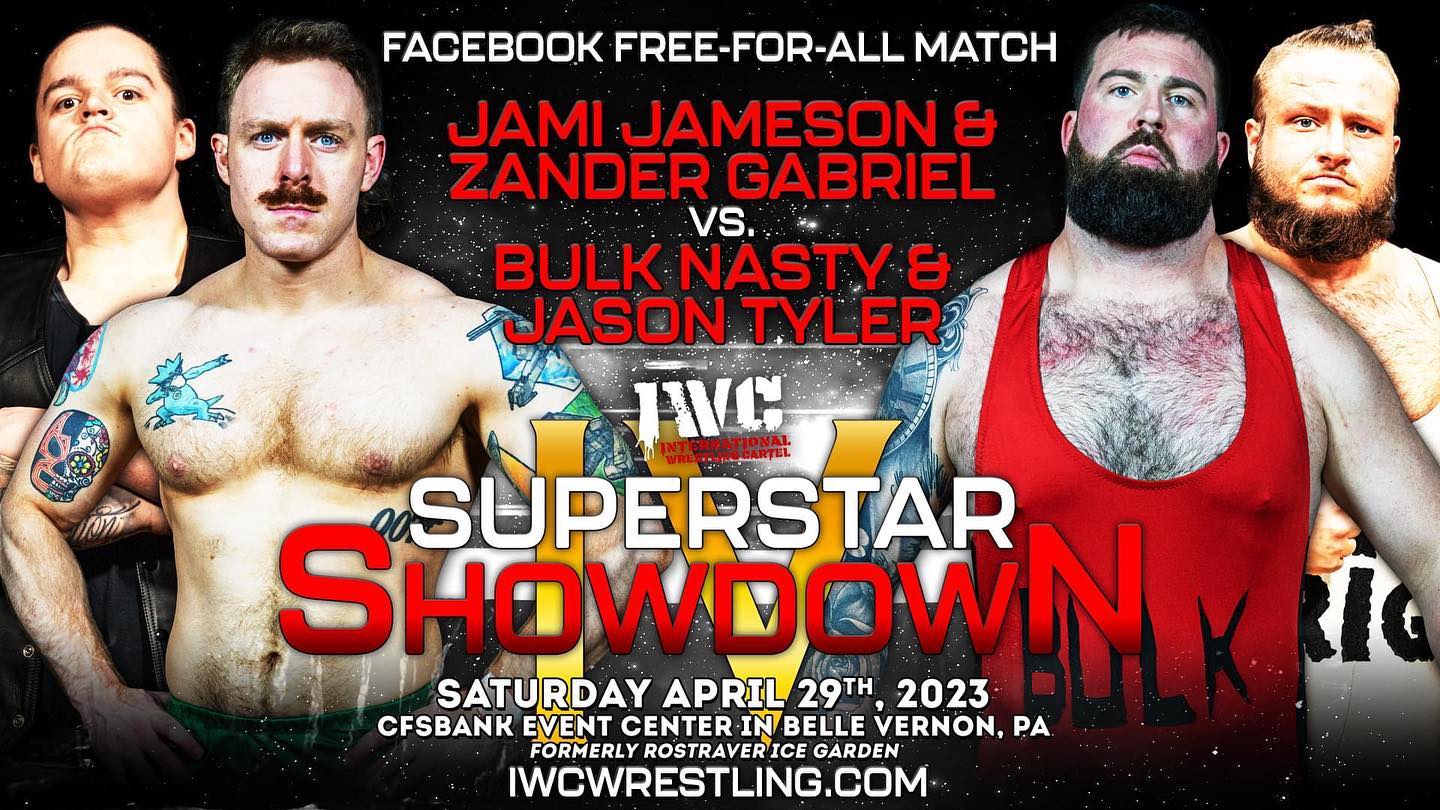 After Jami Jameson, with the help of Zander Gabriel, cut his match with Jason Tyler short, Bulk Nasty emerged from the locker room to apparently help Jason Tyler.  But, Bulk Nasty would step over a beaten down Jason Tyler and give hot pursit to Jami and Zander.  Showing a common enemy, Bulk Nasty and Jason Tyler will now get an opportunity to seek vengance against Jami Jameson and Zander Gabriel.
Men's Singles Match
Coaches Challenge
Glenn Spectre vs Felix Koz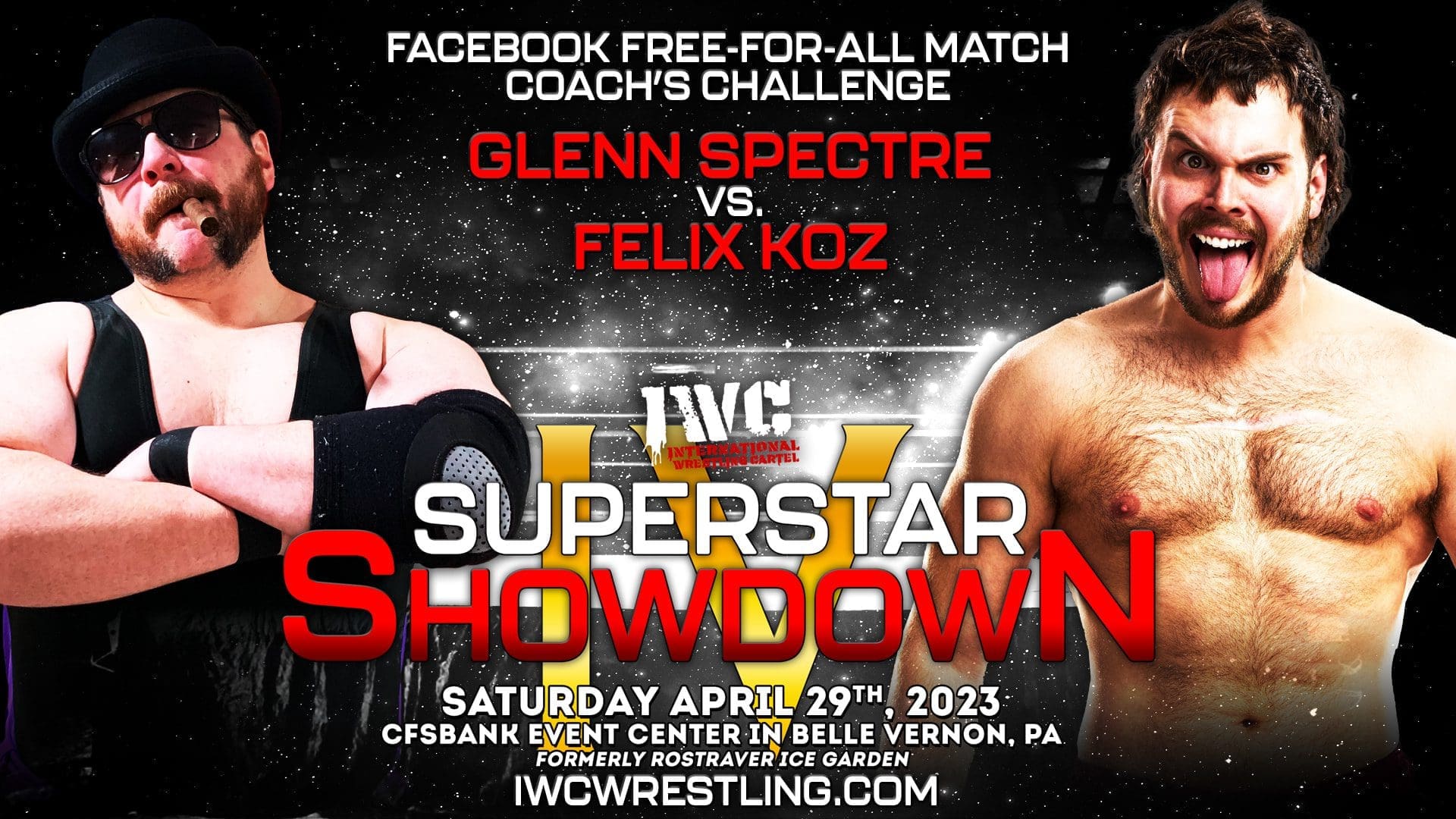 Making his IWC debut and accepting the coache's 10-minute challenge, Felix Koz can be described as a lunatic who brings many tools to the table:  Size, Intensity, and Grit.  If anybody is up to Glenn Spectre's coaches challenge, it could be this rookie.