It only comes once a year, but some say it's even better than Christmas.  Caged Fury returns to IWC at the Marx Court Time Center in Elizabeth, PA on Saturday, August 12th!!  With 3 cage matches alread announced, championships on the line, and careers on the line, Caged fury 2023 has more at stake than any prior event!  The action kicks off at 7:00 PM and will see matches featuring your favorite IWC stars!!  Find your tickets now or stream live on FITE+ and the IWC Network!
or FITE+
Belltime 7:00 PM
Men's Singles Match
IWC Heavyweight Championship – Steel Cage Match
Bill Collier vs Isaiah Broner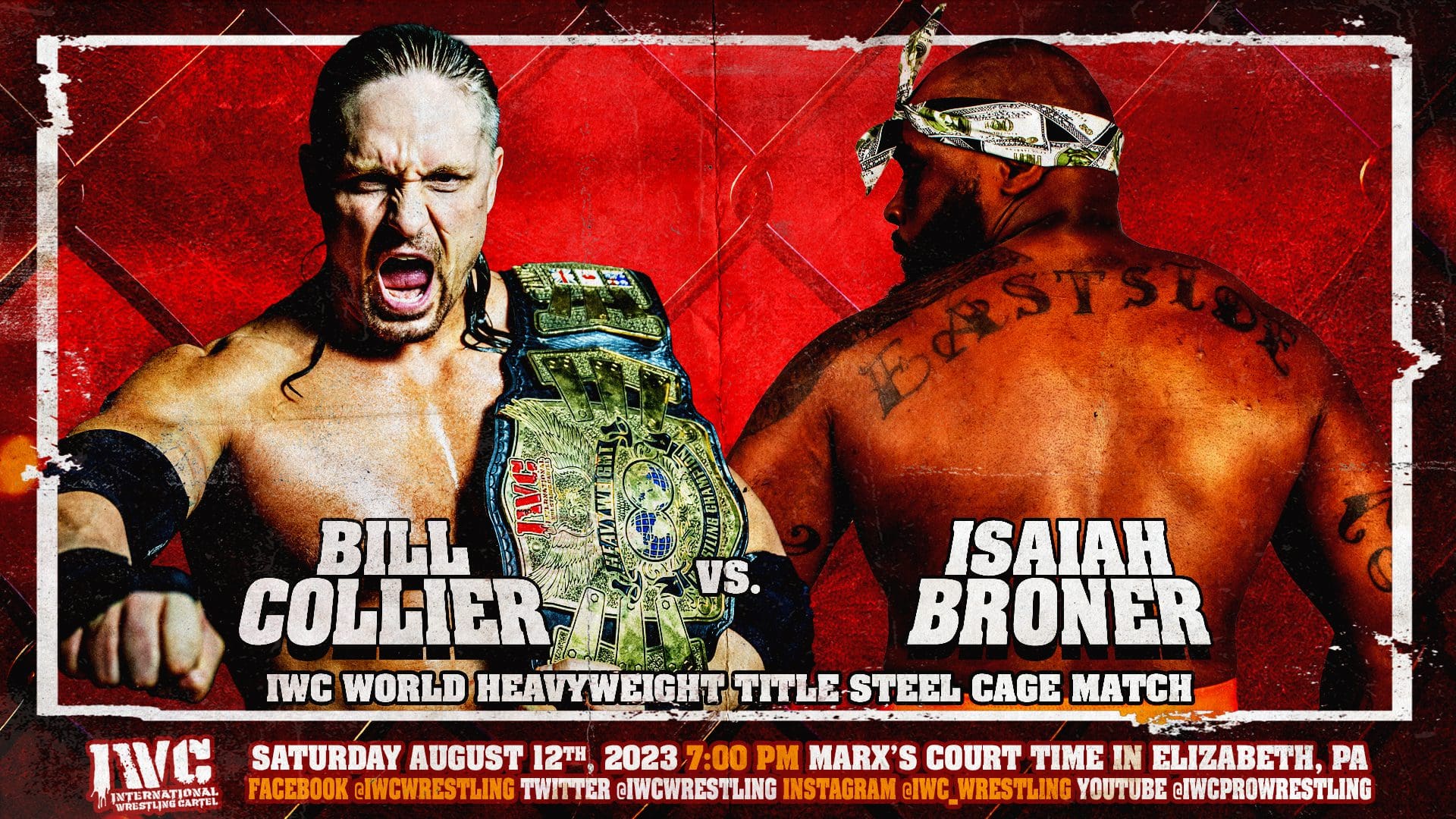 After a double count-out and Isaiah Broner attacking Bill Collier after the match, both men were fuming!  Upon hearing about the upcoming Caged Fury on August 12th, Broner instantly loved the idea and challenged Collier to rematch inside of a STEEL CAGE!!  Can 'Big Time' Bill Collier knock out 'The Problem' Isaiah Broner or will he be left lying on the mat without his championship?!
Men's Singles Match
Steel Cage Match
Justin Plummer vs Jock Samson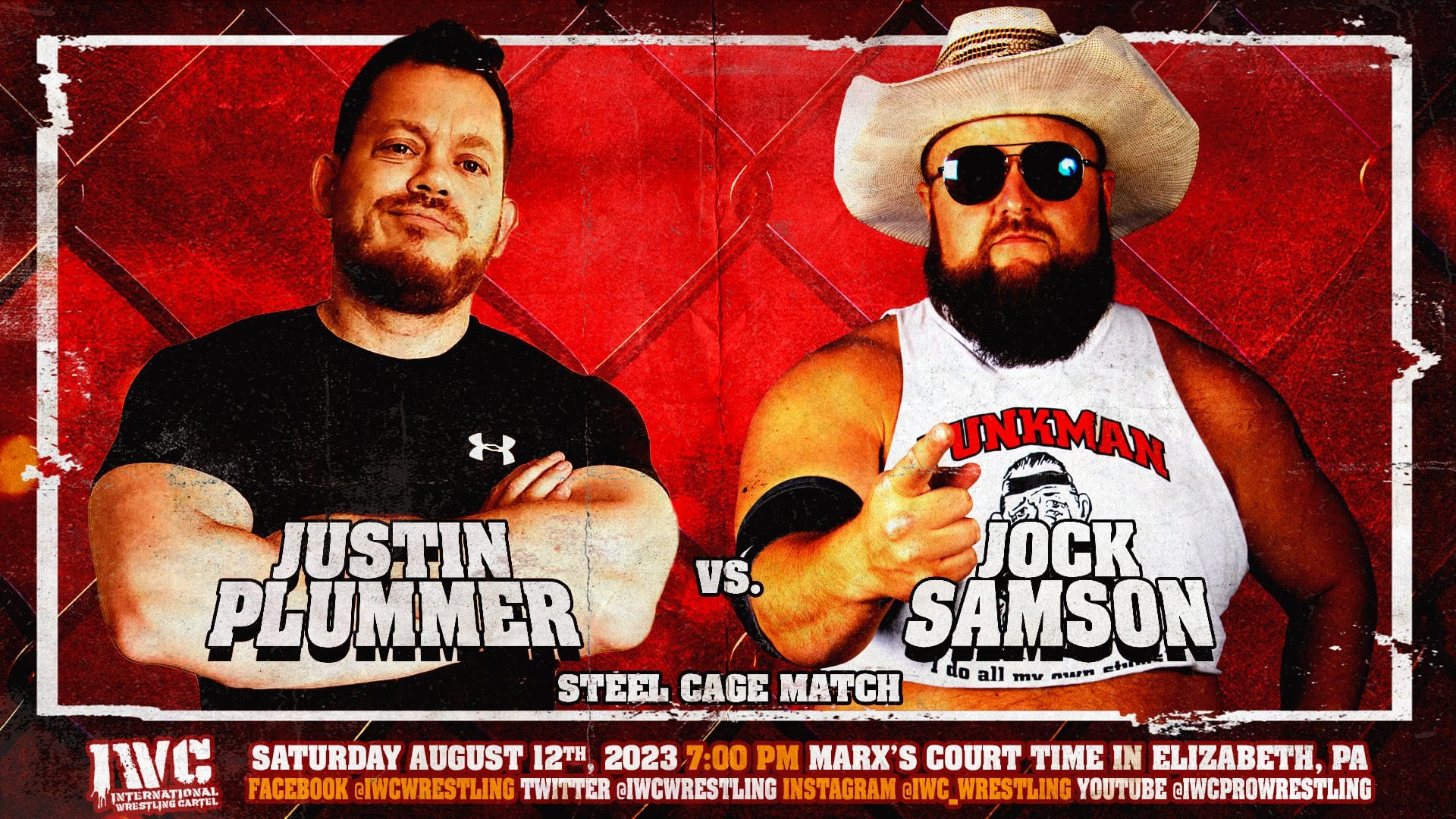 Last event, Justin Plummer called out Super Indy Champion Jock Samson and offered a match against himself in exchange for Jock's Super Indy Championship.  After Jock would relinquish the title, Mr Plummer's celebration would be cut short.  Jock Samson clued in Mr Plummer and the IWC Faithful when he revealed the signed contract included a stipultation for the match to take place inside of a STEEL CAGE!  Will the owner of the IWC get his revenge and retire Jock Samson or will Jock overcome odds and use the Steel Cage to his advantage!?!
Men's Singles Match
Steel Cage Match
Cole Carter vs Ganon Jones Jr.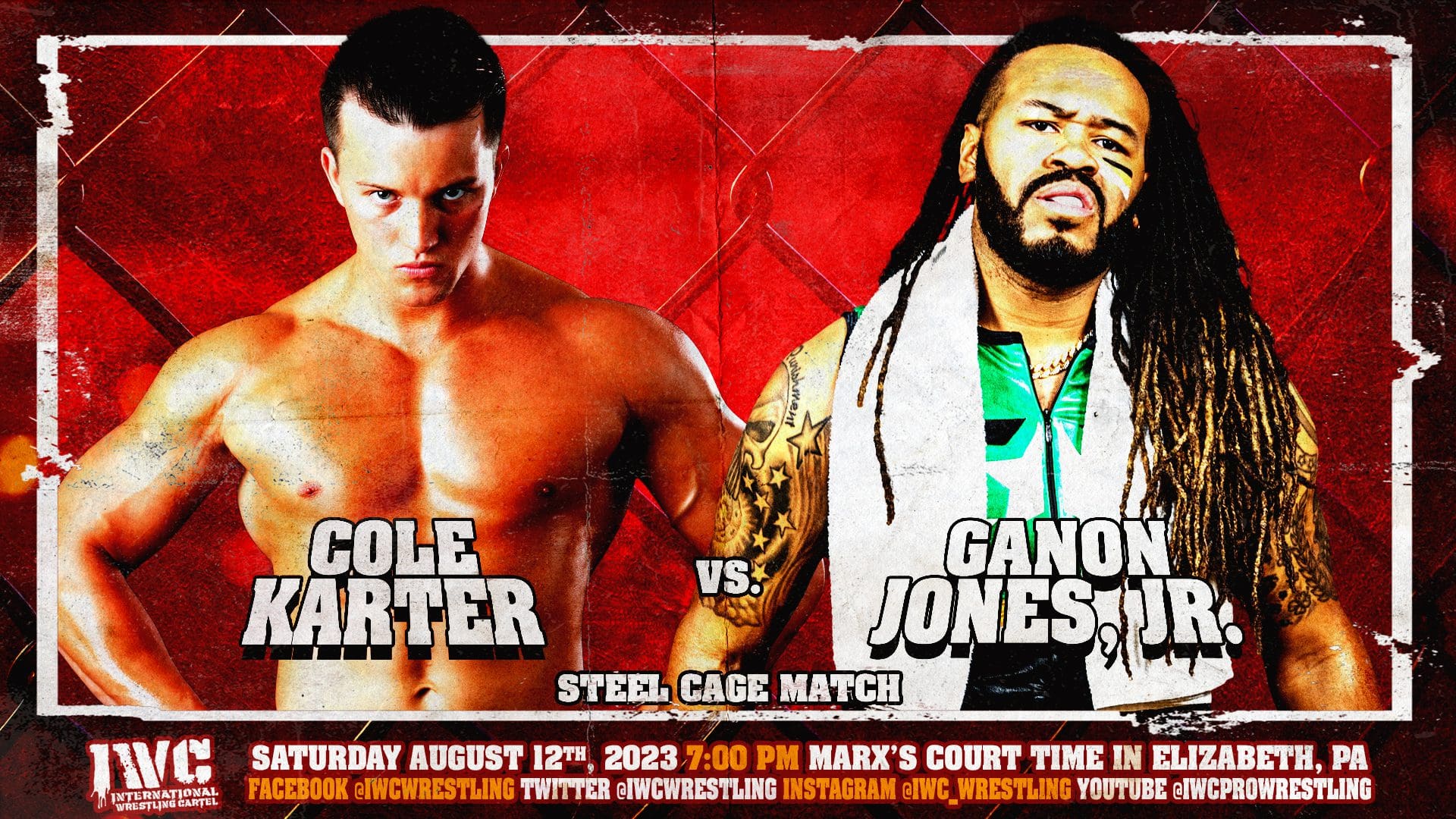 Blaming Ganon Jones, Jr. for being the reason he lost his Super Indy Championship, Cole Karter wants payback and punishment inside of a STEEL CAGE!! While Ganon Jones, Jr. still holds the Reset Button, can he defeat the former 2-time Super Indy Champion and remain intact to still cash the Reset Button in!?!
Women's Singles Match
IWC Women's Championship
Holidead vs Pegasa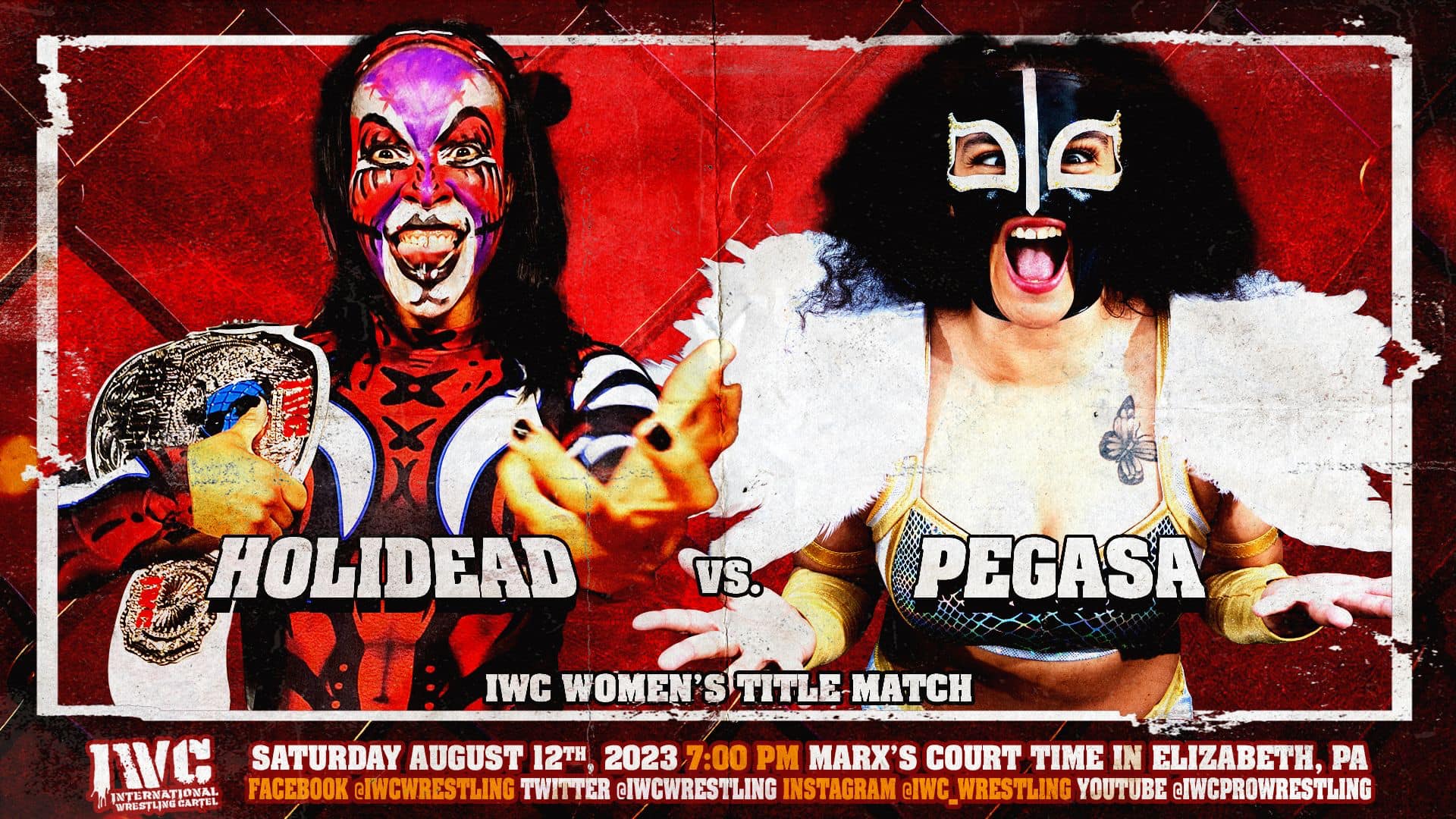 On August 12th, Holidead will make her first defense of the IWC Women's Championship. Her opponent is a debuting talent from the Iron City Wrestling Academy. Not much is known about Pegasa, but if she is anything like her fellow classmates, she'll surely be one to watch. Will Holidead's reign begin with a solid victory at Caged Fury? Or can the upstart Pegasa shock the veteran and dethrone her quickly?!
Men's Tag Team Match
IWC Tag Team Championship
Brotherly Love vs The Frontline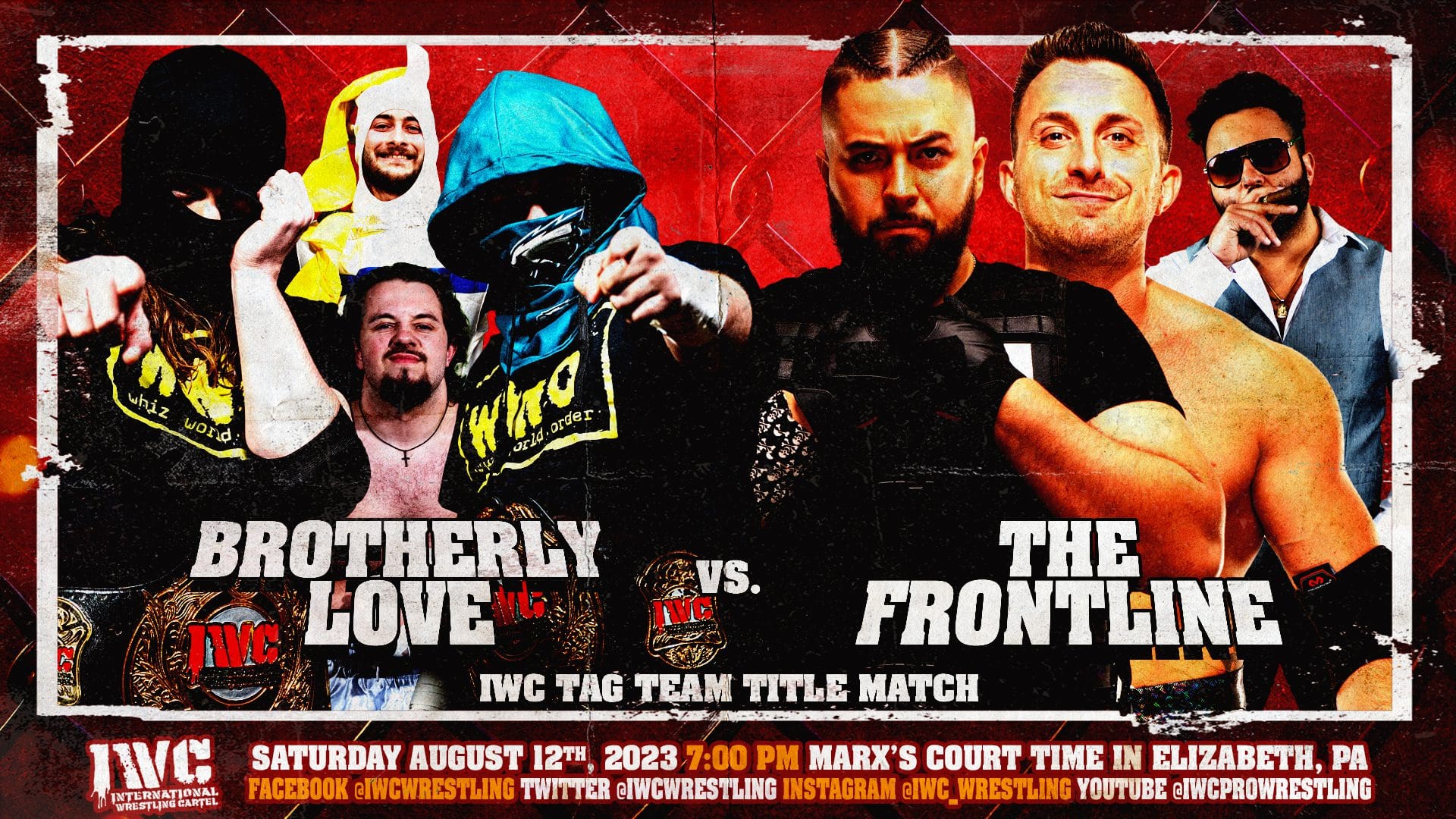 Last month, Brotherly Love shocked the IWC faithful once AGAIN by remaining UNDEFEATED and becoming two time Tag Team Champions when they upset Tito Orič and The Lebanon Don Joey Moses! But the Don isn't done yet. He's brought together the newly assembled, yet slightly disconnected, FRONTLINE to bring the gold home. Can The Frontline get on the same page and end the Philly Boy's miraculous undefeated streak? Or will Brotherly Love continue their dream run?.
Men's Tag Team Match
Bulk brings a Mysery Partner
Highway Outlaws (Jason Tyler & Jami Jameson) vs Bulk Nasty & ?????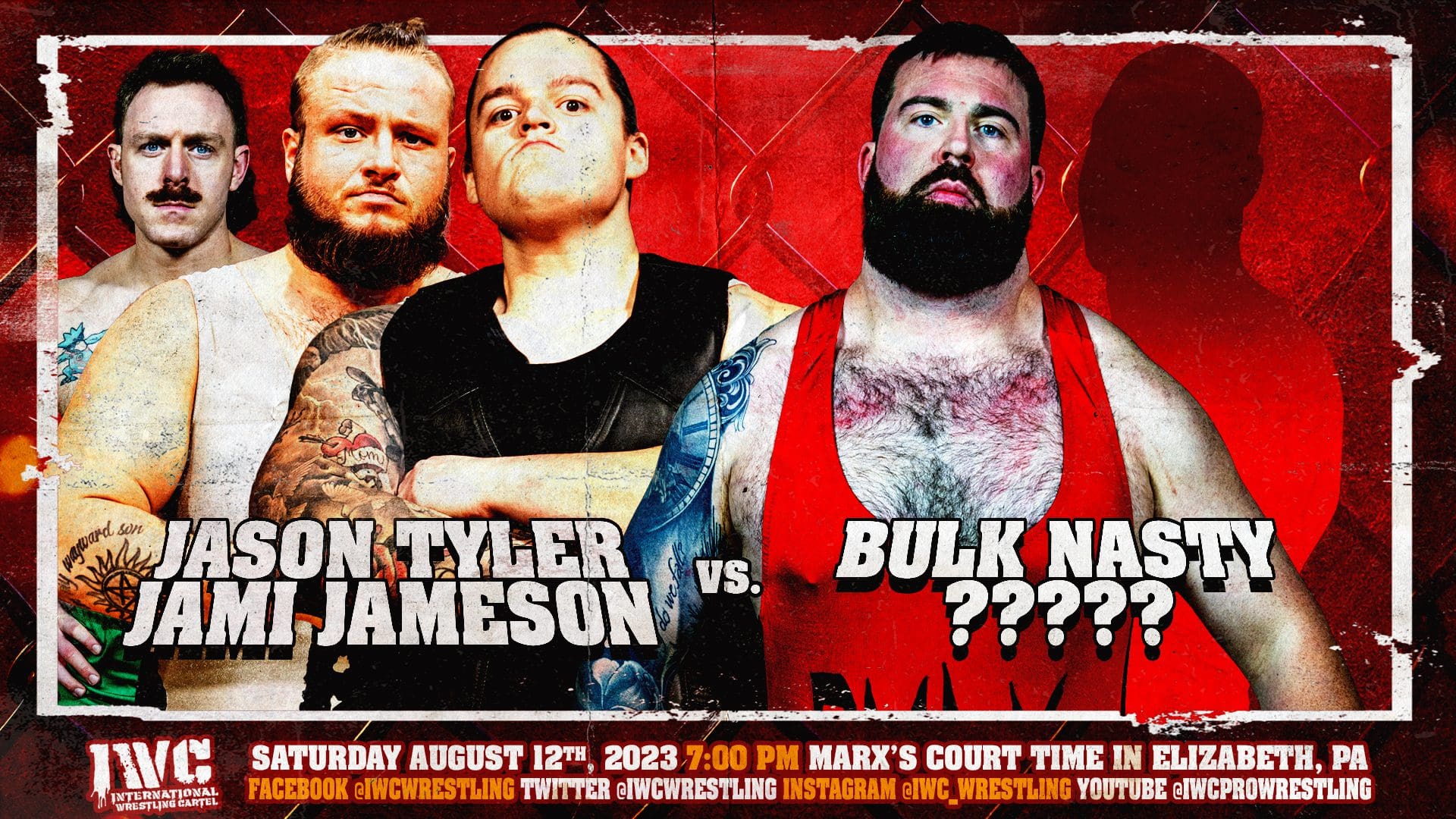 Following betrayal after betrayal, Bulk Nasty is now calling for back-up, but who will it be?! And will it finally be what he needs to put and end to the nightmare he has been facing this year?
The Return of Team Storm
JaXon Argos, Jack Pollock, and RC Dupree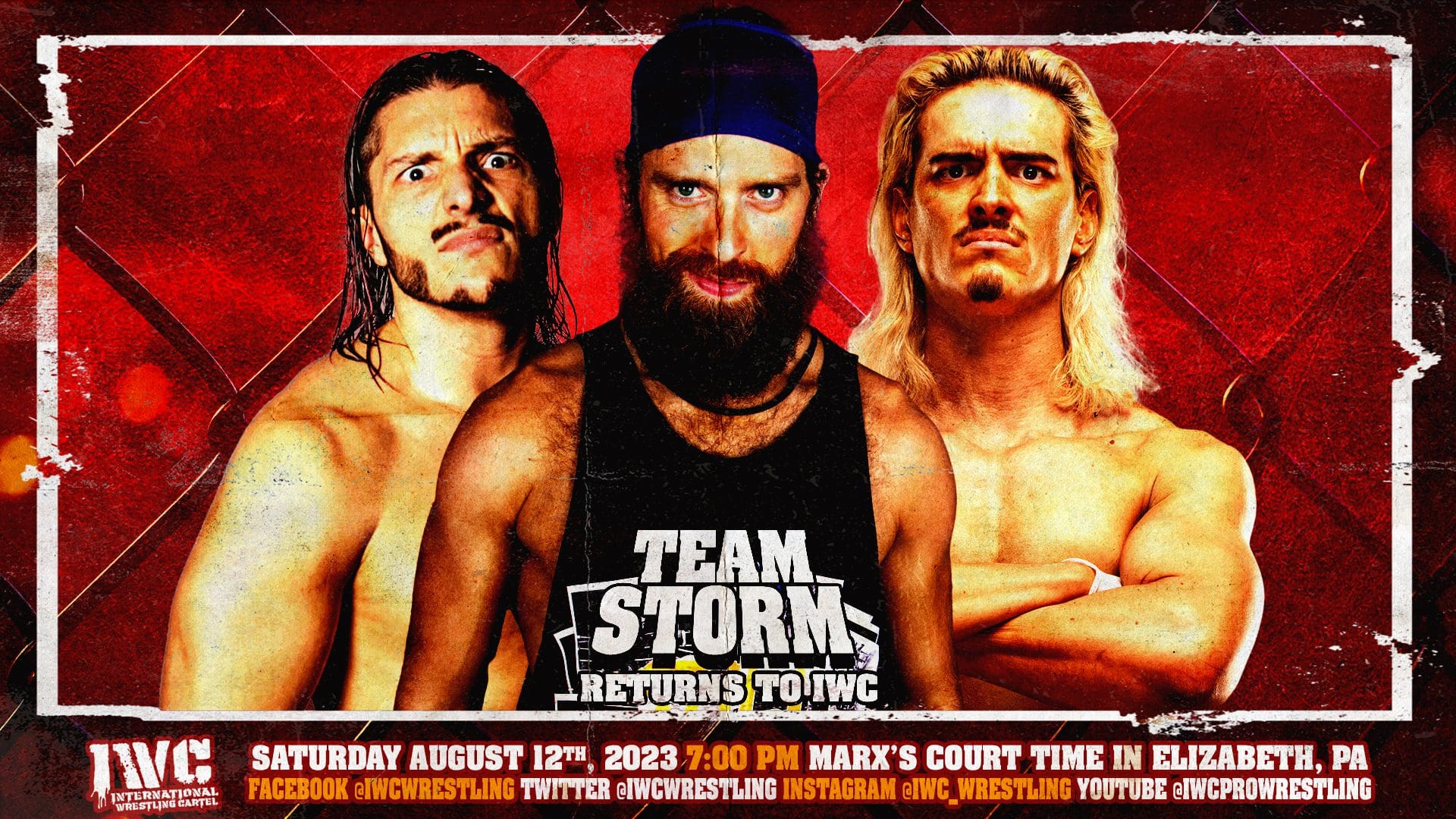 After more than 1,000 days, TEAM STORM is BACK! Come see their OFFICIAL reunion on August 12th with tickets, now!!!
Men's Singles Match
IWC High Stakes Championship – Slade Rules
Spencer Slade vs Flip Gordon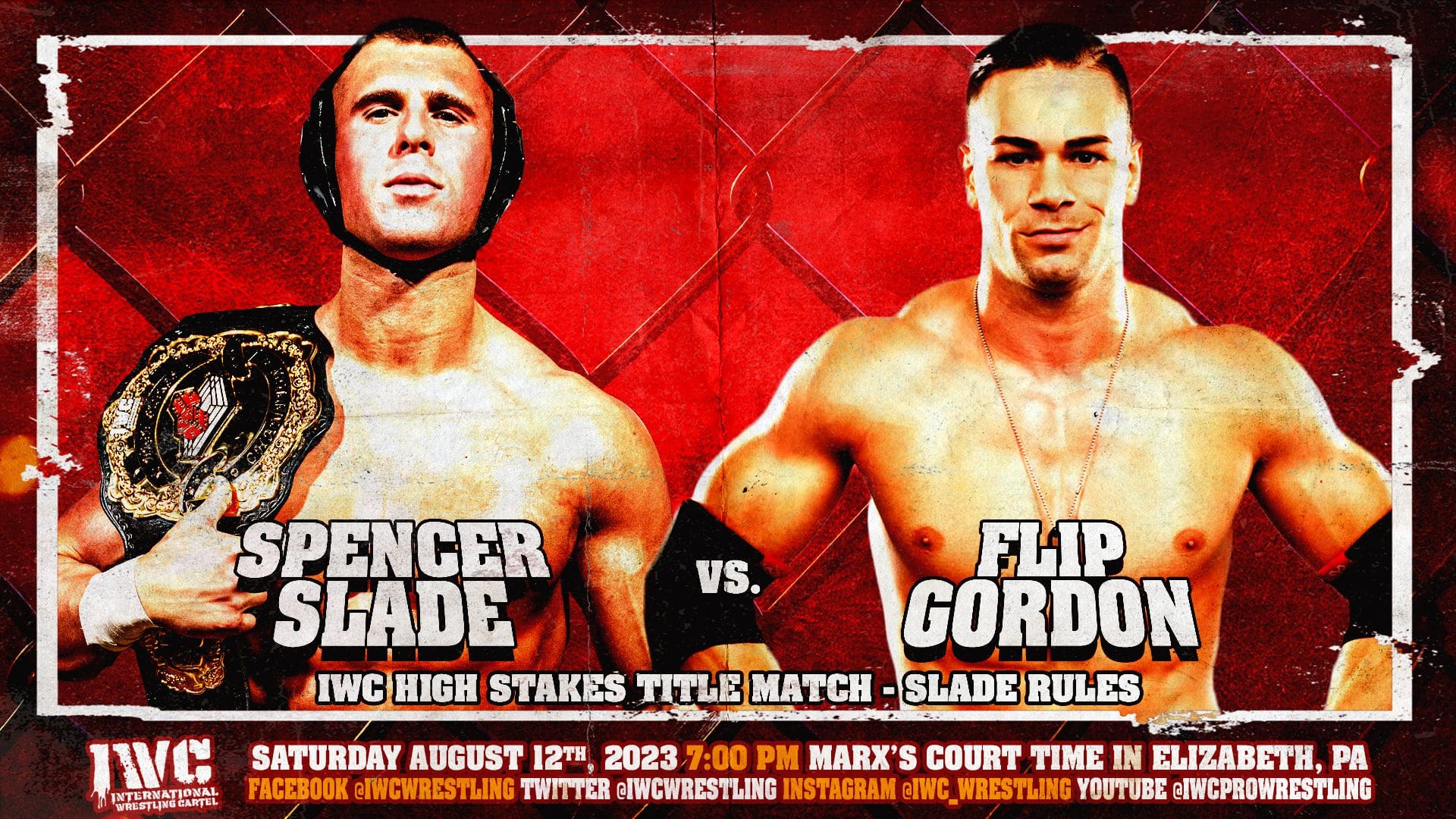 Spencer Slade has asked for the best competiion on the Independent scene, and that competition has answered.  Flip Gordon returns to IWC to challenge Specner Slade for his High Stakes Championship in a First Ever Matchup!
Men's 4-Way Match
Super Indy 22 Qualifying Match
M-Dogg Matt Cross vs Matthew Jaeger vs Felix Koz vs Anthony Young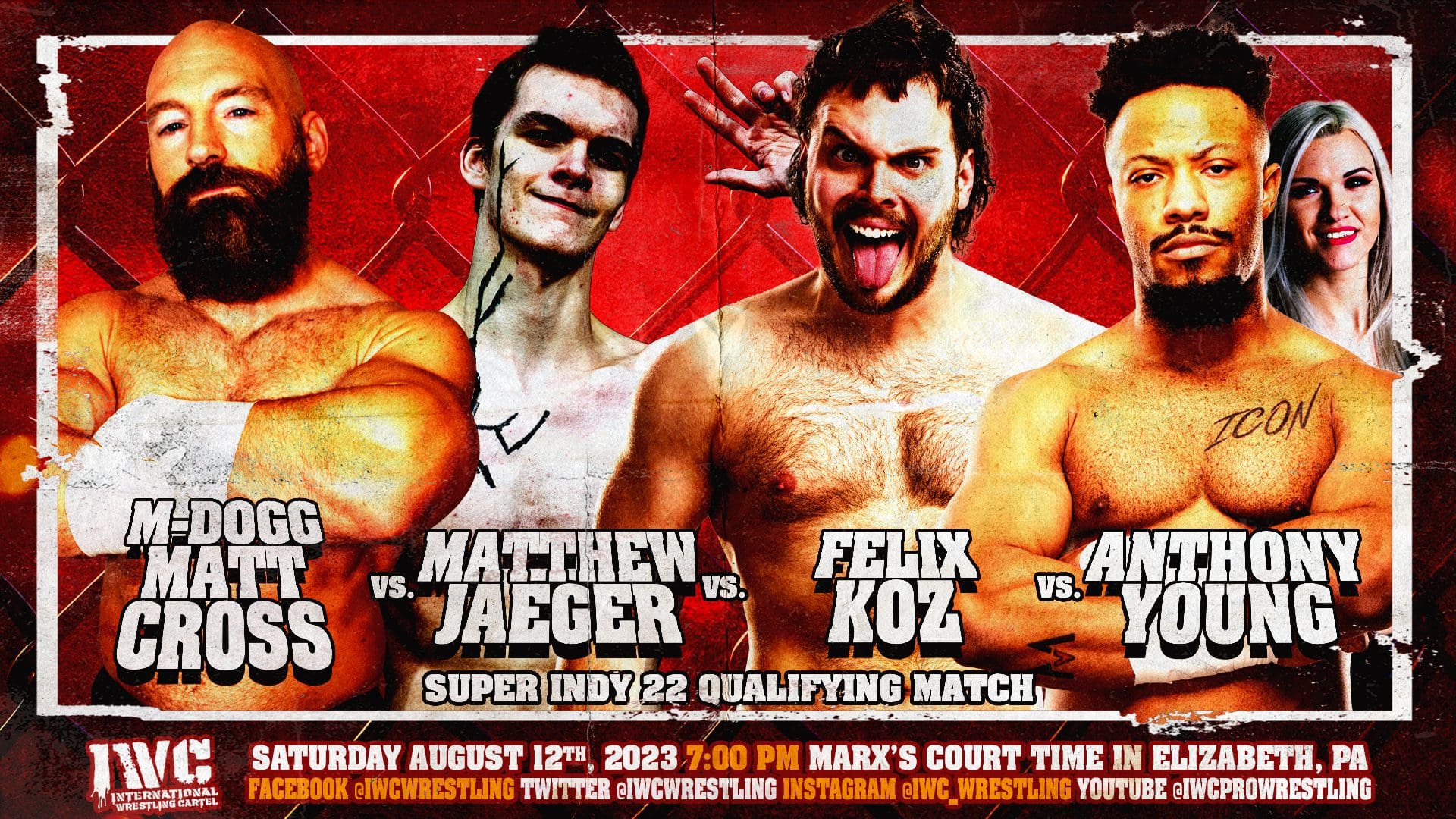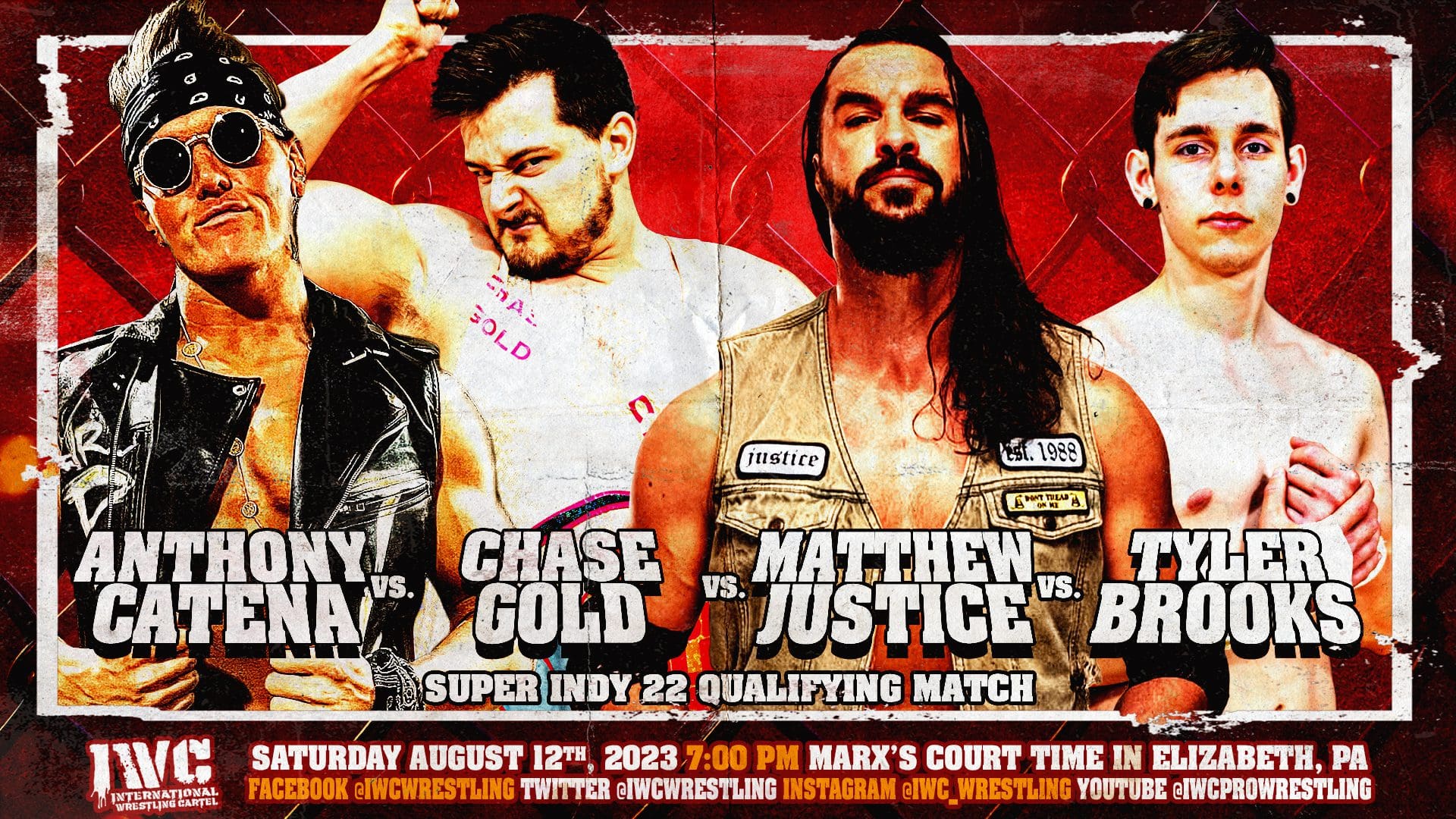 Rounding out the main card, at Caged Fury, will be TWO huge 4-way Super Indy 22 qualifying matches! Each contest will award coveted spots, to the winner, for one of the longest running, and most prestigious one night tournaments in wrestling!  Anthony Catena, Chase Gold, Matthew Justice and Tyler Brooks will make up the entrants in one of these matches. While Matt Cross, Matthew Jaeger, Felix Koz and Anthony Young will make up the other contest's competitors.
With this mix of youth, experience, styles and talent, it's anyone's guess who will qualify for the opportunity at putting their name in the history books.
Stay Tuned for more matches with your favorite IWC Super Stars!!