After a Ballpark Brawl saw A dominant new faction win and a new fighter emerge in the IWC Women's division, IWC BASEBRAWL 2023 was a perfect night to be in the bleachers!  Now heading into Fall, the IWC is kicking off October with the 22nd Super Indy Tournament.  A single-elminaiton tournament with 3 rounds, the Super Indy Tournament will crown a new Super Indy Champion!  Heading into the 22nd year of the tournament, we have past and present IWC alumni, along with first-time-entrants. The action kicks off at 7:00 PM and will see matches featuring your favorite IWC stars!! Find your tickets now or stream live on FITE+ and the IWC Network!
or FITE+
Belltime 7:00 PM
Super Indy 22 Tournament Bracket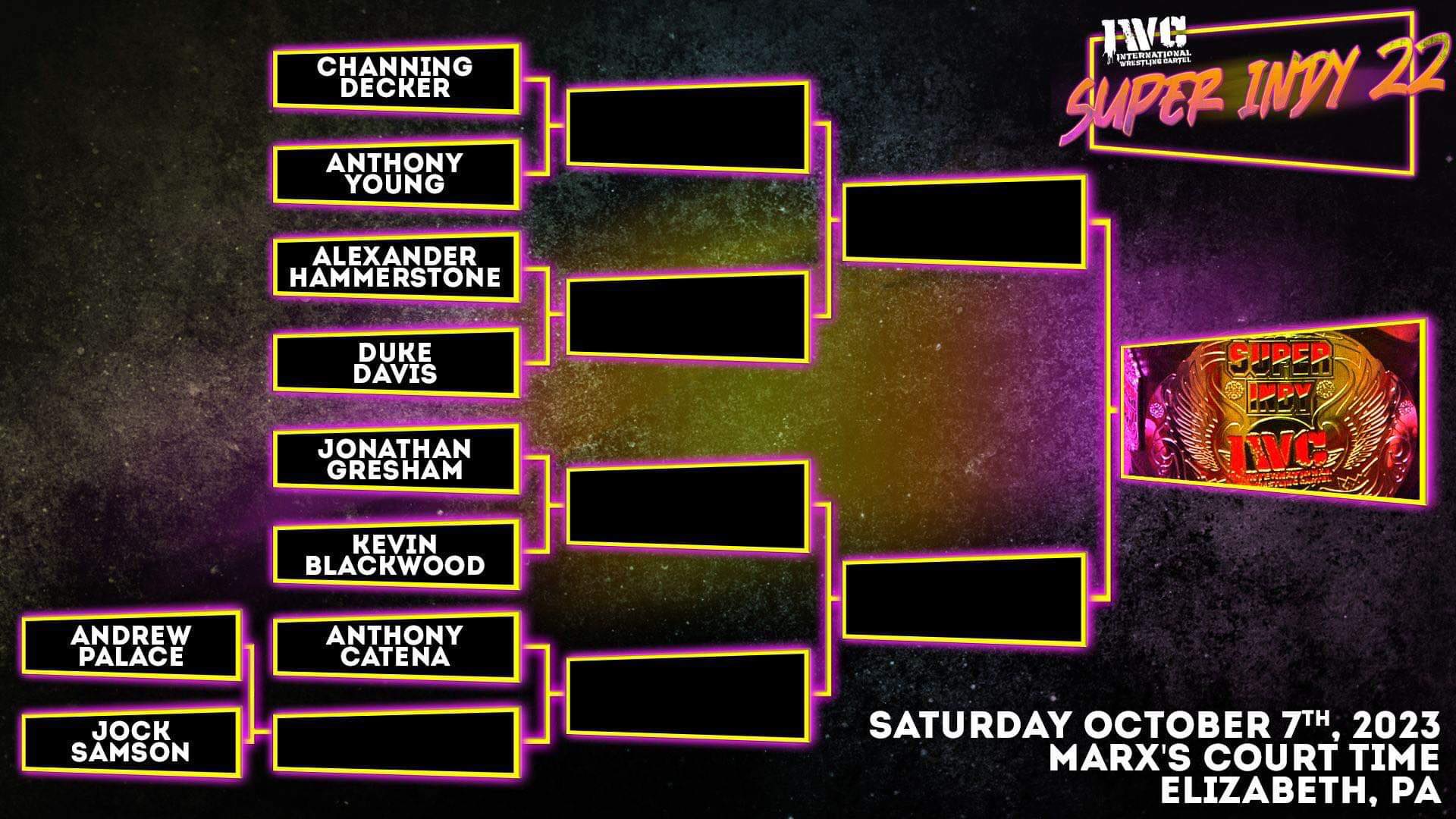 Here is the Super Indy 22 Bracket reveal! Every spot in the bracket other than our opening round grudge match will be drawn at random this year! Who are your picks to make it to the second round?  To go all the way?!  Who do you think will win and be added to the history books?!
8

ENTRANTS INCLUDE:
Anthony Young
Kevin Blackwood
Anthony Catena
Channing Decker
Alexander Hammerstone
Jonathan Gresham
Duke Davis
Men's Single's Match
Super Indy 22 Opening Round
Andrew Palace vs Jock Samson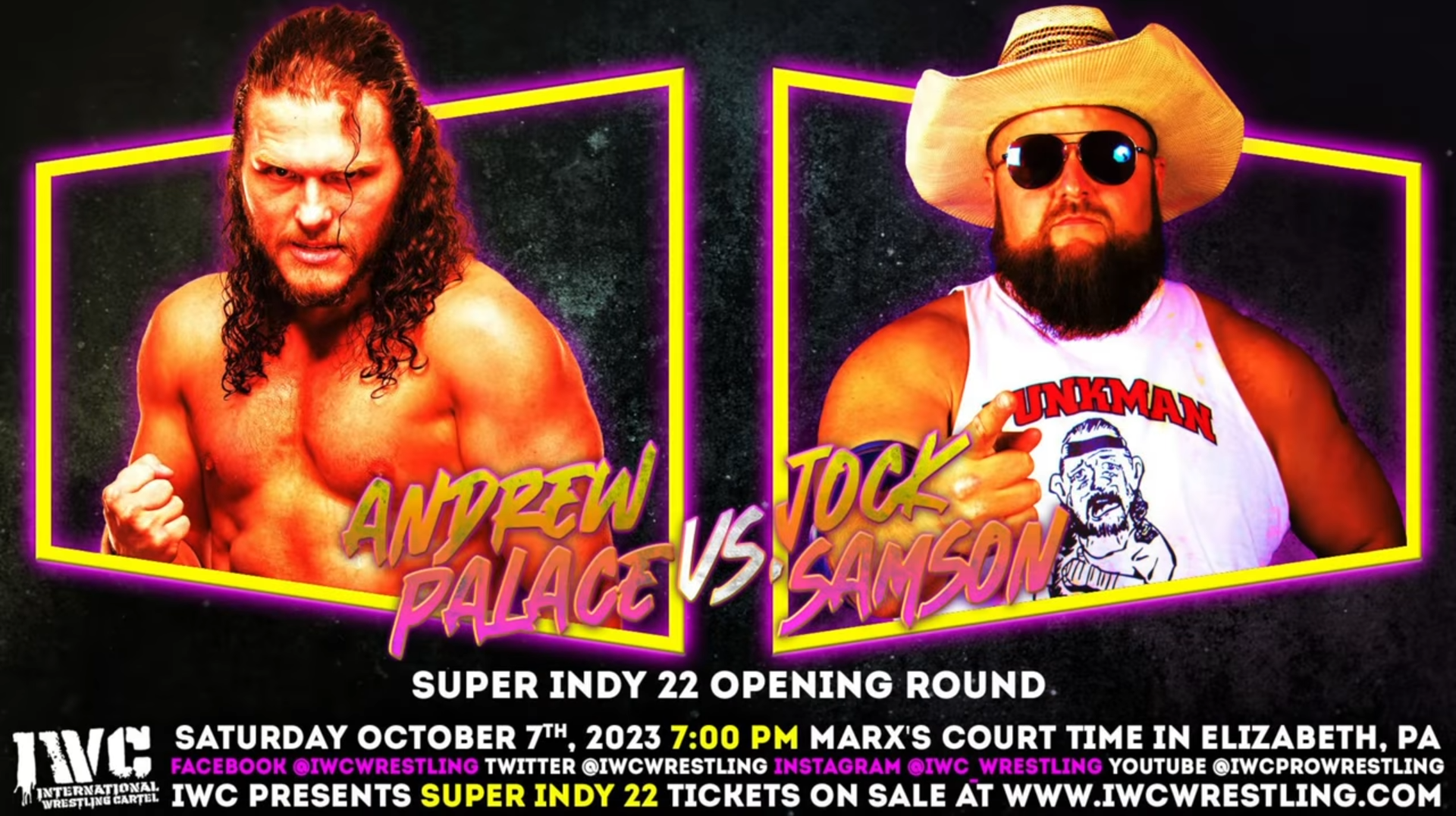 In lieu of Justin Plummer's absence from IWC management, former IWC Heavyweight Champion Orion has stepped in for the interim.  With the last spot in Super Indy 22 still open and Jock Samson who never lost the Super Indy Championship, a qualifying match between two of IWC's very best will be held for entry into the final spot of the 22nd Super Indy Tournament!
Highway Outlaws Celebration Extravaganza
The Highway Outlaws (Zander Gabriel, Jami Jameson, Jason Tyler)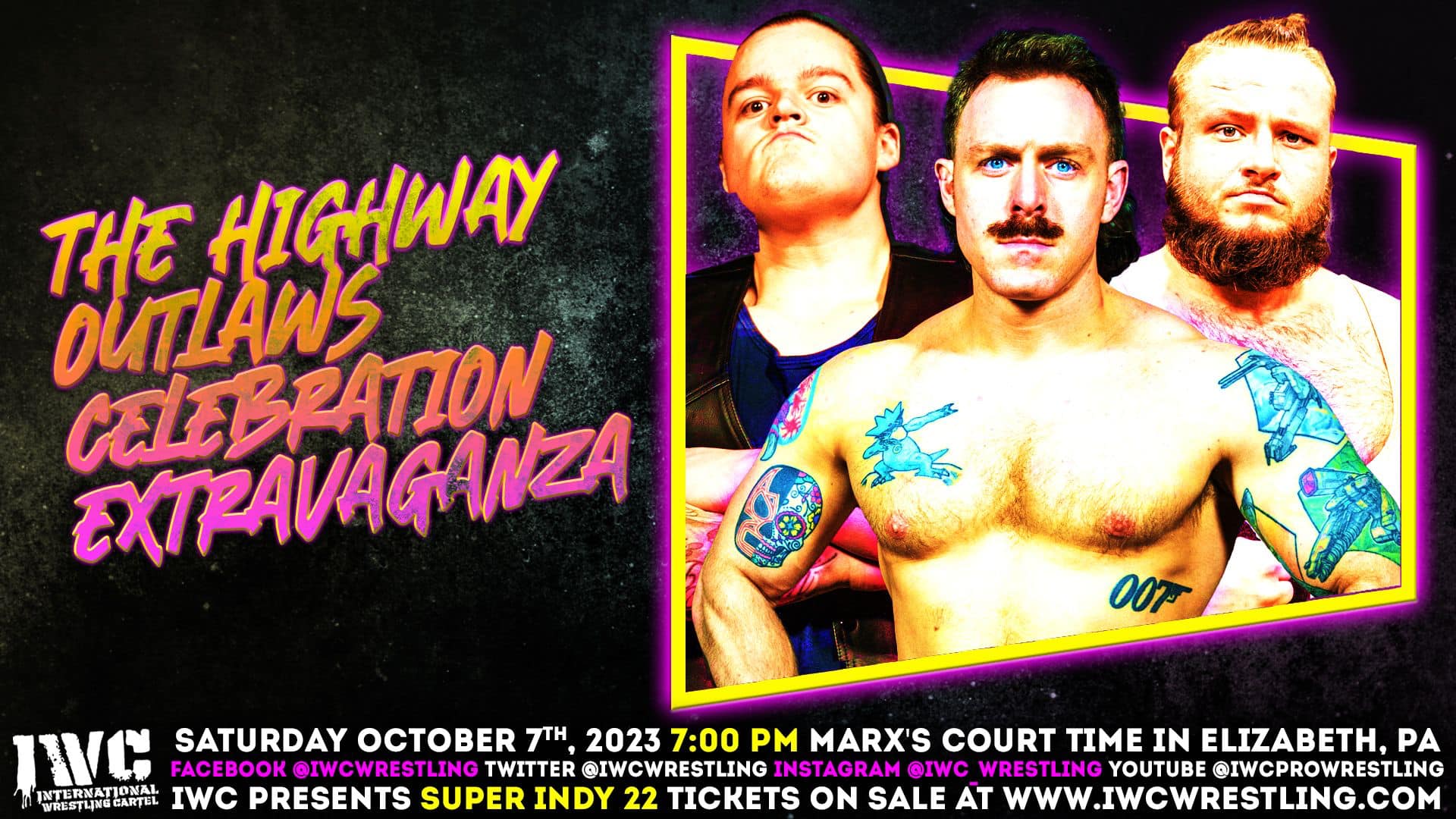 The Highway Outlaws have requested some time on October 7th. What could they have in store, after their huge victory, at IWC's Basebrawl, over Team Storm?
Six-Man Tag Match
Spencer slade, Glenn Spectre, and Canaan Kristopher vs Bill Collier, Bulk Nasty, and Sam Handeman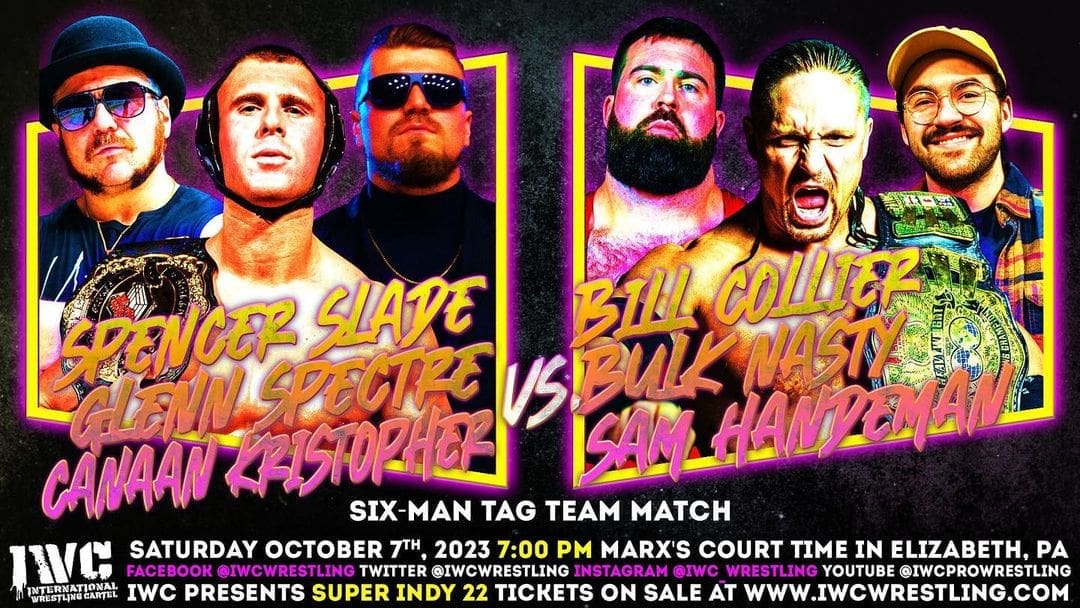 Beyond the already advertised matches, and soon to be announced tournament bracket, at Super Indy 22, there will be six man tag team action! IWC Heavyweight Champion Bill Collier, will team with Bulk Nasty, and new fan favorite Sam Handeman. They'll face the team of IWC High Stakes Champion Spencer Slade, ICWA's Big Boss Glenn Spectre, and one half of Plummer's Security Canaan Kristopher. Which team and champion will come out on top?!
The Frontline
We Hear From the IWC Tag Team Champions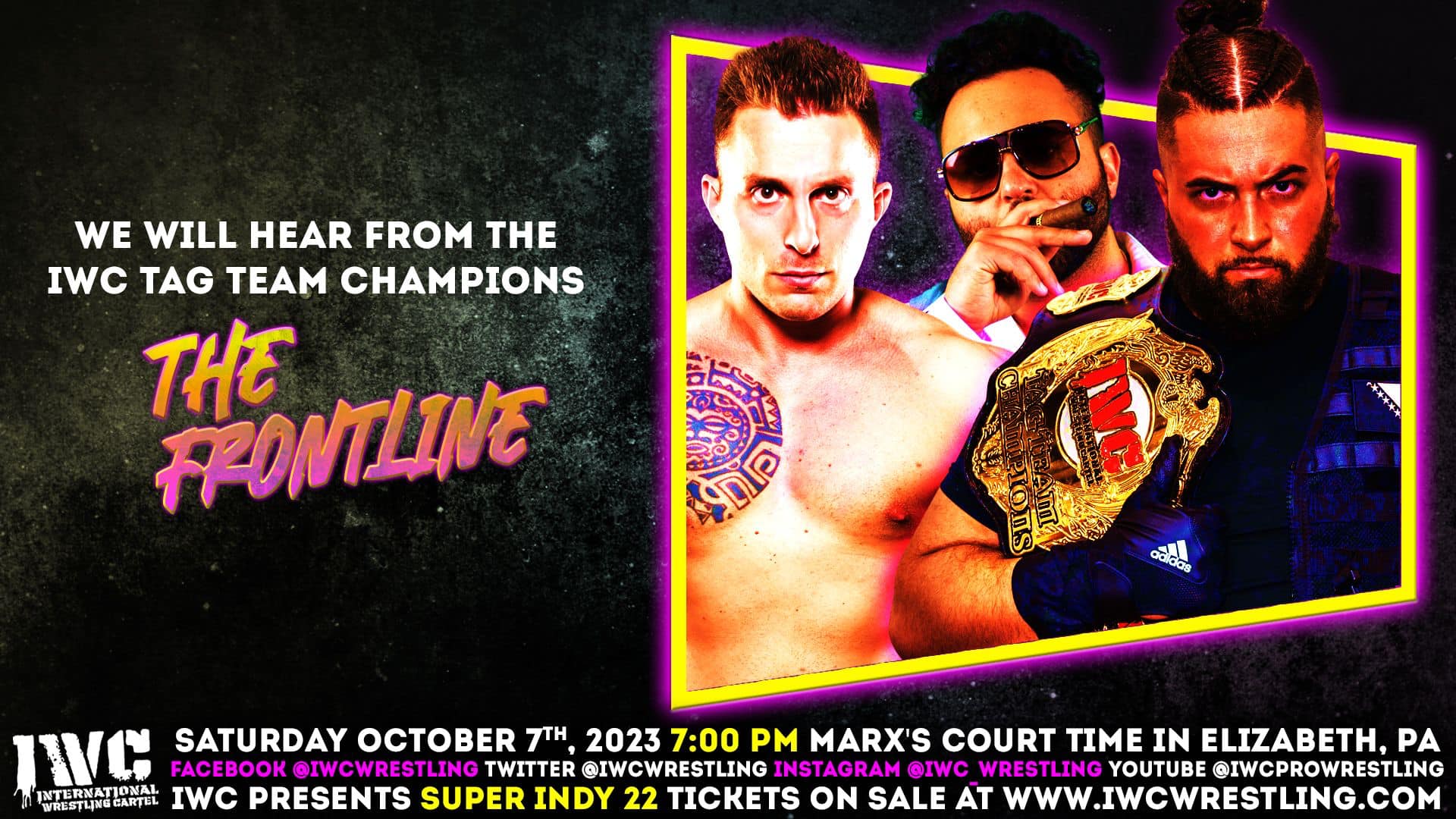 After hearing that other teams were going to get time at Super Indy 22, the Lebanon Don has used his influence and secured a spot of his own. So, on October 7th, the Frontline will have something to say about where things stand in the tag team title division of IWC!
Women's Single's Match
Lexus Synn vs Pegasa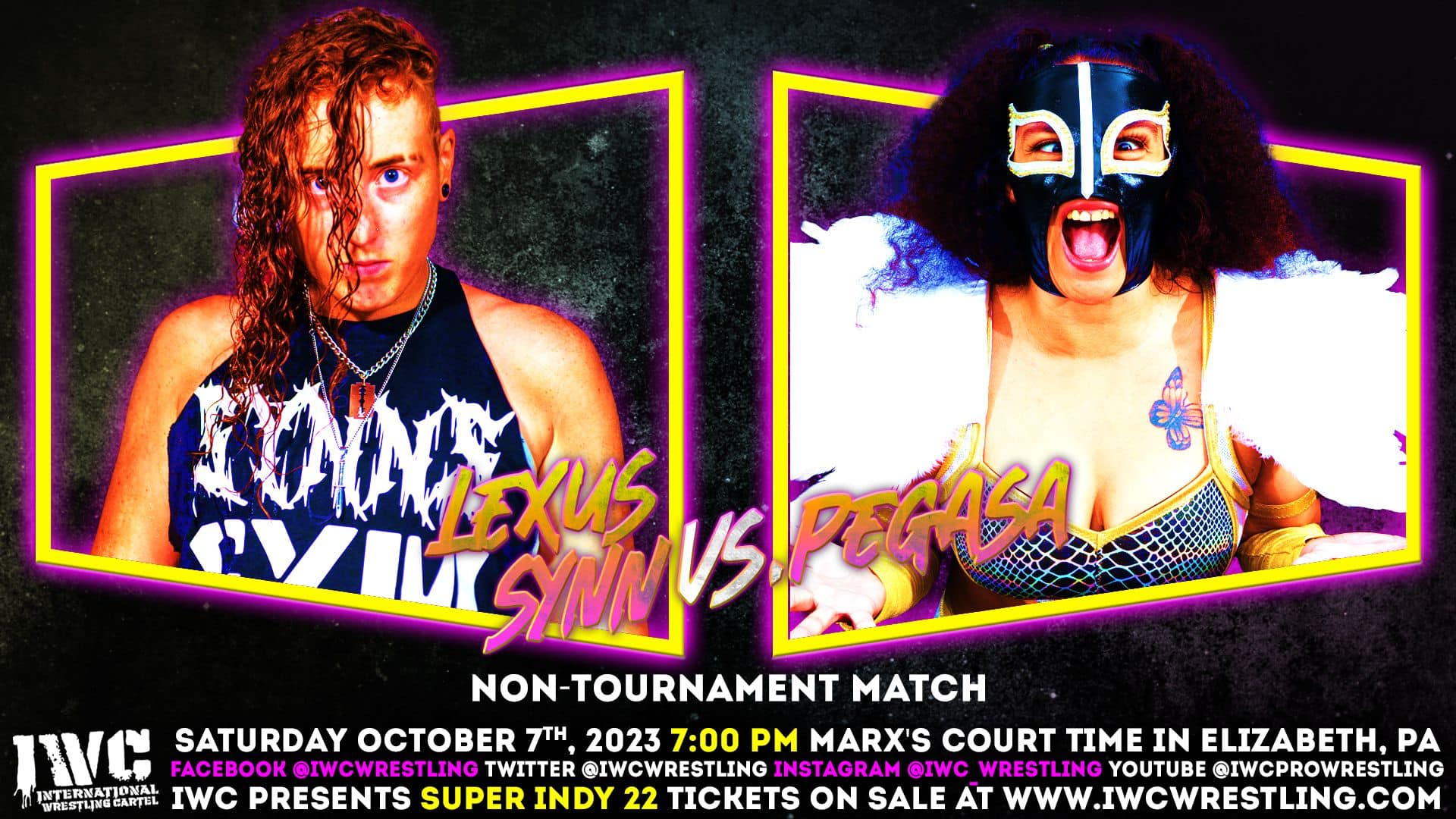 IWC's women's division has seen some significant changes in 2023. Some of those changes can be attributed to debuting graduates of the ICWA academy. Two of the most recent, Lexus Synn and Peg Asa, will compete, against each other, at Super Indy 22, on October 7th. These women are looking to start building their legacy. Which one will come out victorious?
Men's 5-Way Match
Facebook Free-For-All Coach's Challenge Scramble
Tyler Books vs Matthew Jaeger vs Felix Koz vs Chase Gold vs Dior Castro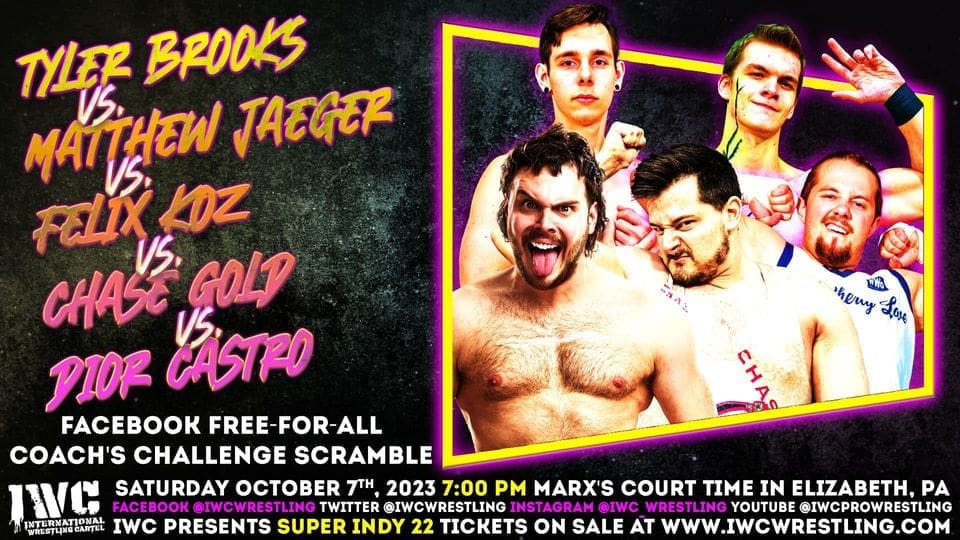 Recently added! IWC will feature a Free For All match, previous to the main card, on October 7th. This match will include four previous competitors in the Coach's Challenge, and one man who took ICWA's Big Boss into deep waters! Matthew Jaeger, Felix Koz, Tyler Brooks and Dior Castro were all unsuccessful in lasting 10 minutes with Glenn Spectre. However, the fifth man, Chase Gold, took him well beyond that 10 minute mark, but due to a late stipulation change, he was also not successfully, as his match was not a true Coach's Challenge. At Super Indy 22, which man will be victorious and earn the right to face off with the Coach of Coaches again?!