IWC finally returns HOME to Court Time Sports Center on November 7th with IWC Homecoming!  Tickets are available now (CLICK HERE) for what is sure to be a night full of emotion that will feature a DOUBLE MAIN EVENT!  Covid Safety Protocols will be in place to ensure fan safety.  Please review the safety guidelines before attending.  Only limited tickets are available to allow for socially distanced seating, so don't wait to reserve yours now!
If you can't make it, or would rather watch from home, you can join us right here at IWCwrestling.com!  You can  purchase the iPPV viewing for this event (ORDER HERE).  Or take advantage of our best deal and subscribe to The IWC Network for access to ALL of our past events, and get ALL iPPVs, including this one, at NO ADDITIONAL COST (SUBSCRIBE HERE)!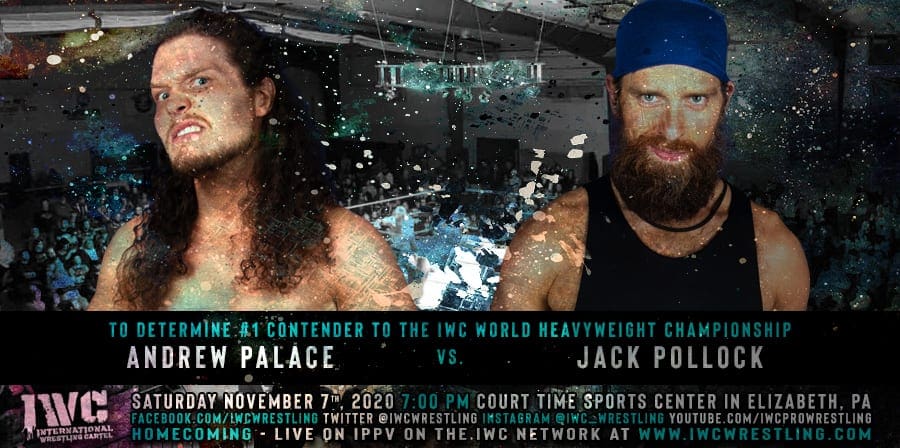 Our first main event is a big one! After spending the last four months working together to help save IWC from The Regulators, an old rivalry becomes new when Andrew Palace battles Jack Pollock for a future shot at the IWC World Heavyweight Championship! Both men know what it is like to hold that prestigious title, but only one will earn a chance to win it back again! Find out who will rise to the top on November 7th when IWC returns home to Court Time Sports Center!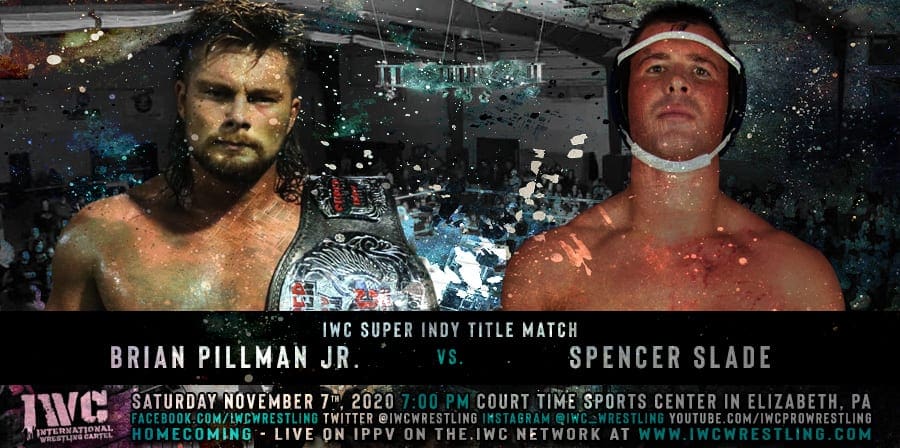 Brian Pillman, Jr. made history when he won the Super Indy 19 Tournament a few months back. He then put an exclamation point on his title win a month later by returning to defeat the previous champion, Johnny Patch. But on November 7th he will face one of IWC's fastest rising stars. Spencer Slade has been nearly unstoppable since shedding his facade and showing his true attitude. But will his killer instinct be enough to dethrone the Promised Prince of pro wrestling?!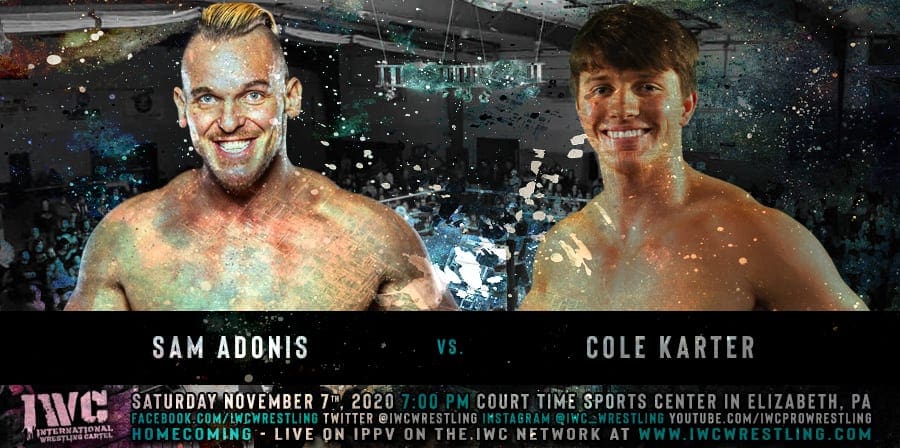 After an impressive performance in the Super Indy Tournament, Sam Adonis returns to continue his climb to the top of the Super Indy division! Standing in his way is rookie upstart, Cole Karter. Cole has been turning heads with his unique combo of size and speed, but will that be enough to overcome Sam's experience?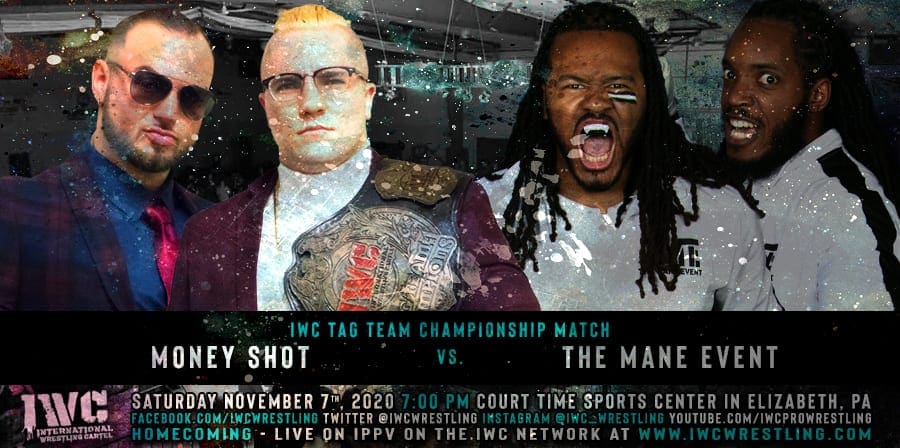 One of the biggest rivalries in tag team wrestling will have another chapter written when IWC returns to Marx's Court Time on November 7th! The Mane Event is one of the best tag teams in IWC history, and they look to make history with yet another title victory. But the team now known as Money Shot has the hit hand, and is undefeated since forming in IWC at the beginning of this year. At our last event, TME was about to regain the titles in a 4-way tag team scramble, but Money Shot stole the victory right out from underneath them. What will happen when these teams have to go face to face with no distractions?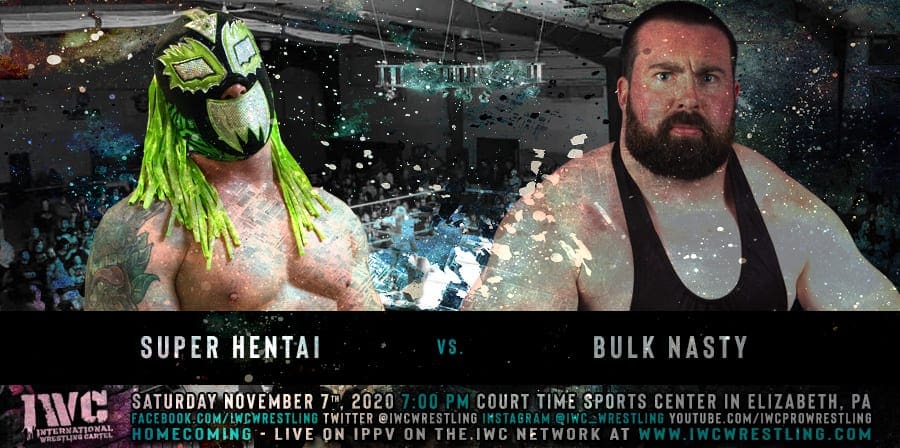 For all of 2020, Bulk Nasty dominated the tag team division with his partner Zander Gabriel. But now he looks to conquer the singles division on his quest to re-establish his dominance. Challenging him on November 7th will be a returning IWC Legend and 23 year vet, Super Hentai! This founding father is always looking for the toughest challenges, and he will get exactly that when IWC returns to Court Time.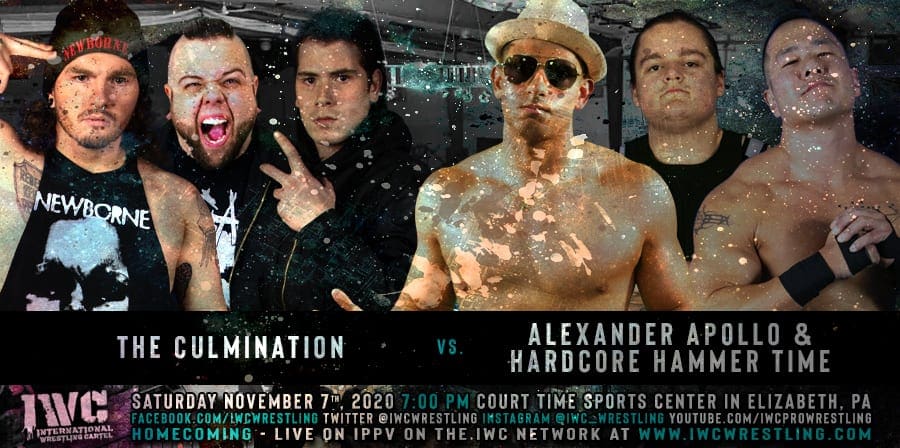 The Culmination has unfinished business with all three of these men from this past summer, and it will all come to a head on November 7th.  The Culmination will be all together for the first time in months as they take on Alexander Apollo and Hardcore Hammer Time!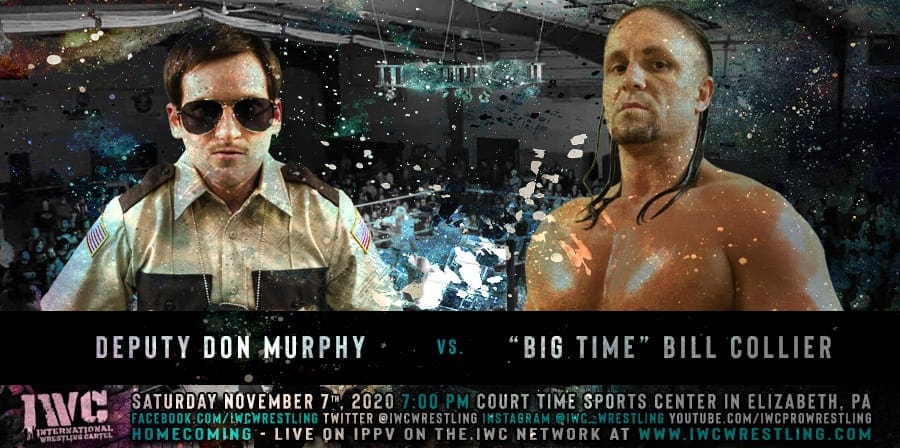 "Big Time" Bill Collier has been the biggest and baddest man in IWC for the past year, impressing fans with his unique combo of strength, speed, size, and agility. However, several months ago Deputy Don Murphy was recruited by The Regulators, and it wasn't long before be crowned himself the new baddest big man in IWC.  And ever since stealing a pinfall over Collier at our last event, The Deputy's delusions have grown and he is now calling himself "Big Time" Don Murphy…  In IWC, it's put up or shut up. On November 7th, the fallout of Team IWC vs. The Regulators continues as we see Big Time vs. …Big Time…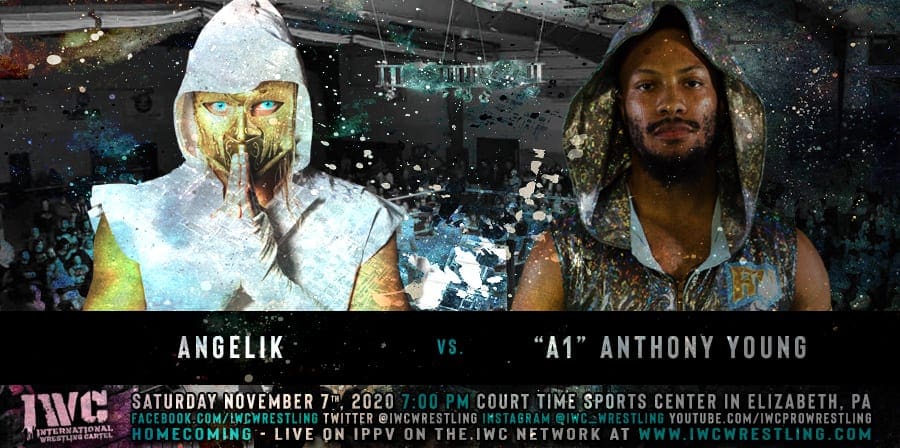 Angelik and "A1" have been crossing paths all summer and fall, never leaving fans disappointing with their athletic, high-risk competition. Now on November 7th, they will meet in singles competition for the very first time ever! Angelik, by any name, has been one of the top stars of IWC's super indy division for many years, but up and comer "A1" is set to prove that the future is now! This one is sure to be a show stealer!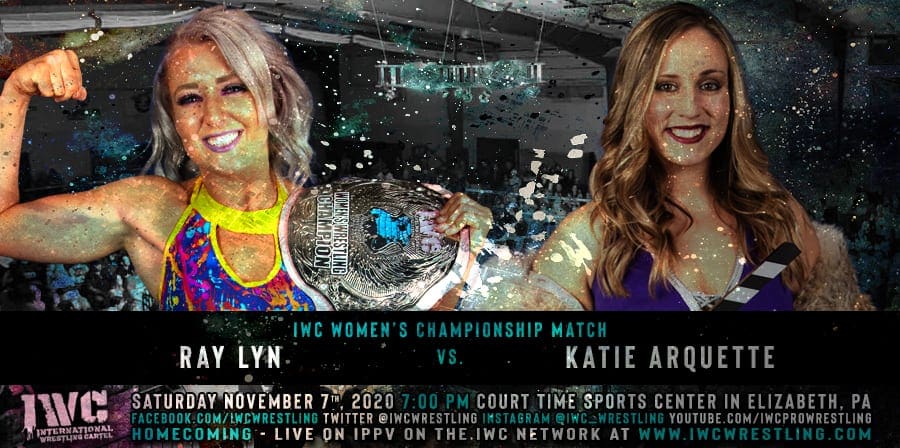 On November 7th, the IWC Women's Championship will be on the line as Ray Lyn defends against Katie Arquette! Ray Lyn has held the title for a record setting 15 months, first winning the title from Katie Arquette in VERY controversial fashion in August of 2019. Katie would get her rematch a few months later, but once again fell short due to interference from Calvin Couture. Now after indirectly crossing paths all year long, Katie will FINALLY get a one-on-one shot at the title!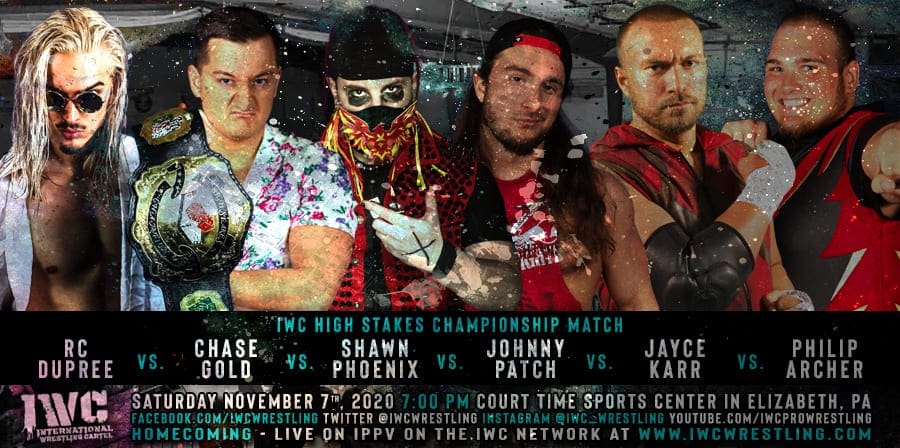 RC Dupree has had a firm grip on the IWC High Stakes Championship since he made his electrifying return earlier this year.  But the eccentric mad man may have gotten a little too crazy when he chose to defend his title in a 6-way scramble match at IWC Homecoming.  Included in this match are former opponents, fast rising stars, and even the former IWC Super Indy Champion!  Has RC finally gone too far, or can he stamp an exclamation point onto his already impressive title run?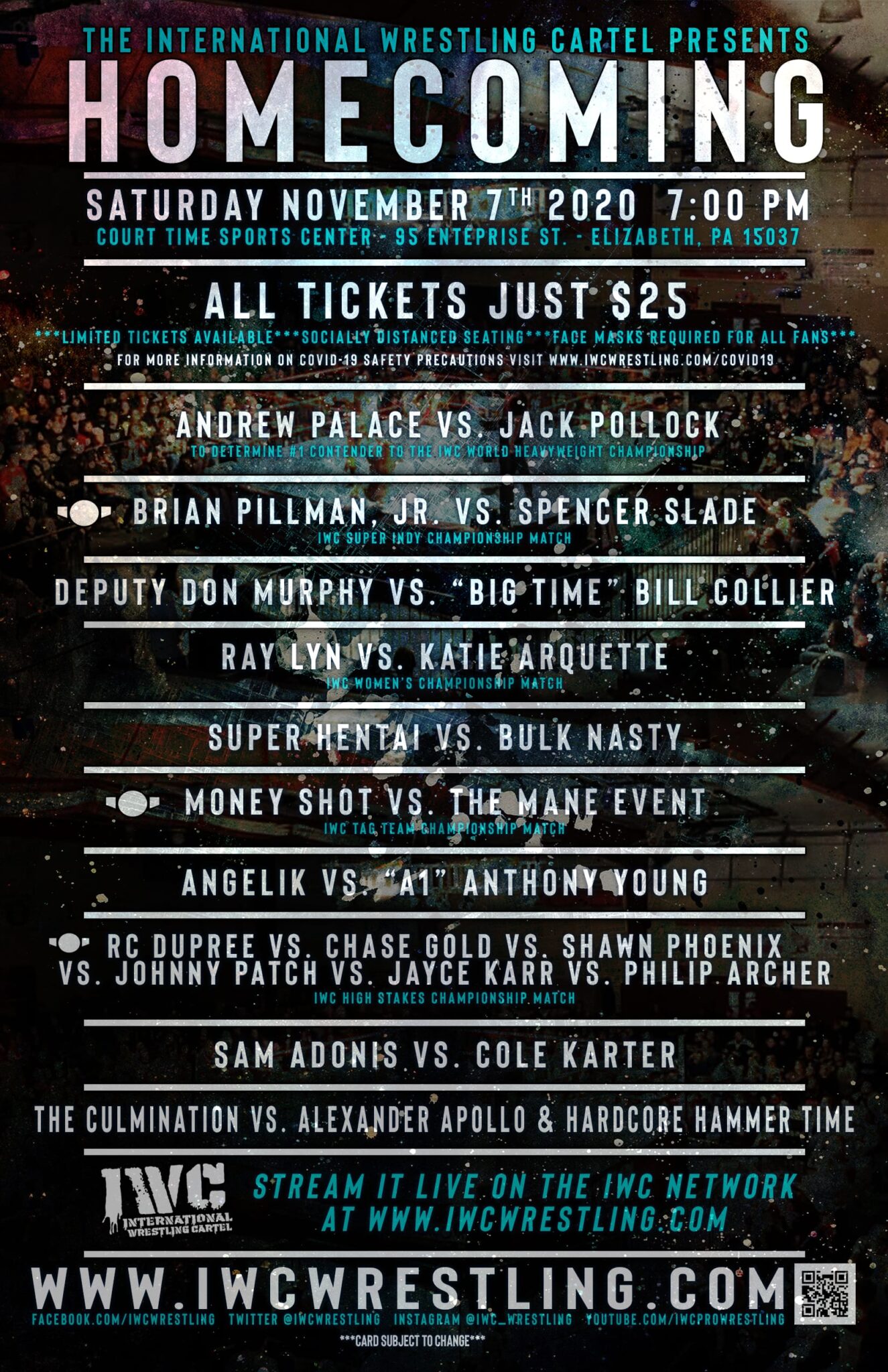 The card is STACKED with IWC's best for our long awaited return to our home at Court Time Sports Center.  Join us for this special night by reserving your tickets (CLICK HERE)!